Like GearBrain on Facebook
Piper is a $300 make your own computer wrapped in a secret agent mission. For any child who wants to make a computer — the excitement alone of putting together a device like Piper doesn't really need a mission added to it: but the details are fun.

Inside the box are blueprints and a letter: you're being sent to do something important for the world. We won't share that secret here — but trust us, any kid worth her salt is going to adore this.
Inside you'll find details on how to assemble Piper. So let's start there. We'll be frank: we have never built our own computer before. Surprised? Don't be. We are going to bet you haven't either. But the folks at Piper have designed a project that's both fun, engaging and pretty much guaranteed to not let you fail.
We asked a 14-year-old to help us, and got started.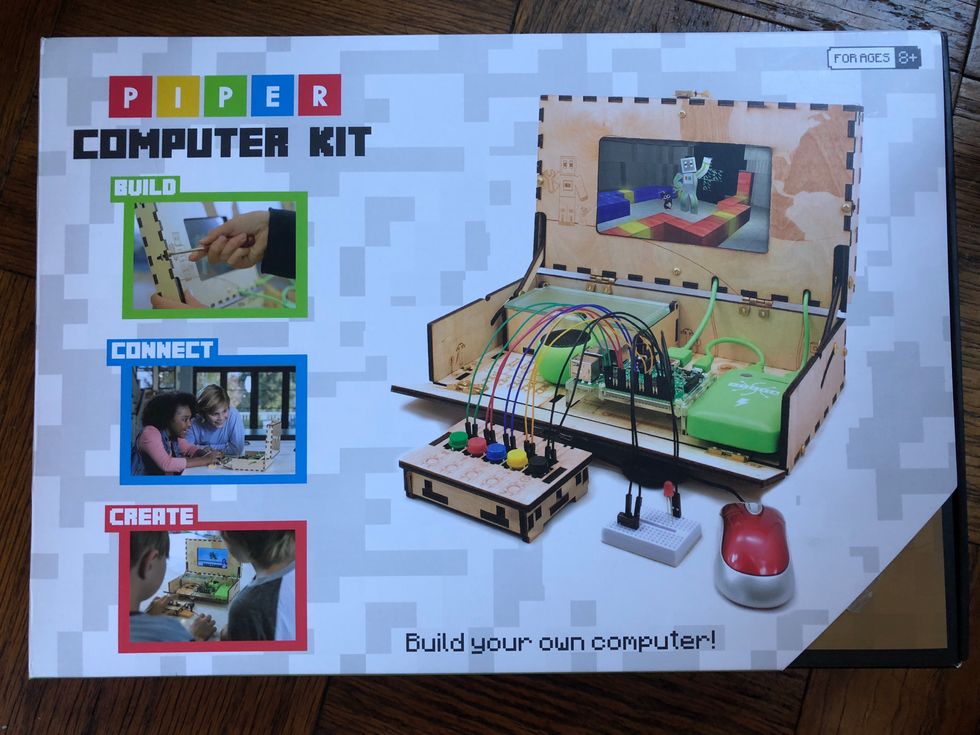 Piper lets you build your own computer — with everything needed inside the kit.GearBrain
Rolling up our sleeves
I just want to say first, thank you to Piper for labeling everything A,B,C and so forth. Even with a 14-year-old handling the heavy lifting, we would never have been able to be as helpful as we hoped we were. We also love that Piper was not a plastic cornucopia. The computer is housed in a wooden case which feels great in the hand. Parents — take note.
Now on to construction. Piper is not a simple toy to put together: do not think Lego bricks here. This is Assembly 101: These pieces need patience to put together. Sometimes we put parts together backwards. Sometimes upside down. Sometimes pieces did not fit flush. Do not force anything, take a break for some dinner, and be okay if, in the end, your piece is not exactly dovetailing perfectly. Piper is forgiving. Your child will know if the computer doesn't work. And she'll go back, unscrew some screws, and get everything in the right place. And she'll be better off for it.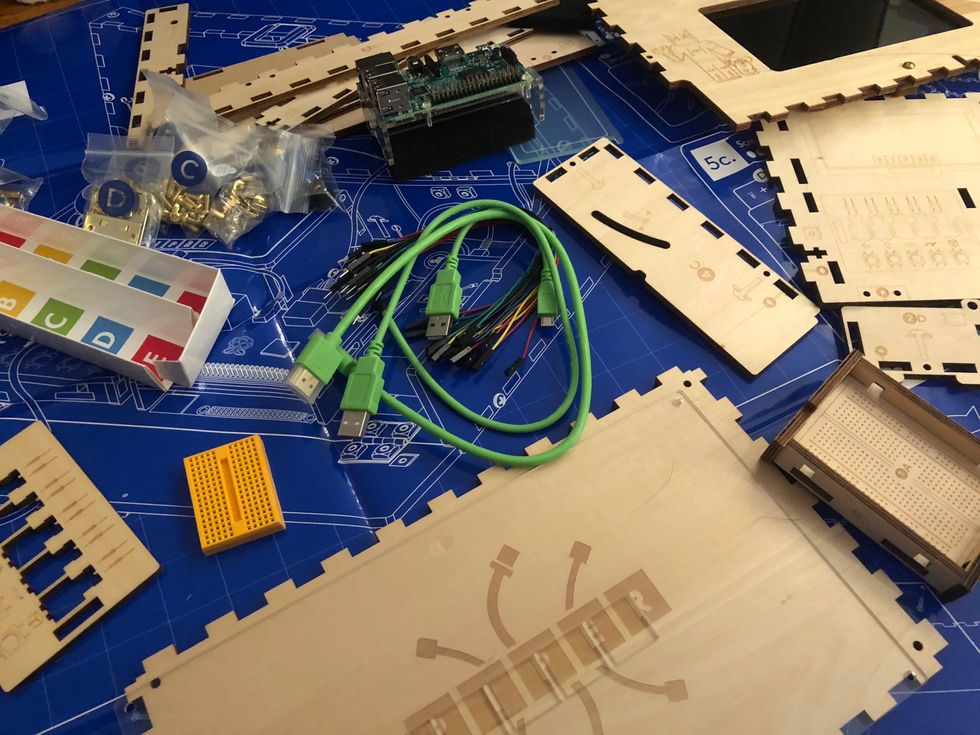 From wires to cables to a Raspberry Pi, you're walked through each and every step for Piper.GearBrain
What I thought just fantastic about Piper is the entire maker space element to the toy (We use that word 'toy' very liberally because, honestly, you're building a computer.) While there are instructions, they're very spare. So you're required to bring quite a bit of your own ingenuity to figuring out what they mean. In short: the instructions meet you only so far. Kids are going to honestly feel like they put this together on their own — and they do.
We had to go back and undo things a few times. We'd put something together and realize we had missed a step. Maybe that happened in step two, when we were building the storage chest for our controller, for example. But who is keeping track.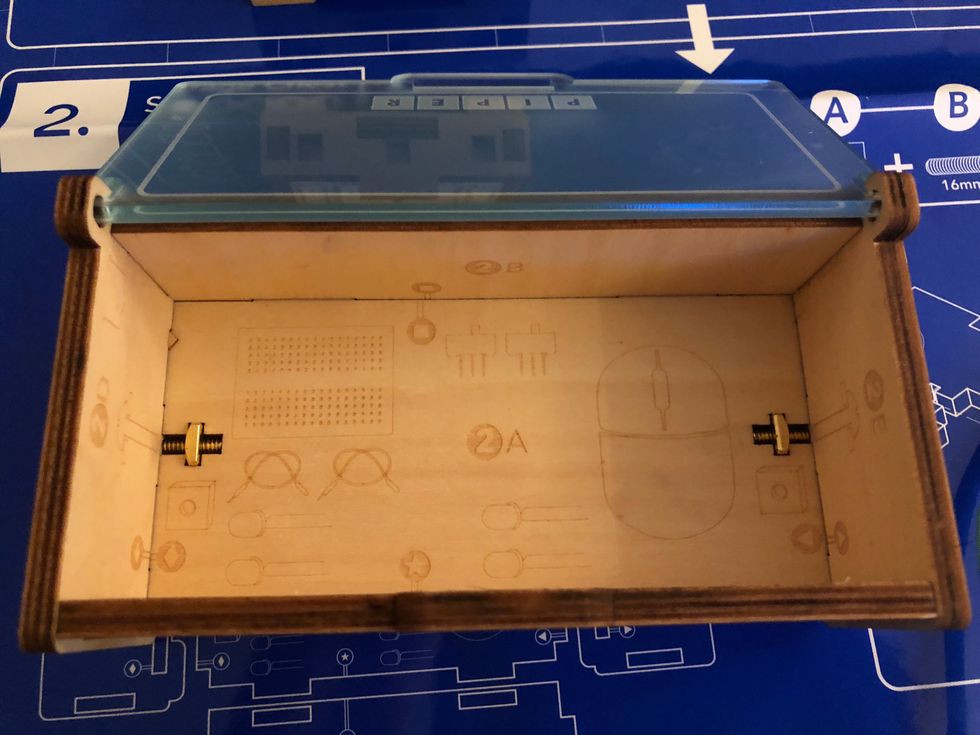 Who built their own controller box? This guy.Lauren Barack
Mission Possible

Once the computer is built, you get to start playing. And honestly, the computer game is not intuititive. Remember, you're on a mission, and to follow that mission you have to work through the game and the steps.
While the computer game will work once you turn on Piper, to play you still have some building to do, by attaching wires and putting in buttons. This is not for big-fingered people. Even the 14-year-old found this incredibly frustrating.
The game itself? Let's just say you're not shooting off into space with Oculus Rift. Nor should you be. The 14-year-old said it best: "If this were a game on my laptop I probably wouldn't play it, I would think it was boring," she says. "But since I've made it, it's a lot cooler."
Still, a small note on the content. The 14-year-old is a space buff, and found issue with the orbiter's movement in space. The Space Shuttle launches, shooting off the solid rocket booster, (SRB) and the external tank (EB). But then the orbiter flies to land on something in outer space — which is not really how the orbiter moves, she informed us. It actually falls in space in a circle, (what we regular people call orbiting,) and when it re-enters to come back to Earth it uses some thrust to push itself out of orbit and then has a controlled fall. So the flying to land on something didn't sit right with this young space buff. And when it landed on Earth there wasn't a parachute nor wheels. "So that was kind of annoying," says our tester.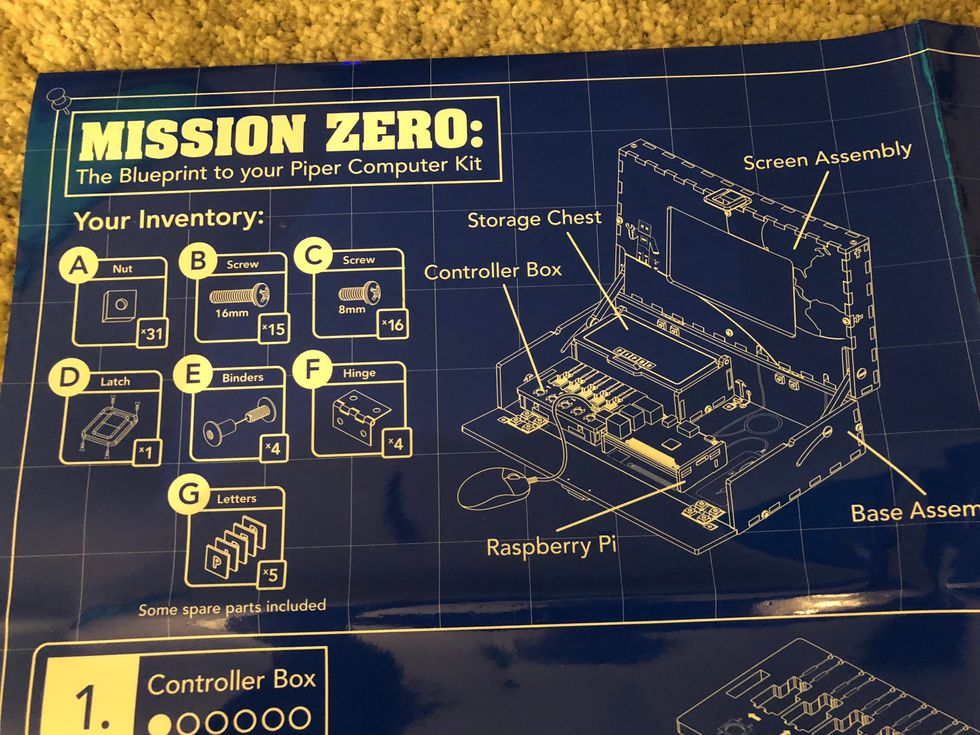 A blueprint-like instruction manual walks you, basically, through every step to build Piper.GearBrain
Maker mindset
The idea of STEM toys is integrating science, tech, math and engineering into kids lives. But man can that sound like a boring affair. Good STEM toys should show kids different pathways to learn these skills. Great STEM toys let kids figure these out on their own, intertwining the skills into fun — like those gummy vitamin pills. Piper falls into this category.
The company claims that both Steve Wozniak and Elon Musk have endorsed the toy. While we couldn't independently corroborate this, it makes sense. When you're launching rockets — attempting to transform space travel — you're likely someone who gets you'll put something together wrong and make a few mistakes before you succeed.
We think Piper is a great tech toy for kids. Yes, it's $300 — and that's a key reason the device is aimed fairly heavily at the school market. (Lots of kids can play with it, and most of it can be taken apart and put back together.) And yes, we know rather intrepid kids can probably build the entire device on their own for less.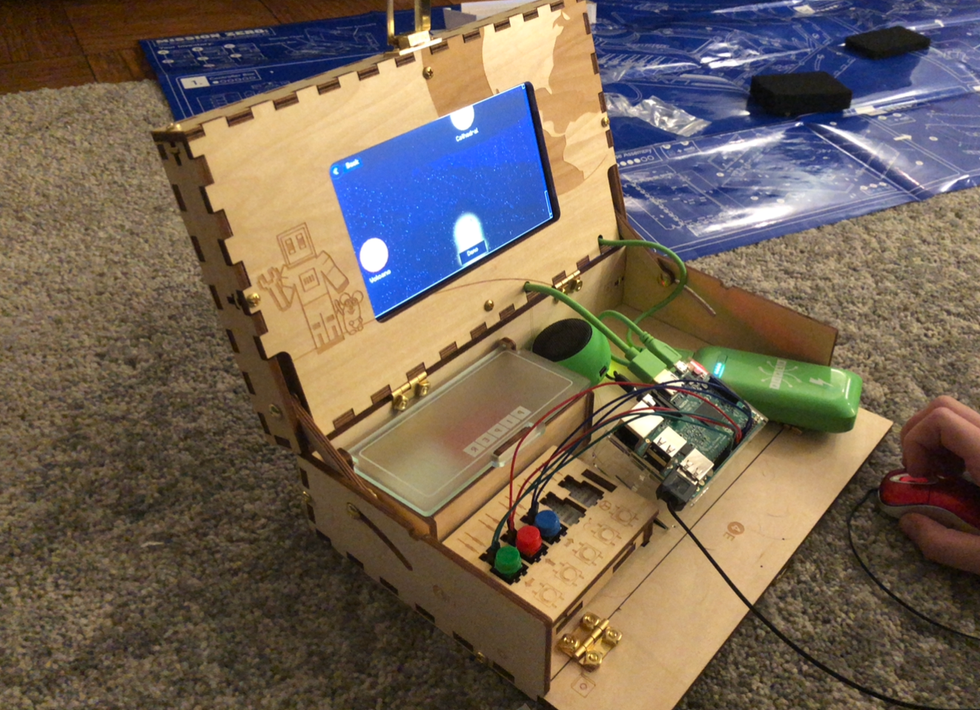 An hour or two later, and you'll be playing on your own, hand built, Piper computer.Lauren Barack
But Piper is a standout in today's beeping, rolling, flashing, giggling bevy of robots and computer games. It's a toy that gives kids ownership of their own play. That's unusual today. There's so much wonder in discovering what we're capable of creating on our own. And in our spoon fed world of content, our children, sadly, sometimes never unbox that in themselves.
At one point the 14-year-old joyfully sang, "I have no idea what I'm doing right now!" as she attached wires and danced in her seat. And that told us — and hopefully you — everything we needed to know.
Pros: Support multiple coding languages, avoids excessive plastic parts, allows kids to build their own computer, isn't dependent on outside apps, and is very forgiving with mistakes.
Cons: Price, some dexterity is needed to attach wires, and kit is not ideal for very young children.
Like GearBrain on Facebook