Florida is investigating two incidents with drones dropping tobacco, a cellphone and earbuds into prisons in the past 30 days — all of which are considered contraband. In one instance, the drop was covered with dried grass clippings in an attempt to hide it, according to the Pensacola News Journal.
One of the two prisons is reportedly in the Northwest part of Florida's Panhandle, where a guard says the drone dropped a package containing a cellphone and tobacco.
Drones have been used to get illegal substances into prisons, flying high above walls and fences. They can drop something in a second, and zip away. Even if noticed, and the items are confiscated, the pilots can fly the drone far from a prison (even though pilots are required to keep drones in their line of sight), and disappear if something goes awry.
While drones under 55 pounds — whether they're being used for recreational or commercial use— are supposed to be registered with the Federal Aviation Administration (FAA), those who use drones illegally likely don't take this step. The reasons are probably obvious: they don't want their drone traced back to them.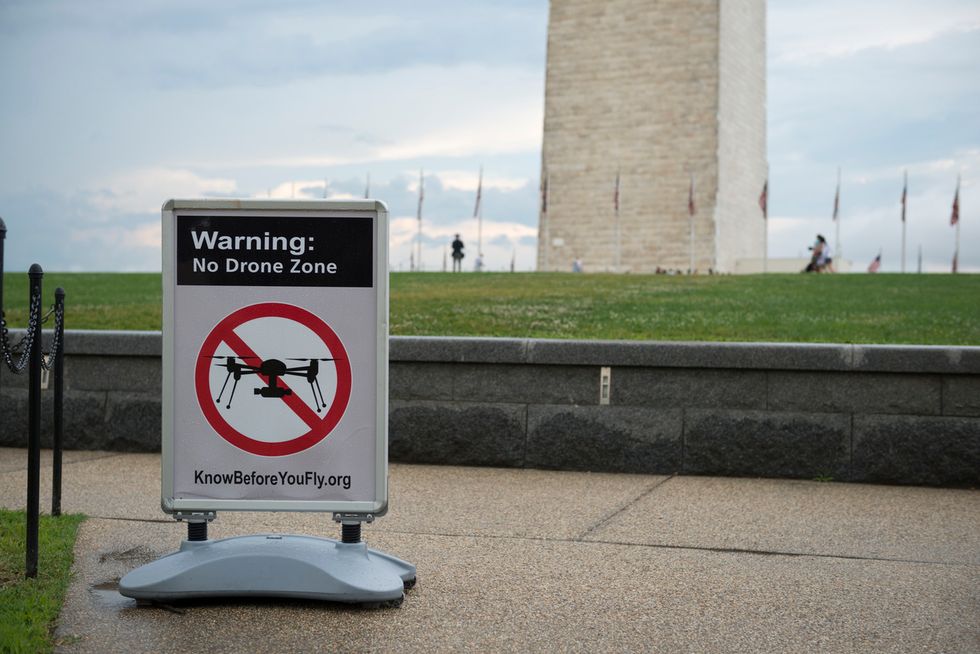 Drones are not allowed to fly in Washington, D.C., which is considered a 'No Drone Zone' by the FAA. Joel Carillet for iStock
Small drones capable of dropping small packages can be flown back to a pilot quickly, tucked into a backpack, tossed into a car — or just abandoned.
There are security measures people can take against drones, such as using deterrents like software that detects drones — and the pilot — to those that can bring them down. Geofencing can also block drones from flying over certain areas, such as the kind put into play during the Super Bowl.
There are also security restrictions on flying drones in areas that the FAA considers sensitive. (A handy online, interactive no-fly map can help you pinpoint exactly where these areas are in the U.S. by just typing in an address.)
Prisons have reported drones flying across their perimeters in the past. Some states, including Florida, are trying to push through bills that would make flying drones above prisons illegal.