Like GearBrain on Facebook
Although this year's Fourth of July festivities have passed, fireworks are still a common sight: Disney Parks, use these kinds of displays regularly, as does Universal Orlando, SeaWorld and others. But amusement parks and big event organizers are looking at other ways to light up the sky — using drones.
Disney Parks, for example, launched a nightly drone show during the 2016 holiday season flying at Disney Springs at Walt Disney World. Coachella's crowd reportedly watched a 300-drone display this spring during the annual music festival courtesy of Intel. Cirque du Soleil even flew drones inside during its show Paramour, on Broadway.
Drones are big business. Consumers are eager to buy the unmanned flying objects, with U.S. dollar sales more than doubling from February 2016 to February 2017, according to research firm, the NPD Group. Drone swarms — hundreds of drones that fly in formation to bring a unique twist to the traditional fireworks display — would be a natural move for amusement parks and entertainment groups eager to up a crowds' expectations.
There are caveats, after all, to using drones in the sky —or in-house — where crowds are present. Not every event is a drone-friendly proposition. Air shows, for example, where planes are showing off their own stunts, can be a drone-non-grata occasion. (Fireworks too.)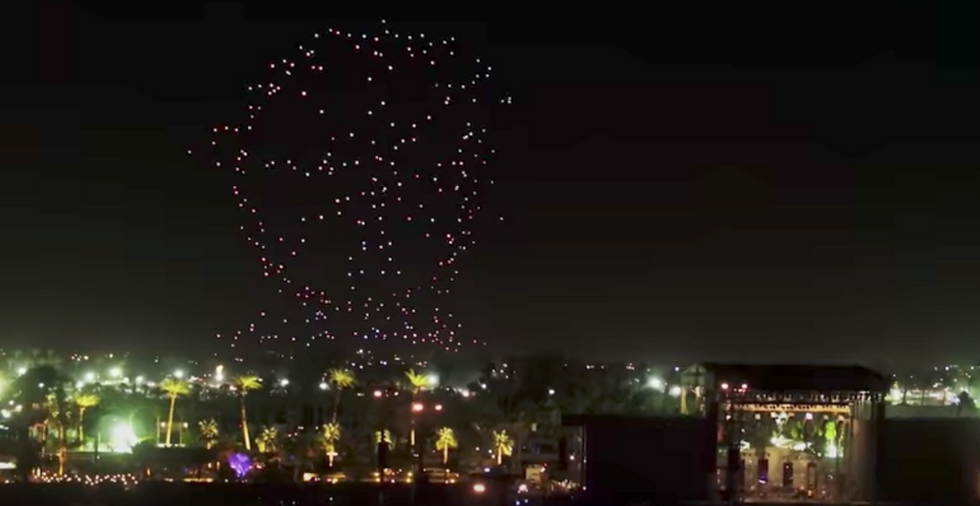 Intel's Shooting Star drone light show at Coachella 2017Photo courtesy of Intel
The Federal Aviation Association (FAA) has tight restrictions in place around the use of drones near airports: these small crafts present both a potential distraction and even outright disruption to larger aircraft. An air show reportedly had a five-mile ban on all drones and fireworks over this year's Fourth of July festivities, in Dubuque, Iowa. The Super Bowl alone had a 34.5-mile ban on drones — so when a drone display lit up for a patriotic spin during Lady Gaga's performance in February, the drones were actually pre-recorded.
Drone danger
Drones clearly aren't just a concern for airplanes. People too can be harmed by drones — whirling blades, even made of plastic, can cause harm. While toy drones may weigh just a few ounces, larger professional drones can weigh more than 20 pounds, with blades of a carbon fiber composite. A jury found a man guilty after his two-pound drone fell and knocked a woman unconscious during a Pride parade in Seattle in 2015.
The FAA is conducting research to see, specifically, how potentially dangerous drones are to people. Results from early, completed studies through the Alliance for System Safety of UAS through Research Excellence (ASSURE) showed that even small drones can cause cuts, "blunt force traumas" and other injuries. A second drone study is underway now.
Amusement parks put safety measures in place. Drones, for example, may reportedly not be flown within 100 feet of park guests at Disney Parks. But the ability to create smaller drone swarms is possible with certain products now on the market.
The drone show during Super Bowl 2017 was taped prior to Lady Gaga's performance because of FAA rules.Photo courtesy of NFL
Few drone owners have the drone fleet, nor the capability, of creating their own drone displays that rival the Super Bowl. But a Chinese drone manufacturer, Zerotech, is promising a new kit, the Zerospace Formation Dance Set, that will let consumers fly pre-programmed nano drones to build their own show. The kit is expected to be released sometime this summer.

Before taking to the air, however, boning up on what the FAA has a lot to say about
who can fly drones
, and where, is a good first step.
Photo courtesy of Disney Parks: Drones light up the sky at Walt Disney World's Disney Springs during the 2016 holiday season.
Like GearBrain on Facebook