Like GearBrain on Facebook
A drone that can swerve and keep flying? That's what researchers wanted to look at when developing a system that could give a flying robot some nimble skills while still maintaining speed.
Researchers from the University of Zurich used what's called an event camera — a special camera that, in this case, helped the drone read when a soccer ball was thrown directly at it while hovering in mid-air, and then "…trigger the evasive maneuver," they wrote. The research was first reported by IEEE Spectrum.
Researchers developed a system where a drone could avoid a direct kick from a soccer ball www.youtube.com
The goal, said the team, was to not just help the drone avoid the soccer ball — which it did — but also keep flying, or at least not slow down by tapping into the data detected by the event camera. So researchers also looked at situations "…where the robot wants to reach a target destination in as little time as possible, and therefore cannot change its longitudinal velocity to avoid obstacles," they noted.

Even throwing the ball at speeds as high as 9.2 m/s (about 20 miles per hour), the drone is able to tip its way out of the way. Balls were thrown from the front and also the side of the drone, which moved out of the way each time, as shown in the video.
Researchers didn't just pick up a drone from the toy store, but used a custom-made drone, built from an DJI F330 frame, Cobra motors and Dalprop propellers.

Read More:
The experiments, done in a research space, do not reflect a normal environment. The room shown is relatively clear of intrusions, of course save for the flying soccer ball hurled through the air. But there aren't birds, insects, falling tree limbs or even other drones or aircraft sharing the immediate space as well.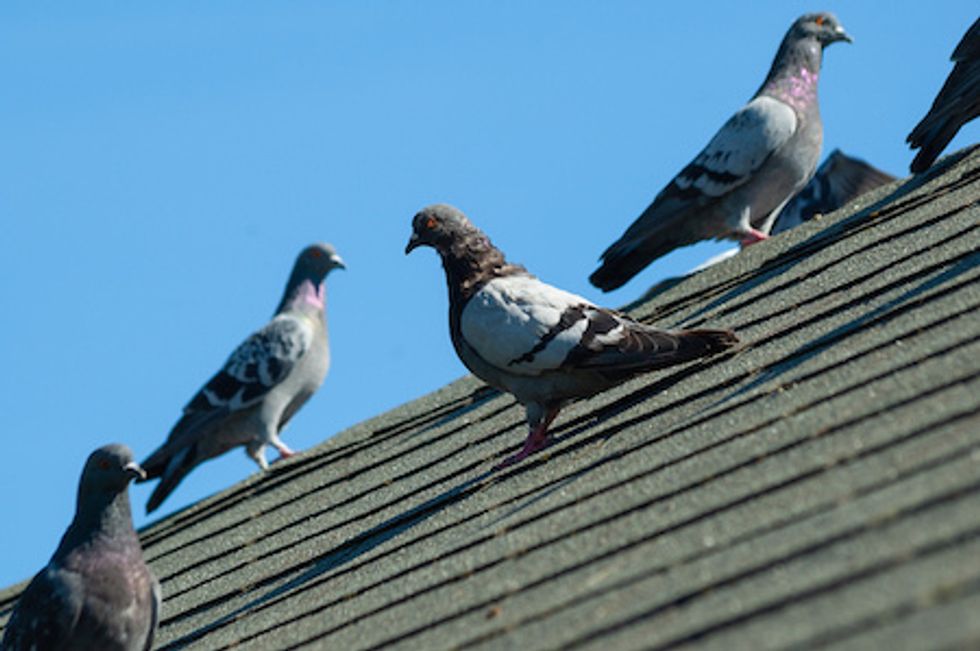 Pigeons can reach speeds of upwards of 40 mph, which drones may need to avoid when flying through urban environmentsiStock
A common kestrel, a type of falcon, has an average mean speed of about 10 miles per hour. But birds can fly much faster —with pigeons able to reach speeds of 40 miles per hour, far faster than a flying soccer ball in a controlled lab.
The experiment, however, was meant to look at the use of an event camera, which differs from a camera in a smartphone, for example, able to read changes in an environment particularly around high speeds.
In the case of a drone, this is a flying robot that is particularly nimble — able to move with 360-degrees of motion — and fast. Researchers believe the upside to using an event camera as a sensor is better when it's attached to a robot that can move quickly, in their paper, "Vision based Navigation for Micro Aerial Vehicles (MAVs)."
"Our analysis showed that the advantage of using an event camera is higher when the robot is particularly agile," wrote the paper's authors, who are from the Robotics and Perception Group, a joint project with the University of Zurich and ETH Zurich, a science, technology, engineering and mathematics (STEM) university.

From Your Site Articles
Related Articles Around the Web
Like GearBrain on Facebook