Many smartphone racing games ask players to steer by tilting the device left or right, and now Ford is looking at incorporating a similar system with future autonomous vehicles.
A patent published by the US Patent and Trademark Office in late-September describes how the system would allow passengers of fully autonomous vehicles - those with no conventional controls - to take over the steering with a device like a smartphone or tablet.
Read More:
Once they have control, the passenger can either tilt the device to adjust the car's steering angle, or tap and swipe at a steering wheel icon shown on the display of their device.

The patent, describing "non-autonomous steering modes", was first discovered by CarBuzz and explains how the passenger would connect their device wirelessly to the car. Although not describing smartphones by name, the patent says the system could work with a "display device and/or a user device" containing a touchscreen, gyroscope and accelerometer.
The document states how the car's computer would be "programmed to steer the host vehicle according to the selected mode and signals received from a user device."
The system is similar to Tilt Racer, a smartphone application which lets you tilt your phone to control racing games, below.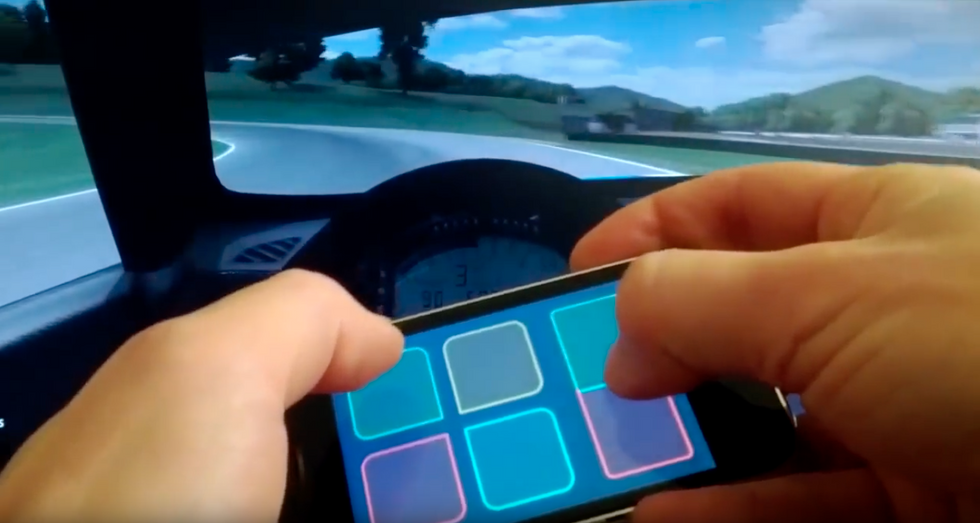 Ford'a patent reminds us of the Tilt Racer smartphone appTouch Pilot
Such a system could be used by Ford engineers and test drivers working on the company's future autonomous vehicles. It could allow them to intervene and take control of the vehicle's steering if it gets confused (and has no wheel of its own), or needs to be navigated in a location which it does not have a map of - into the exhibition hall of a future motor show, perhaps.

It is highly unlikely that consumers will be asked to take control of the steering in such a way, but it makes sense for those testing future autonomous vehicles to have a way to take control.
The patent makes reference to technologies shown off by Land Rover back in 2015, where an autonomous Range Rover was driven on an off-road course using a smartphone app. This demonstrated how off-roading enthusiasts could, in the future, get out of the car and use their smartphone to navigate the vehicle around a particular obstacle (a boulder perhaps, or the edge of a steep drop) while standing wherever gave them the best view.
As always, we should add the caveat that companies file patents for future technologies on a regular basis, and just because the patent exists it does not mean the technology described within will become a reality.