Like GearBrain on Facebook
A report that Google's next-generation Nest Mini smart speaker could be wall-mountable may seem inconsequential at first. But we actually think it's a big deal, and a telltale sign of where the smart home is headed.
The wall has housed our home's technology since before electricity, as a convenient place to put candles used for illumination. Next up came the light switch, followed by the wall outlet and the thermostat. All fixed to our walls in convenient places and at just the right height for their intended purpose.
Read More:
Flicking a light switch as we enter a room must surely be one of the very first things we learn to do (once we can reach them, of course), so it makes sense that, while voice assistants and smartphone apps are useful, it's hard to beat the simplicity and familiarity of a wall switch.
When the smart home concept began a decade or so ago, the light switch was joined in some homes by a touch screen panel used to control lighting as well as music for the room. This was seen as a luxurious and super-high-end piece of technology at the time, but as the screens of smartphones and iPads grew bigger, sharper and brighter with every iteration, the more permanent wall-mounted display quickly felt dated.
Now, while smart speakers and displays still sit proudly on coffee tables and nightstands, the walls are still where we at GearBrain think smart home technology makes the most sense.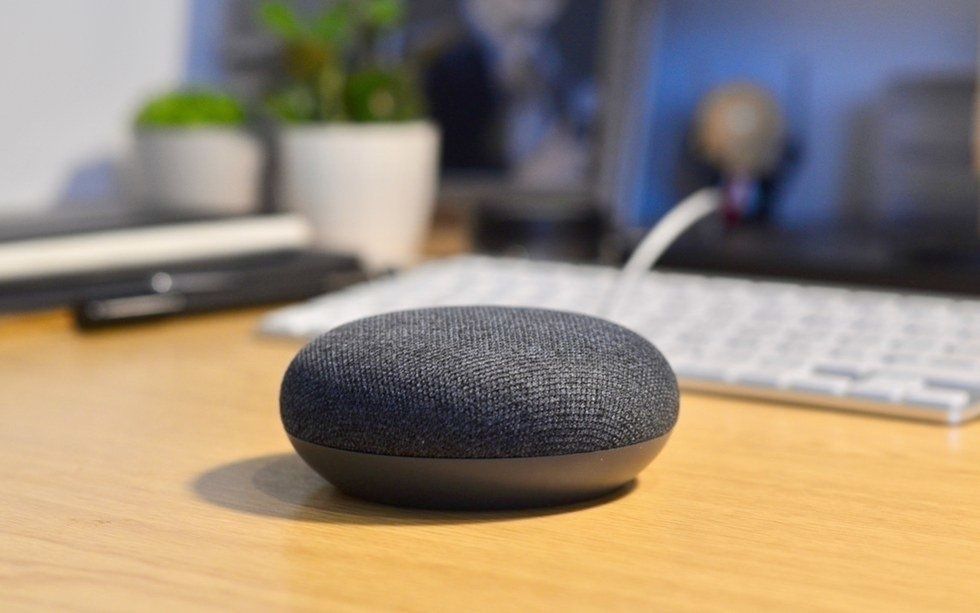 The next Home Mini is said to be wall-mountable GearBrain
Look at the popularity of smart thermostats like those from Nest, Ecobee and Honeywell. They could have been fully replaced by a smartphone app or another portable touch screen, but the wall is where thermostats have always lived - and the wall is where they feel at their most natural, intuitive and convenient.

Speaking of Ecobee, the company's latest smart thermostat has Alexa built in (complete with a speaker and microphone), so you can control your smart home devices by speaking to the thermostat. This may sound strange - indeed, Ecobee even says "This isn't a misprint" when explaining how to make Alexa phone calls through the thermostat on its website - but it also makes a great deal of sense.
The thermostat is always where you left it, in the kitchen perhaps, and situated at the right height to hear you clearly when making a quick hands-free Alexa call. Similarly, it's there when you want to make the lights brighter but have food on your hands while preparing dinner. Add a few speakers to your Alexa system, and the thermostat is ready to take your playlist suggestions, too. And all this is done without cluttering your home with multiple single-function devices. The more features packed into one device (and one we all already have, like a thermostat), the better.
Ikea and Sonos have taken a similar approach with their new Symfonisk speakers. One is a voice-controlled smart speaker with Alexa and Google Assistant, but which doubles as a lamp; the other has the same features but instead doubles as a shelf.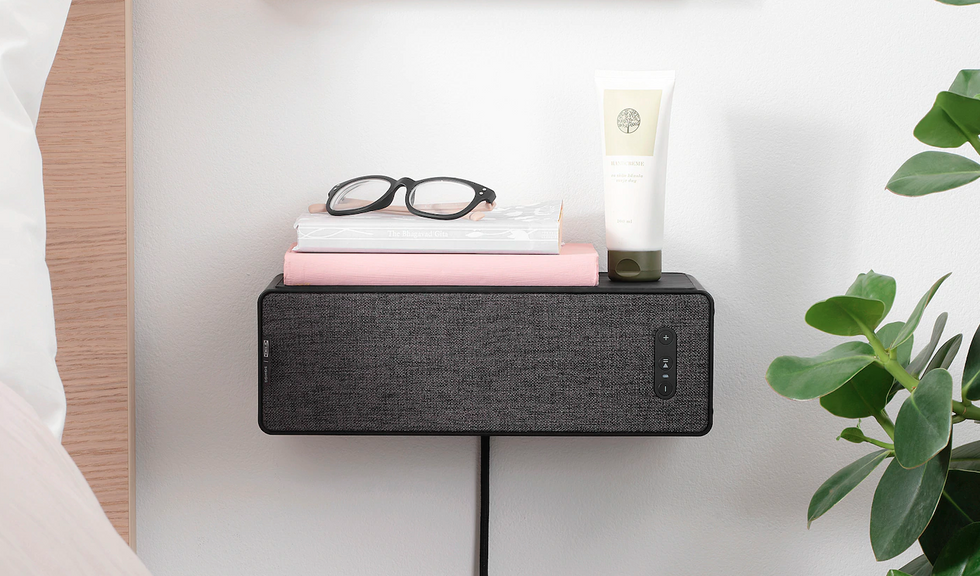 The Ikea Symfonisk speaker doubles as a shelfIkea
As with the do-it-all Ecobee thermostat, these speakers still offer the functionality of the products they replace - a lamp or a shelf - but subtly add extra functionality. And, this being a collaboration between Ikea and Sonos, they are affordable yet still work like other connected Sonos speakers.

This brings us back to the rumored Google Nest Mini, which is claimed to offer wall-mounting as an option. Given the low price of the current Home Mini, this will likely be no more elaborate than a slot on the base for slotting onto a picture hook in the wall.
But that's no bad thing. We can see a home with several Nest Minis (or Amazon Echo Dots) plugged into power outlets and hung on the wall just above them. That way, you can have Google Assistant (or Alexa) functionality in every room, along with a half-decent (but sub-$50) speaker, ready for playing music or podcasts, making calls, or reading out the news headlines. Mounting them so low down may seem strange, but when you're sat down on the sofa their position makes a lot more sense.
This approach has already proved popular with Home Mini owners, given the number of third-party wall mounts which are available for the speaker. Some of these are small shelves, while others neatly suspend the Mini from a wall outlet.
Returning to switches, and we have the new iDevices Instinct. This $100 device replaces your existing light switch and has an integrated Alexa assistant with microphone and speaker. This negates the need for a dedicated smart speaker, and removes all cables, hubs and clutter, but gives you most of the functionality of an Amazon Echo speaker. And remember, pressing it still controls the lights, just as the switch in that location always has.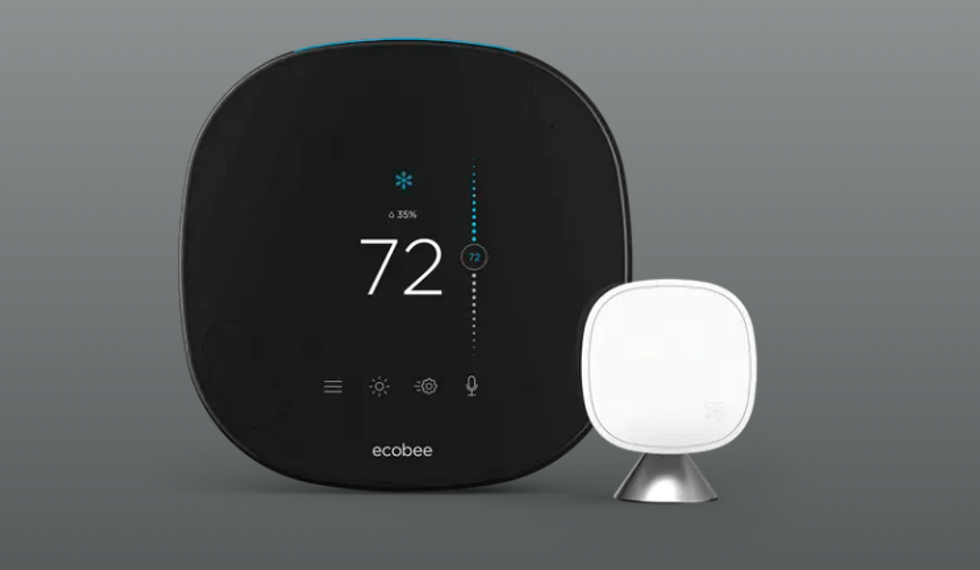 The Ecobee smart thermostat has Alexa baked inEcobee
This way, family members familiar with Alexa can use the switch to its full potential, while those less interested in smart home tech can still press where they always have to turn the light on and off.

Add this or the Ecobee to a network of subtle bookshelf speakers (or those Ikea smart shelves if you're on a budget) and you have a smart home system which blends into the home itself, with no visible cables or devices taking up table and desk space. The technology is there, hearing you loud and clear, but is mostly hidden from view.
Yes, this all means more microphones scattered across your home, and that shouldn't be ignored given the recent revelations of some voice assistant recordings being listened to by contractors, but it also means a smart home which is always ready to interact with, wherever you are, and with zero cables or clutter.
We think this is where the future of the smart home is headed, and we're excited to see relatively low-price products like the iDevices Instinct, Echo Dot and Ikea Symfonisk lead the way.
From Your Site Articles
Related Articles Around the Web
Like GearBrain on Facebook