Like GearBrain on Facebook
Ecobee has announced a new smart thermostat - called the SmartThermostat. The $249 device replaces the company's two-year-old Ecobee4, yet offers many of the same features as before.
These features include a speaker (which is louder than before, with improved microphones) and integrated Amazon Alexa, so you can control the device with voice controls without needing to own a smart speaker.
Read More:
The jury is still out on whether anyone really wants to listen to music from their thermostat, but it's useful way to hear Alexa's voice when you ask her to adjust the temperature, set a timer, or control any other aspect of your smart home. The speaker works with Spotify and Spotify Connect for the first time, and music can be streamed from the thermostat over Bluetooth to another speaker, if you prefer.
Having Alexa, microphones and a speaker onboard means there is actually no reason to have an Amazon Echo smart speaker. Unlike some other non-Amazon devices with Alexa built in, the Ecobee SmartThermostat includes Alexa Calling, Messaging, and Drop-in.
Also carried over from its predecessors is integration with a broad range of smart home systems, including Apple HomeKit, Amazon Alexa, Google Assistant, Samsung SmartThings, and the automation platform IFTTT (If This Then That) . This is of particular importance after Google recently announced its Nest system will begin restricting its ability to work with other platforms from the end of August, breaking compatibility with IFTTT among others.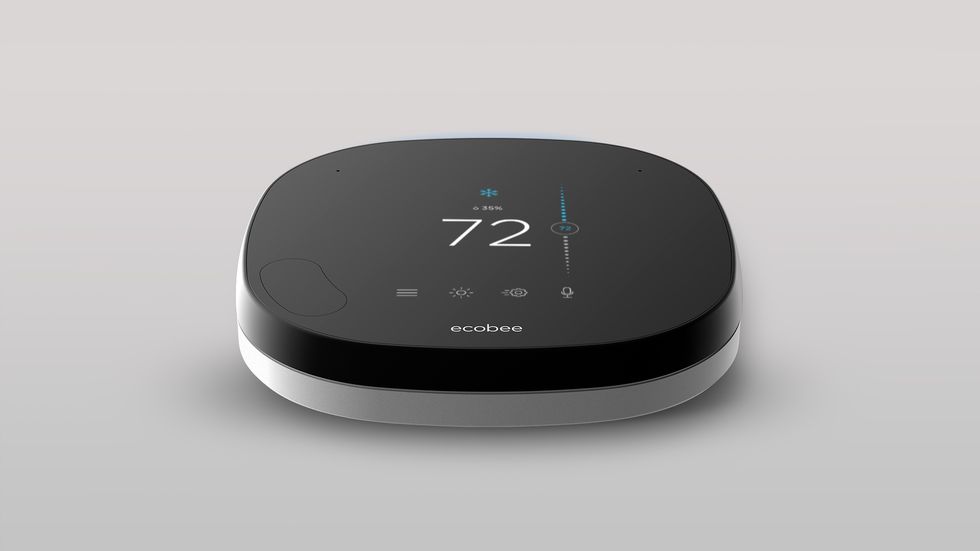 Ecobee claims your energy bill could be reduced by up to 23 percent Ecobee
The new model is powered by a faster quad-core processor, and you can control it either with voice commands, through the Ecobee smartphone app, or by tapping and swiping at the thermostat's attractive glass front. The user interface is crisp, clear, and should be simple to interact with - even for those who aren't interested in more complex smart home controls.

The launch of the SmartThermostat comes soon after images of it leaked online , along with claims Ecobee was preparing to launch a wider range of smart home devices, including an indoor security camera and door/window sensors. Although the new thermostat is available now, the other devices are yet to materialize.
Ecobee has updated and redesigned the SmartSensor, a wireless temperature and presence sensor which is just two inches tall and designed to be placed in a different room to the thermostat, giving it an idea of whether to heat or cool that room or not. That way, the thermostat will only heat or cool rooms which are being used.
Wireless sensors tell the thermostat which rooms to heat or cool Ecobee
The SmartSensor has a claimed battery life of up to five years, and comes with a new magnetic mounting system, plus a wall mount. The Ecobee SmartThermostat comes with one sensor in the box, while extras can be purchased in packs of two for $79, and each thermostat can work with up to 32 sensors at once. The more sensor you fit across your home, the more efficient your energy use should become.

Ecobee claims using this thermostat can lower your annual energy bills by up to 23 percent, compared to maintaining a steady temperature of 72F / 22C.
As with other smart thermostats, like those from Nest and Honeywell, the new EcoBee uses artificial intelligence and machine learning to heat and cool your property as efficiently as possible, and only doing so when it knows you are home. (Check out The GearBrain, our smart home compatibility checker to see the other compatible products that work with Amazon Alexa enabled devices. )
The $249 SmartThermostat is on sale now, and can be bought directly from Ecobee, or from Amazon, Lowes, HomeDepot, and Best Buy.
Like GearBrain on Facebook