Like GearBrain on Facebook
The Google Home and Nest Hub smart displays are already useful smart home devices, featuring the Google Assistant but also being a screen for checking the weather, watching the news, streaming TV and controlling your smart home.
But it will soon also become a useful family organizer. A software update announced by Google this week and being rolled out before the end of 2020 will add some tools that families will find helpful. These additions come while Google also plans to bring a major user interface update to its smart displays.
Read More:
The first is a digital equivalent to leaving hand-written notes on the fridge door. Called Family Notes, the feature lets you write a virtual sticky note and add it to the home screen of a Google or Nest smart display.
This could be a reminder for your spouse to defrost dinner, or for the kids to remember their kit for soccer practice after school. The system can also be used to help keep family members updated on shared to-do lists.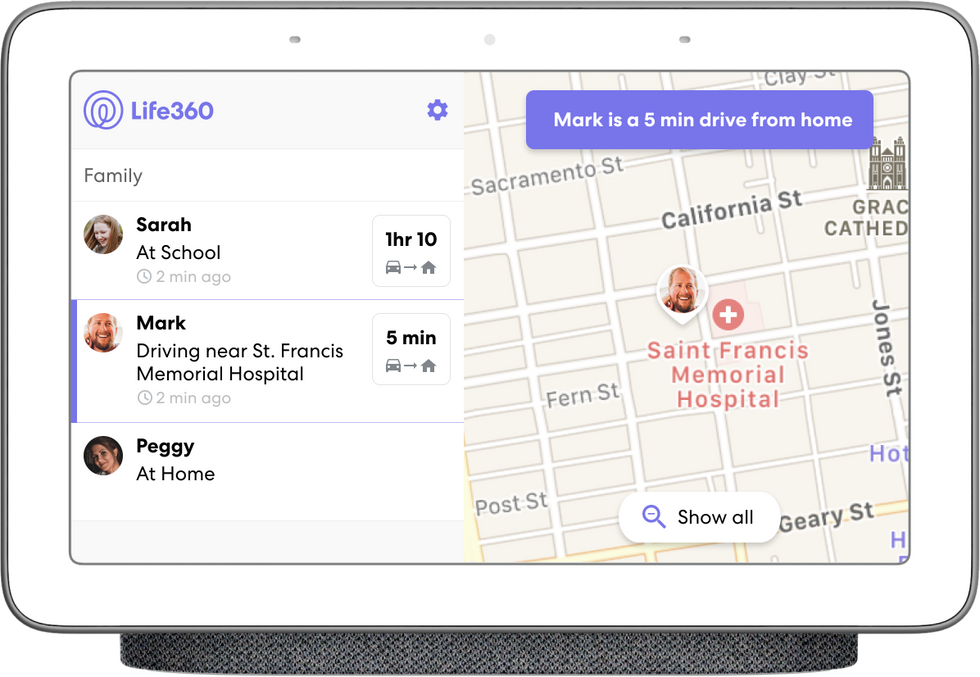 New feature helps children check on the location of their parentsGoogle
Also new is an update to the Google Assistant's Family Bell feature, which arrived earlier in 2020. To be updated later in 2020, Family Bell will gain new sound effects and suggested bells, so it can be used for more than just signalling when a home education classes begin and end. The new bells can be used to signify the start of a home art class, pause for lunch, start the household chores, and more. There's also a new option to pause the bells for a day at a time.

Next up is a feature where children aged 13 and over can ask the Google Assistant for the location of their family members. For example, they could check where their parents are, or another else in the family could ask where another member is by name – an easy way to check if they're stuck in traffic when late home from work or a trip to the grocery store.
When someone asks the Google Assistant for the location of their family, the display shows a map with a description of roughly where each person is, whether they are driving or not, and how far away from home they are. This feature is powered by Google Maps and Life360, a GPS-based family locating system.
All of these additions will appear in a new Family tab in the user interface of Google and Nest smart displays, and Google says they will arrive later in 2020.
Check out The GearBrain, our smart home compatibility checker to see the other compatible products that work with Google Assistant enabled devices.
GearBrain compares the Nest Mini to the Google Home Mini www.youtube.com
Like GearBrain on Facebook