Like GearBrain on Facebook
Google's marriage to Nest is finally in the honeymoon phase, where both brands bring the best of what they can do to a merged device. One of the first is the new $229 Nest Hub Max, a smart display powered by Google's smart assistant but with a Nest camera inside. You may think — why would I need another display? Maybe you don't even have one yet. You, then, are the perfect person to consider this new device, especially if you're already tied to the Google ecosystem. We played with the Nest Hub Max and found this is the Google display that's perfect for the right user.
What is the Google Nest Hub?
The Nest Hub is the first official display that fuses both the Google Home and Nest ecosystem together. Google bought Nest in 2014 for $3.2 billion, and has spent the better part of 2019 figuring out how to bring the Nest smart home abilities into the Google world. There certainly have been some growing pains — Nest customers have been less than thrilled with being told their Works with Nest ecosystem was being migrated to Works with Google Assistant. And while a modicum of compromise was reached, Nest users are really going to need embrace Google.
You see this in play when you launch the new Nest Hub Max, a 10-inch display seated in a fabric covered base with a touchscreen that lets you scroll through content from YouTube, the web and your own Google accounts. Unlike the original Nest Hub, though, the Nest Hub Max has a camera, speakers and a microphone through the 6.5 megapixel Nest camera which allows you to both pop in to see and hear what's happening at home, and use the camera and microphone to hold video calls through Google Duo.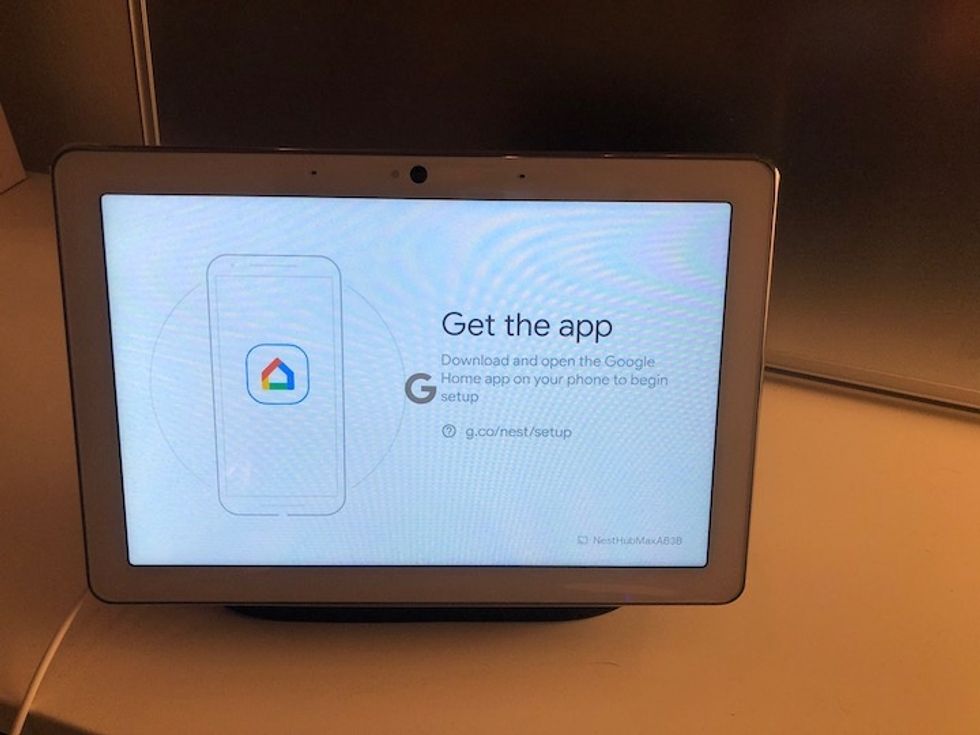 The Nest Hub Max works through the Google Home appGearBrain
With all of these abilities — and the personal details you can bring up — the Hub Max can also protect your information, making sure no one else can gain access to your specific details through a feature called Voice Match. This tool trains the smart assistant to learn each users voice. When you ask to see your calendar, just your info comes up.

But the Hub Max is also making use of a gesture tool, plus a facial recognition feature called Face Match. As you approach the display it wakes up, and greets the person it recognizes by name, up to six different people. There are other IoT devices — we are thinking about Anki's robots — that also taps into facial recognition to learn your face. But this particular feature, to our understanding, hasn't appeared on a Google display until now.
Installing the Google Nest Hub
Putting this device together is remarkably simple, a hallmark of Google tech. If you don't already have a Google Home device, you'll want to download the app and then allow it to walk you through setting up the Hub Max, including its Wi-Fi connection. It does this very well, even asking you if you'd like to sign up for features like Voice Match. And you don't have to sign up for any of them.
If you already have a Google Home account and Google devices then you'll just add the Hub to your account via the app. It will also walk you through the set up. If you haven't signed up for Voice Match then you can do this here as well.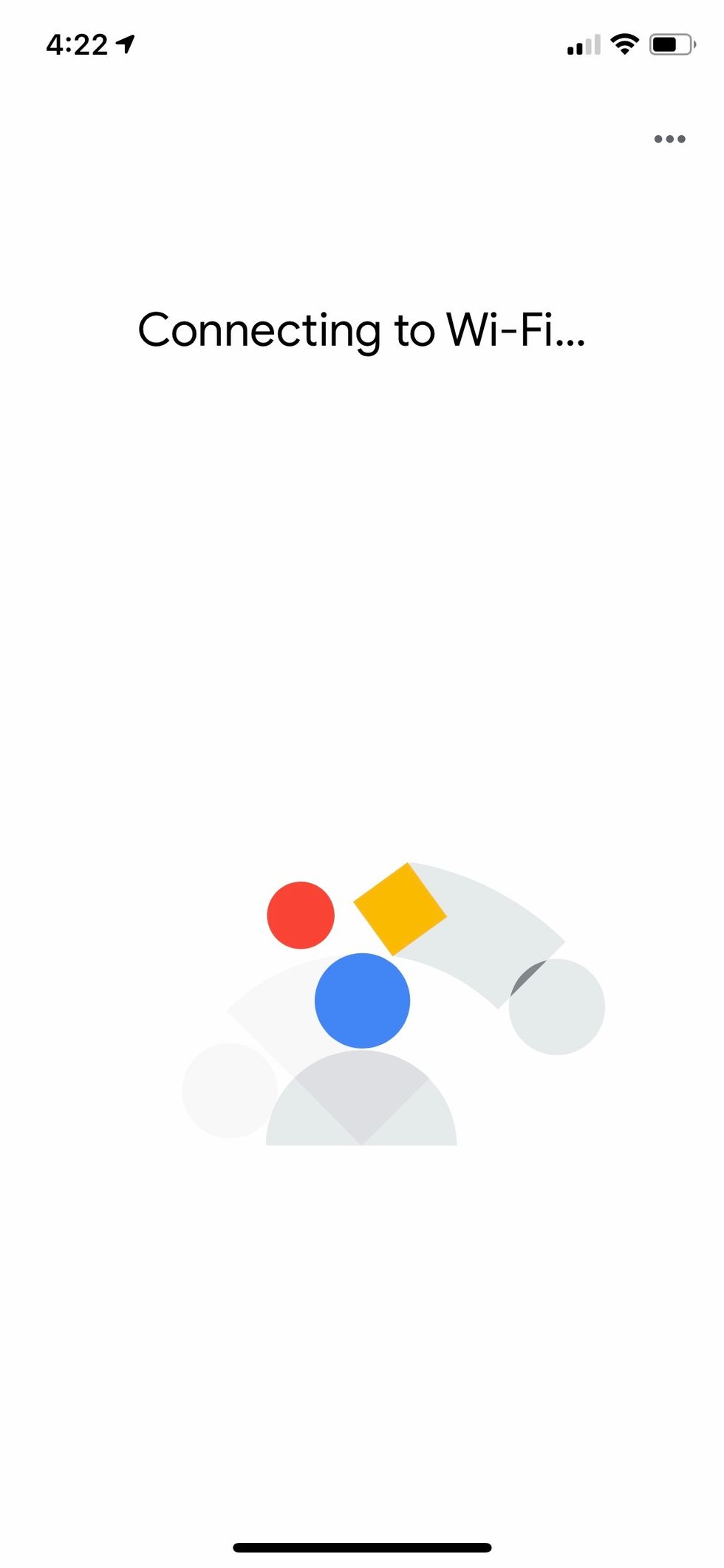 The Nest Hub Max needs to connect to Wi-Fi to work and link to Google accounts, and Nest AwareGearBrain
The new feature for many Google Home users will be adding a Nest device to their Google Home accounts. With the Hub Max's Nest camera, and the fact it can launch both a camera and mic into your space, you need to log in separately to the Nest device. You can use your Nest account, and if you don't have one you can link in through your Google Home account.

How the Hub works
The Hub Max's touchscreen works really nicely, and we liked how easy it was to launch and — crucially — turn off the camera. We did test the camera through the app, which has a 127-degree, wide angle lens giving you a huge view into a space. It also support motion tracking, akin to what the Facebook Portal can do, following people in the frame as they move.
As for audio, we did have some feedback during testing, while standing in the same room. But once we moved into two different locations, feedback went away. The speaker sound was solid, coming from the base through two stereo speakers plus a 3-inch woofer. However, the Assistant's voice felt a bit broken as it played back, and not as rich as the sound we've heard from other displays.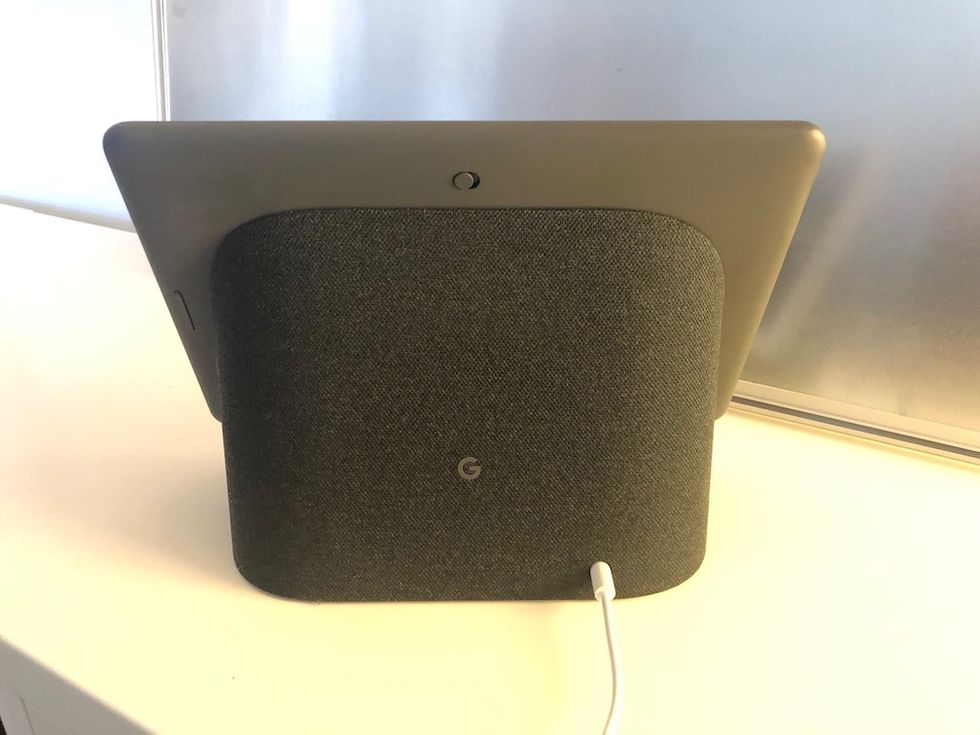 Turning off the camera and microphone is done through a switch on the back of the Nest Hub MaxGearBrain
The camera also has a switch which turns the camera off — but it isn't a physical slider, like on the Lenovo Smart Display, where you can see the camera covered. Still, the device glows green on a light at the top right of the camera lens when someone has the feature active — so you know if the camera is on or not.
Nest Aware

Crucial to note, though, you have to pay for some of these features. Nest Hub Max comes with a free trial of the security camera for a month, after that you have to pay for accessing video history. This is all part of the the revamped Nest Aware, available on all Nest devices starting in 2020. (Note: Nest users have to move their Nest account to a Google account to use this feature.)
Storage service, after 30 days, is available through two new plans — which replace existing plans in 2020. The first is $6 a month, or $60 a year, with 30 days of video history, and the second is a plan called Nest Aware Plus for $12 a month or $120 a year, that stores video for 60 days. This latter plan also records 24/7 for 10 days, if you want that kind of coverage.
Both plans support event-based recording, which starts recording if the camera detects something, or hears a sound, such as a carbon monoxide monitor. However, Google notes that the Hub Max, which we reviewed, will not support sound detection of smoke alarms.
Another Nest Aware tool is 911 calling, if you're home. If you're away, and the Nest detects a sound, it sends you a notification, letting you call 911 from the Google Home app.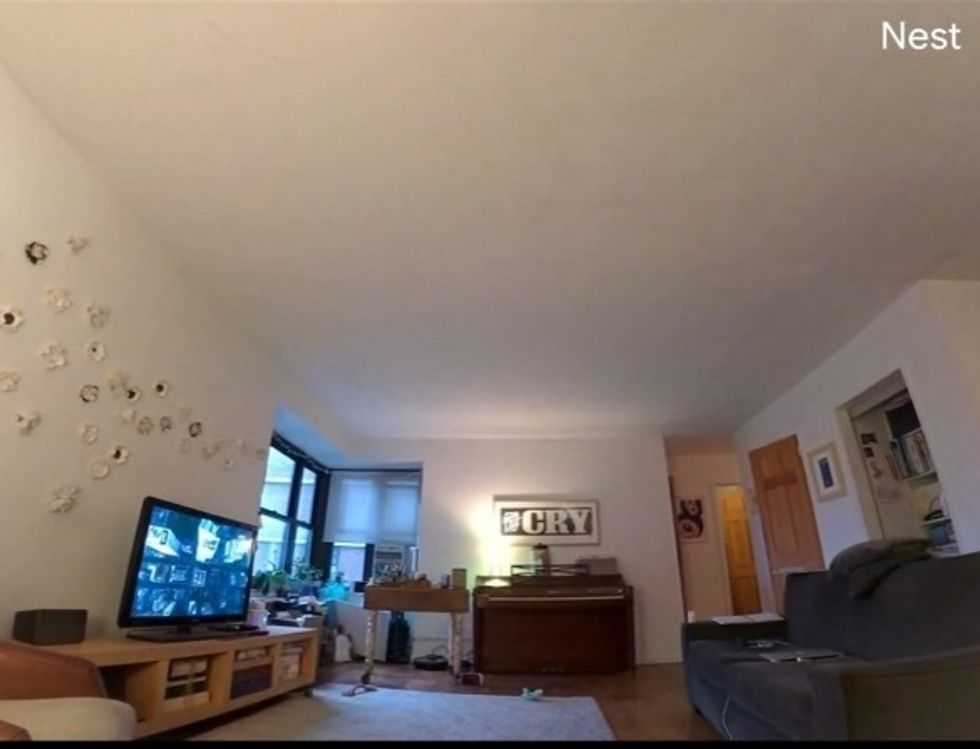 The Nest Hub Max features a camera with a 127-degree wide angle lensGearBrain
Ambient EQ

One of Google's selling points for the Nest Hub Max is its use as a photo frame, accessing your Google images and rotating them through the display. The photos are seen through a new feature called Ambient EQ, which reads the light in the room and adjusts the brightness of the screen. Lit through this light, photos look almost printed, rather than displayed. You can also adjust the screen yourself manually, increasing or decreasing the light. I often found the light just not as bright as I'd like, and would manually increase it.
Gesture feature
The gesture feature is one of out favorites. If you're watching videos, like a cooking show, you can pause the content by just holding your hand to the front of the screen. That's it. No touching your $229 device with hands covered in butter or flour. We know a lot of people are going to love this feature. It worked for us every time, and we suspect this will be something we'll start to see in more displays, maybe even in those from competitors.
The Hub Max integrates easily with all your other Google Home devices. It immediately picked up with my account, and knew, for example, that I preferred the John Legend voice which started speaking out of the Hub Max.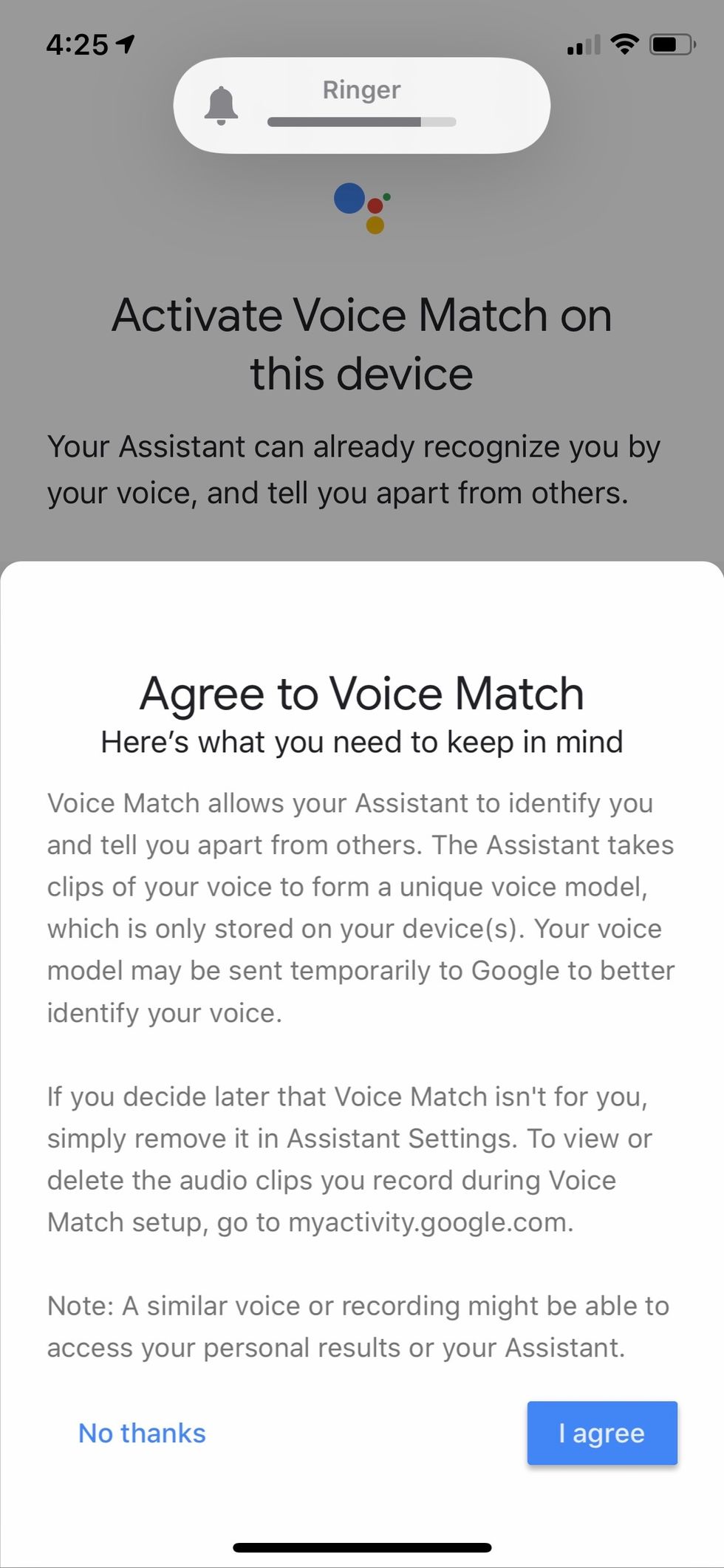 You can use Google's Voice Match through the Nest Hub Max so the device pulls up your details, and no one else'sGearBrain
Cost

The Nest Hub Max is priced at $229, but the Nest camera service will cost, at least, an additional $6 a month.
Will you want to buy this?
In short, we think this is one of the best Google Assistant displays available today. The combination of a touchscreen display, stocked with new Google features like Face Match and upcoming Nest Aware make this a powerful combo of a Google Assistant display with a security camera packed inside.
Privacy issues are necessary to bring up, though. With a camera baked inside — that can start recording at the first detection of motion, or by someone just pushing a button on their app — some people are going to want to consider whether they want to have that kind of a device in their home. Add in the fact that you can't easily physically cover the camera, and we know this is going to be a feature that turns people away from the Nest Hub Max.
For those, however, who want an indoor security camera — watching the house, the kids, a dog perhaps — and a smart display that makes calls, recognizes its owner and connects to their Google accounts, the Nest Hub Max is one easily worth considering.
Pros:
A built-in Nest Cam in the display
Sleek, modern design with fabric elements
Intelligent display makes photos look like they're printed
Cons:
Lacks a physical privacy screen
Sound is not as great as other Google displays like the Lenovo Smart Display
Need to pay an additional monthly fee to store video history and tap into other features.
Check out The GearBrain, our smart home compatibility find engine to find other smart devices and compatible products that work with Google Assistant enabled devices. You can also ask questions and troubleshoot any problems.
How to Find Products in The GearBrain, Our Compatibility Find Engine for Smart Devices www.youtube.com
Like GearBrain on Facebook