Like GearBrain on Facebook
Siri was the first mobile AI to appear in cars when Apple launched CarPlay in 2014. Now Alexa's stealing the limelight — as Amazon's personal assistant finds its way into more new vehicles.
But as is so often the case, where Alexa goes, Google Assistant is never far behind — and this time it has an advantage.
Amazon has to work with car makers to ensure Alexa fits seamlessly into each vehicle's infotainment system. Google, though, simply adds Assistant to Android Auto, already in hundreds of cars on the road today.
Doesn't Android Auto already have Google Assistant?
Not quite. Until now, Android Auto users could use voice commands — which worked just like Google Assistant — to control things like their music and navigation via the Google Maps app. Although this acted and sounded like Google Assistant, it was actually just Google Voice search.
Still with us? Good, because starting this month, Google will bring Google Assistant to Android Auto. It will work in the same way as before — you'll either press a button on the steering wheel or say 'Hey, Google' and issue a command. But now it will be smarter and more connected.
With this update, Android Auto users will be able to ask Google Assistant everything they ask their Google Home smart speaker in the house. They can adjust the lights, change the central heating, switch on the kitchen air con, or unlock the front door — all from the car, no matter where they are.

Google is rolling out Assistant to Android Auto now in the U.S. first, with support in other countries to follow later. This brings Google Assistant to over 400 models of vehicle from more than 40 manufacturers, including Ford, General Motors, Nissan, Volkswagen and Volvo.
For now, Android Auto requires a compatible Android phone to be connected to the car's USB port. But Google is working with auto makers to embed Android Auto into the car's pre-existing infotainment system, removing the need to connect your phone — or even bring it with you.
Can Google Assistant do anything new with Android Auto?
Yes, Google recently said how the system can be used to perform tasks you would find useful while driving, like reserving a parking spot or ordering a coffee. With Google's upcoming 'routines' features, we can expect to see Assistant learn how to do several car-based things at once with a single command — open the garage, switch on the driveway lights and unlock the front door when you say 'Hey Google, I'm almost home', for example.
Isn't this all getting a bit messy?
Yes, it is. As much as welcoming Alexa and Google Assistant into our cars can make our lives easier — and safer — we can see it becoming confusing for many consumers, especially those looking to buy a new car.
Say you are an iPhone user. Do you buy a car with CarPlay, use Siri and leave it at that? Sure, but what if you are an iPhone user who also has a Google Home, or an Amazon Echo? You probably know how these assistants are often better than Siri in the home, so naturally you'll want to use them in the car too. But of course Android Auto doesn't work with an iPhone and Siri won't talk to your smart home through CarPlay, which doesn't connect to Apple's HomeKit system.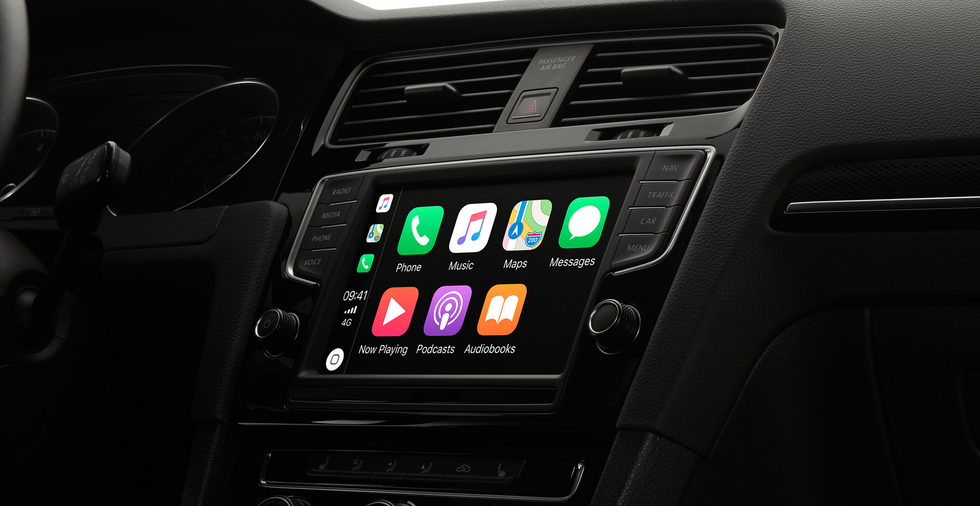 CarPlay, like Siri, is in danger of being left behind by Amazon and GoogleApple
Then there's Alexa, which might be the AI you use to control your smart home, and can be added to a wide and growing range of cars — but then you can't use Alexa to send a hands-free iMessage from your iPhone while driving. In this situation, you would have to find a car with CarPlay and Alexa, then switch between them via the vehicle's own infotainment system to get things done. It's a mess.
Apple needs to integrate Siri more widely
This is getting desperate now. We have already discussed how Siri has fallen behind Alexa and Google Assistant in the home and in our pockets, and if it doesn't act soon consumers will notice how Siri and CarPlay have fallen behind in the car too.
Controlling your kitchen lights from your car might sound pointless, but asking Alexa to open the driveway gate, switch the outside lights on and unlock the front door as you turn onto your street makes perfect sense. Siri cannot do this, and that puts Apple on the back foot.
You can visit GearBrain's What Works with Amazon Alexa to see the connected devices that work with Amazon Echo and Alexa enabled devices. And if you own a Google Home or Home Mini, visit What Works with Google Home or Home Mini page.
Like GearBrain on Facebook