Google Assistant can now be used as a real-time interpreter, translating between 26 languages as two people speak to it.
This means you can have a spoken conversation with someone without being able to speak a single word of their language. Right after one person finishes speaking, their utterance is repeated by the Google Assistant in the listener's language.
Read More:
Assistant can work as a real-time interpreter on any Google Home smart speaker, but works best either on a smartphone or a smart display, like the Google Home Hub. This is because the translations are written on the screen and spoken out loud by the Assistant at the same time.
At launch, the Assistant can interpret between any two of 26 languages, including Dutch, French, Greek, Hindi, Japanese, Russia, Thai and Vietnamese.
However, to get the interpreter feature to work, you have to make your request for it in English, French, German, Italian, Japanese or Spanish.
To start, you can say any variation of the following phrases:
Be my Italian interpreter
Help me speak Spanish
Interpret from Polish to Dutch
Chinese interpreter
Turn on interpreter mode
To stop interpreting, say: "Okay Google, stop/quit/exit".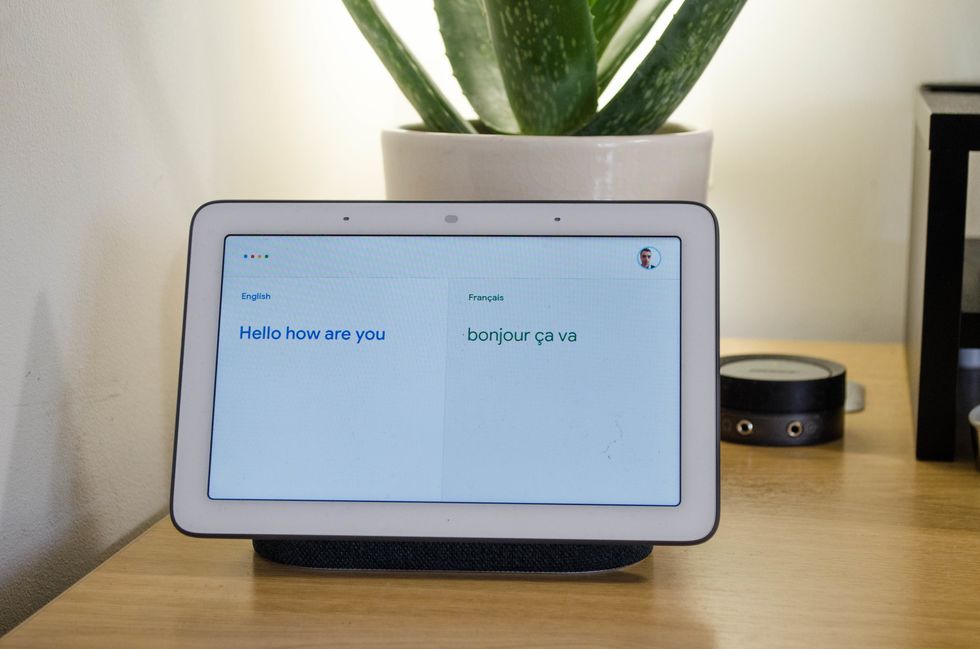 The Assistant can interpret between 26 languagesGearBrain
We tried out the new interpreter mode with our rusty high school French, and found it works quickly and accurately. All you have to do is take turns with the person you are speaking to, and wait for the beep which indicates the Assistant is ready to listen to the next utterance.

The translations are spoken and written almost instantly, and you don't need to alternate between languages; just speak in either of the two you asked for, and the Assistant will translate. We also tried out Japanese, Chinese and Russian, with the system working quickly every time.
We can see this new feature being particularly useful when on holiday. All you need to do is open the Assistant on your phone, hold it up, and use it to chat with hotel staff, waiters, or taxi drivers. As long as your device has an internet connection, it'll work just fine. Hotels could even add a Home Hub to their front desk, helping tourists communicate in their preferred language when checking in.
Here is the full list of languages which the Assistant can interpret between.
Czech
Danish
Dutch
English
Finnish
French
German
Greek
Hindi
Hungarian
Indonesian
Italian
Japanese
Korean
Mandarin
Polish
Portuguese
Romanian
Russian
Slovak
Spanish
Swedish
Thai
Turkish
Ukrainian
Vietnamese
Check out The GearBrain, our smart home compatibility checker to see the other compatible products that work with Google Home and Home Mini.