We all know how infuriating it can be to listen to crackly, repetitive hold music while trying to get through to customer services. And in 2020, with call centers reducing their staffing levels during the pandemic, the wait is often even longer.
Thankfully, the Google Assistant can help. A new feature created by Google, and limited to its new Pixel 5 and 4a smartphones for now, has the Assistant listen to the hold music on your behalf.
Read More:
Once someone finally takes your call, the Google Assistant alerts you with a sound, vibration and a prompt on the screen. It also tells the agent to hold for a moment while you grab the phone and rejoin the call.
According to Google, people in the United States spend 10 million hours every week on hold to businesses. So clearly there is demand for a system that lets you get on with your life for a few minutes (or often much longer) while you're on hold – and saves you from the terrible music. While the call is muted, the Assistant will show a transcript of anything that's being said on the other end of the line, like an automated message saying what number you are in the queue.
The system is optional, switched off by default and only works with toll-free numbers. It is called Hold for Me and available exclusively in the US for now. It is also only available on the newly announced Pixel 5 and Pixel 4a smartphones. That said, Google has a good track record for bringing new features to its older phones too, so hopefully other models of Pixel will get it at a later date.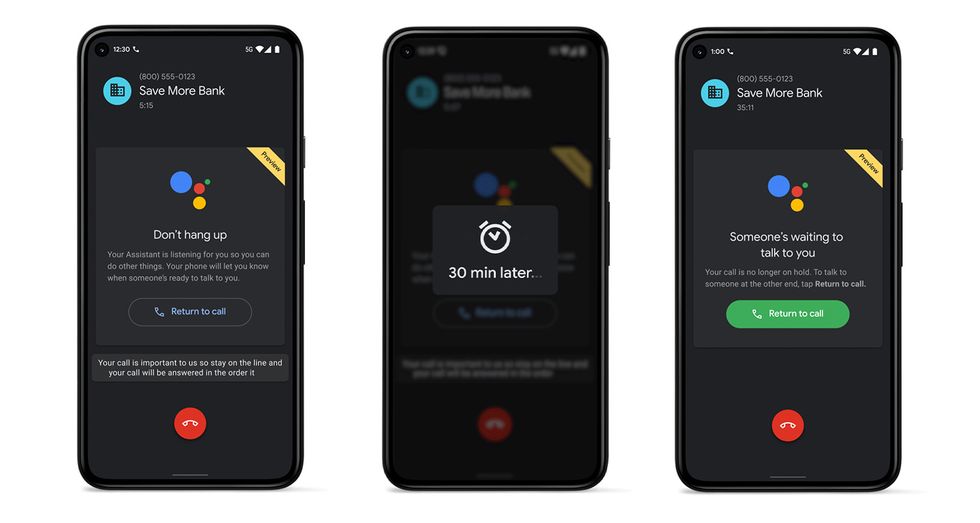 Hold for Me listens to hold music on your behalfGoogle
Google has been on a bit of a mission against the frustrations of customer service calls recently. In 2019, it introduced Call Screen to help prevent spam calls coming through, and Verified Calls, that helped Pixel users know why a business is calling before they answer.
Hold for Me works entirely on your phone, and can function without a data or Wi-Fi connection. No audio from the call is captured or shared.

Google explains how Hold for Me is powered by its Duplex technology, which wowed the world a couple of years ago with its ability to sound remarkably lifelike when talking with humans on the phone. For this application, Duplex recognizes hold music and understands the difference between recorded messages (like "please hold, your call is important to us"), and a real person picking up the line.
The company said: "We gathered feedback from a number of companies, including Dell and United, as well as from studies with customer support representatives, to help us design these interactions and make the feature as helpful as possible to the people on both sides of the call."
Check out The GearBrain, our smart home compatibility checker to see the other compatible products that work with Google Assistant enabled devices.
Introduction of The GearBrain, The First Compatibility Find Engine for Smart Devices www.youtube.com