Google showcased a new push for A.I., like its own Google Assistant, one that could allow the voice assistant to respond even more naturally than it can now, with answers that are more open-ended during a conversation, enabling back and forth discussions to continue.
LaMDA itself stands for Language Model for Dialogue Applications, and it is meant as an antithesis to the kind of stilted, short answer people typically get when they're talking online with an online chatbot. Answers from these are rarely useful and feel programmed, unable to respond to natural language and not capable of having a conversation.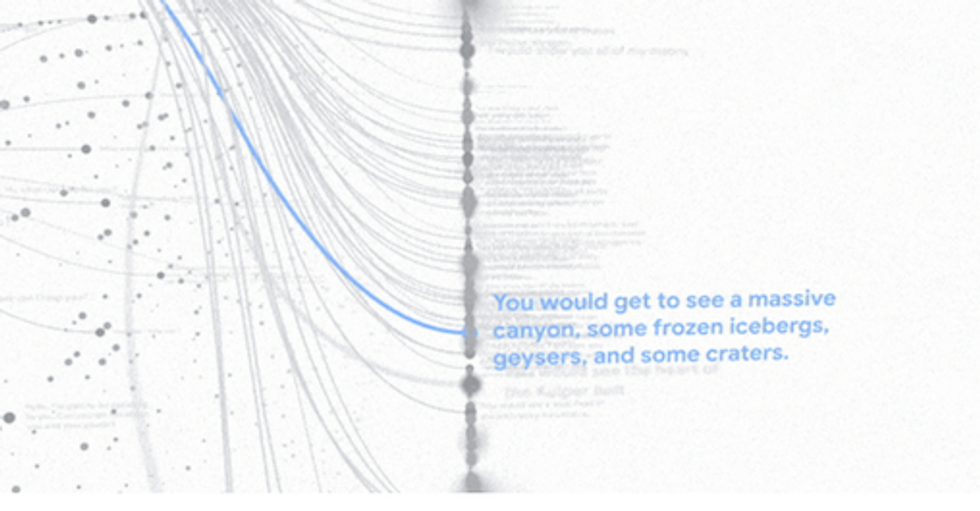 Google trained LaMDA though real dialogue, with the emphasis on ensuring conversations flowedGoogle
Google CEO Sundar Pichai showed the ability during its annual developer's conference called Google I/O, held this year at the company's campus in Mountain View, California. There, Pichai showed an AI chatting back on forth with a real person, as if it were two different entities — the exoplanet Pluto, and a paper airplane.

In one of the conversations as the latter, the AI described the worst flight as a paper airline it had every had, after asked, saying that was when it landed in a puddle. Google trained LaMDA through dialogue, with the key to make sure that conversational flow, the back and forth as people naturally speak, sounded like it flowed.
Google emphasized during the event — and also on its blog — that conversations may start with one topic but often naturally end somewhere else. And it's working on how an artificial intelligence, like its own Google Assistant, could follow these pathways and engage in this more natural way of conversing.
"One of those nuances is sensibleness," said Google. "Basically: Does the response to a given conversational context make sense?"
Google said "early results are encouraging," about LaMDA but it's unlikely that these abilities will be transforming Google Assistant immediately.