Like GearBrain on Facebook
If you have just bought a new Google or Nest smart speaker or display, it can be tricky to get your head around the dozens and dozens of features available through the Google Assistant
Just as with Alexa on Amazon's Echo speakers, the lack of a conventional user interface can make it difficult to know what the voice assistant is capable of, and how to get the most out of it.
Read More:
There is certainly a learning curve here, and being told the Google Assistant doesn't understand because we've phrased something incorrectly can be annoying. But patience is key, and so too is curiosity. There's no harm in asking the Assistant to do something, just to see what happens.
But there are still some basics to be covered and that's where this article comes in. Here we have gathered up much of what the Google Assistant can do on its own, producing a complete guide to getting started. For this, we will assume you are using a Nest smart speaker or display, like the Nest Mini, Nest Audio or Nest Hub Max. But much of what follows is equally true with other devices that use the Google Assistant, like Sonos speakers, and the Google Assistant app on your smartphone.
As with our Alexa guide, this is more about what the Google Assistant can do on its own, instead of how it works with smart home devices. Let's get started.
Does Google Assistant record everything I say?
First, a quick explanation of the Google Assistant's most contentious feature – the always-on microphone fitted to your Nest speaker or display. These microphones are always listening out for the hot words of "Hey Google," and "Okay Google." Say either of these, and the Assistant will listen to (and record) what you say next. As of April 2021. Google is looking at ways to have the Assistant automatically listen in some circumstances; that way, you could just say "answer the phone" when it rings or "stop" when the Assistant plays an alarm. This features codenamed Guacamole, is still in the development phase.
Like Alexa, these recordings are saved on a server, where you can listen to them and delete them if you so wish. Google says deleting recordings may impair the Assistant's ability to learn and better understand you in the future. To view and delete these recordings, go to your Google account, then click Data & Personalization -> Activity Controls -> Web & App Activity -> Manage Activity.
How to change the voice and accent of Google Assistant
It is possible to change the voice used by Google Assistant, either by speaking to the assistant or by using the Google Home smartphone app.
For the former, just say: "Hey Google, change your voice," and the Assistant will begin speaking in a different voice. If you like that one, say "Yes." If you don't, say "No," and the Assistant will try another.
Alternatively, open the Google Home app and tap on your profile picture or initials in the top-right corner, then navigate to Assistant Settings -> Assistant -> Assistant Voice and pick the one you want. A different number of voices are available depending on the country you live in. Instead of using genders and human names, these voices are named after colors.
Any changes made here are global, meaning the Assistant voice on every device you have changes to the new one you selected.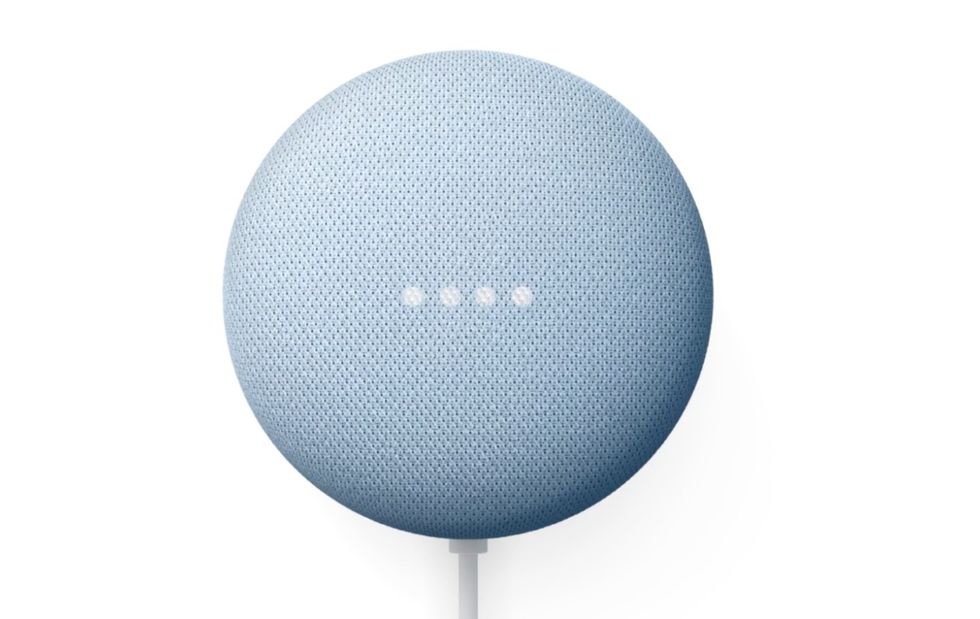 The Nest Mini smart speaker with Google AssistantGoogle
What are Google Assistant commands?

Alexa has skills, which are like applications for the Amazon voice assistant, and Google Assistant has commands. There are hundreds of these, ranging from simple requests like asking for the time or the weather forecast, to playing music, setting a timer or alarm, and controlling smart home devices like thermostats, lights and door locks.
Google adds new commands to the Assistant all the time, so it's impossible to offer a complete list here. But as a general rule, you can ask the Assistant any question you would type into the Google search engine. Beyond that, it's a case of trial-and-error; the Assistant might say it doesn't understand, but chances are it'll have an answer to your question, or act on your command.
Managing reminders, alarms and timers with Google Assistant
Just like Alexa, you can ask the Google Assistant to remind you of things, set alarms, and act as a countdown timer. The latter is useful for cooking and you can set several timers at once, assigning each with a name. For example, say: "Hey Google, set a timer called rice for 20 minutes."
Alarms work in a similar way; for example: "Hey Google, set a timer for 6:30 every weekday morning." If you are less precise than this, the Assistant will ask for extra information to get all the details it needs to set the alarm.
Reminders are also easy. Just say: "Hey Google, remind me to take the trash out at 8:00 every Tuesday evening."
Playing music and radio with the Google Assistant
If you are new to Google Assistant, you'll need to set your default music service. To do this, open the Google Home app and navigate to Settings -> Music then pick the service you want to use, such as YouTube Music or Spotify.
Once you have done that, just say: "Hey Google, play...," followed by the artist, album, song, playlist or genre you want. You can also ask for a radio station, too.
Controlling music is as simple as saying: "Hey Google...," then:
Play
Pause
Stop
Turn the volume up
Decrease the volume
Skip to the next track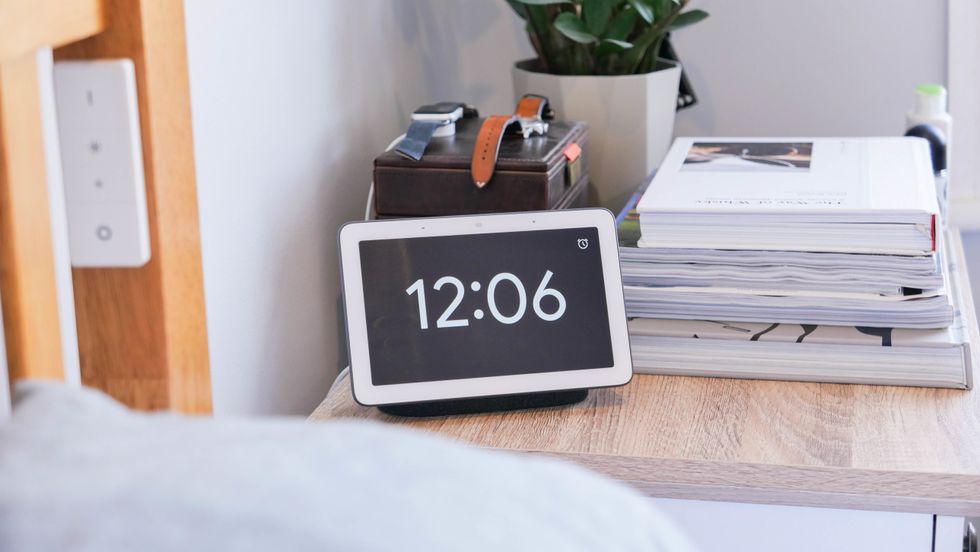 Nest Hub as a bedside alarm clock GearBrain
How to add Apple Music to Google and Nest smart speakers and displays

As of December 2020, Google finally allowed Apple Music to run on its Nest smart speakers and displays. All you need to do is tap on the prompt at the top of the Google Home app, sign into your Apple Music account (which happens automatically with Face ID or Touch ID if using an iPhone) and you are good to go.
If the prompt doesn't show for you, then tap on Settings, followed by Music, then tap on Apple Music to link it to your Google account. After that, when you ask the Google Assistant for music it will play from your Apple Music account.
How to control your TV with Google Assistant and Chromecast

If you have a Chromecast built-in TV, or a Chromecast streaming dongle attached to your television, monitor or projector, you can control it by speaking to the Google Assistant. So long as the Assistant device and Chromecast are on the same Wi-Fi network, you can say something like: "Hey Google, play the next episode of 'Last Dance' on Netflix."
You can ask for any content available through Chromecast, then control it by saying: "Hey Google, pause/play." When you're done, just say: "Hey Google, turn the TV off."
News and weather with Google Assistant
Another simple but useful function of the Google Assistant is asking about the day's news headlines and weather forecast. All you have to do is say: "Hey Google, read out the news," or: "Hey Google, what's the weather forecast today?"
The former can be customized by picking which news sources you want the Google Assistant to read from. To change this, open the Google Home app, tap your profile picture or initials in the top-right corner, and navigate to Assistant Settings -> Services -> News, then adjust the news sources to how you want them.
For weather forecasts, you can ask about today and the Assistant will use your current location by default. Or you can pick a date and location of your choice, then ask a follow-up question about whether it will rain on the day you are asking about, or how cold it will get at night.
This is one of the times where the microphone stays open for a few seconds after the Assistant has finished answering tour first question. That way, you can just say "what about tomorrow?" and the Assistant will understand that you are referring to the weather forecast. Because the mic was kept open briefly, you don't need to say 'hey Google' a second time to get the Assistant's attention.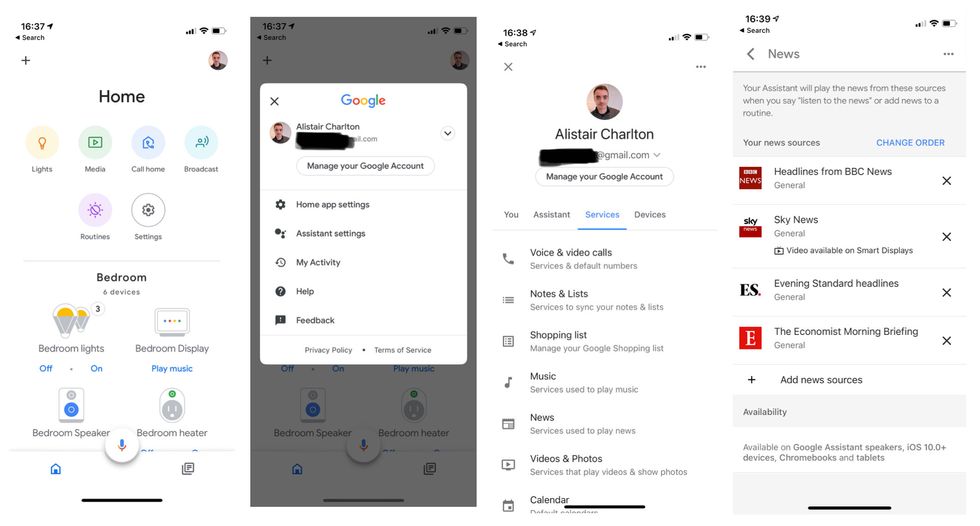 Changing news sources of Google AssistantGearBrain
How the Google Assistant listens for follow-up questions

We spoke in the last section about how Google Assistant can answer follow-up questions, where you don't have to say 'Hey Google' to get its attention, and you don't have to explain any context for it to understand.
But this is switched off by default. To turn it on, open the Google Home app, tap on your profile picture or initials in the top-right corner, then tap on Assistant Settings and navigate to Assistant -> Continued Conversation, and tap the toggle switch to turn it on.
Now, the Assistant will keep listening for a few seconds after providing an answer, ready to be asked something new, or for you to ask a more specific question. And yes, the Assistant will appreciate it if you say thank you.
How to sync your calendar with Google Assistant
As well as taking care of reminders and alarms, the Assistant can also keep on top of your calendar. That way, you can add events by speaking to the assistant, or ask what your day is looking like.
To add any of your existing Google calendars to the Assistant, open the Google Home app, tap on your profile picture in the top-right, then tap Assistant Settings. Now tap on Services, then Calendar to set the default.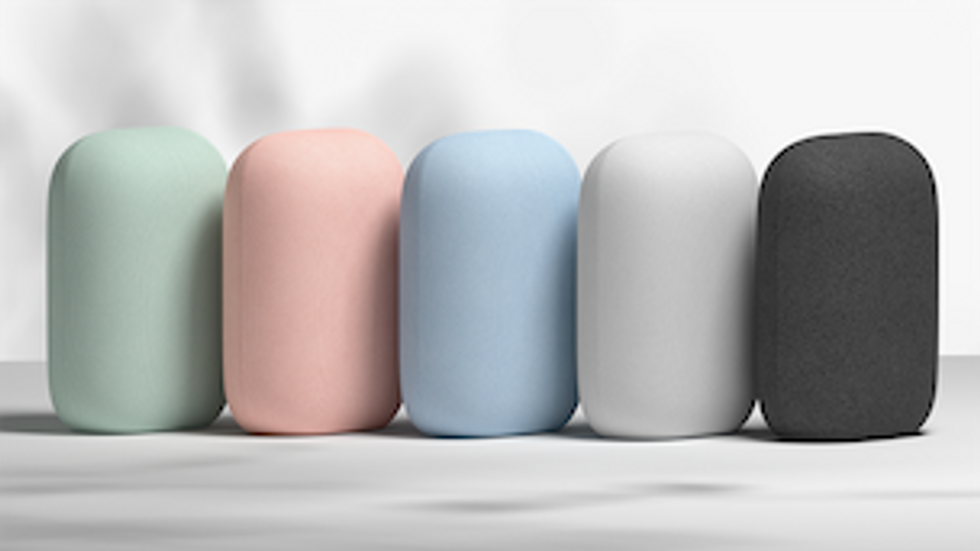 The various colors of Nest Audio smart speaker by Google Google
How to teach the Assistant your voice with Google Voice Match

If you share your home with others, you'll want to start using Voice Match to make sure the Google Assistant knows who is talking to it. That way, the correct calendar schedules will be shared when you ask.
To set this up, once again head to the Assistant Settings section of the Google Home app. From there, tap on the Assistant tab, then on Voice Match. This is where you teach the Assistant to recognize your voice.
Using Google Assistant for translation with Interpreter Mode
All Google and Nest smart speakers can act as a real-time interpreter. To get started, say something like: "Hey Google, be my Italian interpreter," or: "Hey Google, interpret from Polish to Dutch."
Start speaking after you hear the tone, and the Google Assistant will do the rest, translating between languages as you speak, or while you have a conversation with someone else in the same room. To stop, say: "Hey Google, stop/quit/exit."
Google and Nest smart displays, like the Nest Hub and larger Nest Hub Max, will display real-time translations as you speak.
Broadcast an announcement across the home
If you have more than one Google Assistant device, like a Home speaker or Nest Hub display, you can broadcast an audio message to all of them at once. Useful for telling the household that dinner is ready, or asking if they need anything from the store, say something like: "Hey Google, broadcast dinner's ready."
For simple and commonly-used phrases like that, the Assistant will make the announcement in its own voice. For something more complex, it will play a recording of what you said. You can also direct these announcements to a single Assistant device, or a single room by saying: "Hey Google, broadcast to the kitchen, is dinner ready yet?"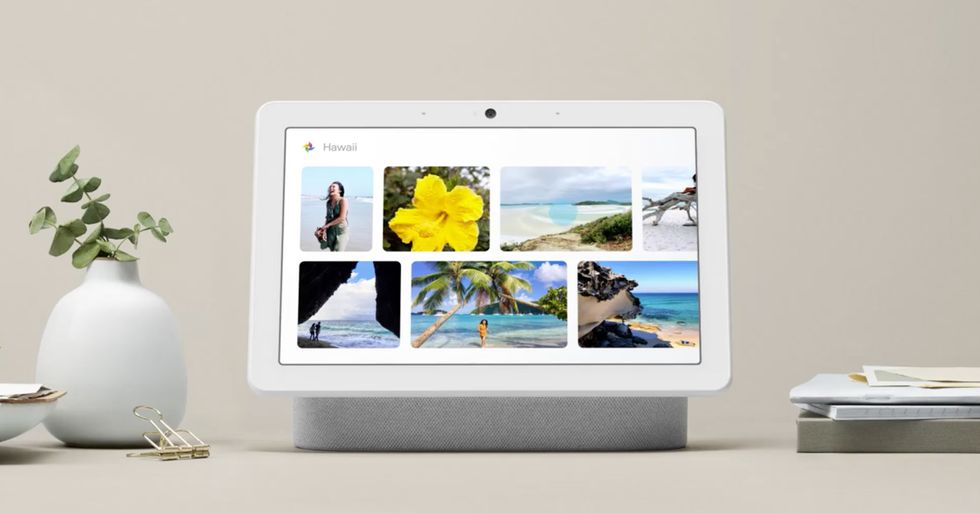 The Nest Hub Max smart displayGoogle
Playing games with Google Assistant

Like Alexa, the Google Assistant can play a number of audio-based games. These are all quite simple, but can be fun to play with the kids and are easy to set up. There's nothing to install or configure, as you just get the Assistant's attention then ask for the game by its name. We've included a list of 10 of our favorites below to get you started.
Using new Guest Mode with a Google Assistant speaker or display
Added in early 2021, Guest Mode is a way to limit the functionality of your Google/Nest speaker or display and protect the privacy of guests visiting your home.
With Guest Mode enabled, the Google Assistant will not store any conversations had with it. This could come as some reassurance for guests visiting your home, who might not want the Assistant to record anything they say to it. It also means interactions had between a guest and the Assistant will not affect its understanding of you. Another feature of Guest Mode is how the Assistant will not reveal any personal information while it is enabled. That way, visitors to your home will not be told about your calendar events and other personal details when speaking to the Assistant.
Guest Mode is available on all Google and Nest smart speakers and displays. It is enabled by saying: "Hey Google, turn on Guest Mode." Once enabled, an icon showing a blank user profile picture appears in the top-right of your smart display, and when someone speaks the display will not show their profile picture, as the Assistant normally does when recognizing a voice.
How the Google Assistant can help you sleep
This might seem like an unusual skill for a voice butler, but the Google Assistant is pre-loaded with a bunch of soothing ambient sounds to help you fall asleep. These include the sounds of rain, thunderstorms, rivers, forests and the option, plus the sound of a crackling fireplace, and white noise. Each can be set to play for however long you need to fall asleep.
The Assistant can also help children settle down by reading a bedtime story or singing a lullaby.
Also on the topic of sleep, the new 2021 Nest Hub smart display uses a form of radar to track your sleep from your bedside. This form of sleep tracking requires no wearable devices like a smartwatch or fitness tracker, and no sensor under the mattress. Instead, the display uses its Soli sensor to monitor your movement and breathing each night, then delivers a report on your sleep each morning. The feature is optional and doesn't have to be used.
Check out The GearBrain, our smart home compatibility checker to see the other compatible products that work with Google Assistant enabled devices.
Introduction of The GearBrain, The First Compatibility Find Engine for Smart Devices www.youtube.com
Like GearBrain on Facebook