Like GearBrain on Facebook
With many of us still working from home, and likely doing so for the foreseeable future, the days can quickly blur together, hours slowly ticking by without the usual structure of office life.
For some, working from home has been a revelation, an opportunity to spend more time with the family and less time commuting. But for others, the lack of routine the office can bring has taken its toll.
Read More:
With a new feature called Workday, the Google Assistant wants to bring some routine and order back into your life. Easily tailored for each user, Workday has Google Assistant speak up to let you know about upcoming calendar events. It also reminds you to take care of yourself by suggesting you get a glass of water, go for a walk, have a stretch, and remember to log off from work at a sensible time each evening.
This may all sound obvious, but it's often easy to get consumed by our work, especially when there are no colleagues to distract us with suggestions of heading out for a coffee, and reminding us when it's time to call it a day. The new feature comes shortly after Family Bell, which was added to the Google Assistant this summer as a way to help manage days for children currently doing their schoolwork from home.
Available only in English for now, Workday is currently rolling out for the Google Assistant app on iOS and Android, and once configured the Assistant of your Google or Nest smart speaker (or display) will speak up when it's time to do something.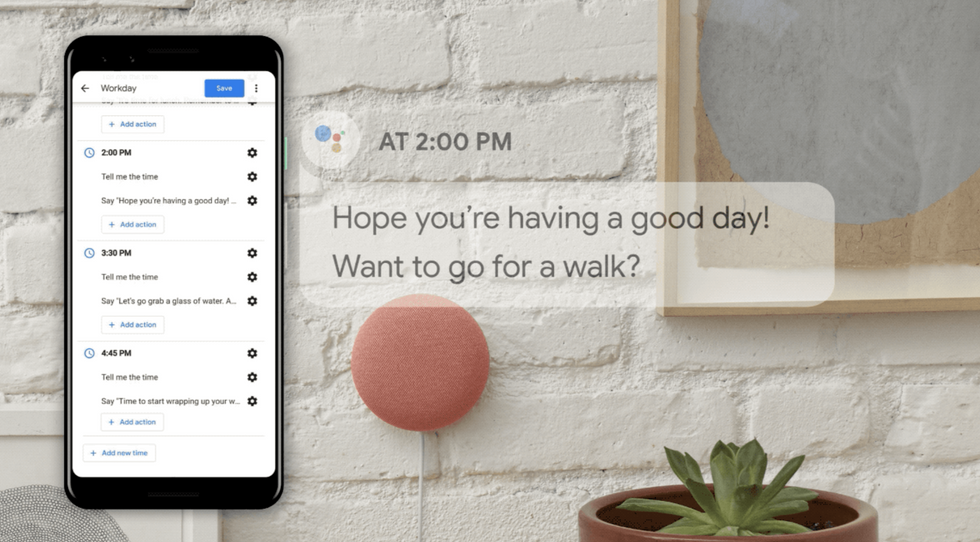 Workday feature suggests drinking water and going for a walkGoogle
Default options include the assistant reminding you to get up and stretch every weekday at 10am (or whatever time is best for you), then at 2pm it can suggest going for a walk, then grabbing a glass of water at 3pm. As afternoon gives way to evening, the assistant will remind you to start wrapping things up for the day. A further option is to have the assistant occasionally tell you the time throughout the day, to help keep you on track.

All of this can be edited to fit with your own working day, and of course the Assistant can still be used to add events to your calendar, create and manage to-do lists, and set reminders and alarms. Google Assistant can also be used to remind you of specific upcoming events, like a colleague's birthday next Wednesday, and of useful pieces of information, like your password for logging into the work IT system.
Check out The GearBrain, our smart home compatibility checker to see the other compatible products that work with Google Assistant enabled devices.
7 Tips Everyone Needs to Know About How to Use Amazon Alexa and Google Assistant Enabled Devices www.youtube.com
From Your Site Articles
Related Articles Around the Web
Like GearBrain on Facebook