Google says the picture quality of its Duo video calling app is about to get much better, despite millions more people using it than normal.
The sudden spike in usage is of course due to much of the world stuck in coronavirus lockdown and using video calling apps to keep in touch with friends and family.
Read More:
Google has already sought to improve the audio quality of Duo calls by using artificial intelligence to fill in the gaps lost to a stuttering internet connection. Now, by switching to a new video codec, a kind of software that improves video compression, Google says the picture quality will markedly improve too.
The company says that, in the coming week, it will roll out the new codec to boost video call quality and reliability, even when Duo is used on a slow, low bandwidth internet connection.
The gif image below shows a comparison between the current technology on the right, and the new AV1 codec on the left, both using a modest 30kbps connection.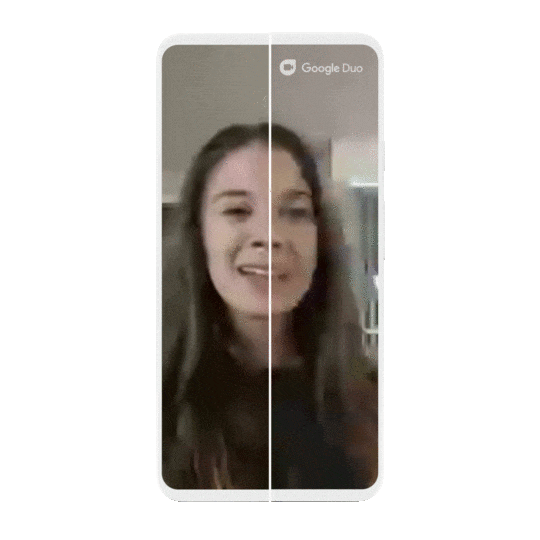 New codec will improve video quality on Duo callsGoogle
Not created directly by Google, the AV1 codec comes from an industry-wide consortium called the Alliance for Open Media, and is a successor to the VP9 codec. AV1 is a more efficient way of sending live video over an internet connection, making for higher quality video and a smoother, more reliable call.

Google says over 10 million new people are signing up to use Duo every week, and in many countries the number of minutes it is used has increased ten-fold. The overall messages sent through Duo has also increased, in this case by 180 percent overall, and by 800 percent in regions with the most severe social distancing measures.
Google can't quite keep pace with industry leader Zoom, however, which has seen its user base grown from 10 million per day in December, to 300 million now — up from 200 million earlier in April, despite privacy concerns.
As well as the video technology, Google is adding other new features to Duo in a bid to keep its millions of new users engaged. This includes increasing the maximum number of video call participants from eight to 12, on both iOS and Android, with plans to increase this further still in the coming weeks.
Starting today, Google Duo users can also take a photo together during a call with a feature called Duo Moments, which is then automatically shared with everyone on the call. This works on smartphones, tablets and Chromebooks.
Check out The GearBrain, our smart home compatibility checker to see the other compatible products that work with Google Assistant enabled devices.