Like GearBrain on Facebook
With millions of people the world over stuck in their homes due to coronavirus lockdown, video chatting has soared in popularity.
This surge has been led by Zoom, which saw its average daily users grow from 10 million to 200 million in just a few weeks, as the video conferencing app meant for business use was adopted by just about everyone. People used it to socialise with friends, play games, date, and even attend virtual weddings.
Read More:
PC Webcam, TedGem 1080P Full HD Webcam USB Desktop & Laptop Webcam Live Streaming Webcam with Microphone Widescreen HD Video Webcam 90-Degree Extended View for Video Calling (HD Webcam)… (Black)
Skype, on the other hand, lagged behind. Despite being the go-to choice for voice chatting just a few years ago, the Microsoft-owned app lost out to Zoom and other upstarts like video-chatting and gaming app Houseparty.

Now, Skype hopes to fix this by introducing a new feature where video calls can be started without either person needing a Skype account. Joining a video chat without creating an account or downloading software is key to Zoom's success, so it's not a surprise to see Skype follow suit.
Skype goes a step further than Zoom, because even the host can create a call without needing an account. The new Skype feature is called Meet Now and it works within your web browser, so there's no need to download anything to get started.
All you have to do is start the meeting, then share that meeting's unique link with whoever you want to talk to. Once they click on the link, they'll be able to join the chat.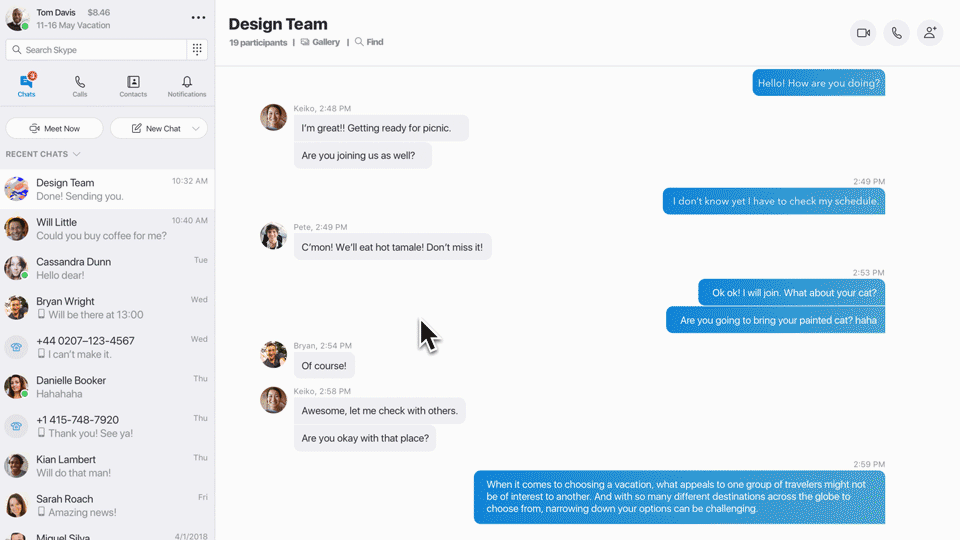 A video chat can be started in three clicksSkype
How to use Skype's new Meet Now video chat service:

Head to this page of the Skype website
Click on the 'Create a free meeting' button
Click 'Share invite' or copy and paste it into a message or email to send to your contacts
Click on the Start call button, then click on 'Join as guest'
Alternatively, if you have a Skype or Microsoft account you can now log in
If you joined as a guest, type in your name and click Join
This creates a temporary guest account, which Skype will automatically delete 24 hours after it is created. That's fine though, as you can just log in as a guest again and use the same screen name as before, or any name you like. It's not a case of having to create a unique account or name, like with creating a proper Skype or Microsoft account.
No one in the chat has to have Skype installed, as it works in your computer browser. However, if someone joins the call from a smartphone or tablet, they'll have to download the app and create an account, or log in with a pre-existing Skype or Microsoft account.
For iPad users things are slightly more complicated, as the Safari browser tells the Skype website that it is a computer. Skype then tells Safari that the browser is not supported (as only Chrome and Edge are), but doesn't prompt you to download the Skype for iPad app. So you'll have to open the App Store and do that manually (and create an account to log in) before you can start or join a call.
Essentially, the new Meet Now feature is intended for computer users who want a very quick and simple way to start a video chat, without the need to create an account or download anything. If you want to use a mobile device like a phone or tablet (or run Skype on your Xbox or Alexa smart display), you'll need to download the app and log in.
Logitech HD Pro Webcam C920, Widescreen Video Calling and Recording, 1080p Camera, Desktop or Laptop Webcam
From Your Site Articles
Related Articles Around the Web
Like GearBrain on Facebook