The Google Home range of smart speakers and the Home Hub smart display can now wake you up gradually by increasing the brightness of Philips Hue lights.
When instructed, the Google Assistant will turn up the lights from zero to full brightness over a 30-minute period, simulating a sunrise intended to wake you up just before your audible alarm goes off.
Read More:
The same new system can also be used to help you drift off to sleep, lowering the brightness to zero over a 30-minute sunset simulation.
If you already have one or more Philips Hue smart lights in your bedroom (and they're hooking up to Google via the Google Home app) you just need to say: "Hey Google, turn on Gentle Wake Up."
Now, the lights will begin to brighten 30 minutes before your morning alarm — just make sure you give the instruction to the Google Home device you want to use as your alarm clock.
If you don't already have an alarm set, or just want to be woken by your lights and no sound, you can also say: "Hey Google, wake up my lights in the bedroom at 6:30am." This can be set up to 24 hours in advance.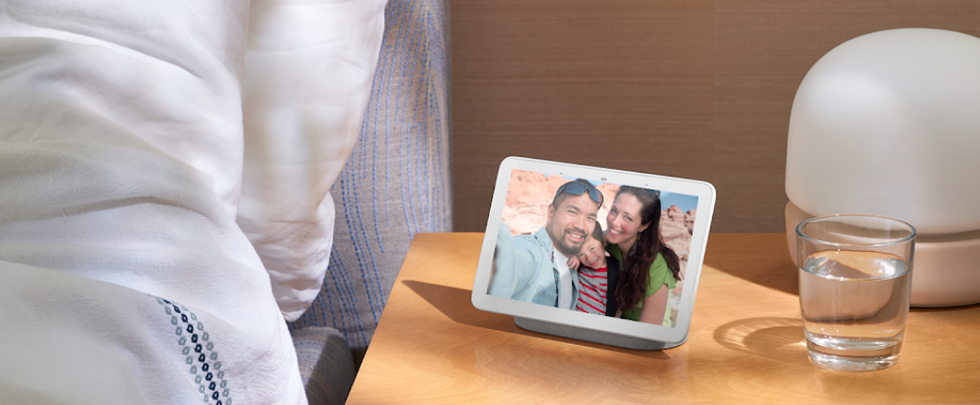 The Home Hub can be used to gradually turn off a Hue lamp at nightGoogle
To end your day with lights slowing dimming to zero, say: "Okay Google, sleep the lights in the bedroom" and those corresponding Hue lights will take 30 minutes to dim to complete darkness.

Of course, this feature has been a part of the Philips Hue system for some time, and can be controlled via the Hue app (which also lets you adjust the length of the sunrise and sunset). Many Hue and Google Home owners — this writer included — probably already have such a system in place.
However, it's good to see Google adding features to its own smart devices, making it quicker and easier to set up the sunrise simulation, and negating the need to reach for your smartphone when thinking about bedtime.

The feature is called Gentle Sleep & Wake, and is available for Google Home users in the U.S., U.K., Canada, Australia, Singapore and India now, and only works if you have your Google Home language set to English at this point.
And remember, the Google Home can be used to help you sleep in other ways too. You can, for example, ask the Assistant to play ambient sounds like distance storms, raining, or white noise to help you drift off.
Check out The GearBrain, our smart home compatibility checker to see the other compatible products that work with Google Home Hub, Google Home and Home Mini
What you need to know about Google Assistant Devices www.youtube.com