Like GearBrain on Facebook
We all know how getting enough sleep is crucial to maintaining a healthy life, and while bedding down in time to get your full eight hours is half the battle, waking up in a good mood can be just as important.
During the dark winter months this can be tough, especially when most smartphone alarms sound like someone in Hawaii has pressed the wrong button again. Thankfully - and as you might expect when reading GearBrain - technology is here to help wake you up gradually and bring a brighter start to your day.
Simulate sunrise with a Lumie lamp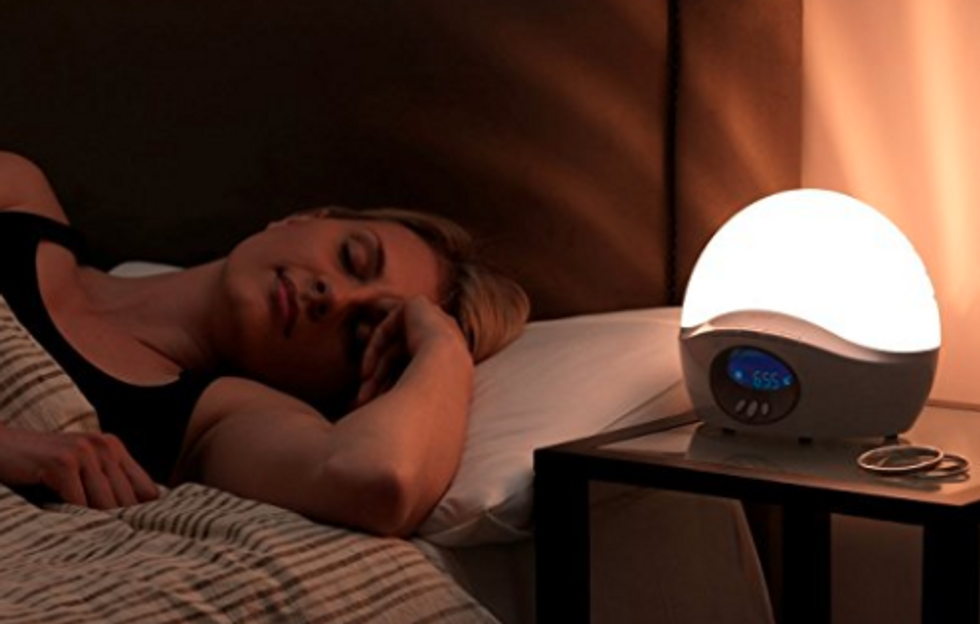 Lumie lamps simulate sunrise and sunsetLumie
Our body clocks rely on visual cues to help us sleep at night and be awake and alert during the day. The biggest cue is sunlight, which reduces our brain's production of melatonin, a hormone which regulates sleep. Melatonin levels rise during the darkness of evening, helping us sleep, then reduce as the sun rises the next morning.
But because we do not adjust our sleep patterns to compensate for the sun's shifting schedule, waking up in dark winter mornings is tough. This is where lights which simulate sunrise come in.
The author of this article has used a Lumie Bodyclock Luxe 700 for almost a year, although there are many other options available, from Lumie and other manufacturers. You can find a selection on Amazon here.
Beginning at deep red, the light becomes brighter and warmer over a period of between 15 and 90 minutes, depending on how long you want the artificial sunrise to last. The Lumie helps make winter mornings more bearable and means we can use blackout blinds in the summer, safe in the knowledge that we will still wake up at the right time.
An audible alarm or music of your choice can be played at full brightness, but we have found that this isn't necessary 90 percent of the time. Set for 7am, we usually wake up at 6:50am, just as the Lumie reaches its full, white, room-filling brightness. When you get back into bed, the Lumia can also be set to simulate a sunset.
Wake up when you are least asleep with a dynamic alarm app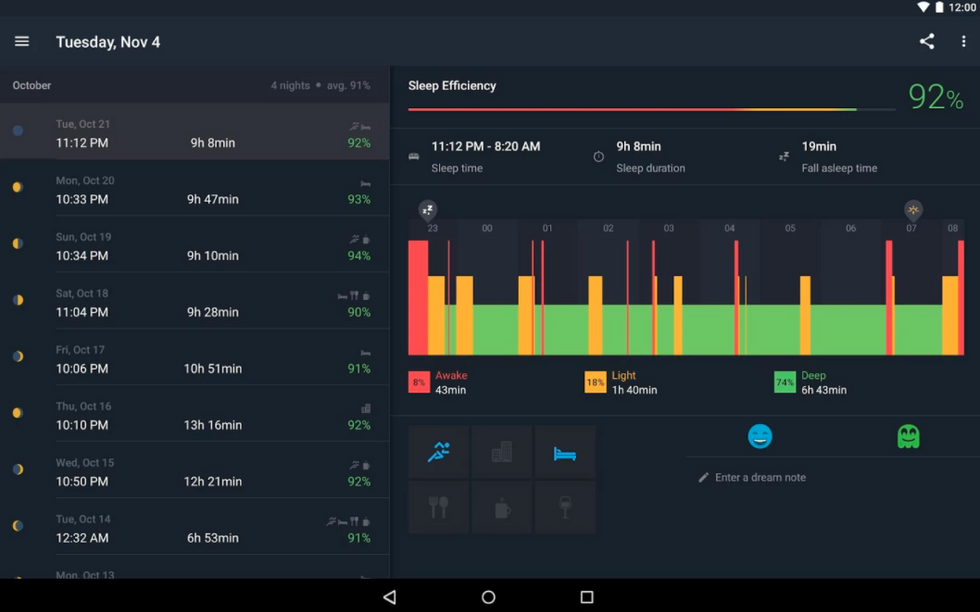 Sleep Better includes detail sleep analysisRuntastic
We all know how unpleasant it is to be woken from deep sleep. During the REM (rapid eye movement) stage of deep sleep we are dreaming, paralyzed by our brain and unlikely to be disturbed by noises that aren't alarm-clock loud. The REM stage comes in cycles during each night's sleep, with the cycles getting longer through the night and the final one lasting for around 90 minutes. That's a large window where being woken up suddenly is going to feel unpleasant.
A number of smartphone apps are designed to help wake you up when you are in the lighter stages of sleep and not experiencing REM. These are called dynamic alarms and work by using the phone's accelerometer - and sometimes the microphone and ambient light sensor too - to work out which stage of sleep you are in. Before going to bed, tell the app what time you would like to wake up, and give it a window for this to happen - say, 30 minutes.
This means that, if 30 minutes before your alarm the app detects you are in light sleep, it will wake you up and you can start your day in a more alert state than if you were dragged out of REM by a blaring alarm.
We use Sleep Better, available for iOS and Android, which also provides comprehensive analysis of your sleep and gives you the chance to keep a dream diary - if that's your thing. Sleep tracking is free with Sleep Better, but the dynamic alarm is part of a one-time $1.99 upgrade within the app.
Using this feature means having your phone plugged in, switched on, on your bed and unlocked - so make sure you mute all other notifications, or switch on Airplane mode.
Another app with a dynamic alarm is Sleep Cycle, also available for iOS and Android.
Gently brighten the room with Philips Hue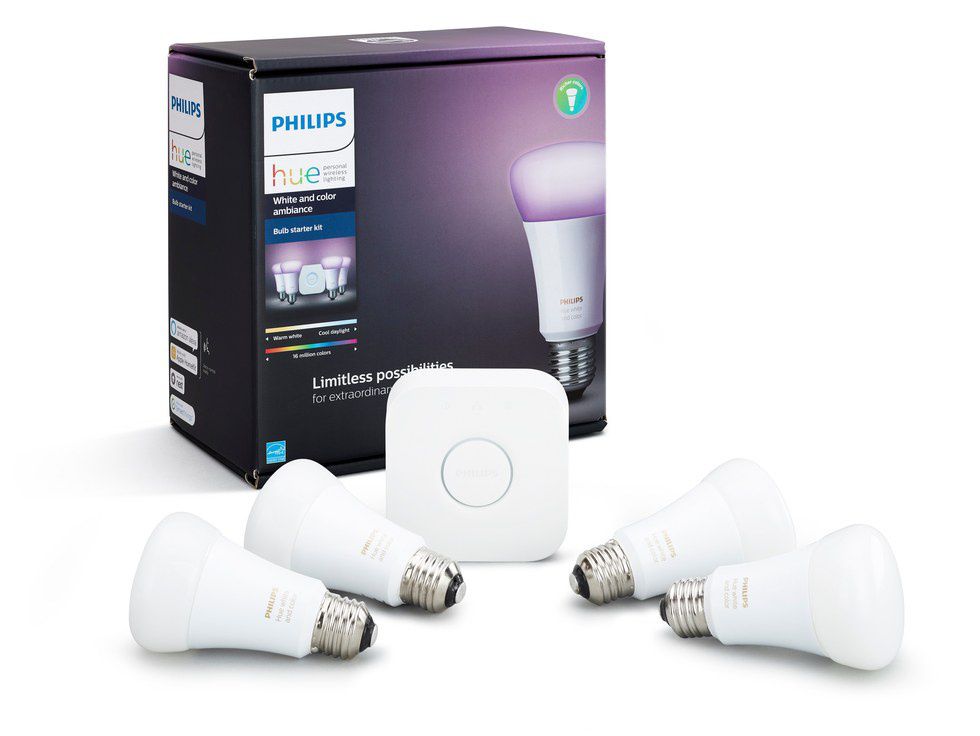 Hue starter kits include a Wi-Fi hub and several bulbs, each capable of producing 16 million colorsPhilips
An alternative to using a dedicated sunrise lamp is to invest in a Philips Hue smart light system. Starter kits come with two or three bulbs, plus the Hub for connecting them to your Wi-Fi router. There are several different bulb types available, so it is likely that the lamps and light fittings already in your home will accommodate a Hue system.
The Philips Hue apps contains a section called Routines, where you can program the lights to help you wake up and fall asleep. You can pick which days of the week each routines takes place, and set how long you want the lights to take to reach full brightness or complete darkness.
We have a routine set to mimic our Lumie, which means fading in for 30 minutes every weekday morning, resulting in full brightness at 7am. The app lets you pick which room and lights you want to wake you up - we picked our bedroom, obviously, and a light strip which runs vertically between a wall and our wardrobe, bathing the room in a warm orange glow.
Routines can also be set to switch other lights on, so you could place Hue bulbs in the hallway and bathroom, then configure them to illuminate at 7am, just in time for your morning shower.
Give Alexa a morning routine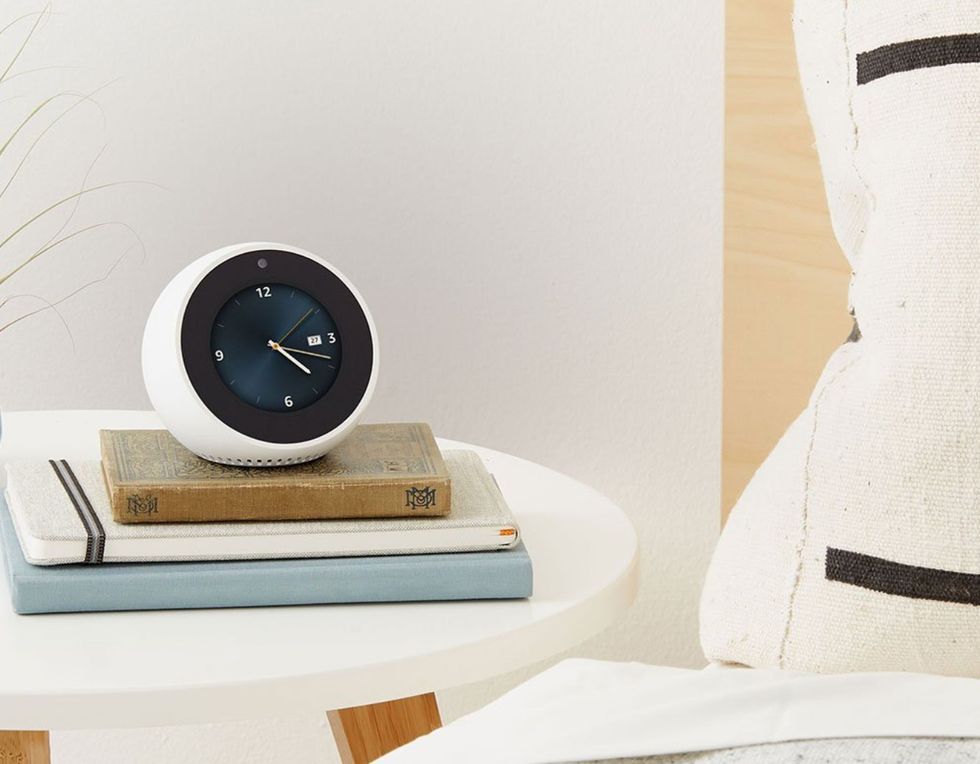 Alexa devices like this Echo Spot can perform morning wake-up routinesAmazon
Taking the Philips Hue setup a stage further, Amazon Alexa can be used to say good morning, switch on lights, read out the weather forecast and news headlines, and interact with other smart home devices, like a Home Connect-enabled coffee machine.
However, Alexa can only be configured to switch lights on to a pre-set brightness - there is no option to have them illuminate gradually. In this case, you would be best off setting the sunrise simulation with the Hue app, then creating an Alexa routine to begin at 7am with the other actions listed above. That way, she'll be reading out the weather and news just as your lights reach full brightness.
Google Assistant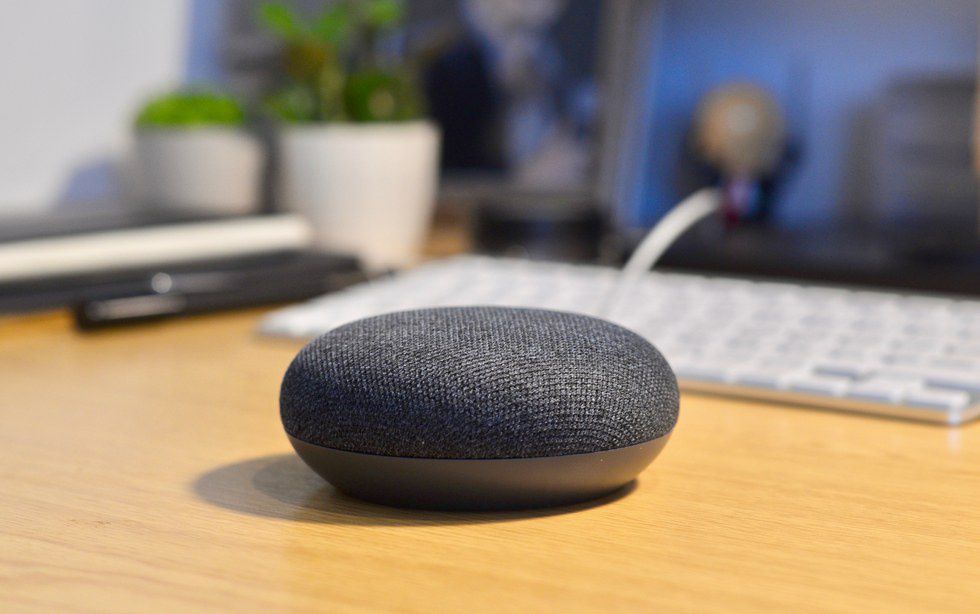 The Home and Home Mini (pictured) cannot perform routines without you first giving a spoken instructionGearBrain
It was announced in October 2017 that Google Home users will soon be able to set routines for the Google Assistant, enabling it to do several things at once after hearing just one command. For example, saying 'Hey Google, good morning' would trigger Google Assistant to read out the news headlines and weather, switch on the lights and let you know about any events in your calendar for the day ahead.
This will be a nice upgrade when it arrives, but obviously requires you to be awake to get your morning briefing. Hopefully Google will add a way to automate these routines soon, as for now all you can do is ask Google Assistant to set a morning alarm.
Apple HomeKit
Similarly, while Apple's Home app on iOS lets you create 'Scenes' for arriving home, going to bed and leaving home, these all need to be manually activated. The 'Good Night' scene, for example, can be configured to switch all of your lights off when selected, but there's no option for having the lights come back on at a certain time.
Read More: Five stress-busting apps to survive 2018
And don't forget to check out The GearBrain to see what other connected devices work with Philips Hue, Google Home or Amazon Alexa enabled device.
Like GearBrain on Facebook