Like GearBrain on Facebook
Google is currently rolling out a new tool for creating more sophisticated and granular smart home automation, using the routines function of the Google Home app.
The new tool is called 'presence sensing,' and once enabled lets users create 'home' and 'away' routines. With everything set up, how routines work will change depending on whether anyone is at home or not, and also which members of the household are home or away.
Read More:
Google says Home & Away Routines let users "automate home devices and take care of everyday tasks."
The system uses cellular and Wi-Fi data from your smartphone to determine whether you are at home or not. Multiple members of the home can be added to the system and once each has enrolled, the Google Home app will run routines based on who is home.
Data from other connected devices can also help the system work out who is in and who is away. These devices include the Nest Guard, Secure Tag, and thermostats, plus the wired version of Protect and the Nest x Yale smart door lock. We hope to see this system work with third-party sensors and other devices too, but Google hasn't mentioned plans for this for now.
At its simplest this all means your smart home can automatically adjust the thermostat to your preferred temperature when you arrive home, or turn off the indoor security cameras when anyone comes home. You could also set the thermostat to switch to a lower temperature, or turn off entirely, when everyone has left the home.
Smart lights can also be a part of this; for example, your office lights could switch on when you arrive home each evening, but if someone else comes home before you they'll remain off.
The system works with Google's new Nest Thermostat, which uses the same Soli radar technology as used by the Pixel 4 smartphone to detect motion and help it work out whether anyone is home or not.

If this sounds familiar, then it is because Google's Nest system offered Home/Away Assist, but it fell victim to Google's termination of the Works With Nest system earlier this year. Nest users will be glad to see the system reinstated with the new presence sensing function of the Google Home app.
As well as Nest thermostats and security cameras, the system can be used to control a range of smart lights, plugs and switches by other manufacturers, just like pre-existing Home routines.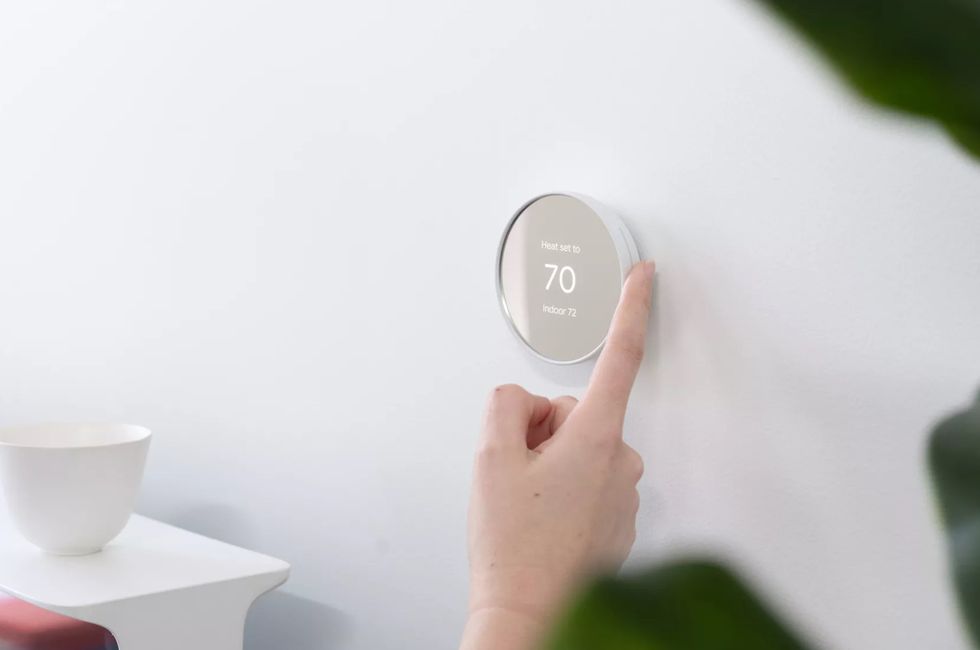 Smarter routines will adjust the thermostat based on who is homeGoogle
When will Google Home presence sensing be available?

Google first announced the system back in July 2020, and it began to roll out to users in the second week of October. The roll-out has been very slow though, with many users (GearBrain included) still waiting for the update to land on their Google Home app.
This isn't an unusual situation for Google, which tends to take time rolling out new features. Hopefully the update will appear on everyone's phones soon, but to speed things up you could try deleting then reinstalling the Home app.
How to set up presence sensing in the Google Home app
Once the update finally arrives on your device, you should be notified the next time you open the Google Home app. If you don't see this message, tap on Settings then scroll down to the Features section, where presence sensing should now appear.
Tap that, then tap the switch to allow the Home app to use your phone's location, and enable any compatible presence-sensing devices you have in the home, like a Nest thermostat.
Now, when creating a new routine in the Home app (follow this GearBrain guide to help) you'll be able to create Home Routines and Away Routines. These routines can be set to control entire rooms at once, or individual smart home devices, either when everyone is home, when everyone is out, or when certain members of the home come and go. To do the latter, you'll need to add family members to your home within the Home app.
As for data collection and user privacy, Google says the app keeps "a recent history" of every time your phone comes home or leaves, and this data can be reviewed or deleted at any time in the Home app.
Check out The GearBrain, our smart home compatibility checker to see the other compatible products that work with Google Assistant enabled devices.
Introduction of The GearBrain, The First Compatibility Find Engine for Smart Devices www.youtube.com
Like GearBrain on Facebook