You doubtless already know that the Google Assistant can be used to answer almost any question you have. Perhaps you want to know the age of a celebrity, the latest sports results, tomorrow's weather forecast, or today's headlines. Just ask, and the Assistant will answer.
Next come commands, where you ask the Assistant to do something, like play music, tell a joke, flip a virtual coin, or control a smart home device. This is where things start to get interesting.
Read More:
At its simplest, the Assistant on your smart speaker, display or phone can switch on a smart plug or adjust a smart light bulb whenever you ask.
But what if you want the Assistant to do several things at once? This is where routines come in. Configurable in the Google Assistant smartphone app, routines let you say one thing, like: "Hey Google, good morning," to have the Assistant perform several actions.
For example, it could read out the news and weather forecast, turn up your smart lights and adjust their color and/or temperature, read out your calendar events for the day, then dial in a certain radio station or music playlist, all with voice command from you.
Setting up a routine is easy, and Google helpfully provides six default routines in the Assistant app to get you started. These are:
Good morning
Bedtime
I'm home
Leaving home
Commuting to work
Commuting home
All you have to do is say one of these routine names to the Google Assistant, on any of your devices, and the routine will be performed.
Here is how to take one of these defaults, then tailor it to your specific needs:
Open the Google Assistant app for iPhone or Android
Tap on your display photo or initials in the top-right corner
Tap on the Assistant tab
Scroll down and tap on Routines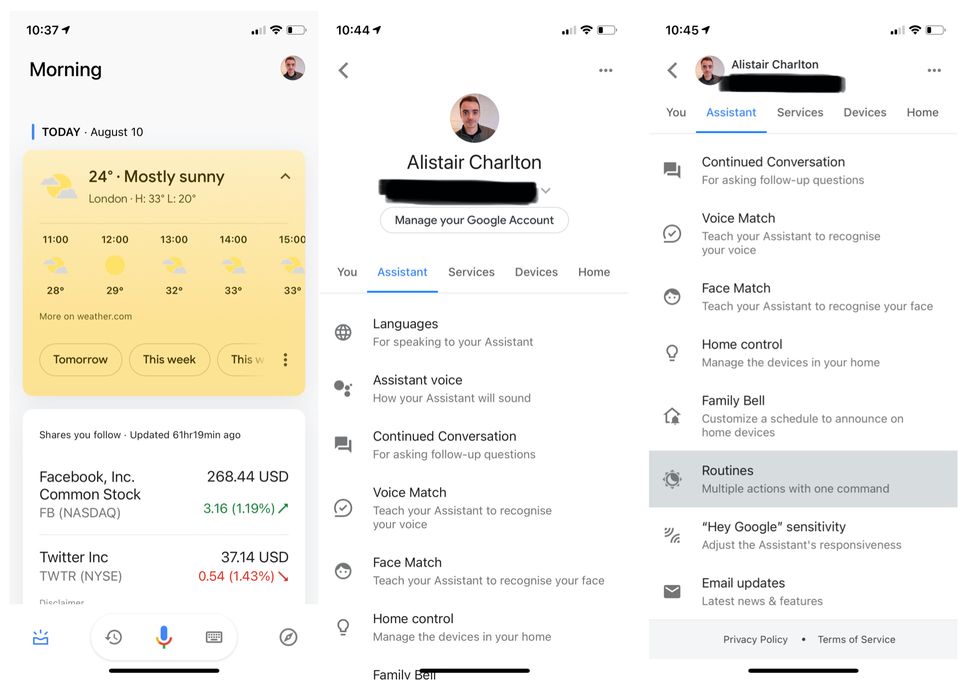 Creating a routine in the Google Assistant appGearBrain
Here you will see those six defaults we mentioned earlier. Now tap on the Good morning routine, and you'll see a list of everything that can be assigned to it, see images below. You can have the Assistant adjust your smart lights on the 'Adjust scenes' section, or turn your phone off silent (Android only for now). Add as many actions as you want to this routine by tapping the blue checkboxes, then scroll down to the 'And then play' section.

These are the actions that the Google Assistant will do next, all as part of the same 'Good morning' routine. You can only pick one, such as a radio station or a music playlist, or pick nothing.

If you pick one, radio for example, tap on the cog icon on the right then type in the name of the station. You can't pick from a list of radio stations; instead, what you type is what you would say aloud to the Assistant, so make sure you type it correctly.
Once you are done, tap Save in the top-right corner. Now, whenever you say: "Hey Google, good morning" the Assistant will perform this routine.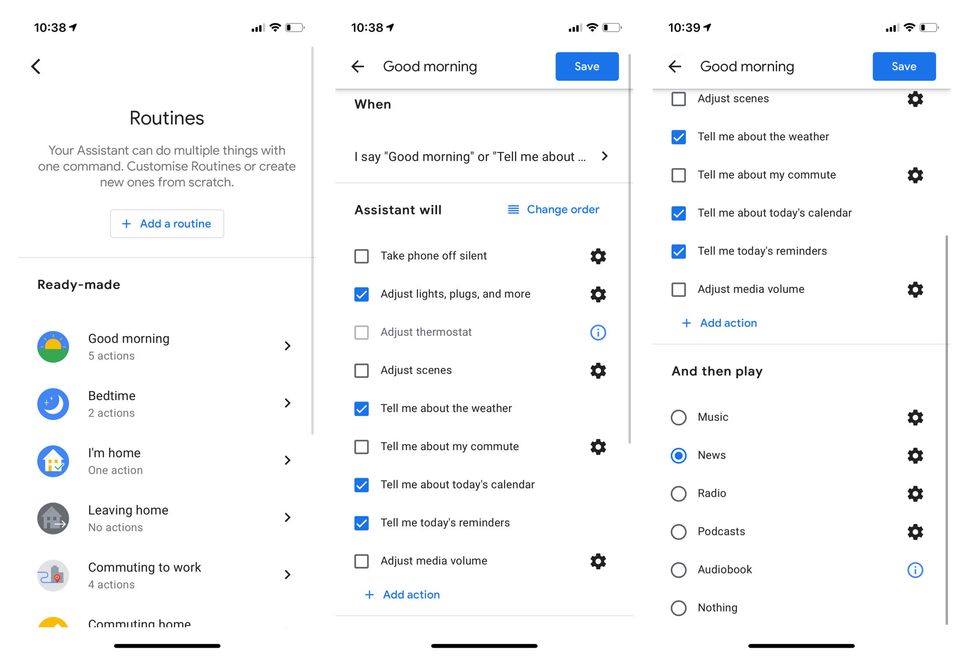 Creating a routine in the Google Assistant appGearBrain
How to create a custom Google Assistant routine

Now let's step things up a gear. As helpful as Google's six default routines are, you can also create one of your own from scratch. To do this, head back to the routines page in the Assistant app and tap on the Add a routine button.
This is a lot like creating an IFTTT recipe. You start with the 'when', which in this case means a spoken command of your choosing, or a time and day to have a routine kick-off without you needing to speak.
You can type in any spoken phrase you like, or set a time, day or days of the week, then set if you want the routine to repeat each week. You can also pick which Google device you want the routine to come from, but you can only pick one, so make sure it's the smart speaker or display that will be in earshot when the routine plays out.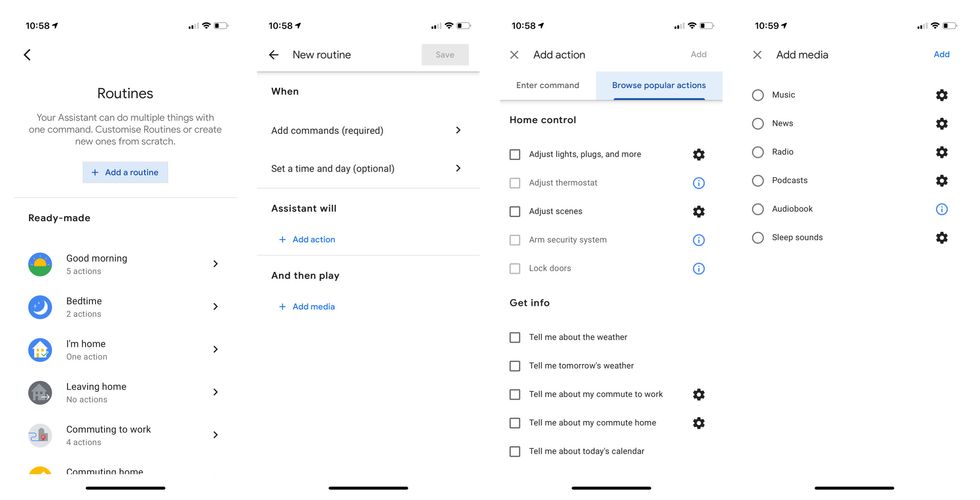 Creating a custom Google Assistant smart home routineGearBrain
Next, you can set the action. This is what the Assistant will do when the routine takes place. You can pick a smart home action, like turn on the lights, or have the Assistant serve up a piece of information, like the weather or what's on your to-do list for the day. There are also options to have the routine broadcast a message to all of the Google Assistant devices in your home, such as "I'm on my way home" when you trigger an Assistant routine when leaving the office. Remember, you don't need to be at home to activate a routine.

Finally you can set the 'play' part of the routine, which can be a music playlist, a radio station, the news headlines, a podcast or audiobook, or nothing. You can create as many of these custom routines as you like.
So that's Google Assistant routines in a nutshell. We think the defaults created by Google will be enough for most users, but it's great to have the option to create your own from scratch.
Check out The GearBrain, our smart home compatibility checker to see the other compatible products that work with Google Assistant enabled devices.
Introduction of The GearBrain, The First Compatibility Find Engine for Smart Devices www.youtube.com