Like GearBrain on Facebook
The Google Lens system for iOS and Android is starting to receive the updates Google first showed off at its annual I/O developer event earlier in the month.
These, which are arriving as a free software update this week, include the ability to use your smartphone's rear camera to translate test in real time, and to pull up instant information, images and reviews when pointed at a menu.
Read More:
Although also being its own application, Lens appears within other Google apps - like Photos and the Google Assistant - and also appears in the cameras of many Android smartphones. The new features will appear in these apps as soon as you update them.
Google is clearly aiming these new features at travellers and anyone heading away on vacation this summer. While the translation tool already excited in Google's own Translate app - which we tried out in Hong Kong earlier this year - we think it's a good move forward to see the features become part of a single offering in the Lens app.
Once you have installed the update, Lens will let you translate items like train tickets, road signs, maps, notice boards, menus, prices, and any other test, either printed or written by hand. Live translations appear on the screen, making it quick and easy to check ingredients of a dish, for example.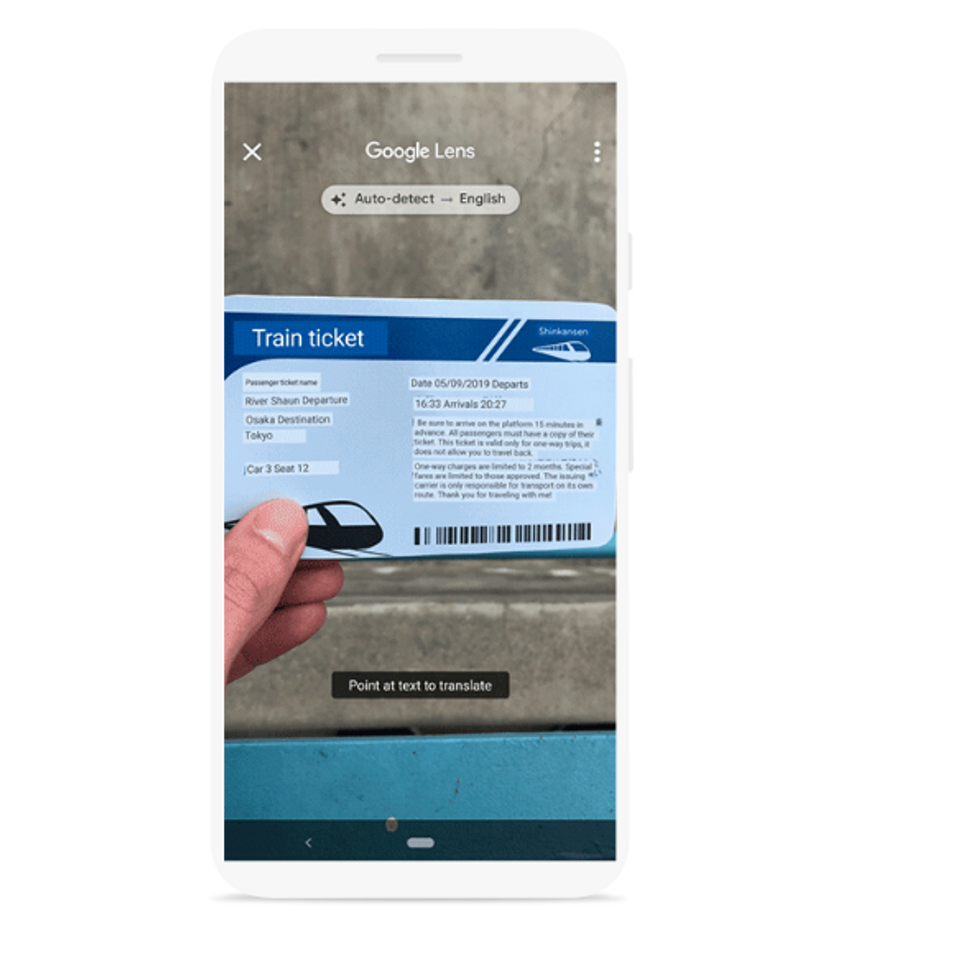 Lens can translate items like train tickets and menusGoogle
Taking this example a step further, the newly updated Lens app can also serve up extra information on a menu item you show it, including photos of what the dish should look like, and reviews pulled from Google Maps.

This new Dining option in Lens can also highlight popular dishes on a menu, whether written in your native language or one you aren't familiar with.
After the meal, you can use Lens again to translate the bill, then split the total between yourself and your fellow diners, and calculate a suitable tip.
The updated Lens offers five main functions. These are Translate, Text, Shopping, Dining and Auto.
Google says the Translate function works with over 100 languages, while Text can be used to highlight then copy text from the real world - on a business card, for example, or a recipe - then paste it somewhere on your phone, like in an email.
The Shopping feature will bring up similar options of items to buy when you point the camera at something. This could be a piece of furniture, clothing, home decor, or almost anything else. For a more precise search, the Shopping feature lets you scan the item's barcode too.
From Your Site Articles
Related Articles Around the Web
Like GearBrain on Facebook