Like GearBrain on Facebook
With the Google Assistant front-and-center, the visual interface of the Google Home Hub and Nest Hub Max often feels left behind, showing no more than the time, weather and a wallpaper, and with little incentive to dig deeper.
Now though, Google wants its smart display users to reach out and touch the screen more often, thanks to an all-new interface and a bunch of new features. Instead of relying on the Google Assistant to provide all the information you need by listening and speaking, the new interface is as visual as it is audible.
Read More:
Announced this week and rolling out to Google and Nest smart displays soon, the update also includes a new dark mode for the interface, reducing its brightness and switching to a darker UI at night, and a home screen that changes during the day to suit your needs.
In all, there are 10 changes and new features coming to the Google Home Hub, Nest Hub and Nest Hub Max.
The most obvious is the new user interface, which changes through the day from a "Your morning" page, to "Your afternoon" and "Your evening". Each page contains information and shortcuts the Google Assistant thinks will be most relevant to you at that time. The "Your morning" screen shows your first calendar event of the day, along with the morning news headlines and weather forecast.
The current interface is changing to one with tabs for your day, home control, media, communication, and a discovery page for finding out more features of the smart display.
A new smart home control system is also part of the upgrade, featuring a new layout that turns the display into a better command center for your smart home devices. The aim is to make it easy to tap at the screen to perform common tasks like adjusting lights or seeing who is at the front door via your video doorbell.
If you have more than one Google account – one for personal and one for work, for example – you can now log into both on Assistant devices like Google and Nest smart displays. After doing that, the Assistant will understand the context of your requests and apply them to both accounts. For example, say: "Hey Google join my next meeting" and the Assistant will understand to fire up Zoom for whatever is next, whether it's the yoga class on your personal schedule, or a conference call on your work calendar.

Speaking of video calls, the camera of the Nest Hub Max now has an auto-frame feature that zooms and pans to stay centered on you. While the camera can't physically move, it can zoom in then move to keep you in frame, similar to how the Facebook Portal works to track you as you move. Google Meet can also be customized, with regard to how the contacts on your video call are displayed, although Google says that particular feature will be coming later in the year.
As we mentioned earlier, the update will introduce a dark mode to Google Nest smart displays for the first time. Popular across many technology devices, dark mode switches white elements of the user interface to black, making it easier on the eyes in a low-light environment and at night. With the Google and Nest displays you can choose light or dark, or pick an automatic setting that switches between the two either based on ambient light, or on local sunrise and sunset times.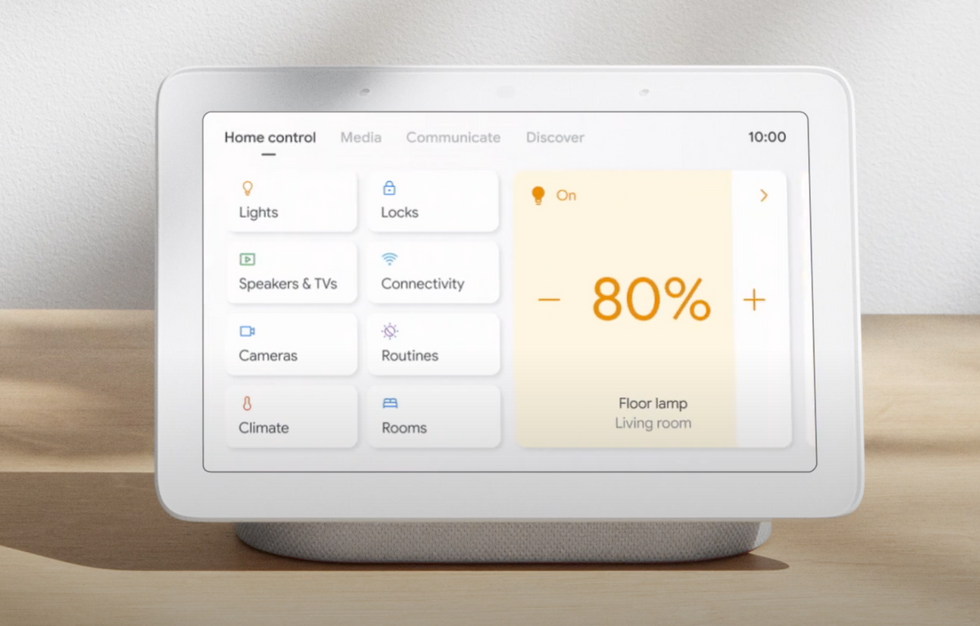 New smart home interface for Google Nest smart displayGoogle
Finally, in a bid to help you fall asleep and wake up, the displays can be set to play relaxing sounds like rainfall or crickets at night, either for a set amount of time or constantly. We have covered before how Google and Nest devices do this, but it's still good to see Google make the feature more prominent on its displays.

To help you wake up, the new interface lets you set the display brightness to increase gradually in the minutes before your alarm goes off, mimicking sunrise in a bid to help you wake up more naturally. This light and sound alarm system, which you may recall previously appeared on the Lenovo Smart Clock, can be set to different times for each day of the week.
As before, to stop the alarm just say "stop", as on this one occasion there's no need to say "Hey Google" first.
Check out The GearBrain, our smart home compatibility checker to see the other compatible products that work with Google Assistant enabled devices.
Like GearBrain on Facebook