When accessed through a smart display like the Nest Hub, the Google Assistant can be a useful way to browse and follow recipes.
All you have to do is ask the Google Assistant for a certain meal, or for it to give you some inspiration, and recipes will show up, ready to be followed while you cook.
Read More:
But, until now, these recipes didn't account for any kind of dietary requirements, meaning vegans and vegetarians had to sort through the suggestions before finding something suitable for them.
Now though, Google has added a new page to the Assistant smartphone app for telling the artificial intelligence about your preferences, which can be shown on Google Home displays like the Nest Hub Max.
The options only include gluten-free, vegan and vegetarian for now, but we can imagine Google adding to these in the future. Lactose intolerant is an obvious starting point, followed by a system for removing recipes containing ingredients the user doesn't like, or options for dealing with allergies and offering low-calories meals. But gluten-free meals are likely to appeal to those who have celiac disease, and have to follow a strict diet.
To tell the Google Assistant your dietary requirements, follow these instructions:
Open the Google Assistant smartphone app
Tap on your profile picture in the top-right corner
Navigate to the 'You' or 'Your info' tab (its name varies by region)
Scroll down and tap on the new Food & drink section
Tap any of the restrictions which apply to you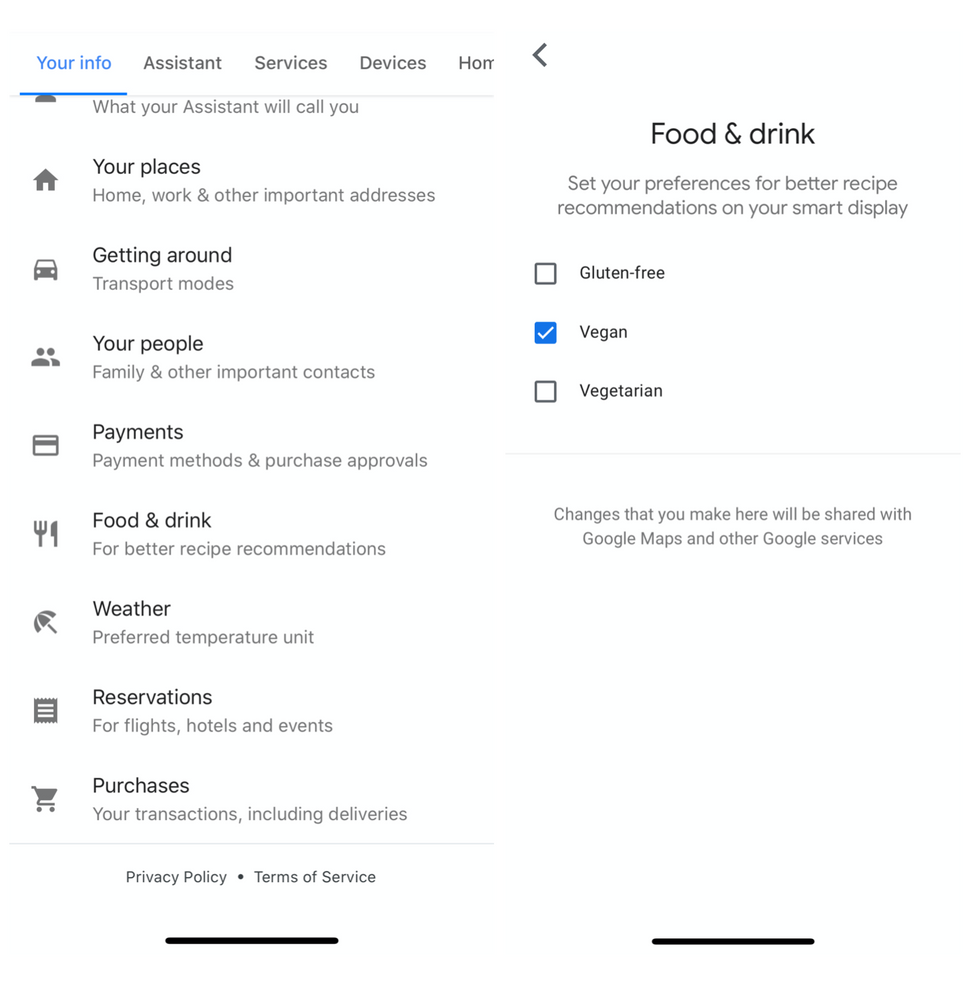 The only options for now on the new feature are meals that are gluten-free, vegan and vegetarianGearBrain
Now exit the app, and the next time you ask the Assistant for a recipe suggestion, it should serve up meals which comply with your diet. However, we say 'should' because an issue for now is that the Assistant isn't smart enough to scan through the ingredients of each recipe and determine which are suitable for you.

Instead, it is relying on the recipe provider tagging the meal correctly. For now, this means meals containing meat are suggested when they shouldn't be, but we expect this to be improved upon soon. After all, Google has only just rolled out the dietary option this week.
Interestingly, the Assistant app states that changes made to dietary requirements will be "shared with Google Maps and other Google services."
However, this didn't seem to affect our location searches, as we picked vegan but Google Maps still suggested the usual range of local restaurants, with no mention of them being vegan or not. Perhaps this feature will arrive later.
Check out The GearBrain, our smart home compatibility checker to see the other compatible products that work with Google Home, Google Home Mini and any other Google Assistant enabled devices.