Like GearBrain on Facebook
Perhaps the biggest surprise here is how long it has taken Google and Samsung to team up in their bid to topple the Apple Watch.
Since almost the day it arrived in 2015, the Apple Watch has been the number one smartwatch. Alternative options from Samsung, LG and others got there first, running Google's Android Wear. But once Apple had parked its illusions of grandeur and stopped trying to sell $20,000 gold watches, there was no stopping it.
The Apple Watch now outsells the entire Swiss watch industry, and the company controlled 36 percent of the global wearables market in the fourth quarter of 2020, compared to Samsung's 8.5 percent.
Read More:
But now Google and Samsung are back and, with a little help from Google-owned Fitbit too, they have announced plans to team up for the next installment of Wear OS. It had been rumored that Samsung's upcoming Galaxy Watch might run Wear OS instead of the company's own Tizen software, but the dots were quite connected until Google's I/O event this week.
There, the company revealed how the unified Wear OS and Tizen system (name only Wear for now) will bring a 30 percent increase in performance and cut app loading times by the same measure. Battery life has also been improved, but Google hasn't put a figure on that just yet – but then the current Apple Watch's 18 hours isn't much of a benchmark to overcome.
On battery life, Google says how a smartwatch running Wear can operate its heart rate sensor continuously during the day, then track the wearer's sleep all night, and "still have battery for the next day."
This is great news for developers too, as it means the Android smartphone ecosystem has a single smartwatch operating system to work with. Until now, most smartwatch manufacturers worked with Wear OS while Samsung soldered on with its own Tizen system. Meanwhile, Google says it is working on new apps and Samsung is building a new watch face design editor.

Bjorn Kilburn, director of product management for Wear, said: "By working together we have been able to take strengths of each and combine them into an experience that has faster performance, longer battery life and more of the apps you love available for the watch."
A new user interface puts the emphasis on a customizable home screen (watch face) and easy access to the owner's most-used apps and features. So-called Tiles are accessible with a swipe to the left or right from the watch face, giving you quick access to apps like Calm, Sleep, Cycle and Flo.
Regarding smartwatch apps, Google says Google Pay is being redesigned and will be expanded from 11 to 26 countries. The company also said YouTube Music will finally be available on its smartwatch platform later in 2021, with the ability to download music to a Wear watch and listen on the go.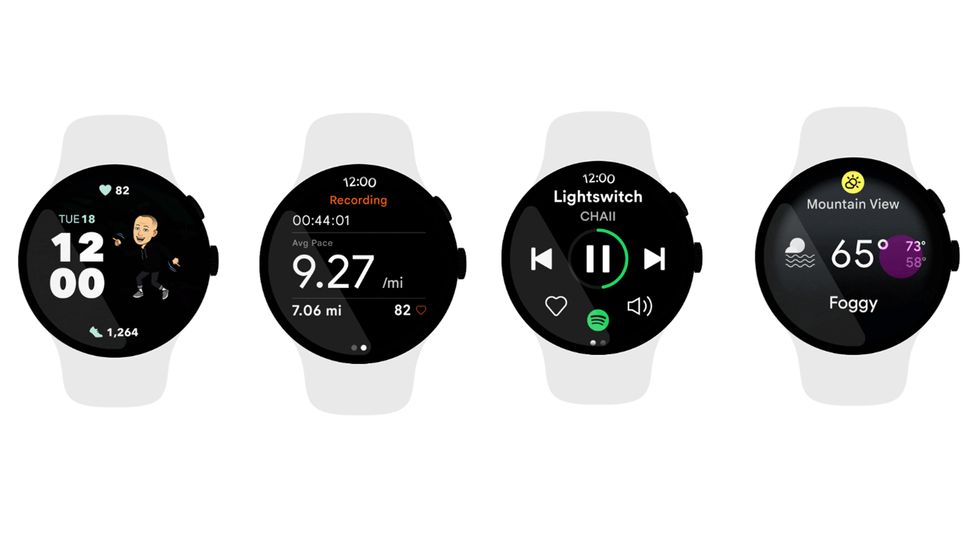 New Wear operating system is due later in 2021Google
What about the Pixel Watch?

Google made no mention of smartwatch hardware at its I/O event this week. But the rumors of a Google-branded Pixel smartwatch have persisted for years now, and still rumble on now in 2021.
It would make a lot of sense for Google to finally release a Pixel Watch, now that it has finally given the ageing Wear OS system the update it badly needed. Throw in collaboration with Fitbit and Samsung, and we think the Pixel Watch could pose a serious threat to the Apple Watch. But this is all speculation for now. We will hopefully find out more at Google's annual hardware launch event in the fall.
Fitbit integration
Google's $2.1 billion purchase of Fitbit will be put to good use with the new Wear system. Google says: "The best of Fitbit, including features like tracking your health progress throughout your day and on-wrist goal celebrations, will motivate you on your journey to better health."
Other health and fitness apps will also be supported, with Google promising "new and rebuilt" apps from developers like Strava, Adidas Running, Bitmoji and others. Google says the new Wear system will begin rolling out later this year.
From Your Site Articles
Related Articles Around the Web
Like GearBrain on Facebook