Google's Stadia video game streaming service can now be played by all users over a 4G (LTE) or 5G internet connection, instead of relying on Wi-Fi.
This option was previously only accessible via an experimental mode, which gamers could opt into from late-July. But it is now available to everyone using the Stadia app for Android.
Read More:
The change was first spotted by Stadia users posting on Reddit, saying how the mobile data option had moved from the experiments page of the Stadia app to the performance settings page.
In case you aren't familiar with Stadia, the gaming system by Google works by streaming the video and audio of a game to a wide range of devices, including smartphones, computers through their web browsers, and televisions through the Google Chromecast device. The actual processing of the game, usually done by a console like an Xbox or PlayStation, is done on Google's servers, meaning high-quality games can be played on less powerful devices.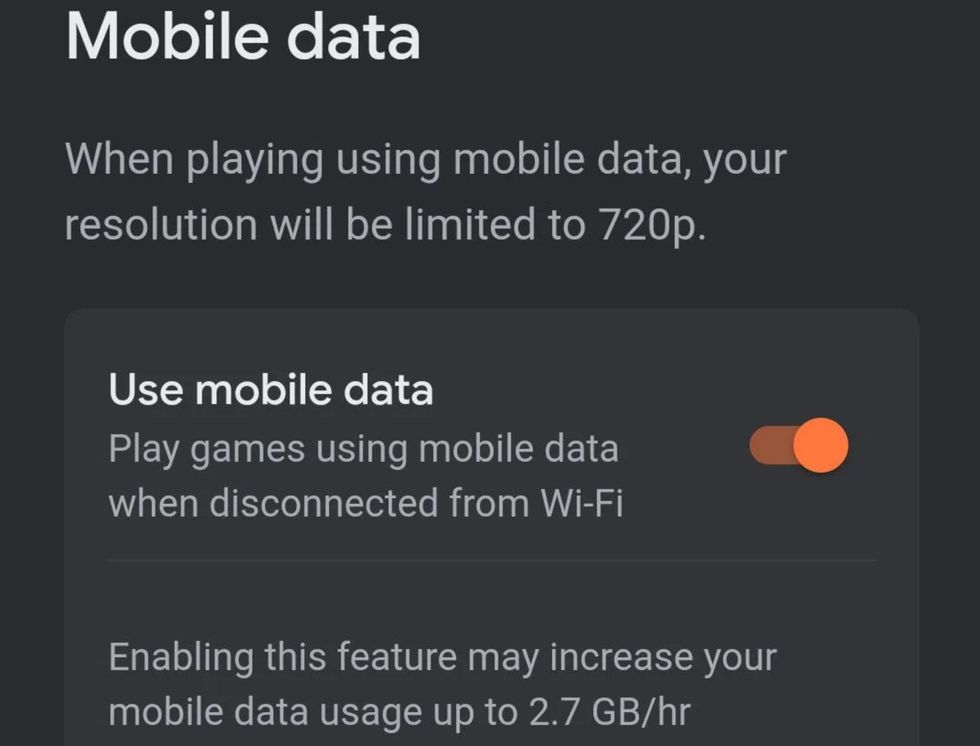 Mobile data switch has moved out of Stadia's 'experimental' settingsReddit / SDavies1991
By bringing cellular streaming out of experimental mode, any Stadia user gaming with an Android phone or tablet can now play over a 4G or 5G connection.

But, as you might well expect, this uses a lot of data, and anyone with a monthly data cap should be wary of this to avoid hitting their limit and/or racking up an enormous bill.
Google says using Stadia over a cellular connection, which is limited in resolution to 720p HD, consumes around 2.7GB of data per hour. This is a huge amount, but somewhat less than the 4.5GB per hour Stadia uses when connected over Wi-Fi and streaming at 720p. For reference, Stadia uses up to 12.6GB per hour when streaming at 1080p Full HD resolution.
This suggests Google is lowering the bitrate to slim down Stadia's data demands when played over 4G and 5G, which makes sense, given the loss of quality should be less noticeable on a smaller phone screen compared to a PC or television.
Google might offer a higher bitrate, higher resolution cellular option for Stadia in the future, but that will depend on broader 5G coverage and truly unlimited data plans becoming the norm – something we might see soon after the launch of the 5G-equipped iPhone 12 later this month.