When it comes to gaming, people take their loyalty seriously. You have Xbox users, PlayStation and of course Nintendo Switch — all invested heavily in their set-ups, systems and games.
Google Stadia is a bit different, a cloud-based system where games are kept off devices, and managed through a mobile app. You play through a specific controller, but can shift your play to a TV screen, computer and even your phone. That means there isn't a console, as the games are rendered and handled in the cloud.
Crucial is that you're paying for this flexibility — $9.99 a month — on top of the controller's price of $129. With that comes a smattering of game titles, with more robust options like Mortal Kombat and Doom priced at a premium.
Should you invest? Here's our take. We have set-up instructions towards the bottom, and more of our review on the system at the top.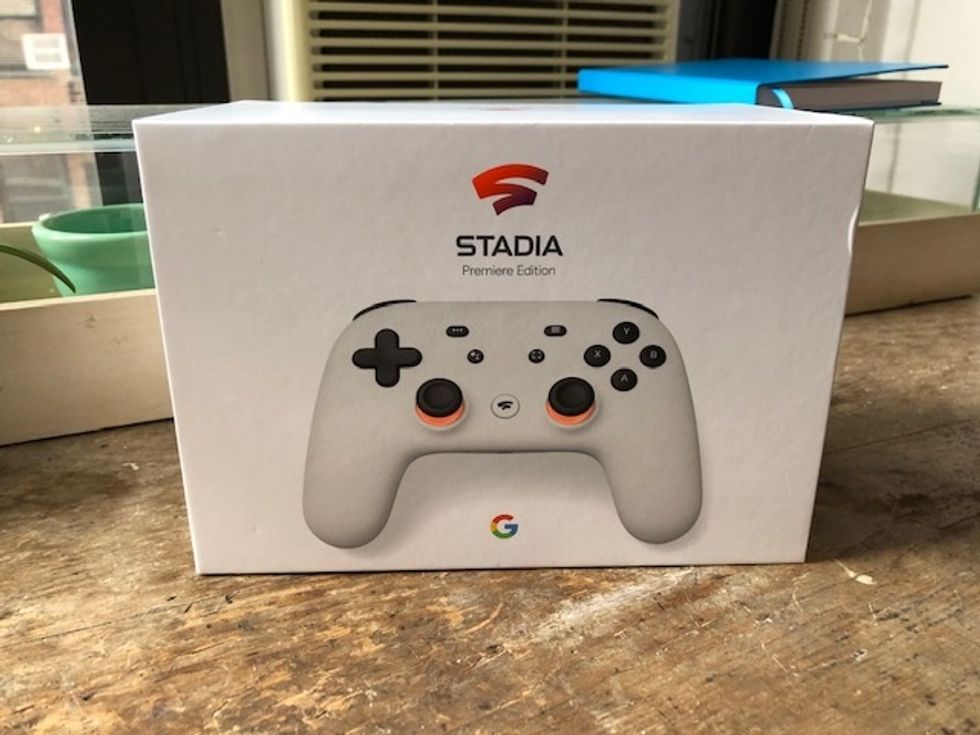 Google Stadia can be played on a TV, computer and phoneGearBrain
What is Google Stadia

Google Stadia's arrival was met with huge anticipation, a cloud-based system that had the potential to disrupt the gaming world. You get a Google account, you get a controller, and you're in — seriously. The reality is not the dream come true (really, when is it ever?) but it's not completely off base. But first you need to get everything connected and set-up. So grab a strong cup of coffee — or your liquid of preference — and we'll walk you through.
The only device you're going to need — aside from the screen where you'll play — is really this Stadia controller. Anyone who has an old-school fondness for video games is going to love the controller. It has a very 1980s look, super retro, with easy to use buttons, toggles and hand holds. The design alone won big points here.
Case Club Google Stadia Compact Carrying Case
What devices work with Google Stadia?

Yes, this comes from Google, but the games are fairly agnostic in terms of which devices you can play them on at home:
Any TV with an HDMI port that can work with Google Chromecast will work.
The Stadia app also works on iOS and Android devices.
You can link the controller to your desktop or laptop and play on Google Chrome
On Google Pixel phones
Each device will bring a different level of resolution — Chrome and Pixel phones will play at 1080P, while your TV should play at 4K — but you can get started.
We played Stadia on a MacBook Air and on a Samsung TV. Both worked fine.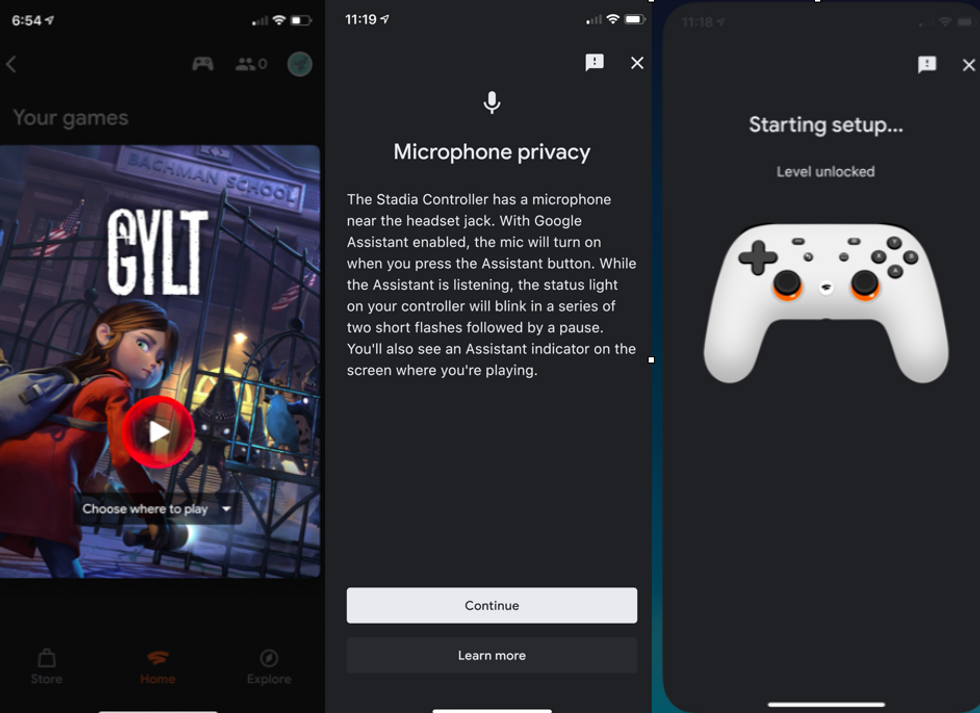 You control Google Stadia through the Stadia mobile appGearBrain
Price

Aside from the $129 you'll spend on the one controller, you can also get a second for dual-play for $69. Then you're going to need to sign up for a subscription.
As we mentioned, the first three months of Pro is free, and after that it's $9.99 a month. That includes six games — which are actually pretty fun.
Extra games? They are seriously expensive. You're going to get a slight discount with a Pro account, but not on all games. Tom Clancy's Ghost Recon Breakpoint is an eyebrow-lifting $120, although with a Pro account that comes down to $42.
You can also pick up combat packs and extra add-ons like an Assassin's Creed Odyssey credits base pack for $4.99.
You may ask, correctly, is there another option besides a Pro account? There will be a free (yes, you read that right) Base account coming from Google — sometime in 2020. You're only going to get stereo sound (not surround with Pro) absolutely zero free games, just 1080p resolution — and no discount on extra games. And you can't get it yet. So there's that.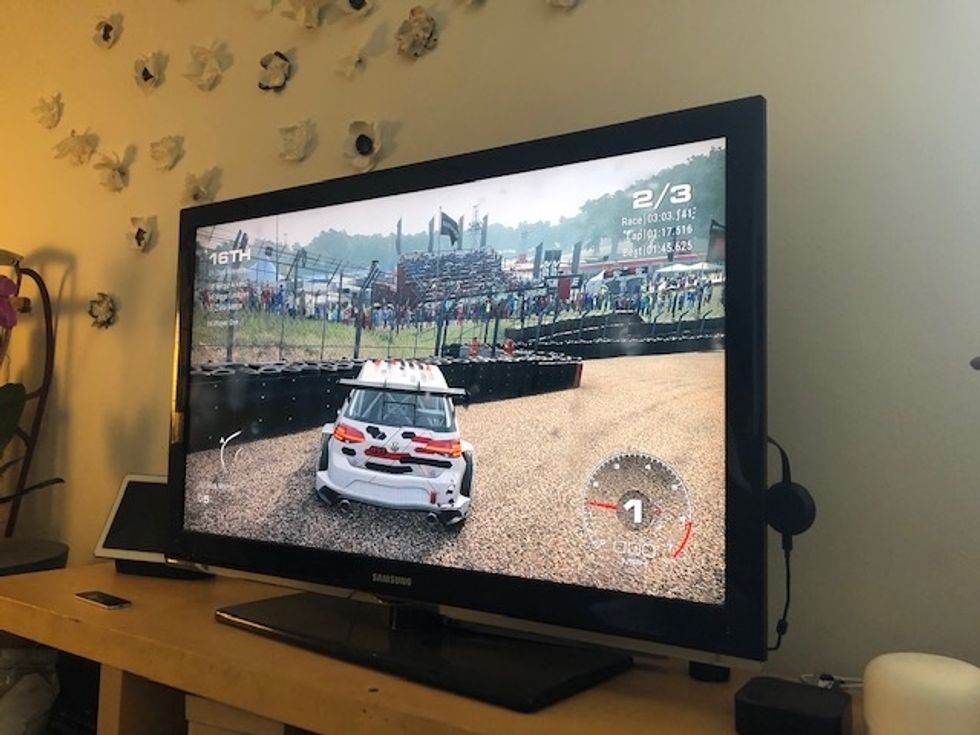 GRID is a racing game on Google StadiaGearBrain
Game play

Stadia is pretty great. Graphics are amazing, and story-telling elements in its free games were solid. You get six free games in Pro:
GRID: This is a very straight-forward racing game
GYLT: a Stadia-only game about a young girl as she tried to rescue her cousin.
SteamWorld Dig 2: Play as a small creature as you move through a mining space. This has a Super Mario Bros feel to it.
Destiny 2: The Collection: Fight your way through a dystopian world on a mission.
SteamWorld Quest: Hand of Gilgamech, this is actually a fantasy, role-playing card game with knights, dragons and more.
Metro Exodus: a shooter game through a ruined Moscow terrain
Most of the games are simple to figure out how to play, and they're seriously fun. Renderings are very details, sound is excellent. I also liked how you can easily flip from one screen to the next. For example, if you get booted from your TV (maybe you have roommates) you can exit and shift over to your computer. Quickly.
What's not quick? Getting games to load. Particularly on your computer. It can take nearly a minute for Stadia to connect. That may be impacted by strain on networks right with the novel coronavirus pandemic. But that delay is a bit heavy.
Stadia, when in use on your computer, also takes up the entire screen. You're not going to have this game running while you're multi-tasking. You may be able to Slack on your smartphone with your boss, but Zooming with your co-workers while racing on Grid? Not happening.
What you can do is play with friends — and you can alert them you're online, if they know your name, and have them join in as well. You can also put your settings in a way so anyone can friend you, and then join in a game too.
That's a giant plus right now, given the social distancing the entire globe is currently facing, the ability to turn the games into social meetups. We're seeing this on games as widely varied as Animal Crossing to Tom Clancy's Rainbow Six Siege. The main problem, of course, is that there just aren't a lot of people playing on Stadia just yet.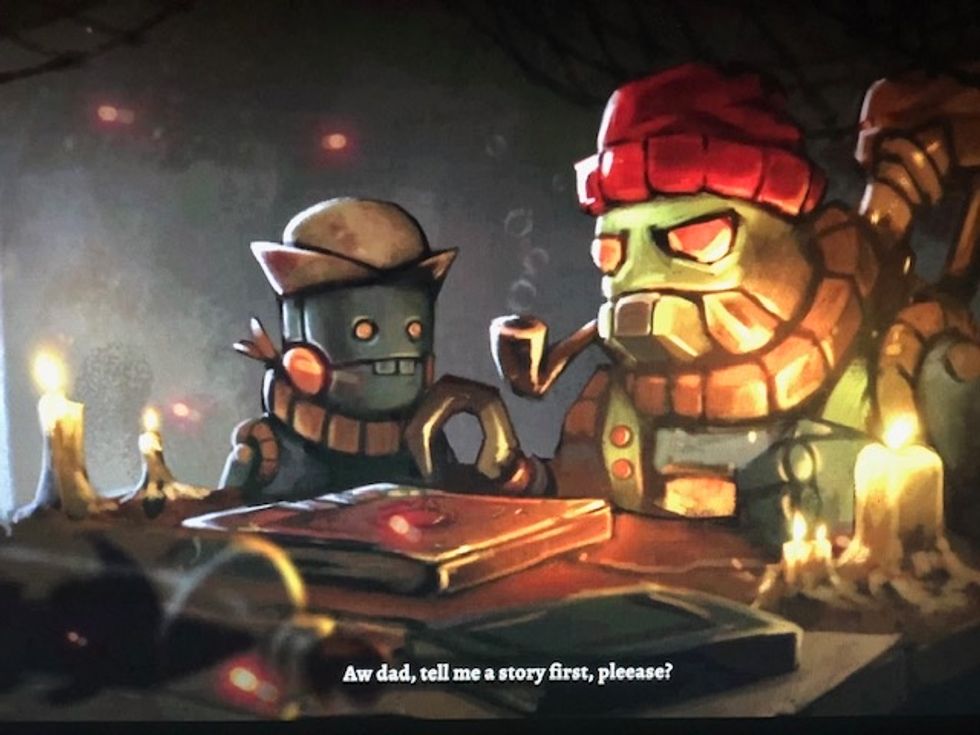 There are games aimed at children, including SteamWorld Quest: Hand of GilgamechGearBrain
Family friendly?

What's is nice here is that there are games aimed at wide-audience, not just hard core gamers. Yes, there are shooter adventures and racing games, but there are also some nicely rendered games clearly fun for children, ages 10 and up. That does make this a family device, and that's going to be appealing to parents who are also gamers.
You can also set up parental controls through the app, so kids can't play certain games, even if they're downloaded to you account. And you can also control who children can play with as well. Again, all of this is handled on the mobile app.
Games
There are a decent smattering of titles here you can pick from, some very familiar favorites including Doom, Just Dance, Assassin's Creed and Final Fantasy. Aside from the six free that you get from signing up with Pro, we counted another 55 available for purchase. Some of these are extra editions of the same game, but that's a semi-decent variety.
Still, that's going to need to expand — and by a lot — to make this a system more people will want to join, and buy into to play.
Bear in mind, that since everything is handled in the cloud — and you can change where you play from a TV to phone to computer — you'll select games, pay for them and download them to your account through your mobile phone.
Ready to get started
First, you're going to need to buy the Google Stadia controller, and then download Stadia on your mobile device. The Stadia Premier Edition is $129 and comes with Google Chromecast — which you will need if you want to play your games on a TV.
Then you're going to need to set up a Stadia account, and that's where you'll need a Google account. Download Stadia to your iOS and Android device, and link the Google account you want to use. Don't have a Google account? You'll need to set one up, and from there, sign up for Stadia. Each Premier Edition includes three free months of Stadia Pro — so that's almost a $30 savings.
To actually get Stadia up and running so you can play is going to require:
Setting up the Stadia app
Charging and updating your Stadia controller
Connecting the Google Chromecast Ultra to your TV (if you don't have one)
Charge your controller
Before doing anything, just plug your new controller into a power source. You're going to need that ready after setting up the app.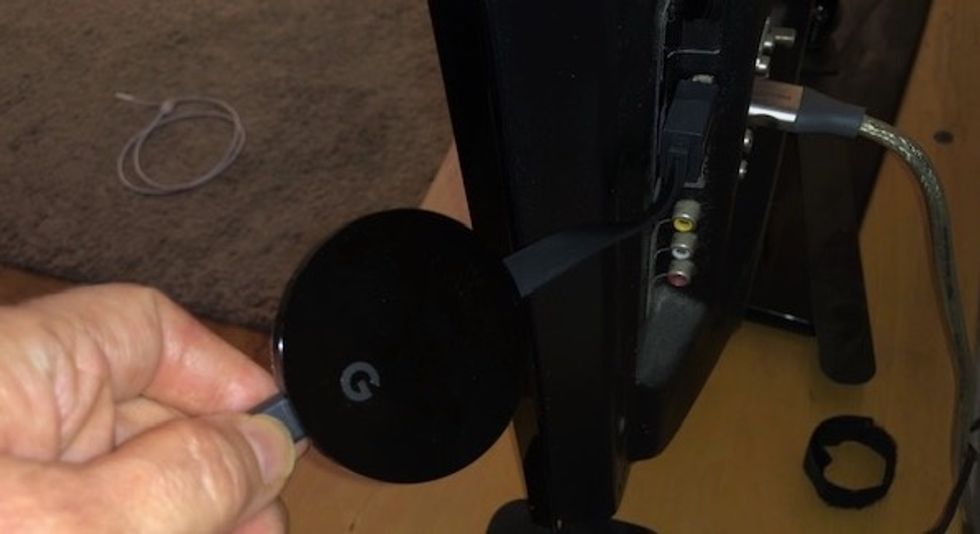 To play Google Stadia on the TV, you need to connect a Chromecast UltraGearBrain
Setting up the app

Everything you do on Stadia is run through the app. From connecting to friends, setting up your name, updating your controller to even, one day, cancelling your account.
After downloading the app, you'll select a name and link the account to your Google account. Have more than one Google account? Be careful which one you select — you cannot unlink this once you've chosen one.
There are a lot of privacy settings in the app. Be thoughtful here too. You can choose to have just friends see your status, friends of friends, everyone, or no one.
You will need to enter a credit card once you set up your account, because once your three months are up, you're going to get charged. You can cancel anytime in the Settings of the mobile app, even after the three months. And know that you will be setting this payment up through Google Pay.
Setting up the controller
In the app, you're going to need to link your controller to Wi-Fi — yes, the same Wi-Fi that your phone is on too — and likely the controller is going to need updating. This takes about 10 minutes. Sip your drink.
Next, you're going to connect your controller to the screen where you want to play. Grab your drink. If you're picking your computer, that's going to be the easiest, aside from a Pixel phone.
On the Chrome browser, go to Stadia.com. Guess what? You're going to be logged in there as long as you're logged into your Google account on your computer. Yes, it's that easy.
Want to play on your TV for the 4K effect? We know you do. That's where everything's going to get a little dicey.
Setting up your Chromecast Ultra
Plug the Chromecast into an open HDMI port on your TV, and then into a power source. If you're a Google Home user, your Google Home app is going to walk you through this. If you're not, you're going to have to create a Google Home account — and download that app as well. Chromecast also needs to link to Wi-Fi.
For the first 10 minutes, we could not get Google Home to launch Chromecast Ultra. At first it found the device, but it could not link. We unplugged the Ultra, wait two minutes, and did it again. Nothing. We turned the TV off. Back on. Again, nothing. We walked away, and found the Chromecast Ultra finally did connect, and renamed itself as living room TV.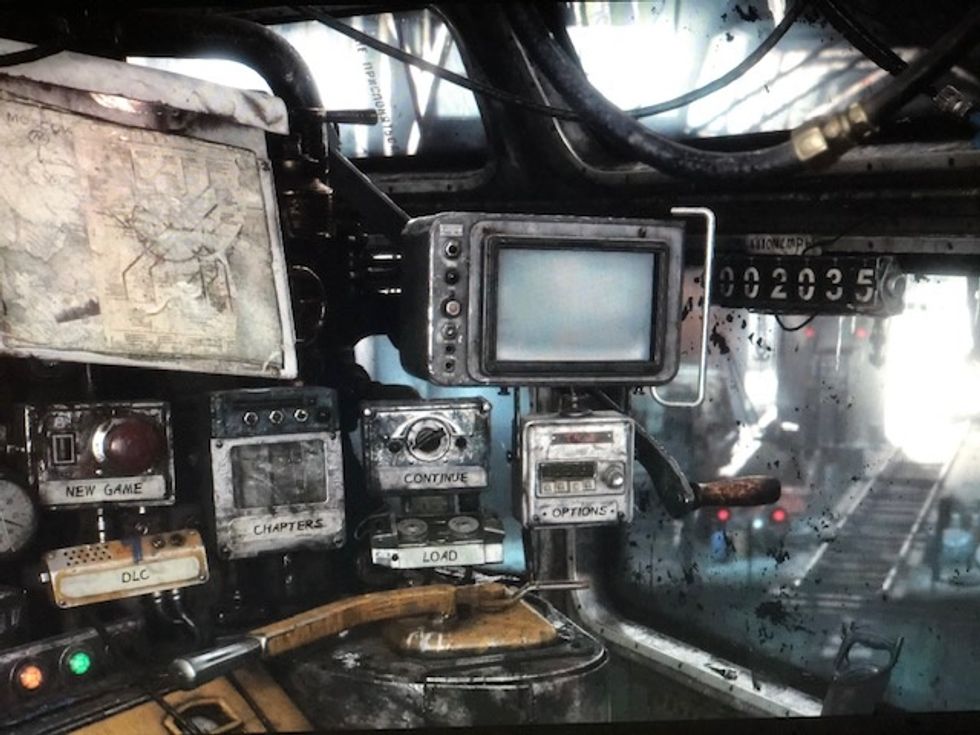 Google Stadia game, Metro ExodusGearBrain
Is Stadia worth it?

Stadia is a blast. Let's start there. Once you're set up, having the ability to play anywhere you want, is pretty great. The games are fun, well-rendered, hook you quickly, and we had really good experiences in terms of resolution on our TV and frankly our Chrome browser too.
But. Paying $129 for a device, then $10 a month for the ability to play some games on that device, and then more for more robust titles? That's asking a lot.
When the Base version launches, which is free, and you can pick up a controller for less, and you have a game or two you want to play on your computer with pals — and you're all in for maybe $100 or $140, rather than $210 for the first year alone, we can see more excitement build around Stadia.
For now, we think, this is a fun option for families who budget this as an extra entertainment option at home, those who just like to be first to new devices and content, and gamers who cannot stand to be left out of anything.
In short, if you have some money to burn? Stadia is an excellent gaming platform. That said, it's also going to be great when the prices come down and free options arrive later, Google says, this year.
Pros:
Great graphics, solid rendering
Controller is retro, easy to use and fun
Titles that will appeal to all users from serious gamers to children
Cons:
Not cheap, especially for the Pro version, and free Base version hasn't launched yet
Games library not yet robust
Complicated set-up