Researchers from the City University of Hong Kong have developed a graphene mask that kills the majority of bacteria on its surface, and may be able to deactivate coronavirus, according to their study.
Published in the American Chemical Society, the study, notes that on traditional face masks, "the majority of bacteria (90%) remain alive after 8 [hours]," researchers wrote. But the masks they created used laser-induced graphene, which is formed by using low-powered lasers directed at a polymer. The surface was then tested after eight hours, and researchers found that the majority of the E. coli they used in their test were dead, noted an article from Phys.org.
Researchers believe that the sharp-edges of the graphene on the surface may be helpful in killing the bacteria, along with the fact that graphene is water-repelling, which may prevent the bacteria from having access to moisture, which it needs to take in to reproduce.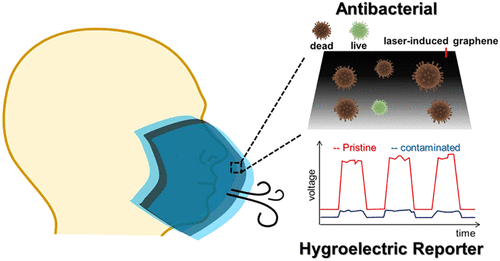 Laser-induced graphene masks may help to kill bacteria and coronavirus on its surfaceCity University of Hong Kong
The group also tested the masks against two species of coronavirus, but not initially with Covid-19. Yet first tests showed that more than 90 percent of the viruses were made inactive after five minutes, and almost 100 percent in 10 minutes of sunlight.

While face masks are showing to be effective in slowing the spread of viruses and bacteria, disposing of the masks properly is crucial, notes experts. Touching the surface of a mask that has bacteria or a virus on it, can then cause them to be transferred on to other surfaces. A mask that could not only act as a barrier for the wearer, but take the second step of killing the bacteria or virus on the surface could additionally help contain the spread as well.
Researchers also found that by exposing the mask to a photo thermal source — such as sunlight — 99.998 percent of the bacteria were killed on the surface.
"Our results improve the safe use of masks and benefit the environment," researchers wrote in the study, "Self-Reporting and Photothermally Enhanced Rapid Bacterial Killing on a Laser-Induced Graphene Mask."
Modern Domus Graphene Face Mask Washable with Filters - Reusable Mask with 5x PM2.5 Carbon Filters (1 Mask + 5 Filters) - Protective Anti Pollution Dust Proof Cotton Mouth Cover (Large, Gray)