Like GearBrain on Facebook
Let's get right to the point: The Harman/Kardon Allure 360-degree Amazon Alexa-enabled speaker ($249.95) is alluring, both aesthetically and aurally. It's got an unusual Star Trek prop-like smoky opaque plastic topped design with an interior tube that lights up when sound emanates from its speakers, and it's equipped with a circular array of speakers that delivers 360-degree sound with plenty of volume and bass.
Allure is not a perfect smart speaker – you only have voice access to Amazon Music, you have to use Amazon's own connectivity to create a multi-room system, its setup app is otherwise useless, and it's a bit bulkier than its competitors, taking up more shelf space.
Still, if you're looking for an attractive, great-sounding smart speaker that plays your music on command and looks good while doing it, the Allure is worth considering.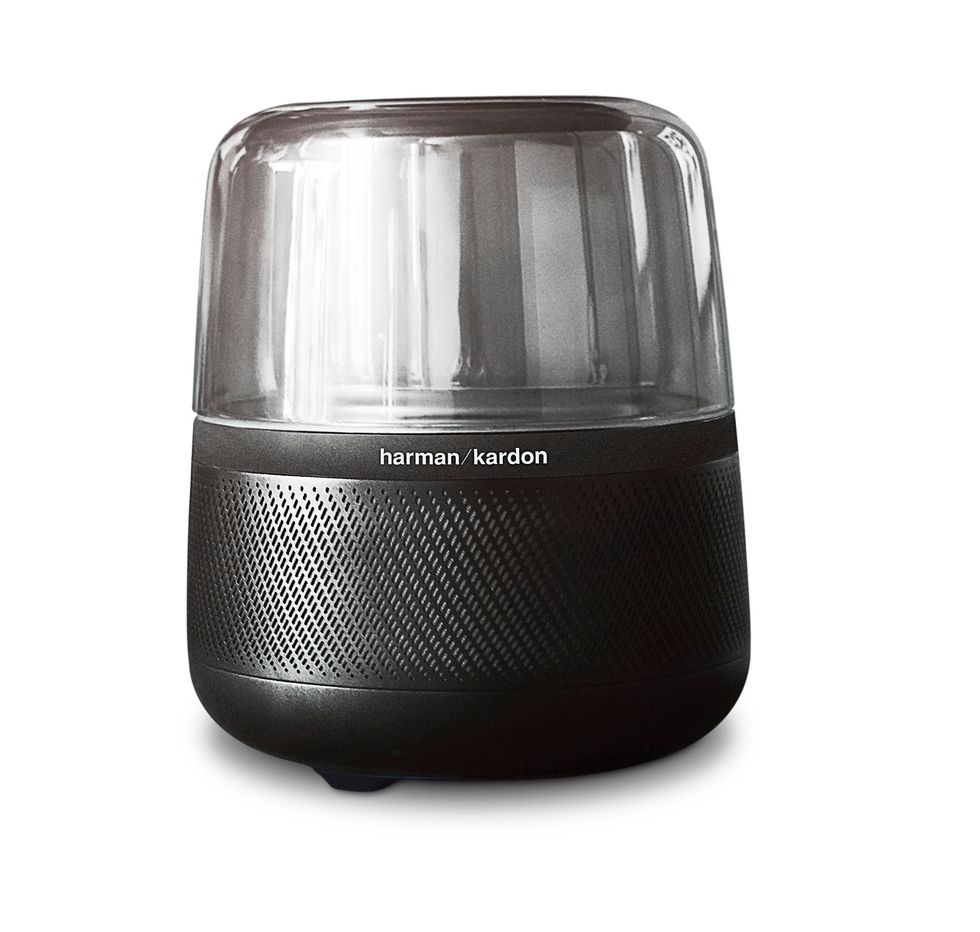 Allure is aesthetically pleasing to the eye — and earHarman/Kardon
Ergonomics

The circular Allure, which calls back the design of the subwoofer in H/K's clear Sound Sticks PC speaker system, measures 6.54 inches wide by 7.6 inches tall – an inch wider and almost an inch taller than the HomePod, and more than two inches wider and more than an inch taller than a single Sonos One. Its size, along with its 360-degree speaker array, means you'll need to allocate some open, roomy shelf space – in other words, place it away from a wall – to allow the Allure room to sonically excel.
Somewhat annoyingly, the Allure includes a two-piece AC cable with a bulky transformer in the middle — and Allure is available in any color you want, as long as that is black.
Along the top perimeter of the Allure is a half arc of six raised dots between a "-" and "+" icons to control volume – you slide your fingers along the dots to raise or lower the loudness, which isn't really as precise as it ought to be. Pressing the "-" and "+" icons do nothing. In the middle of the top is an "action" button that you double-tap to activate Alexa, while a single tap turns off the music, alarm or time. Opposite the volume arc is a mute button that, with the lights toggled on, produces a glowing pulsating red light from the inside LED array.
But there are no physical music transport controls – no skip forward/back or play/pause.
Setup
Allure's setup starts with downloading the HK Alexa Setup app, which is aptly named. Other than guiding you through the Allure's setup, all the app does is to toggle on/off the Allure's lights and an Alexa respond sound. There are no other speaker or sound customization settings as you'd find in the Sonos app for the Sonos One. Once these light and sound toggles are set to your satisfaction, you can hide the app away.
Once the app is downloaded, you just plug the Allure into AC and follow the app's on-screen instructions. The app discovers the speaker, it pairs it to the Wi-Fi network to which your smartphone is already connected, then directs you to sign into your Amazon account to access your pre-existing Alexa skills, if any. The whole setup took only a couple of minutes, and everything worked perfectly without any additional work.
As far as the lights are concerned; when toggled off, you see only a thin ring of white around the Allure's top perimeter when you say "Alexa." Toggled on, an inside tube and top white LED ring alternately pulsates a soothing cool blue and cool white as Alexa delivers information and plays music. With the "Request Sounds" toggled on, you hear a gentle "ping" tone to acknowledged your Alexa query, handy for when you're addressing Alexa but not looking at the Allure.
As noted, Allure doesn't natively support multi-room audio, but you can integrate it into a multi-room system with other Alexa speakers via the Multi-Room Music setting in the Alexa app. You also can't pair two Allure speakers to create stereo sound – but with its 360-degree speakers, there's really no need for that.
Allure also includes Bluetooth connectivity; there's no physical pairing button, so you have to ask Alexa to activate Bluetooth pairing to pair the speaker to your smartphone.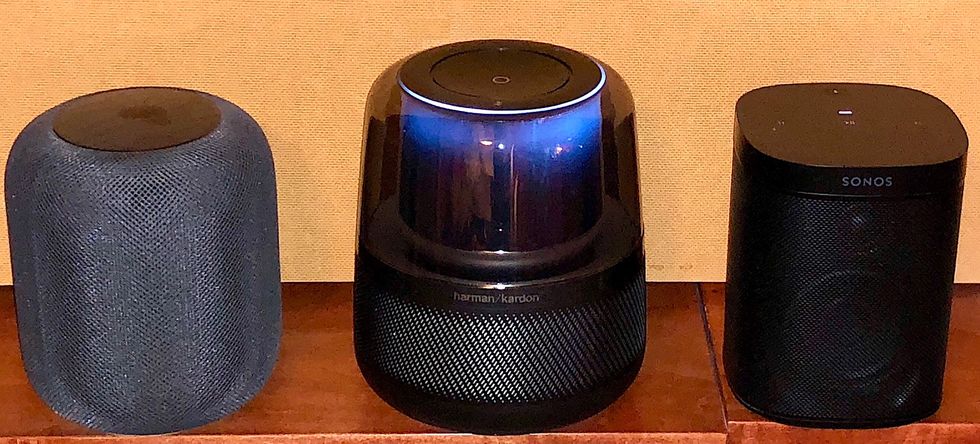 Side by side: Apple HomePod, Sonos One and Harman/Kardon AllureGearBrain
Usage
As soon as I got the Allure paired with Wi-Fi, I asked it to play some Beatles (hey, I'm old), and it immediately started to play selections from my Amazon Music library rather than songs stored on my phone.
Spotify can't be accessed via voice, nor can any other streaming service, as far as I can tell. Within the HK Alexa Setup app, there are instructions for listening to your Spotify account, but only through the Spotify app via Wi-Fi, and only if you have a premium account. To listen to any other streaming service or music stored on your phone, you'll have boot to each individual music app and listen via Bluetooth, which adds its own compression scheme and further degrades the music quality.
By comparison, the Wi-Fi-only Sonos One will play music stored locally more easily via Wi-Fi through its own app, and is soon due to add the additionally sonically pure Apple's AirPlay 2 wireless connectivity.
Allure is equipped with far field mics, so it can easily hear your spoken commands above the most boisterous musical din, with no need to shout.
Sound

Allure pounds out 60 watts, plenty of power to fill a room full of gyrating partiers, and is the most has the highest power rating of any Amazon speaker we have seen. But this power fact requires a caveat: most smart speaker makers don't reveal their audio specs. For instance, however much power the Sonos One delivers, it could still get almost as loud as the Allure.
While it's tempting to compare the Allure's sound output to high-end smart speakers such as the JBL Link 500 or Apple HomePod, these are not Alexa speakers. A side-by-side with what we consider the best-sounding Alexa speaker (so far), the $50 cheaper Sonos One, makes a far more apt acoustic match. (We have not yet auditioned the DTS PlayFi-compatible Pioneer Elite F4, the only other Alexa model that promises comparable high-end sound.)
The Allure and the Sonos One each have their sound pros and cons. The Allure's sonics are brighter and crisper, especially at the top end for modern pop and hip hop such as Ariana Grande, Bruno Mars, Lady Gaga or Kendrick Lamar, with better separation, slightly bouncier bass and, thanks to its 360-degree speaker array, a much wider sound field – or, at least, less specific; Allure's sound field doesn't change as you move around a room, which is what makes great for a party.
By comparison, a single Sonos One's sound is fuller with more presence, especially to reproduce more refined, less beat-reliant music such as Frank Sinatra, Taylor Swift or Adele, along with Broadway, classical and jazz, and diaphanous new age sounds, but not as much bass boost and with a much narrower and location-specific sound field. Creating a Sonos pair, however, eliminates most of the Allure's 360-degree sound field advantages – but of course adds $100 to the total price.

So, for more modern ears, a single Allure beats a single Sonos One; for those with greatest generation or baby boomer musical tastes and critical listeners, a single or, better yet, a pair of Sonos One should be your Alexa listening partner.
Summary
With its 360-degree coverage and turn-it-up-to-11 volume capabilities, Allure is arguably the best single smart speaker solution for the Amazon Alexa ecosystem, and its light show adds to its overall aesthetic appeal. But if you want to hear your own tunes at their best with Alexa assistance, I'd opt for a pair of Sonos Ones.
Pros:
Excellent 360-degree sound
Attractive design/LED lighting effects
Wi-Fi and Bluetooth
Cons:
Voice access to Amazon Music only
No physical music transport controls
No sound customization in the app
Like GearBrain on Facebook