As consumers continue to spend more time at home, working and playing, home deliveries are becoming common routines. But so does the need to make sure these deliveries are kept secure until you find the time to bring them into your home. Last year, we saw several new smart products and services come to market to help solve this problem. There was the Yale Smart Delivery Box and Amazon's Key program. Now there is a new entry coming to market by HomeValet, Smart Boxes.
HomeValet , the company reimagining the modern home delivery experience, launched today its Smart Box and app. (Smart Box is available for pre-order.) This is the first of its kind solution for secure, contactless 24/7 delivery offered to eligible Walmart InHome customers in select participating regions this January, with wider consumer availability announced in early 2022.
Offering a secure, temperature-controlled and internet-connected outdoor receptacle, HomeValet's Smart Box enables seamless unattended delivery of fresh groceries and packages directly to consumers' front door steps every time. Through HomeValet's mobile app and subscription service, consumers will be able to conveniently customize, manage, monitor, and remotely control their Smart Boxes - for delivery fit to their lives, not the other way around.
"The rapidly maturing e-commerce market exposed a vital need for increased package security and food safety in supply chain "last mile" delivery to consumer homes, which HomeValet is designed to solve," said John Simms, HomeValet Founder and CEO. "By connecting consumers, retailers and couriers to a secure end-point outside consumers' homes, we enable automated delivery of packages, groceries and other goods, and reduce consumers' time burdens of home delivery and offer convenience and freedom, avoidance of logistics issues and capture large scale efficiencies improving the home delivery experience for consumers and retailers."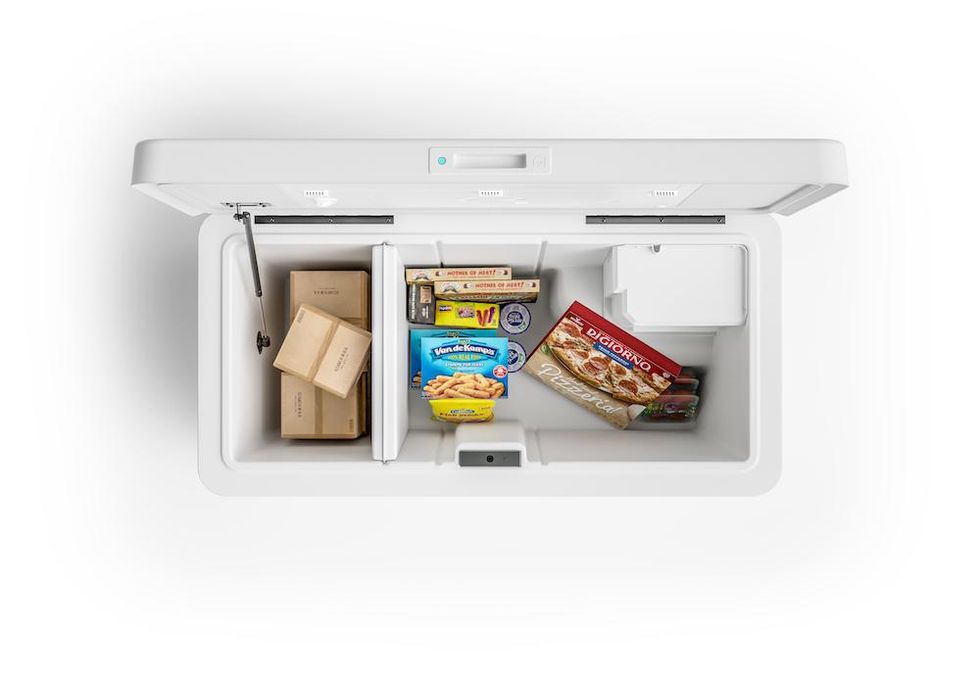 Top view of the inside of HomeValet Smart Box reveals the different configurations you get with this smart delivery box.HomeValet
Starting today, HomeValet's Smart Boxes are available for pre-order on HomeValet.co with an initial down payment of $50 to reserve. Smart Box pricing varies by design with a variety of customizable styles offered and financing options provided through Affirm. The HomeValet app, which allows users to monitor Smart Box deliveries as well as control temperature to ensure secure package and grocery deliveries is also now downloadable in the App Store and Google Play Store for a monthly subscription of $15.00/month.
Following a successful consumer pilot conducted with Walmart customers in May 2021, early delivery and a special introductory price will be available to select Walmart InHome customers in January 2022. Verified Walmart InHome customers serviced by participating Florida stores will be the first to experience the fully automated and seamless grocery delivery enabled by HomeValet.
"The adoption of the HomeValet Smart Box will create a whole new category within the home appliance industry, which hasn't changed much since the introduction of the microwave in the 1970s," said Jack Simms, HomeValet co-founder and COO. "More importantly, HomeValet-powered, IoT connected Smart Boxes will put the control in consumers' hands, so home delivery is designed for the convenience of shoppers, not just retailers."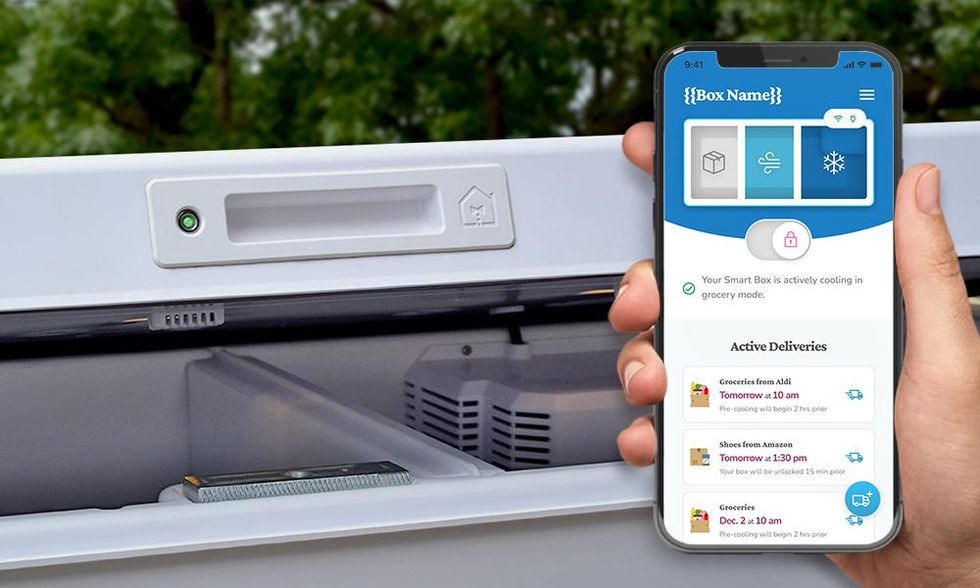 Use the HomeValet app to monitor deliveries and activity for Smart Box.HomeValet
From what GearBrain has learned, HomeValet's Smart Box is going to be more than a delivery box like Yale's Smart Delivery Box. It's going to be temperature controlled delivery solution for those of us who like to have their groceries or products that require a cooler-like delivery box. Smart Box solves this problem and can help protect your precious deliveries from being taken or eaten by unwanted guests. Having a security camera inside the delivery box is different and will provide a good view at who opened the lid. Just make sure you add a tether to secure your Smart Box as needed. We look forward to testing HomeValet's SmartBox in the near future to see how it works on a real home. But for now, it sounds like this product is made for today's smart home.
For additional information on the HomeValet Smart Box technology, pricing, and availability, visit HomeValet.co.