Like GearBrain on Facebook
As more people work from home, more deliveries are being made as a result. Whether it's a special gift for a family member or a package for work, parcels are piling up outside your front door. To help prevent anyone from coming by and stealing them off your front porch, Yale has a new solution called Yale Smart Delivery Box. It's designed to help keep your deliveries from being stolen or damaged. And in some cases, it can also prevent them from getting wet due to inclement weather. Yale sent us one to test and here is what we found.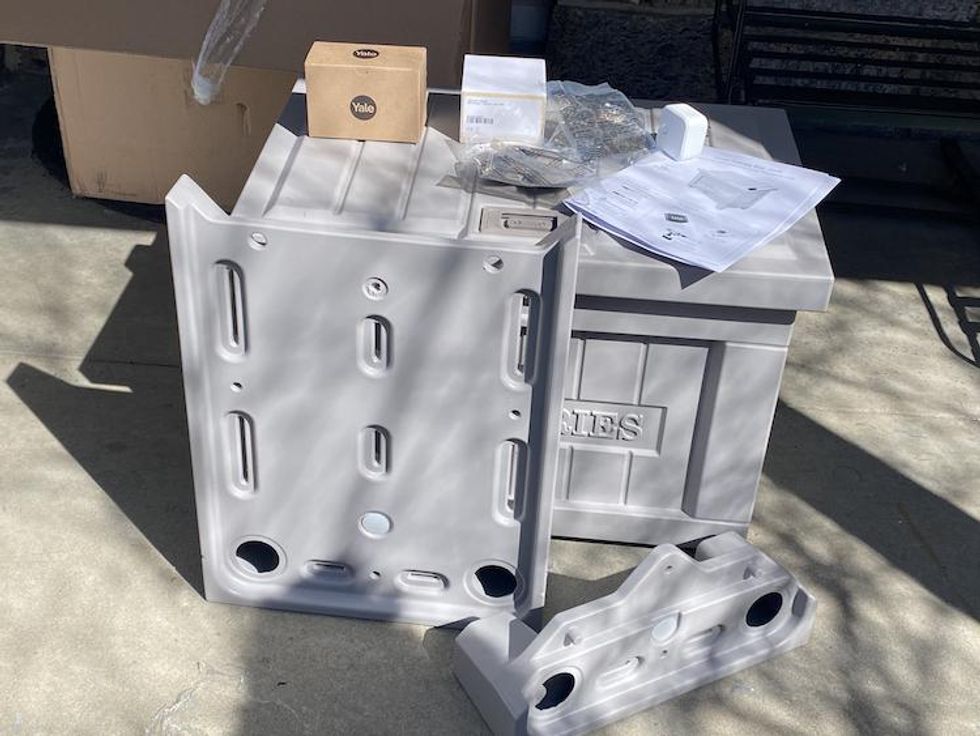 Yale Smart Delivery Box unboxed.GearBrain
What is Yale Smart Delivery Box
Yale Smart Delivery Box is a locked cabinet you assemble and store anywhere you'd like, on a porch, near a front door or wherever home deliveries are left. This is one of Yale's new Smart Storage products introduced in late 2020 during the pandemic, and is an outdoor device as compared to some of Yale's indoor lock options like the Yale Smart Cabinet Lock. This new box comes with a lock, the Yale Connect Wi-Fi Bridge and an optional Yale Smart Keypad. (Note: If you are an August Smart Lock owner, you are familiar with these last two products. They are the old August Connect and August Keypad products updated after the company purchased August Home.)
Yale Smart Delivery Box Unboxing and Review www.youtube.com
The company has two models for you to choose. There is the Brighton box which measures 16.5"(H) x 22.5"(W) x 11.5"(D). And there is the Kent that measures 19.5"(H) x 19.88"(W) x 28.75"(D). Both are big enough to store a number of packages, including food deliveries. But for perishables, you'll need to add an extra cooler insert, which you can buy on Amazon, which can help keep food cool for a short period of time. Both boxes come in two colors: Manor Gray and Carbon Brown. For our test, we used the Kent smart delivery box in Manor Gray.

Yale's new smart delivery box works with the Yale Access App (iOS and Android) as well as with Amazon Alexa, Google Assistant and Apple's Siri voice platforms. You can use the app or your voice to lock and unlock your box. Through the app, you can share access, view delivery history and receive notifications from anywhere.Y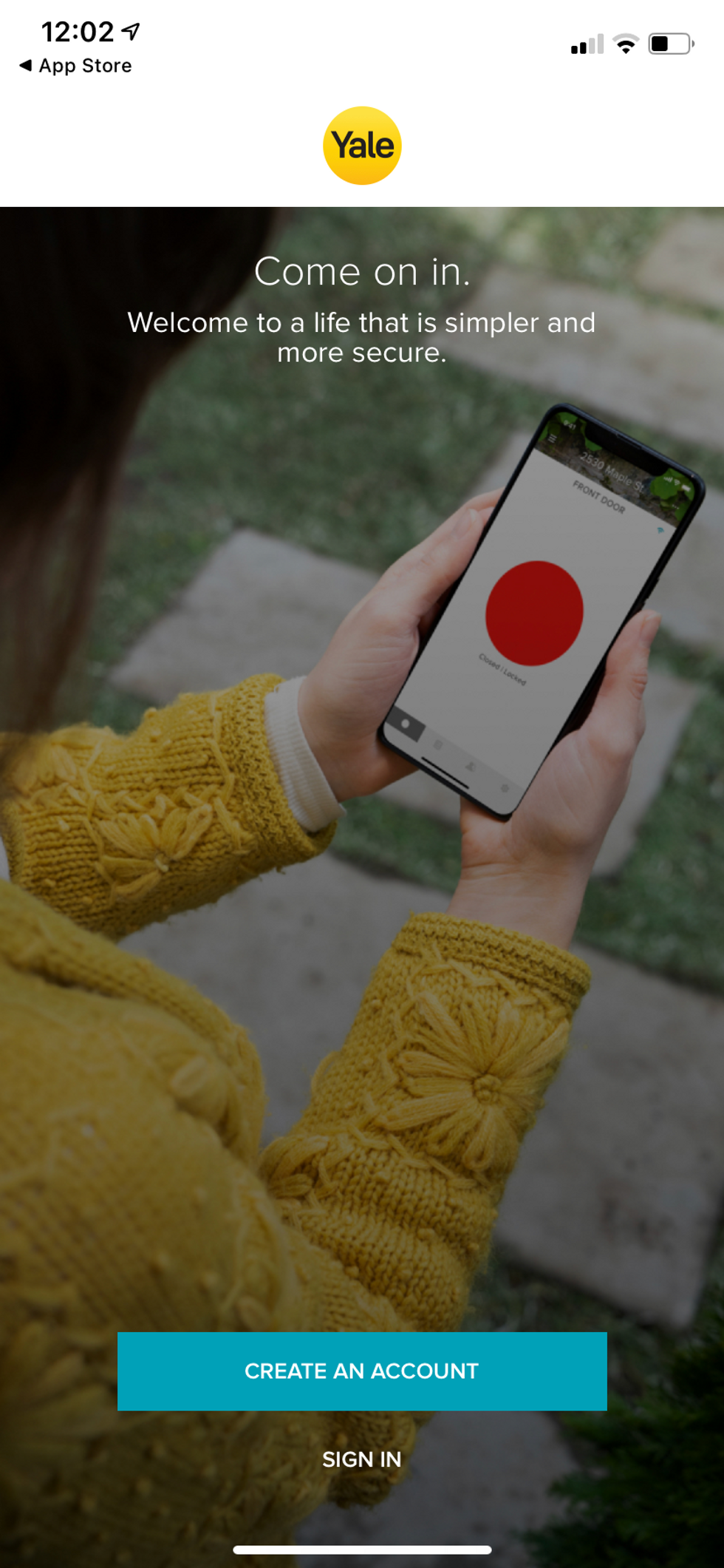 Yale Access App for iOS and Android devices.GearBrain
How to setup Yale Smart Delivery Box

The Yale smart delivery box does need to be assembled, and for that you'll want a Philips Head screwdriver and a drill. Yale actually includes a T-15 Torx bit for your drill, which is helpful. Once you unbox all the pieces, and confirm nothing is missing, download the Yale Access App and select, "Add a Device." At this point, follow the instructions in the app or use the supplied printed instructions, which we found helpful in assembling the box. We used the app for setting up our lock for the delivery box.
One of the first steps you'll need to take is how to weigh down the box as it's lightweight and made of plastic. The Smart with assembling your smart delivery box is determining how to weight down the box. It is lightweight and made of plastic, and needs something in the base so the wind doesn't actually blow it away — or someone picks it up — when nothing is inside. You can add sand to the base, or tether lock it to your porch. We opted for sand, which you'll need to supply yourself.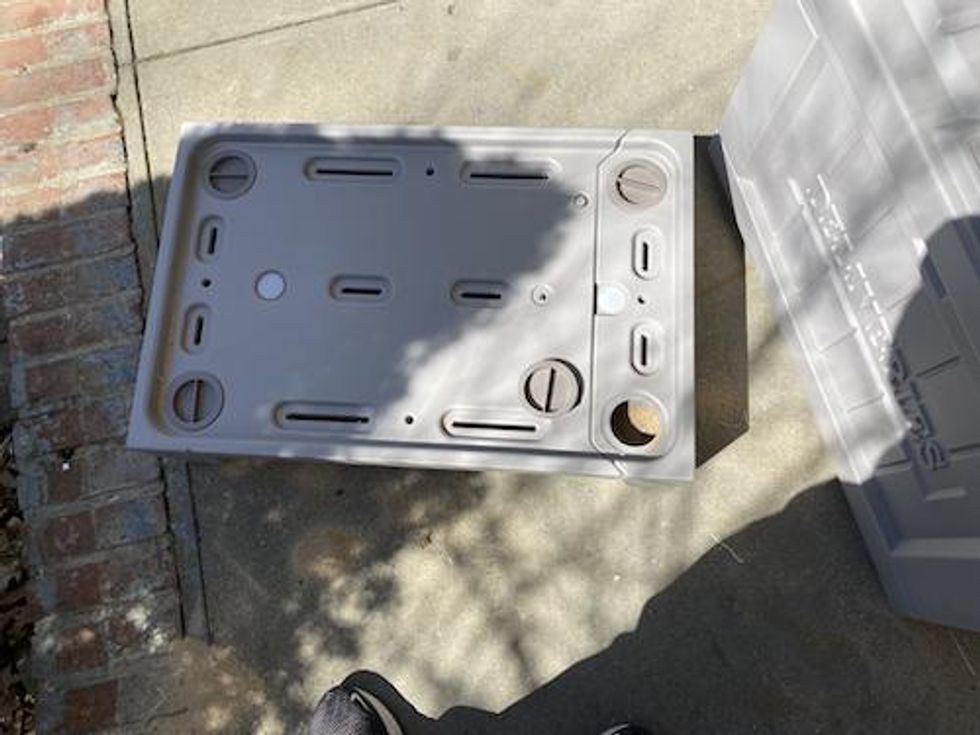 Weigh down your base with sand.GearBrain
Next, we set up the lock setup using the Yale Access App. You'll need to install the Yale Connect Wi-Fi Bridge inside your house — but within 15 feet of your delivery box. Yale uses the Wi-Fi Bridge to talk to your delivery box's lock via a Bluetooth connection, and the app will tell you if the connection is good or not. Once connected, the Bridge uses your home's Wi-Fi router to provide remote access from anywhere through your smartphone, and also lets you link to other compatible smart devices. Please note you need to plug the Wi-Fi Bridge inside your home and not outside — it's not weatherproof.

Once your Wi-Fi Bridge is setup and connected, the last step is to install and setup your Yale Smart Keypad, which should take only a few minutes. The total setup process should take you about 20 to 30 minutes, depending on whether you're adding sand or adding a tether to the box.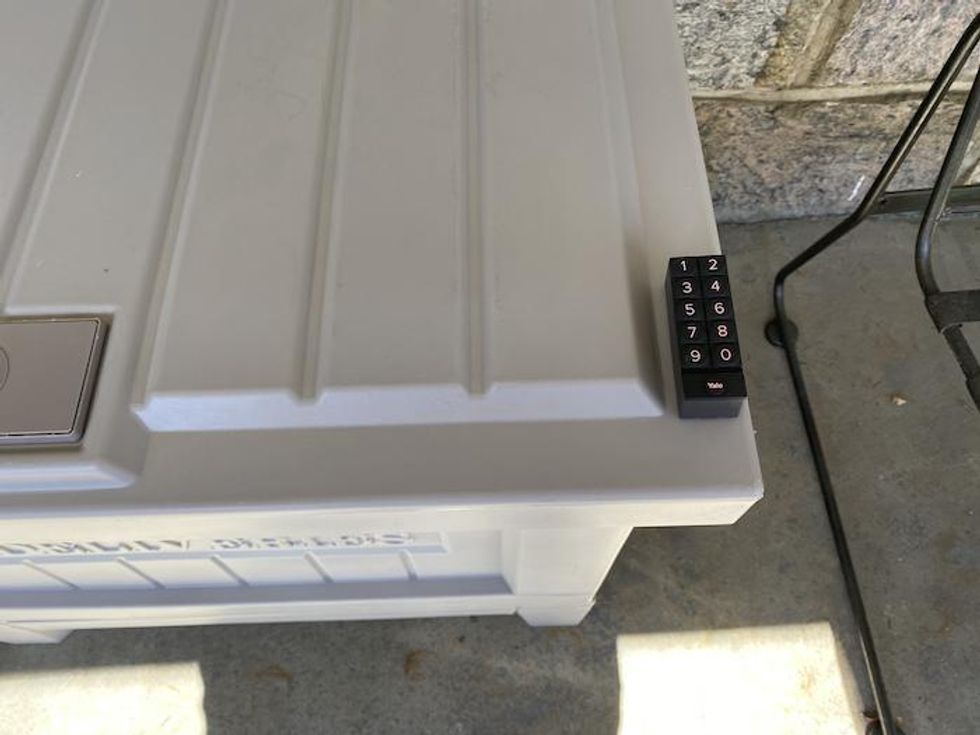 Use Yale Smart Keypad to provide delivery people and friends to access your delivery box.GearBrain
Cost

The Yale Brighton Smart Delivery Box costs $229.99, and is priced at $279.99 if you add the Wi-Fi and Smart Keypad. The Yale Kent Smart Delivery Box costs $279.99 which comes with Wi-Fi, and is priced at $329.99 when you add Smart Keypad. Both versions are available on Yale's website, a few home specialty retailers and on Amazon.
Performance
The Yale Smart Delivery Box works by automatically locking up after a delivery has been placed inside. Home owners leave the box unlocked, but once it's opened and a package dropped inside, and then closed, the box is locked up — unable to be opened until the owner chooses.
But during our testing, while all the components worked well, but we ran into a bit of human error — the people making the deliveries. You may find, as we did, that you need to train delivery services on how to use the Yale Smart Delivery box too. After installing the box, many delivery services put our packages on the porch or on top of the box. We decided to put a sign up on the wall, instructing them to place deliveries placed inside the box.

This sounded like it a good solution but we still had delivery services putting the packages on top of the box. So, we moved the sign to the box itself — and that worked.
Training Delivery Services to Place Package Inside Box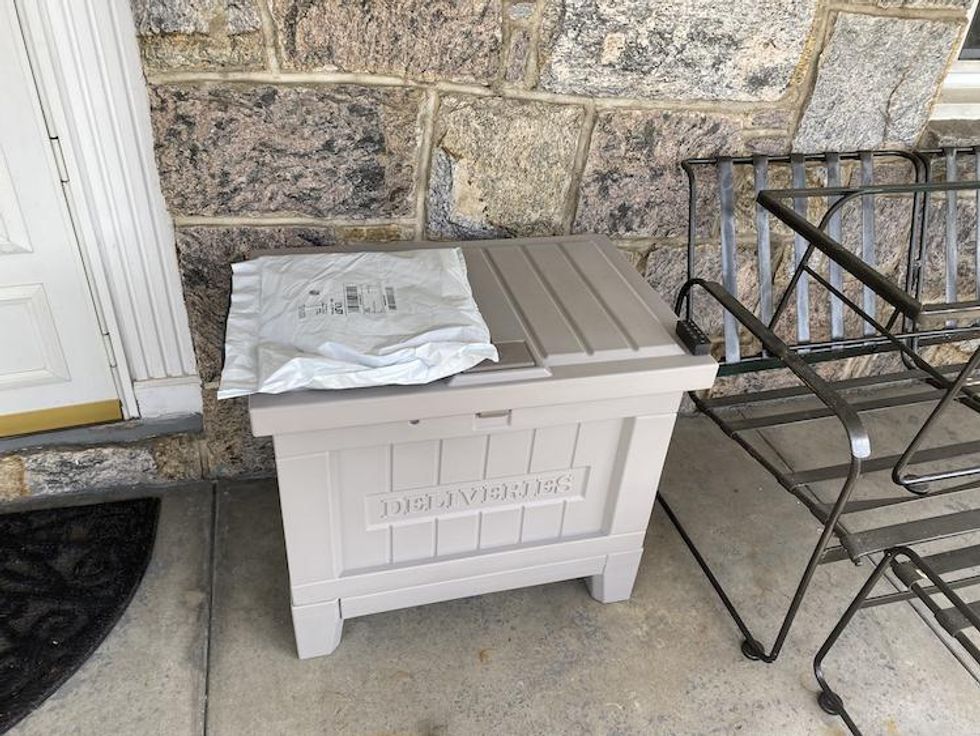 Package on top of Delivery box
GearBrain
Not all delivery services follow directions.
Put up a sign to  Notify Delivery Services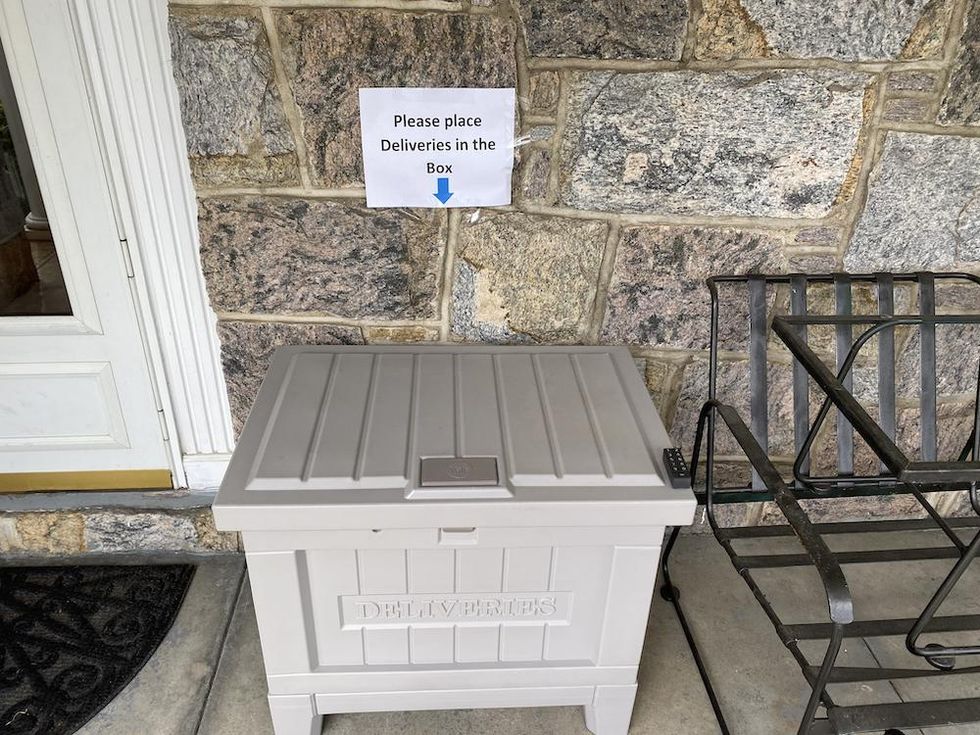 We put up a sign asking to place deliveries inside.
GearBrain
We put up a sign to instruction delivery services where to put packages.
Not all Delivery Services will Comply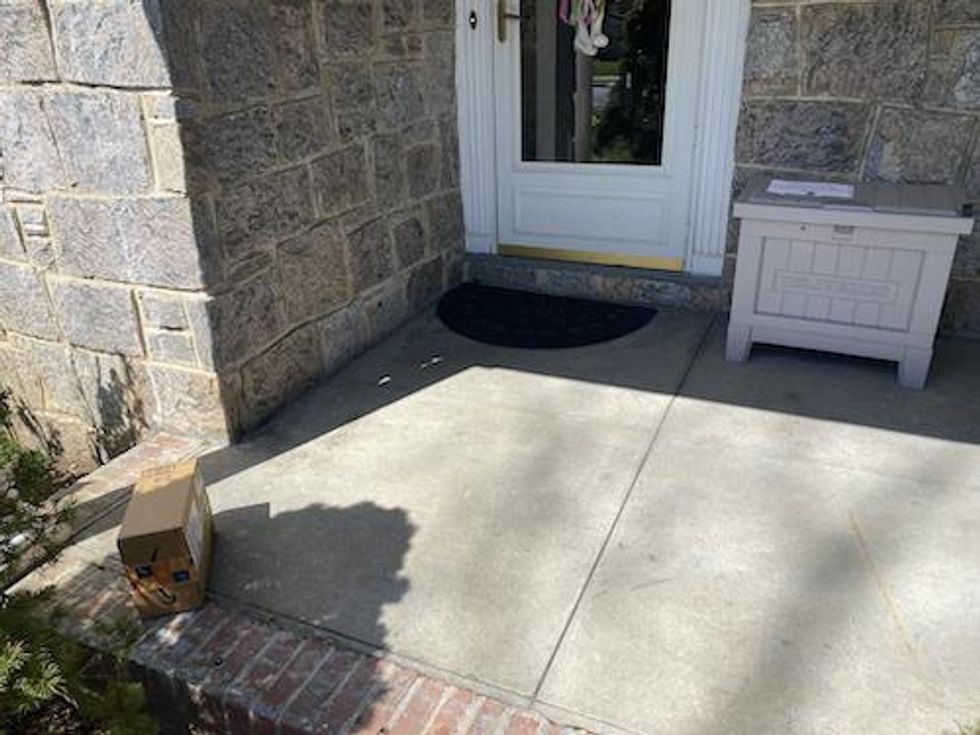 Not all delivery services followed instructions.
GearBrain
Sometimes they got it right but others just ignored and placed packages on porch.
Another issue, though, came because we got multiple deliveries every day. You can set your smart delivery box to lock after a delivery — but you then need to make sure it's unlocked when your next delivery arrives. The Yale Access App can be setup to notify you when you receive a delivery. You can also get a smart video doorbell, or position a security camera overlooking your smart delivery box, so when your next delivery is coming, you can unlock the box as well. But note these last options will add on to your cost.
Whichever option you choose, though, you need to either remove a package, and reset the box — or make sure you've unlocked it before the second, third or next delivery which of course poses a safety concern about keeping the original deliveries secure. Yale does provide guidelines on how you can create a delivery profile for UPS, Federal Express and US Postal Service people with instructions left on a delivery slip. However, that includes adding a passcode — on the delivery details — so they can unlock the box. If you choose this option, make sure you pick a temporary passcode.
We tapped into this option, seeing if delivery people would use the passcode — and they did not. Instead, they left the package on the top of the box.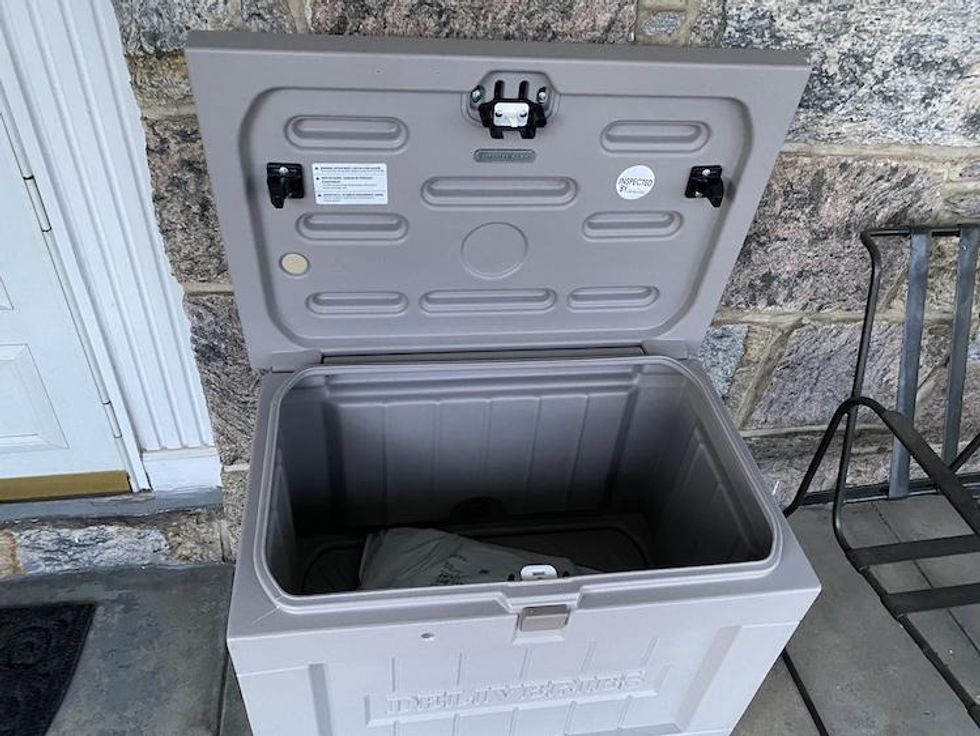 Over time we expect all delivery services to get it right.GearBrain
Summary

Yale Smart Delivery Box is a smart device added at a smart time. As more of us work from home, and depend more on online shopping, we're receiving more deliveries. The Yale Smart Delivery Box is a viable solution for securing these deliveries. These won't work for everything such as large, oversized packages. And if you get a lot of food deliveries, make sure you get the cooler insert. And the price for the box, starting at $230 for the smallest size, is an investment.
Who should buy this smart delivery box? If you receive a lot of shipments or parcels to your home that are large, long or oversized, then this is not a product for you to consider. However, if you do get small shipments, valuables and even perishables and are not home all the time during the day, or are busy on work calls, the Yale Smart Delivery Box may be worth a look. This smart delivery box is also a good option for those whose front porch is very visible to the street, as it may deter unwanted guests coming up and stealing their packages.

We would recommend taking some time, though, to alert regular delivery drivers to the box and how it's used. You can put instructions on the delivery slip, but we also suggest adding a sign telling them to put deliveries in the box as well — and make sure the sign is visible as they are walking up your walkway. And then, have some patience.
Pros:
Cons:
Need to train delivery services to put packages inside box
Limited on size of deliveries, and box needs to be secured to house or porch
Price
Yale Smart Delivery Box with Keypad - WiFi Package Box for Receiving and Securing Packages from any Carrier, Gray
Like GearBrain on Facebook