Like GearBrain on Facebook
Honda cars sold in the United States offer Apple CarPlay, Android Auto and their own navigation service, but they also come with HondaLink, a wide-ranging connected car platform with an app for iOS and Android.
Model year 2020 vehicles and beyond also let you check on vehicle recalls and other notifications, receive enhanced roadside recovery, make emergency calls, and more.
Read More:
As with most manufacturers, the exact features your car has depends on the year it was made, the model, and the trim level specified at the time of purchase. While we can't account for every permutation, Honda's website has a tool for checking exactly connected features your vehicle has, using its year and model or by entering the VIN.
Apple CarPlay and Android Auto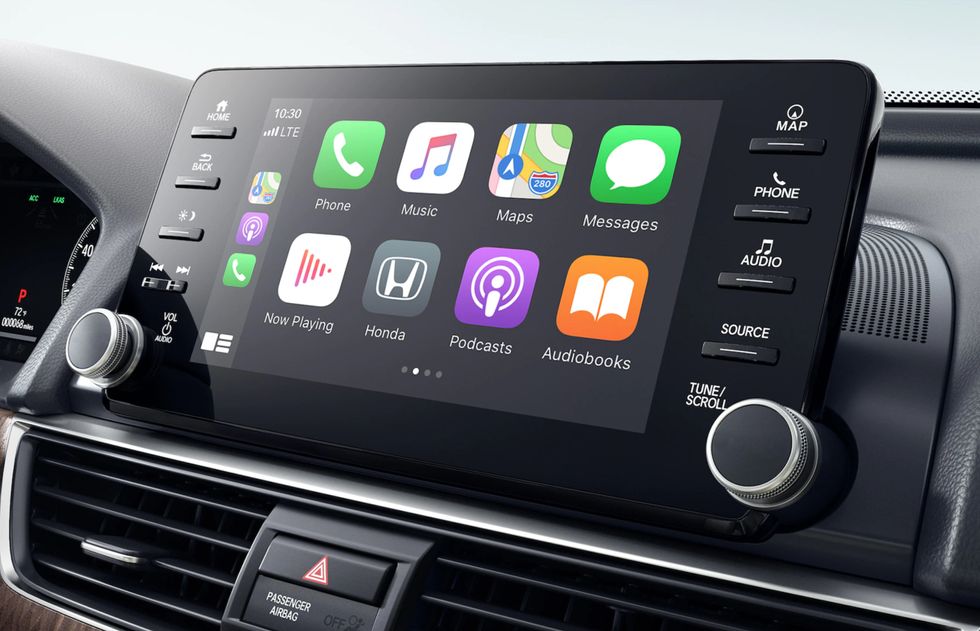 Apple CarPlay on a 2020 Honda AccordHonda
As is almost universally the case for new cars made in 2020, Hondas offer both Apple CarPlay and Android Auto via the dashboard touchscreens. Although these displays vary in size depending on the model, the experience of each system is broadly the same, since it is powered by your connected smartphone.

For Honda cars sold new in 2020, CarPlay and Android Auto is standard on the Sport trim level and above. These are both still wired options for now, although wireless connectivity (and wireless charging) will likely be included in new models in the years to come.
What is HondaLink and what can it do?
Parking Apple and Google for now, let us focus on Honda's own connected car system, called HondaLink. This platform is accessed using the free HondaLink smartphone app, available for iOS and Android. Some functions are free for the lifetime of the vehicle, while others are free for three or 12 months, then incur an annual subscription if you want to keep using them.
The features are spread across five tiers called Basic, Link, Security, Remote and Concierge. Some vehicle models, like the small Fit hatchback, are only compatible with Basic and Link, which are both free. The Basic package includes access to the owner's manual on your phone, vehicle recall notifications, service appointments, and roadside assistance (providing you have a valid vehicle warranty).
Going up a step, Link includes a dashboard page in the smartphone app showing your vehicle's mileage, fuel level or battery charge, and oil life. You will also receive notifications about vehicle warning messages and maintenance reminders, along with a vehicle health report delivered to your inbox. The Link package also includes a system for adding favorite locations to the app, which are then accessible from the vehicle's navigation system, and you can send a destination to the car, so that the navigation system is already set when you get in the car.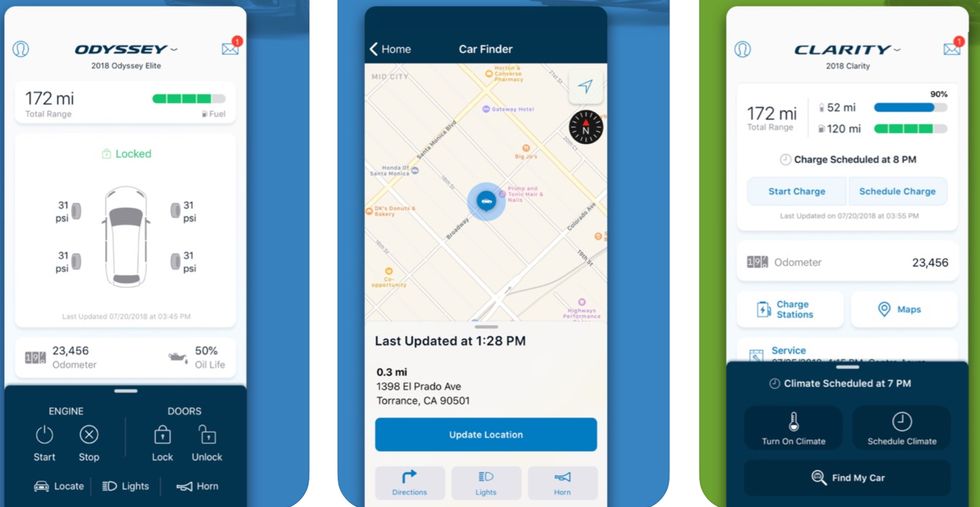 The HondaLink app for iPhoneHonda
Basic and Link are free with most trim levels of current Honda vehicles, but not all. For example, with the 2020 Insight the lowest trim level, LX, gets the Basic feature package but not Link. Sticking with the 2020 Insight as our example, the Security, Remote and Concierge tiers of HondaLink are only available with the Touring trim level, which is above LX and EX.

The Security tier includes Automatic Collision Notification, which connects your car to a Honda agent to check you are okay when a crash is detected, and request local emergency services if required. Security also adds the option to restore your car's audio and navigation system to factory defaults from within the HondaLink phone app, safely wiping your personal data in the process.
Finally for Security, the Enhanced Roadside Assistance feature helps you contact towing or repair services by pressing the LINK button in the car.
Remote tier
Next up is the Remote tier. This adds a lot of connectivity features to your vehicle and the HondaLink app, including Key by Amazon in-car delivery, where items can be left securely in the trunk of your car, wherever it is parked. You can also use the HondaLink app to remotely start your car and set the cabin to a certain temperature before getting in, and remotely lock or unlock the doors.
If you lend the car to someone you can set the app to alert you if the car exceeds a predetermined speed or leaves a certain area, and you will also receive a notification when the vehicle alarm is triggered. The app also helps you locate your car if it is stolen, or if you simply lost it in the parking lot.
Finally, the Concierge tier includes all of the above, but adds the ability to call up a concierge to make hotel, restaurant or airline reservations. Confirmation of these bookings, and navigation directions if required, are sent to your vehicle.
How much does HondaLink cost?
As we said earlier, the Basic and Link tiers of HondaLink are free with most vehicle trim levels. Security is free for 12 months, then costs $89 per year if you want to continue using it. Remote is free for three months, then costs $110 a year. Concierge (which includes all of the Remote features) is also free for three months, then costs $260 annually.
Navigation is not included in this pricing structure, as Honda's own Satellite-Linked Navigation System is standard on all vehicles with the Touring trim level, regardless of which of the HondaLink tiers are subscribed to. Of course you can instead use a navigation app in Apple CarPlay and Android Auto, using your phone's data connection, for free.
Introduction of The GearBrain, The First Compatibility Find Engine for Smart Devices www.youtube.com
From Your Site Articles
Related Articles Around the Web
Like GearBrain on Facebook