Like GearBrain on Facebook
The infotainment and connected car system — the smart and connected tech inside the vehicle — that's used by Mercedes is called the Mercedes-Benz User Experience, shortened to MBUX. Launched on the then-new A-Class in 2018, MBUX replaces the previous infotainment system called COMAND, which stood for Cockpit Management and Data system.
Read More:
The new name was significant for Mercedes, as it represented a shift from a more traditional dashboard display and interface, to a far more futuristic system spread across a pair of large digital displays.
The MBUX system with its dual displays is available on all models of Mercedes, but on some you will have to pay for an upgraded trim level, such as Premium, Premium Pro or Executive on the A-Class, or any apart from the entry-level SE model line on the more expensive E-Class.
What is Mercedes MBUX and what can it do?
Sat inside a single dashboard-mounted housing, the dual-screen MBUX system shows speed, fuel, battery life, gear and other vitals behind the steering wheel, while the touch-sensitive display next to it is for phone, media and navigation control.
Climate controls are not included on this display. Instead, those remain as physical buttons and switches, located on the center console and beneath a set of central air vents. That said, for the next-generation S-Class luxury limo, Mercedes is adding a larger touchscreen to the dashboard, complete with digital climate controls. More on that updated system later.
Today's MBUX can be controlled in a number of ways. These include touching the infotainment display, swiping and tapping on the central control panel at the driver's side (photographed below), using buttons and miniature trackpads on the steering wheel, or by issuing voice commands.
The latter is summoned either by pressing a button on the wheel, or by saying 'Hey Mercedes,' then using natural language to adjust settings. You can use phrases like "I feel cold," to increase the cabin temperature. Mercedes says the voice system works with various accents, and will improve its understanding of how you personally speak over time. You can also ask the system to find a local charger or gas station, or check when your car is due its next service.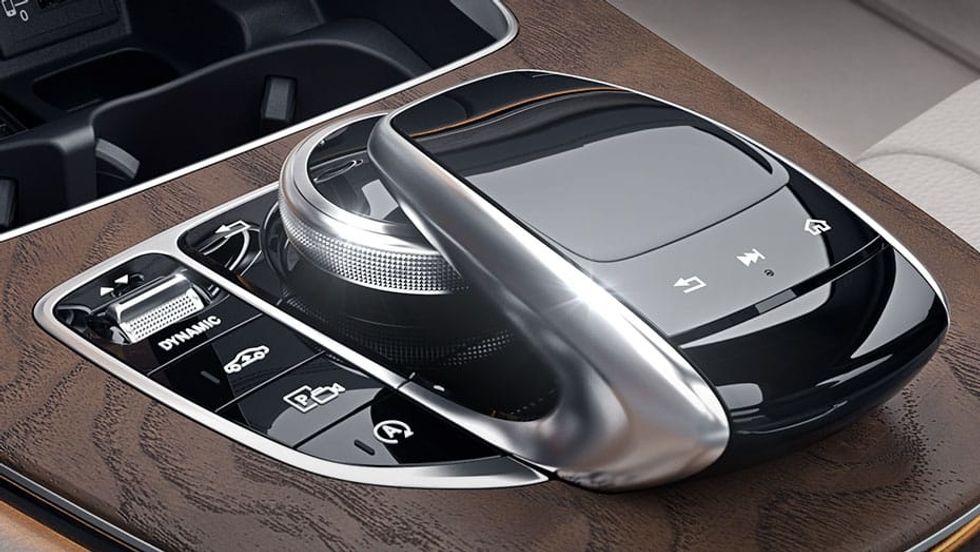 Centrally-mounted touchpad control unitMercedes
Like in a BMW, the central touch controller can be drawn on to write out addresses, although this means left-handed drivers in left-hand-drive vehicles may struggle to write accurately with their weaker hand. As a right-handed Brit, I've found this to be a problem in right-hand-drive cars. Thankfully you can enter addresses using the on-screen keyboard, or by speaking to the Mercedes assistant.

Although fairly primitive for now, artificial intelligence is used by the MBUX system to recommend radio stations based on what you listen to most often, or show you a faster way to work if your normal route is blocked with traffic.
As with many new cars, Mercedes vehicles come with a range of connected features to keep you safe. If a collision is detected, the car will automatically call the Mercedes-Benz emergency response center, sharing your location and the number of occupants in the vehicle (thanks to sensors in the seats). Live traffic information is also part of MBUX, routing you around road blockages and tailbacks.
Another smart feature of MBUX is augmented reality navigation instructions. As well as showing you where to turn on a map, the touch screen can be set to show a Google Streetview-style image of your next turning, complete with street markers and arrows virtually laid over the top, as shown below.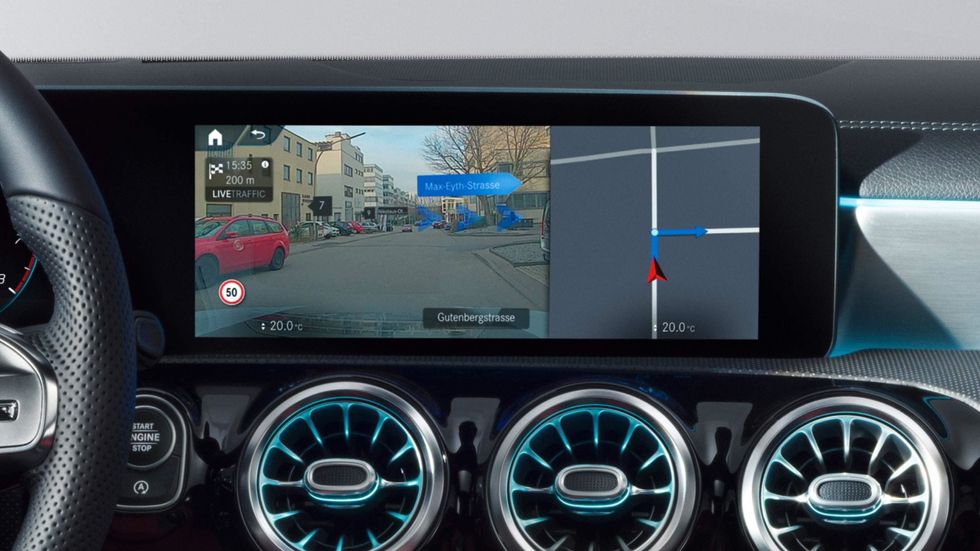 Augmented reality navigations prompts with MBUXMercedes
Additional connectivity services include an in-car Wi-Fi network, which offers 1GB for a one-month free trial, after which data prices vary by region. This is also true of a system that links the car to your Gmail or Outlook 365 calendars, helping your car keep track of your work schedule, dial-in to conference calls, block calls when you are busy, and navigate to your next meeting.

As for entertainment, Mercedes has partnered with Tidal to offer its 58 million-song catalogue free for your first three months of ownership.
Connected features, including live traffic and weather data, fall under the Mercedes Me Connect system, which is free for the first three years of ownership. To renew, Mercedes USA asks that drivers contact their local dealership; prices vary, but are currently in the region of $100 for a three-year subscription.
Do Mercedes cars have Apple CarPlay and Android Auto?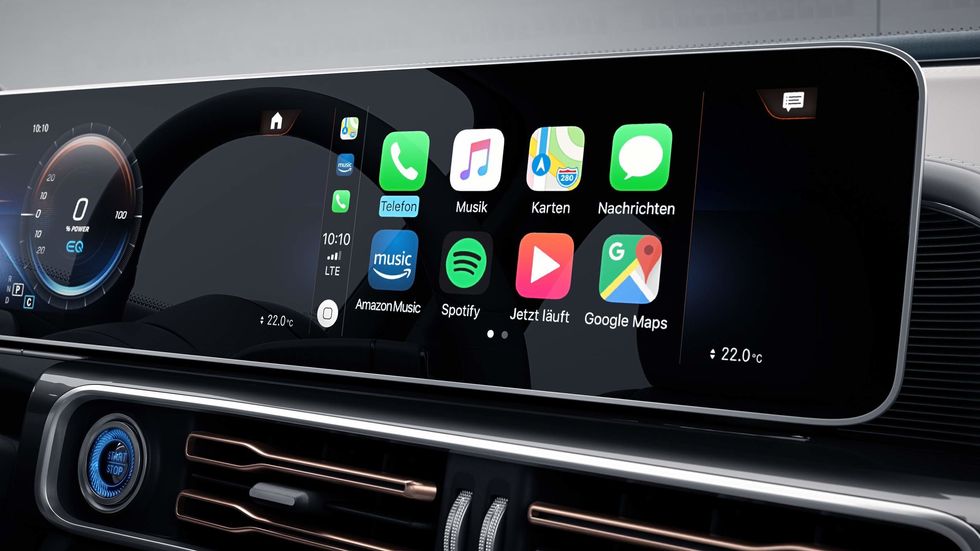 Apple CarPlay running on the MBUX system of a MercedesMercedes
Yes, they do. With a smartphone connected, the CarPlay and Android Auto interfaces are shown on the secondary touchscreen display. Wireless CarPlay is also available on some models, and so too is wireless charging using the Qi standard. That way, your phone charges and automatically connects to the car's MBUX system when it is placed on the dedicated holder.

Is there a smartphone app for Mercedes cars?
Yes, it is available for iOS and Android, and is called Mercedes Me. The app shows your vehicle's mileage, range, fuel level, tire pressure, status of doors, windows and sunroof, location and service schedule.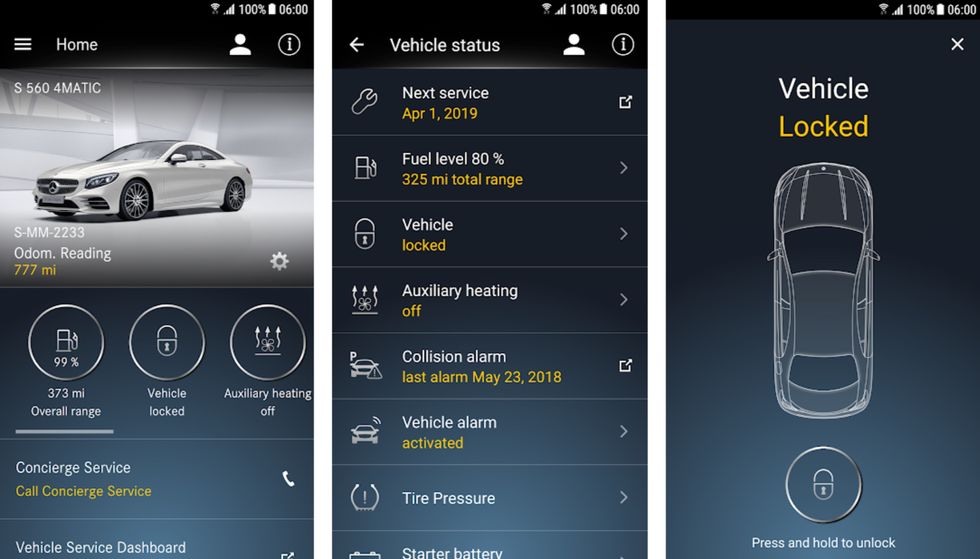 The Mercedes Me app, available for iPhone and AndroidMercedes
You can also use the app to remotely lock and unlock the vehicle, open or close the windows, and operate the sunroof. As with other connected car systems, the climate can be switched on using the app, warming or cooling the cabin before you get in. Also useful is how the app alerts you if the car alarm is triggered, and you can then turn it off from the app.
When lending your car to someone else, you can set speed and location limits. If the car leaves a certain geofenced area, or exceeds the speed you set, the app will alert you.

What is next for Mercedes MBUX?

In July 2020, Mercedes showed off the next generation of MBUX system, called My MBUX.
Demonstrated online on July 8, embedded below, the system replaces the secondary touchscreen with a new 12.8-inch display that is squarer in shape and includes climate controls as well as media, phone and navigation.
The system boats 50 percent more processing power than the current MBUX, and up to 27 fewer physical buttons. There is voice control in 27 languages, 320GB of storage for local music, and 16GB of RAM.

Bringing smartphone-style security to car infotainment, My MBUX can be secured with a PIN code, fingerprint or face recognition.
The new My MBUX system will appear first in the next-generation 2021 S-Class, then filter down through the rest of the Mercedes line-up as each model is updated and replaced in the coming months and years ahead.
From Your Site Articles
Related Articles Around the Web
Like GearBrain on Facebook