Like GearBrain on Facebook
In part two of GearBrain's deep dive into connected car services, we're looking at BMW's Connected Drive and iDrive.
A multifaceted system, ConnectedDrive's service works across your phone, smartwatch and smart speaker, as well as the car itself, where it is controlled using BMW's iDrive infotainment system.
Other connected car features offered by BMW ConnectedDrive also include wireless charging for your smartphone, Apple CarPlay (with Android Auto coming soon), an in-car WiFi hotspot, and the ability to use your phone as a key.
Read More:
What is BMW ConnectedDrive and what can it do?
ConnectedDrive is the umbrella term used for all of BMW's connected car services. This includes the car's own internet connection, as well as the phone, watch and speaker applications used to interact with the vehicle remotely. BMW describes ConnectedDrive as a bridge that connects your car with your life, which seems appropriate.
The free BMW Connected smartphone app – available for iPhone and Android – shows key information about your car, such as its remaining fuel or battery charge and range, whether it is locked or not, and diagnostics reports. The app also lets you lock or unlock the car, sound the horn and flash the headlights (useful if you've lost it in a parking lot).
When synced to your calendar, BMW's ConnectedDrive system can send an alert to your smartphone when it is time to leave for your next appointment. You can also view the car's recent activity and locations, which could be useful if you have leant it to someone and want to check where they have been.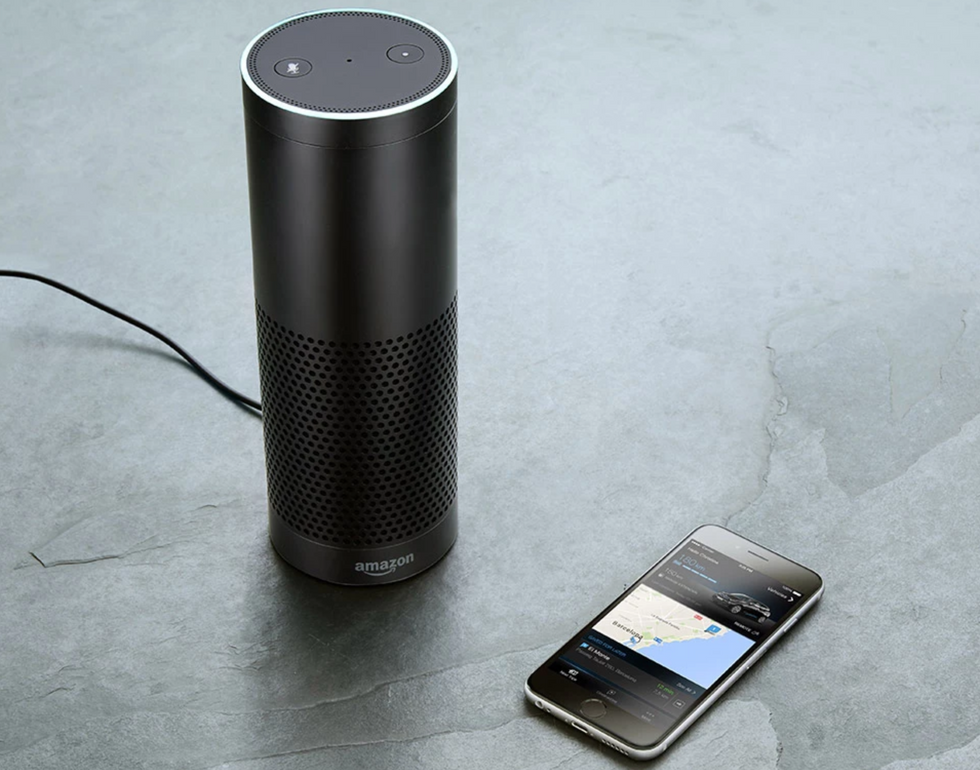 An Alexa skill lets you control some vehicle features by speaking to the assistant at homeBMW
There is also a BMW Connected skill for smart home devices with Amazon Alexa. With this enabled, you can ask the assistant to lock or unlock your car, say how much fuel is remaining, and when you should leave for your next trip, based on your calendar schedule.

In the car itself, ConnectedDrive includes voice controls and hand gestures for simple tasks like answering calls, playing/pausing music and adjusting the volume. Or you could just use the buttons on the steering wheel.
Today's BMWs include access to a range of media apps, too. These include Spotify, TuneIn, Pandora, iHeart Radio and Stitcher. Remember, these run on the car itself and use its internet connection; they have nothing to do with your smartphone. Just log into your Spotify account, for example, using the car's own system and you're good to go. Or you can stream music from your phone using Bluetooth in the usual way, if you prefer.
Like many modern cars, BMWs include an SOS call button. Called BMW Assist eCall, this system helps with emergency response if you have an accident or break down.
Finally, BMW's ConnectedDrive has a function baked into the navigation for finding nearby parking spaces. It shows the location of parking lots, but also uses navigation information, wireless connectivity and algorithms to find and predict where vacant on-street parking spaces might be.
ConnectedDrive is free for the first three months when you buy a new BMW, then costs $50 a year if you choose to keep it. However, with its new Operating System 7, which launches with the new 5-Series and will roll out to more models soon, BMW is adding a new way to pay for car features using subscriptions, so the price of ConnectedDrive might change later in 2020. We'll update this article when more information about the subscription service is available.
You can read more on Operating System 7 here.
What is BMW iDrive?

BMW's iDrive infotainment systemBMW
iDrive is BMW's infotainment system, and has been around since it debuted on the flagship 7-Series back in 2001. Since then it has worked its way into every model of BMW, and also appears in all current models of Mini and Rolls-Royce, both of which BMW owns.

Central to the iDrive experience is the rotating control wheel. This can be turned, pressed, tapped, drawn on and pushed up, down, left and right to navigate through the infotainment system.
Next to this are a set of buttons for quickly jumping to certain features, like the navigation map, media page, main menu, or your Bluetooth-connected phone.
Characters can be drawn on top of the control wheel, for entering a destination into the navigation for example, but this can be tricky if the iDrive unit is on your weaker side. This mostly affects right-hand-drive markets, where drawing with one's left hand can be tricky for the majority of drivers.
iDrive's user interface appears on a large display (which has recently gained touch controls in some models) on top of the dashboard. A split view means you can see your navigation map and another app, such as music or the local weather, at the same time. Unlike some other brands, like Audi, BMW has kept the traditional looks of its instrument binnacle behind the steering wheel. It's now an all-digital display in some models, but still resembles conventional dials by default.
One of the smartest features of iDrive is a 360-degree view of your car. This is captured using cameras located around the exterior, with their images stitched together in real-time to show what your surroundings look like. You can even swipe at the display to look around the car at any angle, helping you park and avoid any obstacles.
Do BMWs have Apple CarPlay and Android Auto?
BMWs have included Apple CarPlay for some time, but Android Auto will only join the party later in 2020, via the roll-out of Operating System 7. This makes BMW one of the last carmakers to include Google's system.
Is there a smartphone app available for BMW cars?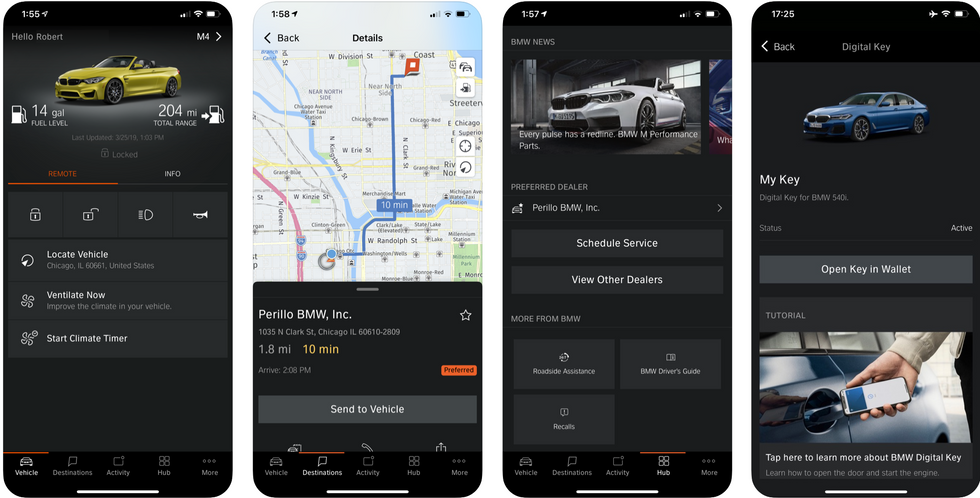 The app is available for iPhone and AndroidBMW
Yes, the app is called BMW ConnectedDrive and is available freely for iPhone and Android. More interestingly is how the new 2021 model year BMW 5-Series will be the first car to work with Apple's new CarKey feature for iOS.

This lets drivers unlock and start the car simply by having their iPhone on their person. They can also share digital keys with friends and family by sending an iMessage. The key then lives in the recipient's Wallet app, ready to be used with the car.
The owner can set limitations for other drivers, preventing the car from leaving a certain area, or exceeding a certain speed. Android owners can already do this with compatible BMWs, using the ConnectedDrive app.
Roav Viva by Anker, Alexa-Enabled 2-Port USB Car Charger in-Car Navigation, Compatible with Android and iOS Smart Devices
From Your Site Articles
Related Articles Around the Web
Like GearBrain on Facebook