Like GearBrain on Facebook
It took just five years for Apple CarPlay to go from brand-new to available on 90 percent of new cars sold in the United States. It is also offered on almost all cars sold overseas too, with Tesla the most notable exception.
This hugely impressive acceleration is thanks to CarPlay arriving right when automakers began fitting larger and larger touchscreens to their cars, but still struggled along with sub-par software. A lack of internet connection and over-the-air updates, still rare among new vehicles even in 2020, meant Apple's Trojan horse of an iPhone was unimpeded in bringing CarPlay to the masses.
Read More:
Instead of investing a small fortune in fixing what they already had and likely still ending up with a compromised interface that quickly looked out of date, car makers simply invited Apple in. They welcomed Google too of course, with Android Auto, but on the handful of vehicles where one system is available and not the other, it is CarPlay that almost always wins out.
Ahead of your 2020 summer road trip, this is our complete guide to Apple CarPlay.
What is Apple CarPlay?

Part of the genius of CarPlay (and Android Auto) is how it is powered by your smartphone, not the car. Just plug your iPhone into a USB port or sit it on the car's wireless charger (as wireless CarPlay is slowly becoming more common), confirm on both car and phone that you want to use CarPlay, and an iOS-like interface replaces your vehicle's own.
CarPlay mostly lives on the main dashboard display, but the option is now there for manufacturers to show elements of the user interface on other screens too, like those behind the steering wheel.
To comply with road safety regulation, the CarPlay interface is simpler than that of an iPhone or iPad. Only a handful of driving-specific apps are visible, and there is no on-screen keyboard for writing messages, as that is deemed too distracting for the driver. Instead you can dictate to Siri, who is usually summoned by saying "hey Siri," or by holding your car's own voice control button on the steering wheel.
CarPlay's main functions are to play music, manage your phone calls and provide navigation using a range of mapping apps. The interface is big and simple, and in recent years has been upgraded to show more information at once, such as a map, music controls, and your next calendar event. Exactly how CarPlay looks depends on the size of the car display.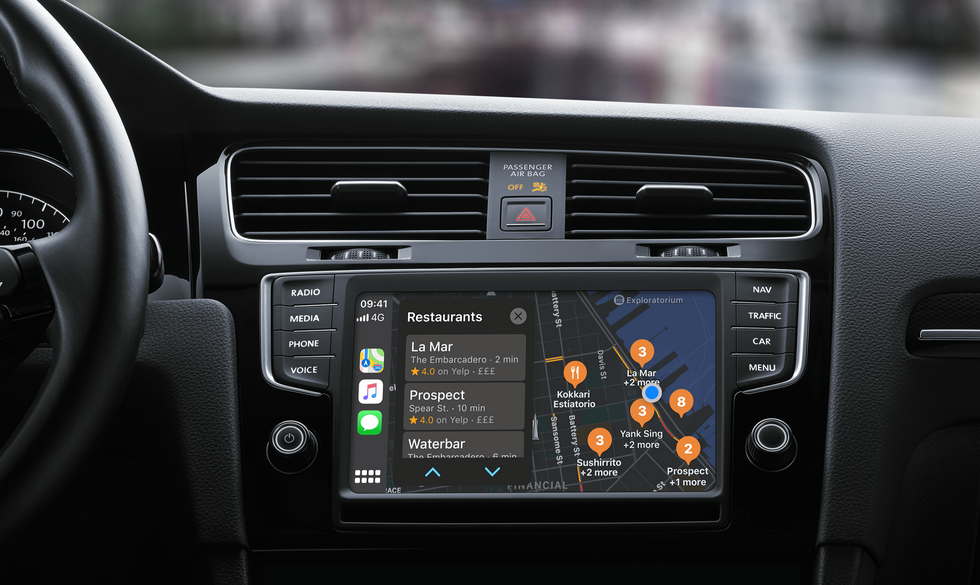 Navigation app on Apple CarPlayApple
There is always an app icon on the CarPlay home screen that can be tapped to return you to your vehicle's own infotainment system, should you so wish.

The price of Apple CarPlay varies quite drastically between manufacturers and individual models. Some manufacturers include it (and Android Auto) for free across the board, while others include it as a part of premium interior trim options, or bundle it when you spec the larger touchscreen or improved sound system. Some charge a couple of hundred dollars and some (well, Ferrari) charge around two thousand dollars for what is essentially a software tweak.
BMW briefly charged an annual subscription for access to CarPlay, but this quickly took a U-turn after owners complained.
What apps work with Apple CarPlay?
Naturally, gaming and video are a complete no-go here, as CarPlay is intended to be used safely while driving. That does mean Tesla cars are better-equipped to keep you entertained while parked and charging with their games and YouTube app, but for use on the go, CarPlay is hard to beat.
Standard iPhone apps that work in CarPay include:
Phone
Maps
Messages
Music
Calendar
Podcasts
Third-party apps that work in CarPlay include:
WhatsApp
Spotify
Google Maps
Waze
Stitcher
Overcast
Audiobooks
Audible
NPR One
Amazon Music
Google Play Music
Tidal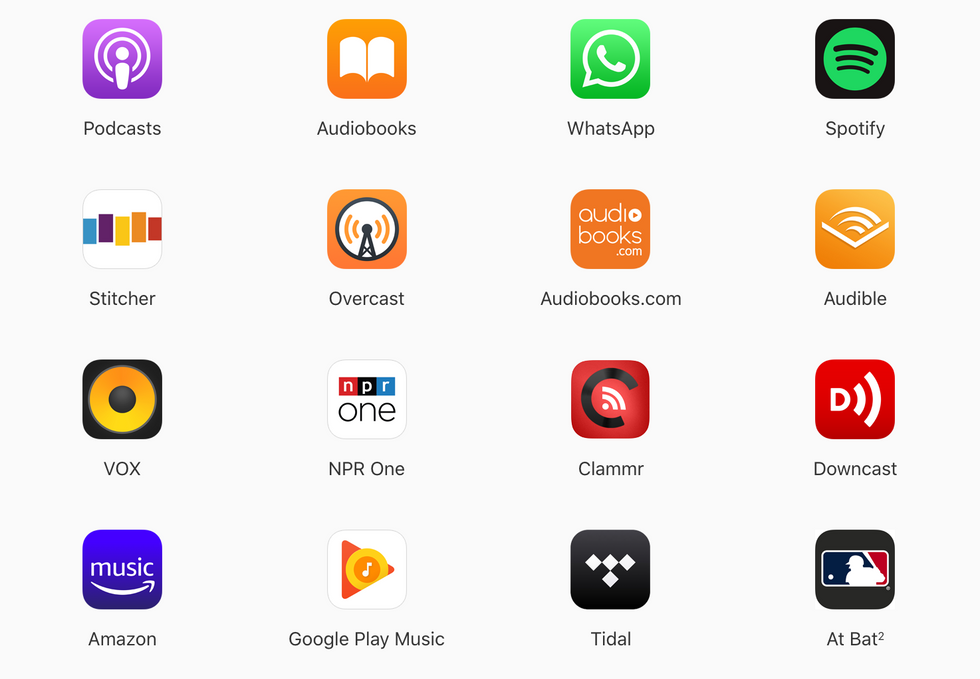 Third-party apps for CarPlayApple
How is Apple CarPay controlled?

The beauty of CarPlay is how it is controlled with whatever physical controls your car already has. This includes the touchscreen, buttons, dials and knobs, but functionality is not affected if any of those components are missing.
For example, some slightly older cars lack a touch screen but still have a small digital display behind the steering wheel, controlled by buttons and dials. CarPlay can happily live on this display and be controlled with the buttons – no touch screen necessary.
CarPlay also uses voice, so you can speak to Siri to set the navigation, make a call or send a message. Siri is summoned by either pressing your car's voice control button, usually on the steering wheel, or by saying 'Hey Siri' in vehicles that have an always-on microphone to support it.

CarPlay is operated with whatever controls your car already hasApple
Siri is also used to read content to you. For example, incoming messages are not shown on the display, as that would be too distracting. Instead, you are notified of the message and you can either tap on the notification or ask Siri about it, and it will read out the message. The assistant can then be used to transcribe a reply.
What is next for Apple CarPlay?

Apple recently showed off its upcoming iOS 14 iPhone operating system, which will launch as a public beta in July, before rolling out as a finished item in the fall.
As part of iOS 14, the Maps app and CarPlay received a range of useful new features. These include routing for electric vehicles, which takes your car's current battery charge and the ambient temperature into account to calculate where you will need to stop to charge, and for how long.
iOS 14 also introduces CarPlay wallpapers for the first time, so you can pick your own background to help the home screen match your car dashboard and interior trim.
The Maps app has also been updated in iOS 14 to display information on congestion charges in cities like London and Paris, and show their rules and prices, or route around them if required.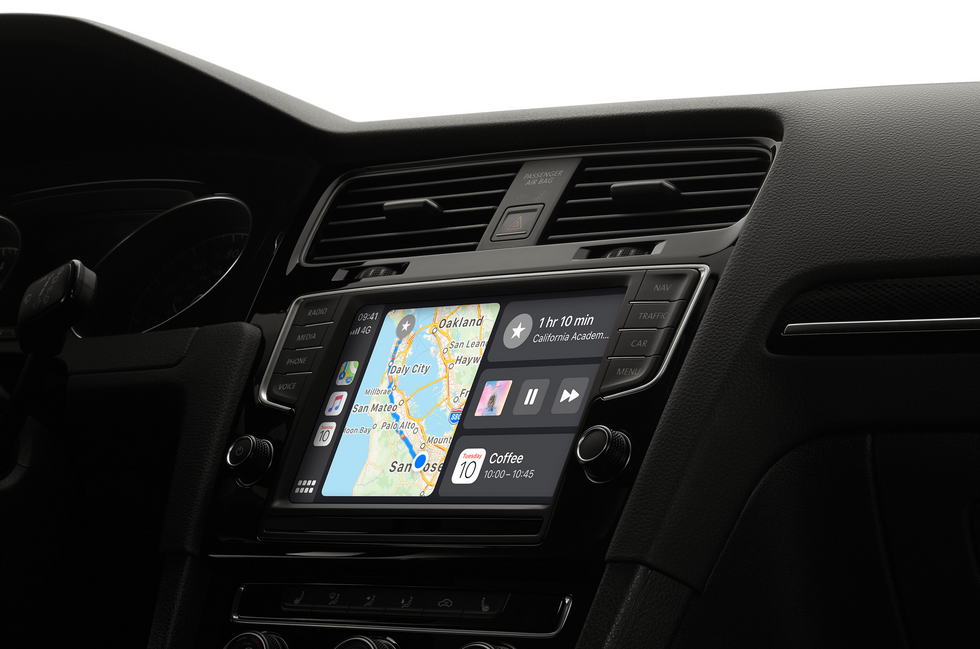 CarPlay works on all models of iPhone from the 5 onwards Apple
Which cars have Apple CarPlay?

As of summer 2020, it's probably easier to list the cars that don't offer CarPlay as an option. Apple says over 500 models support it, and as we said earlier that accounts for some 90 percent of new vehicles available to buy in the U.S. today. Only Tesla is the real outlier, who instead is forging its own path with a user interface that has a Bluetooth connection for smartphone integration, but offers neither CarPlay or Android Auto.
Can Apple CarPlay be added to older cars?
The answer here is yes, but not in all circumstances. Third-party stereo head units in Single and Double DIN sizes are available from the following companies:
Alpine
Blaupunkt
Clarion
JVC
Kenwood
Pioneer
Sony
These cover a wide range of price points, have screens of various sizes, and most also include Android Auto.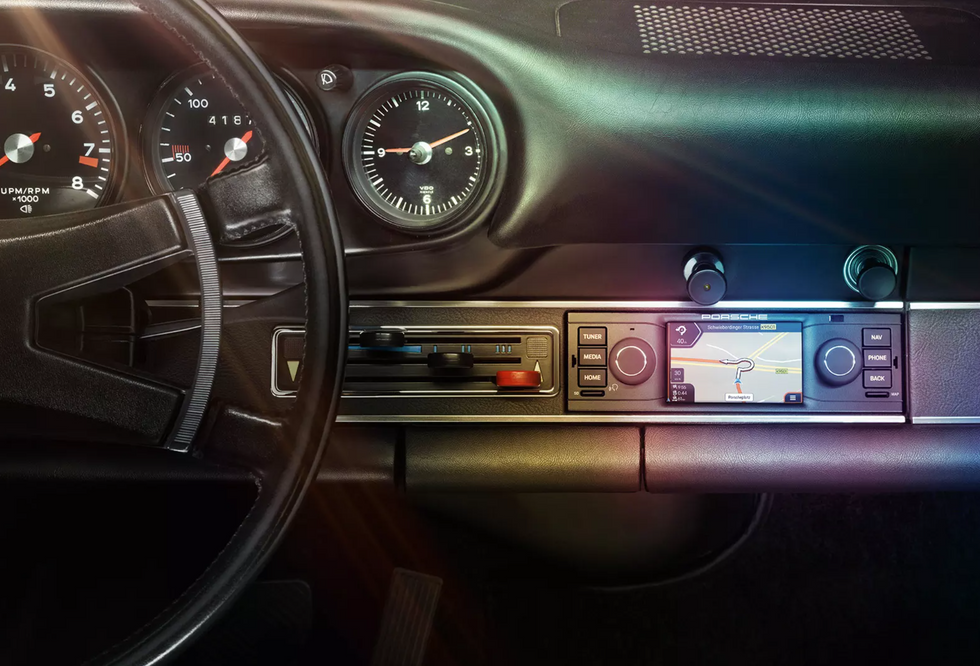 Porsche's CarPlay head unit for vehicles from as far back as the 1970sPorsche
Some manufacturers also offer CarPlay upgrades via the local dealership. Mazda is one such company that can install CarPlay on the touchscreen of older vehicles, and Porsche offers a couple of head units that are designed to fit (and visually compliment) cars dating right back to the 1970s, as shown above.

Which iPhones work with Apple CarPlay?
As is often the case with Apple, software support stretches back a long way. As of June 2020, all of these models of iPhone work with CarPlay when connected to a compatible vehicle:
iPhone 11 Pro
iPhone 11 Pro Max
iPhone 11
iPhone XS
iPhone XS Max
iPhone XR
iPhone X
iPhone 8
iPhone 8 Plus
iPhone 7
iPhone 7 Plus
iPhone 6s
iPhone 6s Plus
iPhone 6
iPhone 6 Plus
iPhone SE
iPhone 5s
iPhone 5c
iPhone 5
Pioneer SPH-10BT Smartphone Receive with Subwoofer Review www.youtube.com
BOSS Audio BVCP9685A Apple Carplay Android Auto Car Multimedia Player - Double Din Car Stereo, 6.75 Inch LCD Touchscreen Monitor, Bluetooth, MP3 Player, USB Port, A/V Input, Am/FM Car Radio
Like GearBrain on Facebook