Like GearBrain on Facebook
Toyota supports a wide range of connected car services, including technology and apps, in its vehicles sold in the US. These include Apple CarPlay and Android Auto, but also Alexa integration, a smartphone app, SiriusXM, 4G-powered Wi-Fi and more, all available to both drivers and passengers.
Connected services also include automatic emergency response when the vehicle detects a collision, roadside assistance and recovery, and the ability to locate your stolen vehicle using its GPS signal. There is also a smartphone app for seeing the fuel or battery level and range, and checking on the location, health and servicing schedule of your vehicle.
Read More:
While Toyota sells a wide range of vehicles in the US, not every connected service is available on all cars as part of their standard package. Sometimes, as with most manufacturers, features and services can be added by opting for an updated infotainment system or premium interior trim option.

Echo Dot (3rd Gen) Charcoal with Echo Auto
Toyota connected car services

Under the Safety Connect banner, there are four key services that use the car's internet connection to help you out in an emergency.
First, Automatic Collision Notification contacts Toyota's 24/7 response center when an airbag is deployed, or when the car detects a severe rear-end collision. An agent will attempt to talk to you through the car's phone system to check you are okay, but if you don't respond then local emergency services will be requested and sent to your vehicle's location.
Next is the Emergency Assistance Button, which connects you to the same response center, but at the press of a button instead of when a crash is detected. This can be used in the event of a medical emergency, or if you require assistance for an incident you have witnessed
This button also taps into Enhanced Roadside Assistance, which is another 24/7 service to assist you in the event of a breakdown.
Finally this is Stolen Vehicle Locator, which helps you declare your vehicle as stolen, file a police report and notify Toyota's response center, which will work with the authorities to try and locate your vehicle using its GPS signal.
Next up there is Toyota's Remote Connect system, which works via smartphone and smartwatch apps, and can even be used via an Amazon Alexa or Google Assistant smart speaker.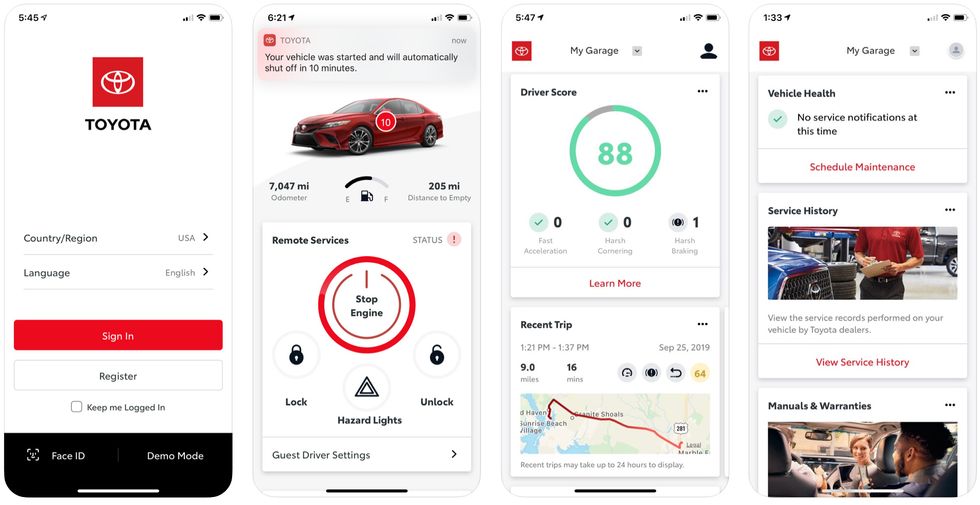 The Toyota app for iOSToyota
The Toyota app, available for iOS and Android, lets you check on the status of your car's doors, windows, odometer and fuel level, locate it in a crowded parking lot, remotely lock and unlock the doors, and start the vehicle. You can also receive notifications if the car exceeds a preset speed limit, or drives beyond a predetermined area – handy for when your kids borrow the car.

For electric and hybrid vehicles, the app helps you locate charging stations, check on the battery status, set a charging schedule, and adjust the climate control to heat or cool the cabin before you get in. The app also shows maintenance alerts, vehicle health reports, and your servicing schedule, plus it gives access to the owner's manual and warranty guides.
A relatively new addition to Toyota's connected car features, the app is compatible with model year 2020 vehicles and newer.
Lastly, Alexa and the Google Assistant (on a smart speaker or display, for example) can be used to start the car, lock or unlock the doors, and check on your fuel level.
Navigation and infotainment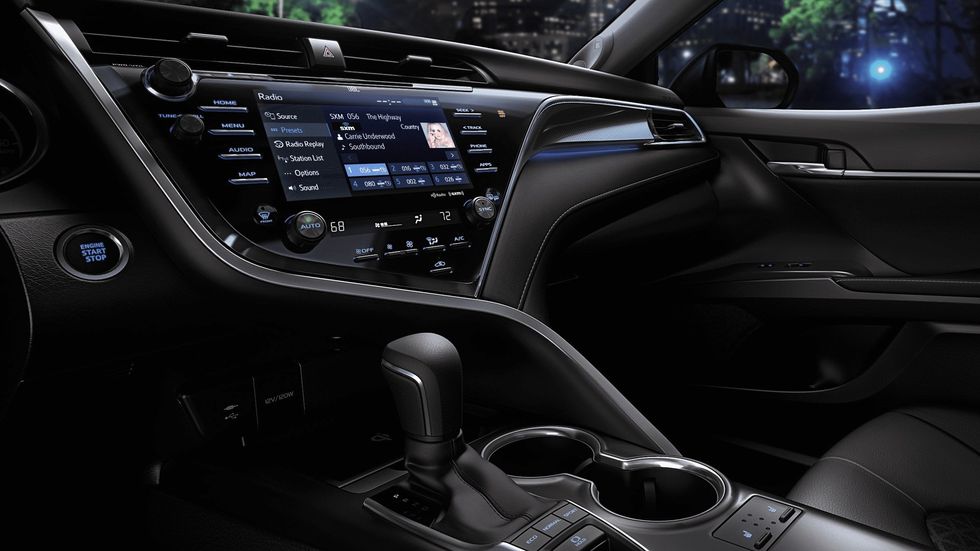 Dashboard touchscreen of the 2020 Toyota CamryToyota
Toyota vehicles can be bought with the company's own dynamic navigation system installed. This is then free for the first three years, before costing $169 every two years if you want to keep using it.

Also related to the navigation system is Destination Assist, which connects you to a 24/7 call center. From there, agents can assist with adding destinations like restaurants, hotels and fuel stations to your car's navigation system.
All model year 2020 Toyota cars sold in the US (apart from the hydrogen-powered Mirai) come with Apple CarPlay, Android Auto and Amazon Alexa as standard. We have recently written extensively about CarPlay and Android Auto, but Alexa in the car is something relatively new.
With Alexa set up, you can speak to the voice assistant in your car just as you would at home. You can ask for music, podcasts and audiobooks, or the news headlines, sports results and weather forecast. Alexa can also be used to find nearby parking or a gas station, and for getting the answers to any general knowledge questions you might have.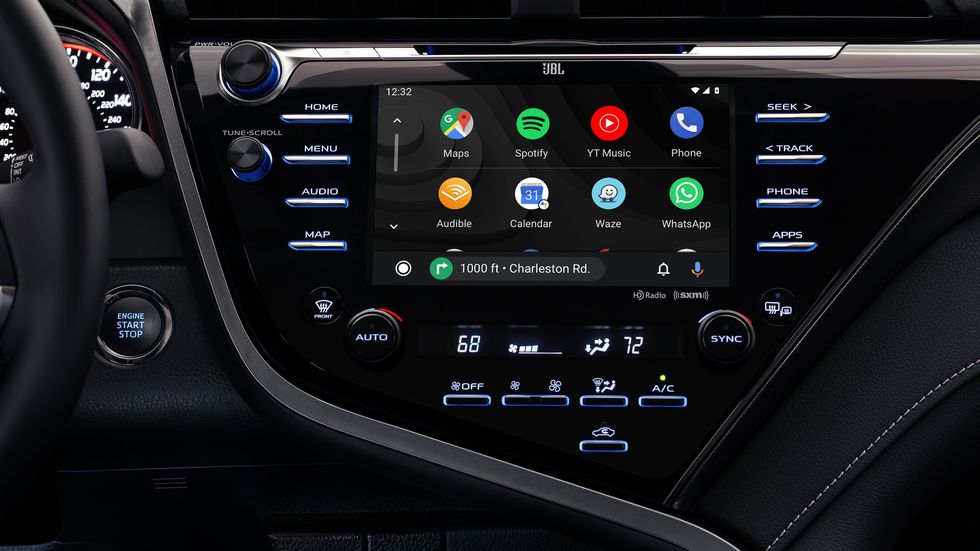 Apple CarPlay on a Toyota CamryToyota
Toyota's infotainment system appears on a couple of different models of touchscreen, depending on the vehicle and trim level. Screens measure eight or nine inches, with upgraded sound systems offered by JBL and extras including multiple USB ports and HD radio.

Pioneer AVH-1550NEX 6.2 Inch AV Receiver with Carplay & Bluetooth
4G Wi-Fi hotspot

Select 2020 Toyotas are offered with a 4G-powered Wi-Fi hotspot, provided by either AT&T or Verizon. You can connect up to five devices at once, including smartphones, tablets and laptops. Eligible vehicles come with a free trial (three months or 2GB, whichever comes first in the case of AT&T), then plans start at $10 per month, or $20 for unlimited 4G data to your car.
It is important to note that older 3G-powered hotspots in Toyota cars will stop working by the end of 2022. This is due to the US and its mobile networks making significant changes to legacy communication infrastructure.
Check out The GearBrain, our smart home compatibility checker to see the other compatible products that work with Amazon Alexa enabled devices.
NETGEAR Nighthawk M1 Mobile Hotspot 4G LTE Router MR1100 - Up to 1Gbps Download Speed | WiFi Connect Up to 20 Devices | Create A WLAN Anywhere | Unlocked to Use Any Sim Card
GearBrain Road Trip Gadget Guide www.youtube.com
Like GearBrain on Facebook