For a company with its own voice assistant — called Cortana — it may seem strange for Microsoft to let gamers control their Xbox by speaking to Alexa. It's even more strange when you consider Cortana originated from Microsoft's Halo video game series. But this is the situation, and it means Xbox One owners can use both the Alexa and Cortana voice assistants to control their console.
Read More:
You might think this is unnecessary, as the Xbox of course has its own game pad controller, but there are some genuinely useful ways in which Alexa can help you interact with the console.
What Alexa can do with the Xbox One
We'll explain how to get everything set up further down this article, but for now here is what Alexa can do once you have synced up your Amazon and Microsoft accounts.
First, and perhaps most impressively, you can say "Alexa, tell Xbox to launch [game title]," and the assistant will switch on your Xbox One, log in to your account, and start the game you named. We think this is a really useful little command, and easy to quickly say while you reach for the game pad, or switch your TV over to the right input.
You can also just ask Alexa to turn on the Xbox, in which case it will go to the home screen. "Alexa, tell Xbox to turn off," also works as you'd expect.
Alexa can also be used to turn the volume of your Xbox up or down, and start a voice chat party with your friends. A feature we particularly like is how you can record the last few seconds of game play by saying "Alexa, tell Xbox to record that."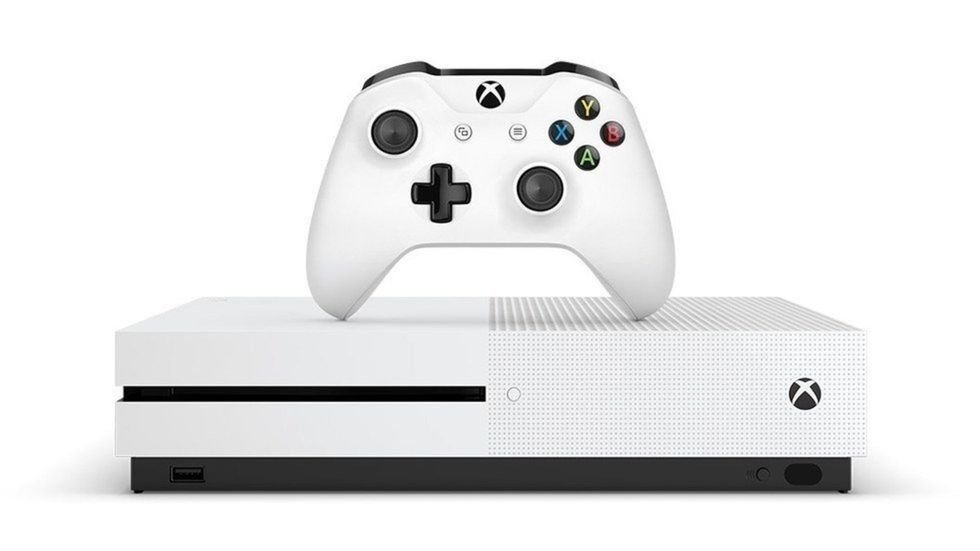 The Xbox games console can be controlled by speaking to Alexa Xbox
Commands like this really show off the strength of voice assistants, as with your hands still on the gamepad (or perhaps you're in an online game so cannot pause), you can still use your voice to save a recording of that goal, kill, or whatever the action may have been.

As you may have noticed, a small issue here is the need to include "tell Xbox to" with every command. This is because Alexa needs to know which of her skills to interact with; in this case it's the Xbox skill. It is a shame Alexa isn't yet smart enough to realize that, when you ask her to "launch 'Forza Horizon 4'", for example, you must be talking about the Xbox.
That said, you can assign your Xbox as a smart home device and drop the "tell Xbox to" for some of the simpler commands. These work for power, volume and media controls, so you can say "Alexa, turn on Xbox," or "Alexa, volume up on Xbox."
Also, if you are using your Xbox One as a media player — watching a Blu-ray movie, for example, or a YouTube video — you can say "Alexa, pause" and it will pause whatever you were watching. This only works if the Xbox is the last media player you interacted with using Alexa.
Other Alexa voice commands including asking if a certain Xbox friend is online and inviting them to your game, changing your online status, connecting or pairing a new controller, ejecting a disc, redeeming game codes, and opening the settings menu.
A complete list of what Alexa (and Cortana) can do with your Xbox One is available from Microsoft's support pages.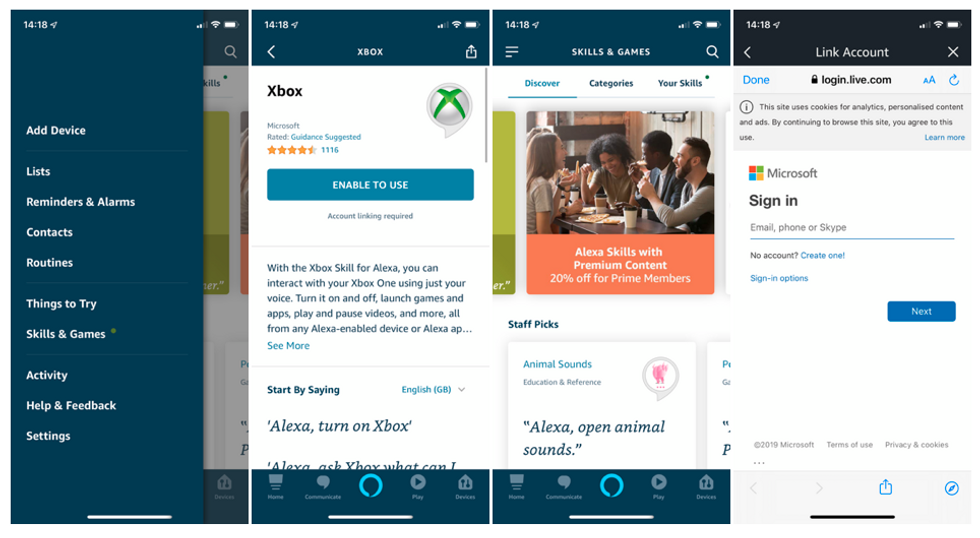 The Xbox skill for AlexaGearBrain
How to set up Alexa with the Xbox One

Make sure your Xbox One and Alexa smart speaker are both switched on and connected to the same Wi-Fi network.
Sign into your Xbox One and navigate to Settings -> Kinect & devices -> Digital assistants
You'll then be prompted to sign in, if you haven't already.
Check 'Enabled digital assistants'
Now pick up your smartphone and follow these instructions:
Say "Alexa, open Xbox," to your smart speaker and open the Alexa app on your smartphone, or search for Xbox in the Alexa Skills section of the Alexa app.
In the Xbox skill of the Alexa app, log into the Microsoft account linked to your Xbox.
Pick the Xbox you want to use with Alexa
You can now control your Xbox by speaking to an Alexa smart speaker, or the Alexa smartphone app.
Check out The GearBrain, our
smart home compatibility checker
to see the other compatible products that work with
Amazon Alexa enabled devices.