Philips Hue has finally been updated so people can control smart lights by zone, instead of just by each room.
Many users of other smart light systems may be surprised to hear this wasn't a feature baked-in from day one with Hue, but this is the case.
Read More:
Before this week's update, the app could be used to control individual lights, or entire rooms at a time, but not several rooms at once, or parts of a single room.
With the update, you can now create a zone called Downstairs, then tap that to switch off every light assigned to that floor — when you go to bed at night, for example. Alternatively, you can split a large room into different zones, then control those individually.

The new zones feature will also be useful for Hue owners who have light fixtures and chandeliers with several smart bulbs installed. Before, the lights would need to be controlled individually, or be assigned to a room of their own — not logical if there are more Hue lights elsewhere in the same room. The new controls change that — and here's what to do to get started.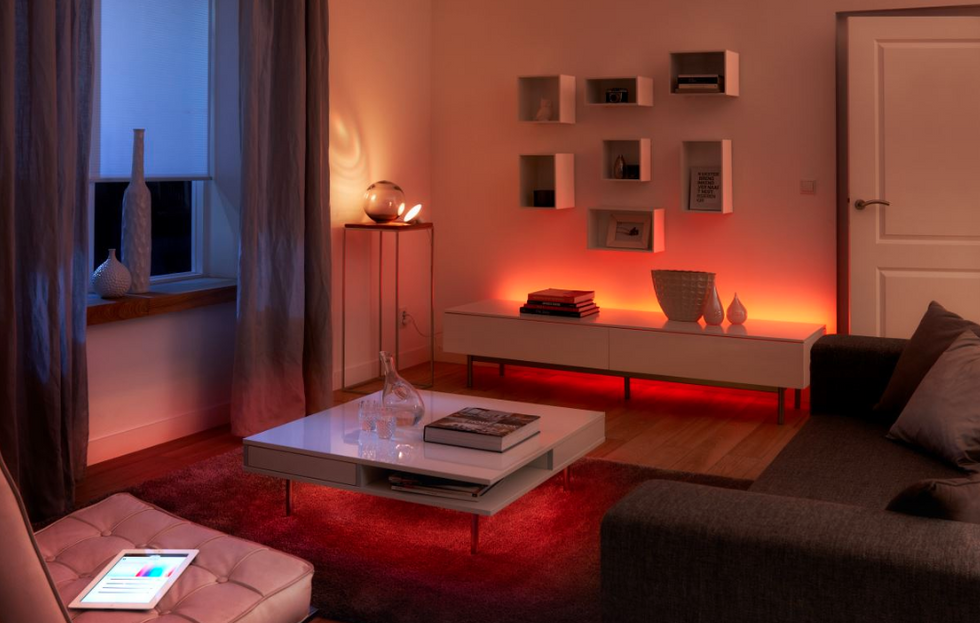 Zones feature gives more granular control over smart lightingPhilips
How to split Philips Hue smart lights into zones:

First, ensure you are running the latest version of the Hue smartphone app for iPhone and Android. This arrived on May 8, so the new version may already be on your handset if you have automatic updates enabled.
Next, open the app and tap on the icon with three white dots in the top-right corner.
Tap 'Rooms & zones', then 'Create new' in the top-left corner of the next screen.
Now you will see the new 'Create zone (beta) button at the bottom of the page; tap this, then tap 'Create new zone.'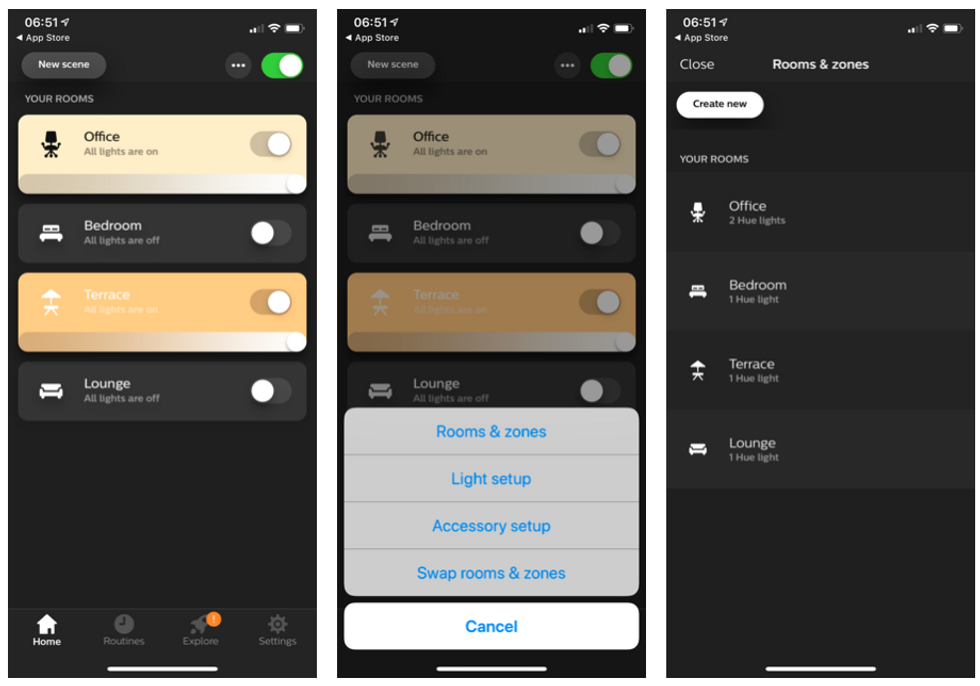 New Zones feature is in beta now, but easy to setup and appears stableGearBrain
Here, you can pick a name and icon for your new zone. The app suggests zones could have names like "downstairs," "upstairs," "top floor," "attic," and "home." Other options with dedicated icons include "gym," "TV, studio," "game room," "computer," and "man cave." The latter is for a home gaming set-up, made clear by a gaming controller icon, and is an odd choice, with the implication that women can't be gamers. It's a name, we think, Philips Hue may want to re-consider.

Some of these will be really useful for Hue owners who have smart lighting around their TV or computer area. Say you have a couple of LED light strips behind the TV and inside the cabinet below; instead of switching these lights on individually, you can assign them to a zone called TV and control that with one tap.
Once you have decided on a name and icon, you are asked to assign individual lights to this zone. Annoyingly, you cannot assign entire rooms at once - to a zone called Downstairs, for example — so you have to tap each and every light. That said, the extra granularity of being able to assign any light to a new zone is welcome.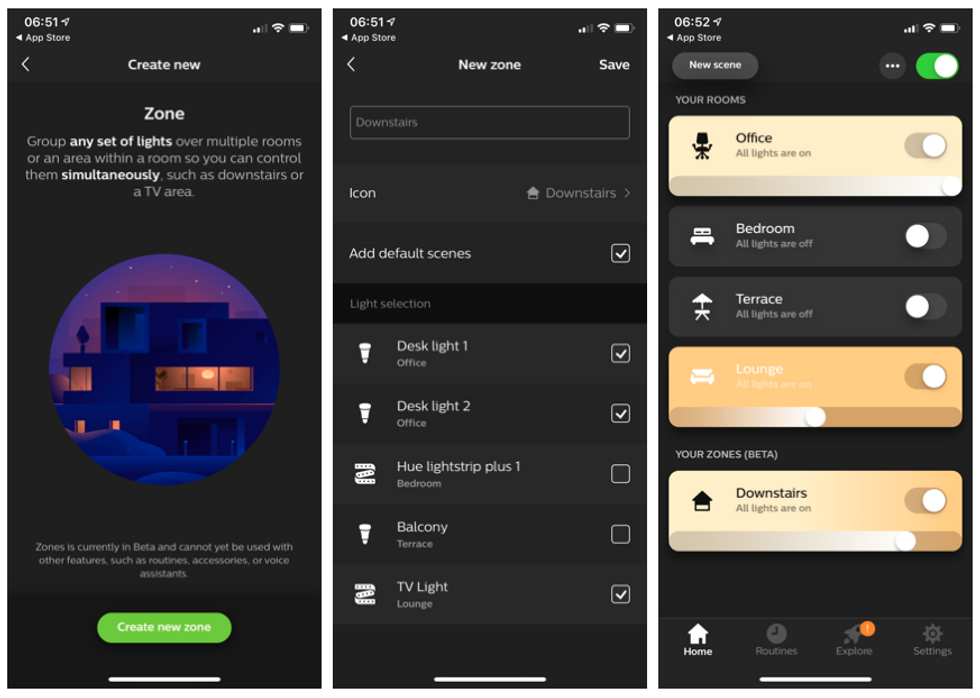 Newly created Zones appear below your existing Rooms in the Hue appPhilips
Now tap Save and you will be taken back to the home screen, where your new zone appears below your rooms.

You can now control all lights in the zone at once, which means you can turn them all on and off in unison, as well as adjust their brightness, color and temperature.
As the app clearly shows, the Zones feature is in beta for now. This means it may be occasionally buggy, but also that Phillips may add new features and abilities before making it a fully-fledged part of the Hue app. During the setup process for a Downstairs zone, we encountered no problems.
Voice assistants like Siri, Alexa and the Google Assistant cannot yet interact with your newly-created zones — so asking them to 'switch off downstairs' won't work — but we're sure this situation will change once the feature is developed by Philips and brought out of this initial beta stage.