Like GearBrain on Facebook
There are many smart lighting options to pick from, including C by GE, Lifx and Ikea Tradfri. But arguably the most popular in Philips Hue, made by a company called Signify.
Philips Hue is a vast ecosystem of smart lighting. There are bulbs of various shapes and styles, light strips and waterproof lighting for the garden, plus a range of switches, dimmers and other accessories.
Read More:
Installing a smart lighting system for the first time can be intimidating – and, we have to be honest, an expensive project to undertake. Smart lighting, especially light strips and the company's new Hue Play products, have relatively high prices.
And yet, at the other end of the scale, some newer Hue bulbs now work with Bluetooth. That way you can install and control a single smart bulb from your phone. Or you can replace every bulb in your home with a smart Hue alternative; it's really up to you and your budget.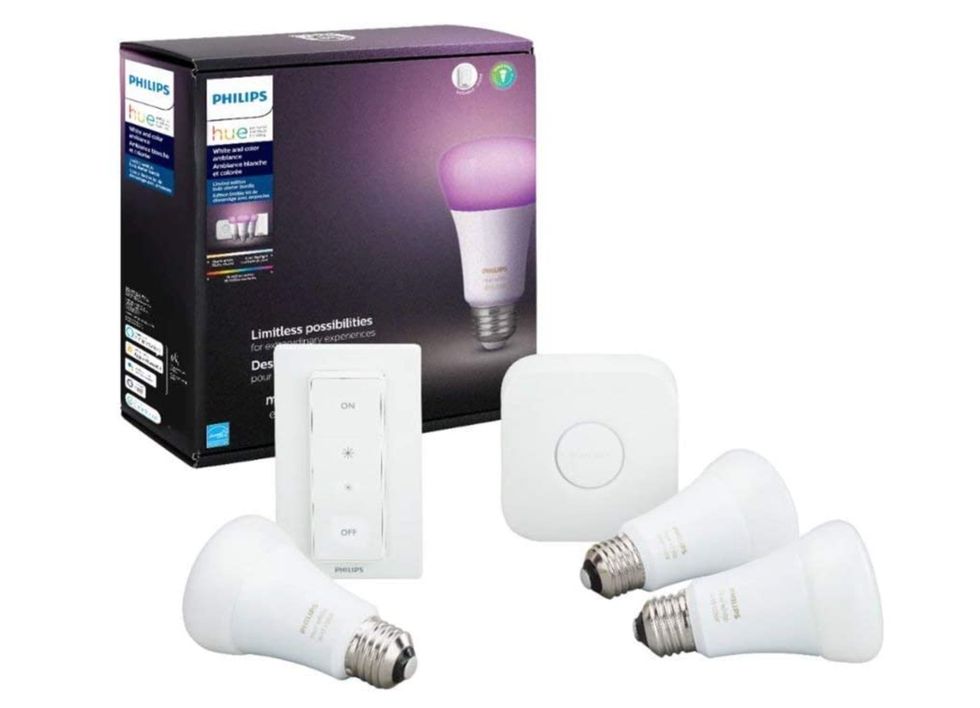 Hue starter kit includes three color bulbs, hub and dimmer switch Signify
Types of bulb

Unless you only plan to fit a Hue bulb to a lamp, you'll need to understand the type of bulbs already fitted to your home. The E26 is a popular bulb type in many homes, but some properties use ceiling spotlights that Hue doesn't cater for. So you'll need to inspect your current bulbs and check that Hue offers an equivalent before getting started.
If Hue doesn't offer the same bulbs as those you already have, you can either replace the fixtures and fittings with one that are compatible with Hue bulbs, or fit Hue lighting elsewhere, for example to freestanding lamps, or by fitting LED light strips to furniture. Bulb types also vary by country, but for this article we'll be sticking to Signify's Hue range offered in the US.
Philips Hue bulb types:
BR30 E26
E12
A21 E26
PAR38 Outdoor
E26 Downlight 4-inch
E26 Downlight 5/6-inch
G25 E26 Filament Globe
A19 E26 Filament Globe
ST19 E26 Filament Globe
The Hue collection also has a range of wall and ceiling lights or various designs, plus pendant lights and garden or path lights designed to be sunk into the ground.
Next up there are Hue's LED light strips. The indoor version is 80 inches long and can be made longer with a 400inch extender kit. There are also outdoor, weather resistant light strips of 80 inches and 197 inches, and light strips designed specifically for the back of your TV, catering from screen sizes between 55 and 75 inches.
Table lamps are also available, designed to throw light at a nearby wall for smartphone-controlled mood lighting, and there's also the new Play light bars, which we'll explain later.
Hue bulbs tend to start at around $15 to $20, rising to $40 or even $50. Cost-effective multi-packs are available, with three White & Color bulbs costing around $100. Light strips by Hue start at $80, with the 40-inch extension priced at $25, and outdoor strips starting at $90. The Hue Play Gradient light strip for attaching to televisions is priced between $200 and $240, depending on size.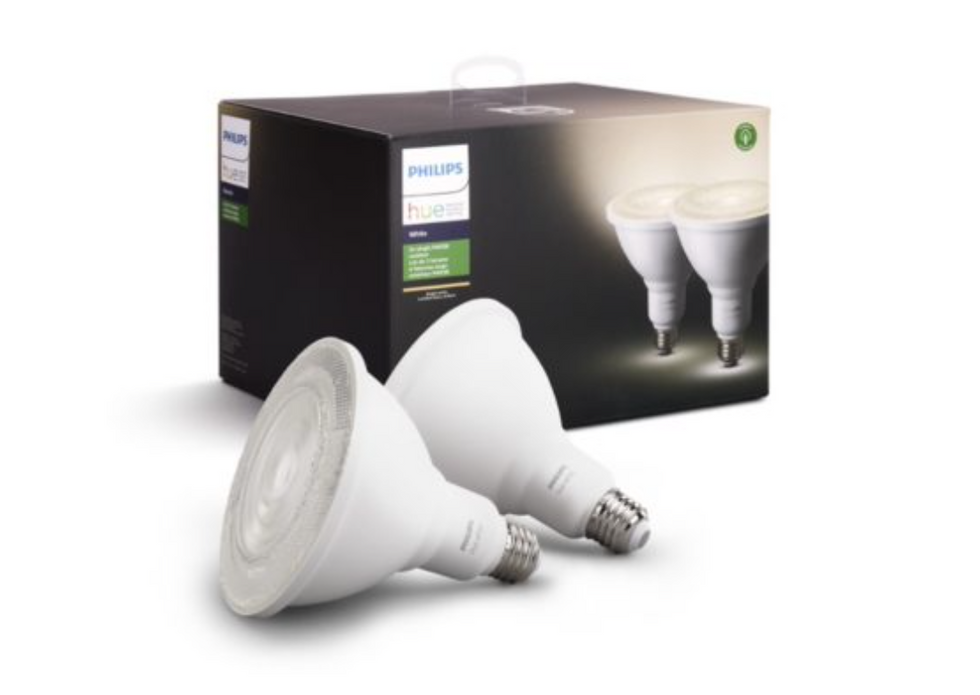 White Philips Hue smart bulbsSignify
The difference between Hue White and Hue White & Color lights

There are two versions of many Hue lights, called White and White & Color. The former can be set to any brightness and temperature, which means they vary from a cool, crisp and slightly bluish white, all the way to a soft, warm and orange-like glow.
White & Color lights do this too, but they can also be made any of 16 million colors. For that reason, Hue's color lights are more expensive. However, unless you want to have the option of making your kitchen bright red, or your lounge blue, Hue's white bulbs will cater for the majority of use cases.
What is Hue Play?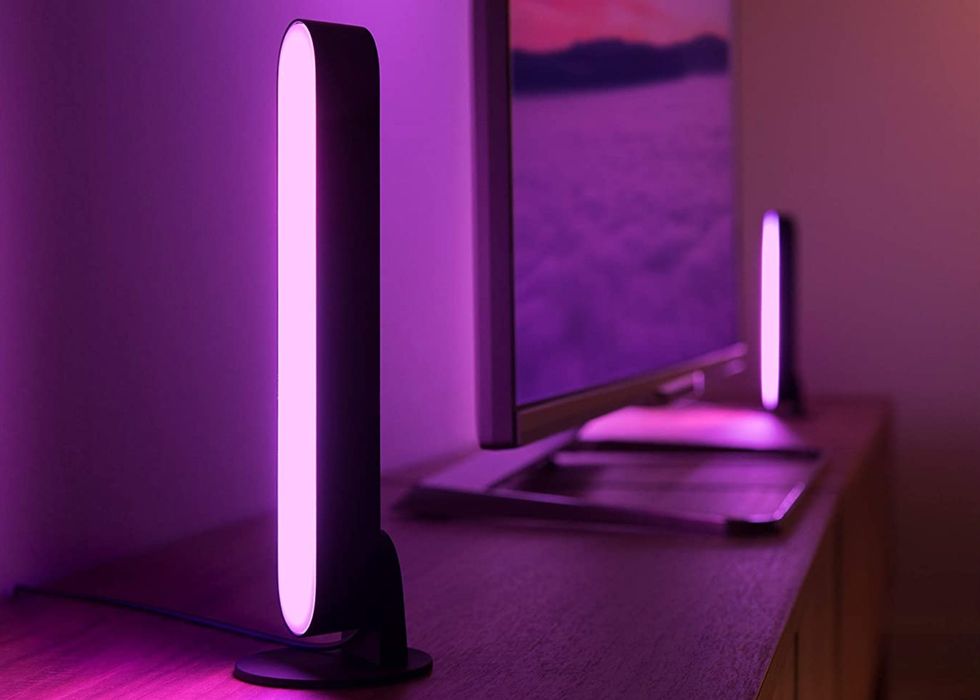 The Hue Play HDMI Sync Box works with a pair of Hue Play light bars Signify
A new branch of the Hue ecosystem, Play is a set of colored lights designed for use wit your television. The range includes a pair of light bars that can be stood upright or laid down at an angle, projecting their light at the wall. There are also the aforementioned gradient light strips, which attach to the back of your television and can display several colors at once.

All of these are designed to connect to the Hue Play HDMI Sync Box, which then attaches to your television and anything you normally plug into the TV, like a game console, streaming device, or cable box.
The Sync Box then analyses what's on the TV screen, and controls connected Hue Play lights to match. That way, the colors of the TV are projected onto the wall behind and to the side of it, creating a more immersive experience.
Creating a Hue Play system isn't cheap though, as the HDMI Sync Box costs $230. You then need to hook it up to either a pair of Play light bars ($130 for a pair), and if this is your first Hue device you'll need to also buy the $60 Bridge, which connects the lights to your Wi-Fi router.
It's a huge outlay, but the results can be spectacular. Just as long as you have the lights and your television in the right position.
Do all Hue lights need the Bridge?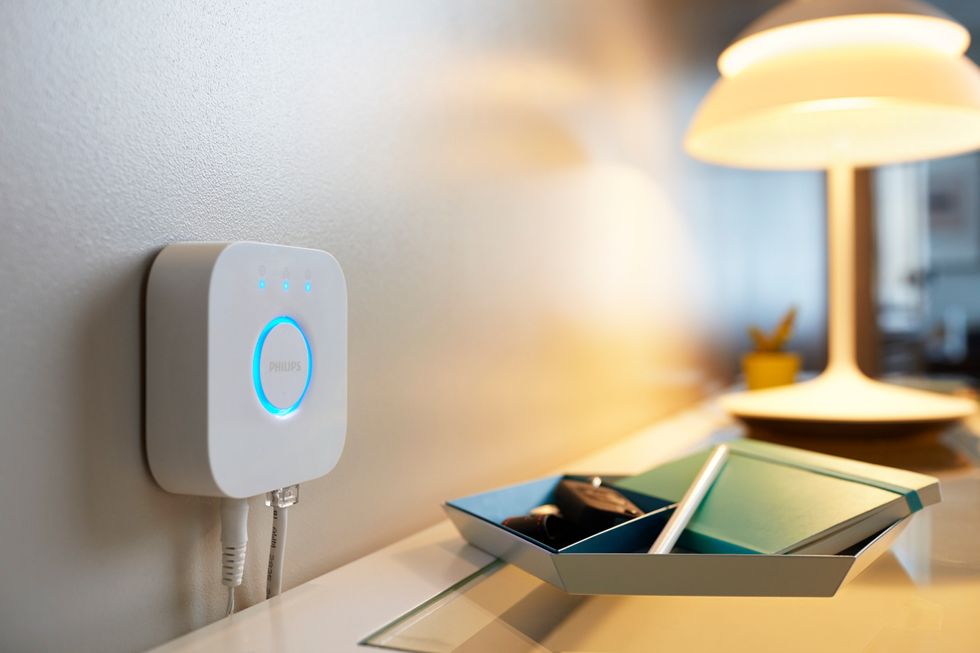 Philips Hue BridgeSignify
No. Some newer Hue bulbs can be connected to your smartphone using Bluetooth. They are then controlled by a new Bluetooth version of the Hue app.

This can make setup simpler for those who only want a few bulbs, and know they'll always be within Bluetooth range (up to about 30 feet) when they want to control them. But features here are limited and the lights can't be controlled when away from home.
In our experience you are best off buying the $60 Bridge, which gives you the freedom and flexibility of control over Wi-Fi, and even from away from home. The most cost-effective way to buy the Bridge is to pick up a Hue starter kit, which often includes three bulbs, the Bridge and sometimes a wireless dimmer switch too.
Signify currently sells a Hue starter kit with four White & Color R26 bulbs and the Hue Bridge for $200. The same kit but with white bulbs costs $120. Each Bridge can control up to 50 lights, so you will likely only need one in your home.
Philips Hue switches and accessories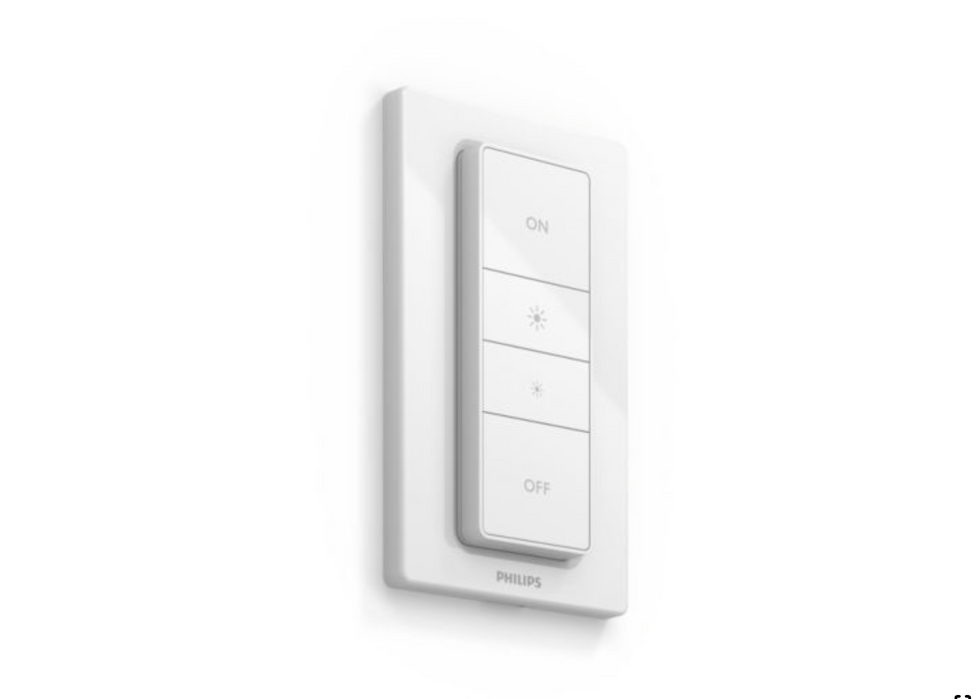 Philips Hue wireless dimmer switchSignify
Part of what makes the Hue system so comprehensive is the additional accessories Signify sells, like switches and sensors. The most useful is the dimmer switch, which is wireless, battery-powered and includes four buttons for switching your lights on and off, adjusting their brightness, and cycling through several lighting settings that you can configure in the Hue smartphone app. The dimmer switch can be mounted on a wall, or used as a portable, wireless remote.

Signify also sells motion sensors for indoor and outdoor use – handy for turning the bathroom lights on during the night – and a single smart button that can be used to perform a range of functions with a press. All of these accessories are configured using the Hue phone app for iOS and Android.
Lastly, there is also a Hue-branded smart plug that can be used to control devices like lamps with the Hue app, or by speaking to your voice assistant of voice.
Smart home integration and voice control
Hue lights work with almost all smart home systems, including the popular options of Amazon Alexa, Google Home and Apple HomeKit. This means the Google Assistant, Alexa and Siri voice assistants can be used to control your Hue lights, and lighting can be incorporated with other smart home devices using automation platforms like IFTTT.
Once all set up, you can ask your voice assistant to turn an entire room, floor or house of lights on/off at a time, or ask for just one specific bulb to light up, and to any color, temperature and brightness.
As far as automation goes, our favorite Hue controls are where the lights turn on gradually to wake us up in the morning, then at 6pm switch from a cool, bright color to a softer, warmer shade to signal it is the end of the working day.
Check out The GearBrain, our smart home compatibility checker to see the other compatible products that work with Philips Hue smart lights
GearBrain shows Alexa and Google Assistant controlling the Philips Hue Go www.youtube.com
Like GearBrain on Facebook