From emailing yourself an attachment, to accessing a network-attached hard drive or plugging in a USB thumb drive or memory card, there are numerous ways to transfer data between your computers, tablets and smartphones. But all of these methods are clunkier and more time-consuming than they ought to be.
This – at least for those living in the Apple ecosystem – is where AirDrop comes in. An Apple-only feature, AirDrop is a system for wirelessly transferring files between any iPhone, iPad and Mac. All you need to do is make sure they are all connected to the same Wi-Fi network.
Read More:
In this article we will take a closer look at AirDrop, explain how it works, and detail how the system can be switched off to prevent your iPhone or Mac receiving unwanted files from strangers. If you are looking for an Android equivalent, then you should check out Google's Nearby Share system.
What is AirDrop?
As we mentioned above, AirDrop is a wireless system for quickly sending files between Apple devices. This could be a photo transferred from your iPhone to Mac, an entire folder of documents moved between two Macs, or video sent from your iPhone to your friend's.
AirDrop works using Bluetooth and Wi-Fi, so the two devices need to be connected to the same Wi-Fi network and also within Bluetooth range (about 30 feet) of each other. AirDrop uses Bluetooth to locate nearby devices, then implements Wi-Fi to transfer whatever it is you are sending, meaning even large files can be sent quickly.
When used to transfer files, AirDrop creates a direct Wi-Fi connection between the two devices. This connection is encrypted, so the transfer cannot be seen by anyone else, and no data is exchanged with your Wi-Fi router or with Apple.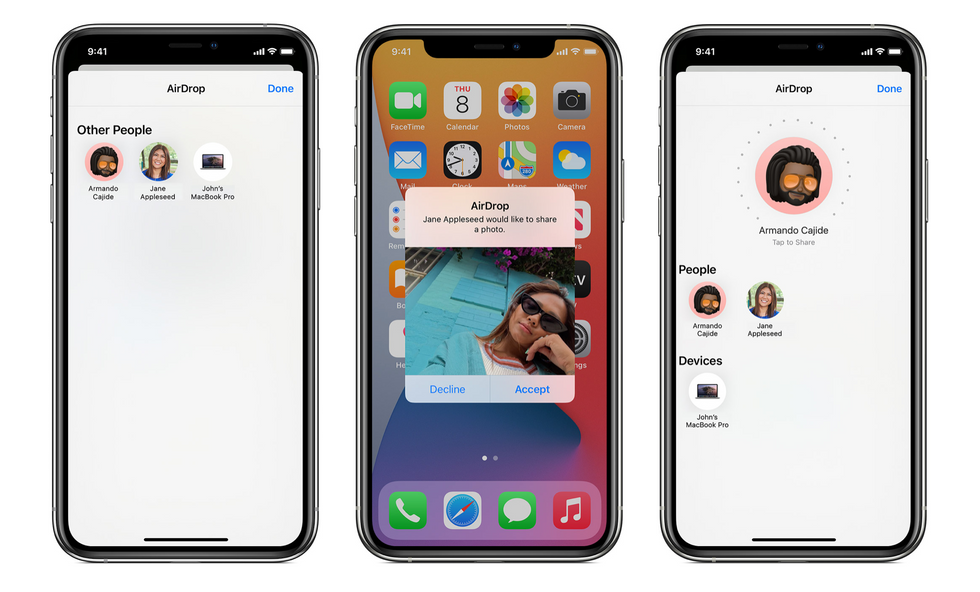 AirDrop on an iPhoneApple
How to use AirDrop

I regularly use AirDrop to transfer files between my iPhone, iPad and Mac. Photos taken on an iPhone tend to automatically synchronize across my devices using iCloud, but often AirDropping a new image manually can be a quicker alternative.
I also use AirDrop to send files to my housemate, who also has an iPhone. We find this more convenient than sending files in a messaging app like iMessage or WhatsApp. Before using AirDrop you need to make sure the permissions of both the sending and receiving device are configured correctly.
Say you are sending a file from your iPhone to a friend's iPhone. You should both open the Settings app and go to General then AirDrop. On this page there are three options for who you can receive files from. You can receive files from everyone, whether you know them or not, from only people in your contacts list, or from no one.
Ideally you want to use the Contacts Only option, which will work fine in this example as long as you and your friend are both saved in each other's iPhone contacts lists.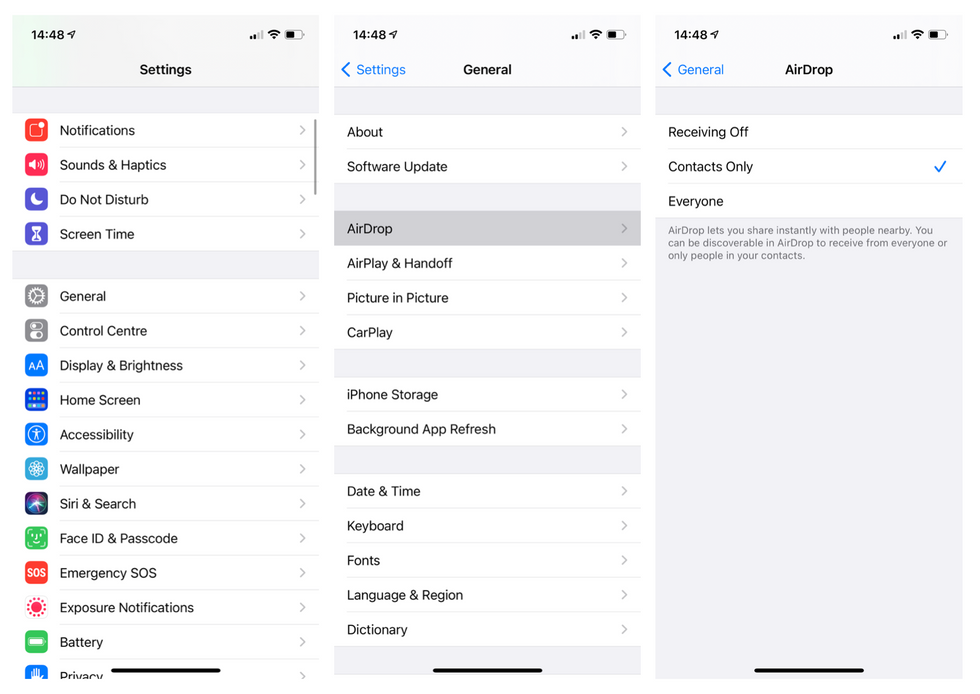 Accessing AirDrop settings on an iPhoneGearBrain
If you are exchanging a file with someone you don't know, or at least someone who you don't have in your contacts list, you can switch to the Everyone setting. But we advise readers to switch back to Contacts Only or Receiving Off after transferring the file, as with 'Everyone' enabled, anyone within 30 feet can send files to you using AirDrop.
When receiving a file over AirDrop, your iPhone notifies you and shows a preview of the file, stating the name of the sender and displaying options to accept or decline the file.
To send a file from an iPhone or iPad using AirDrop, locate the file, tap on the share icon (a square with an arrow pointing upwards out of it), then tap on AirDrop. You will then be shown available devices and people (from your contacts list who are on the same Wi-Fi network) to share with. Tap the person or device and the file will be sent.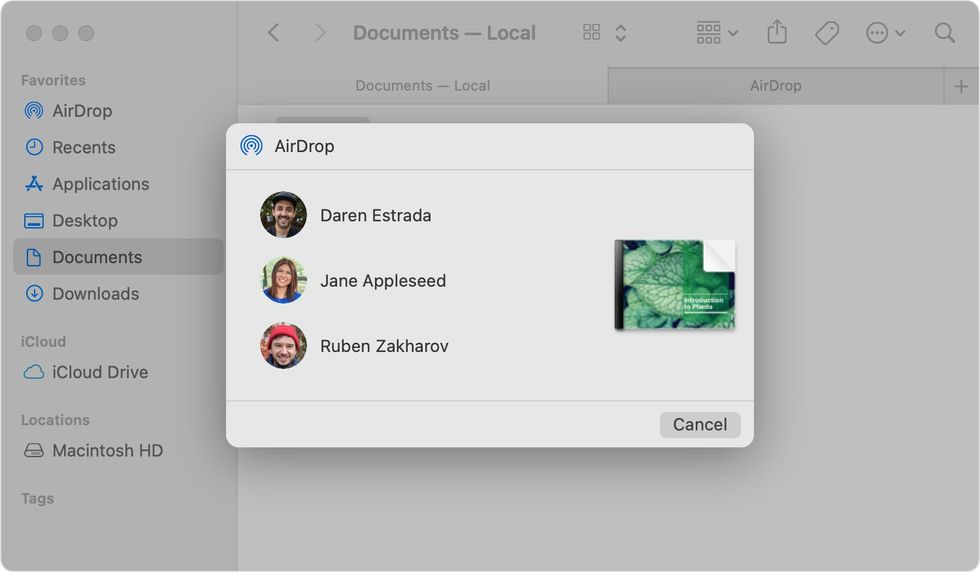 AirDrop interface on the MacApple
Sending files from a Mac to an iPhone using AirDrop

AirDrop works equally well on Macs too. All you have to do is open the file you want to send, then click File –> Share –> AirDrop. A box then appears showing nearby available devices; click on the one you want and the file will be sent. Alternatively, locate the file or folder you want to share, then right-click on it, hover over Share, then click AirDrop.
AirDrop can also be accessed from the side bar of the Finder. Just click that and the Finder will show all nearby devices that can be interacted with.