Like GearBrain on Facebook
The latest push from Oculus into VR was not to super-charge its high-end Oculus Rift, but to move into the lower-end of the pool — launching an untethered headset for $200 this week.
Tagged Oculus Go (because you can, well, go anywhere with it) the device has a 2018 release date. And the VR headset fits neatly into that mid-priced territory where Samsung's Gear VR lives (that at $129) — a gadget consumers don't see as completely outside their budget. After all, a Nintendo Switch and a PlayStation 4 each costs $300 and its likely many of these will be gifted this holiday season.
VR, however, hasn't enjoyed the wide adoption that gaming consoles have seen. About 2.3 million VR and augmented reality headsets shipped in the first quarter of 2017, according to research firm IDC. More than 98 percent were VR headsets. For comparison — about 7 million PlayStation 4 consoles alone sold between January 2017 and June 2017.
[rebelmouse-proxy-image https://media.rbl.ms/image?u=%2FDK9NoD7j2nRVm.gif&ho=https%3A%2F%2Fi.giphy.com&s=874&h=0d125e63651e6f3e783cb79f61c386c892d9f995507392844b7a52d11777e651&size=980x&c=3005493210 crop_info="%7B%22image%22%3A%20%22https%3A//media.rbl.ms/image%3Fu%3D%252FDK9NoD7j2nRVm.gif%26ho%3Dhttps%253A%252F%252Fi.giphy.com%26s%3D874%26h%3D0d125e63651e6f3e783cb79f61c386c892d9f995507392844b7a52d11777e651%26size%3D980x%26c%3D3005493210%22%7D" caption="" pin_description="" image-library="0" expand=1 photo_credit=""]
Why is VR a harder sell? An Oculus Rift, when first launched, was priced at $599, with the Touch controller another $199. HTC Vive, it's closest competitor, launched at $799 Both also required high-end PCs — adding another $500 at least to the pricing. For serious gamers, this isn't a big deal: We're talking about people who kit out their servers like cars. But VR has hoped for more than a cult-following: it's aimed at the mass audience.
Take, for example, the launch of IMAX VR centers — where for the price of a movie ticket you can soar like an eagle or wield a lightsaber. Even AMC is now in the act, working with Dreamscape Entertainment to open six new VR centers over the next 18 months. VR has worked its way into the Academy Awards and the Emmy Awards too. Hollywood believes in the power of VR storytelling. Consumers? Not so much.
Oculus has certainly watched this tepid reaction. Indeed, the company dropped the Oculus Rift bundle price to just $399 this week (yes, you still need the PC.) But will that be enough to lure users? The Oculus Store has plenty of content. And Hollywood is certainly enamored with the technology, launching early pieces in VR that are bending the idea of how stories can — and yes, will — be told in the future.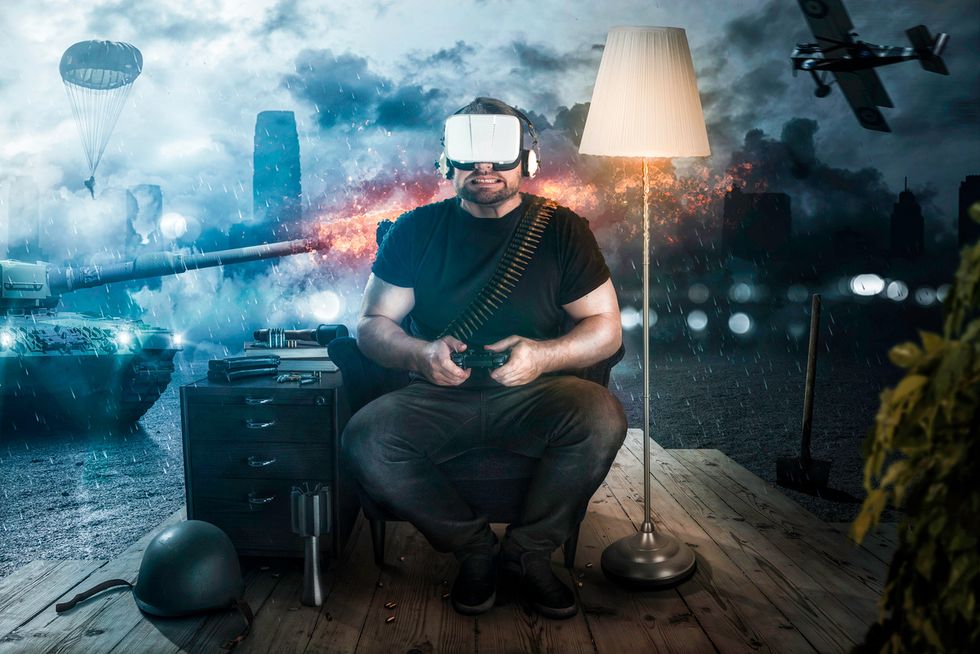 iStock
But getting consumers to don, basically, a helmet that shuts out (ideally) peripheral vision and even ambient noise is a big ask. We're still animals: We like to know what's going on around us. And even when we settle into our plush, reclining seats in a darkened movie theater, strapped to a bucket of popcorn, we can still hear and see if the guy sitting behind us is whispering plot turns to his buddies. And although that's annoying — it's also comforting.
Will VR ever earn that consumer love the technology wants? Consumer device makers like Apple believe augmented reality is going to be the bigger win: overlaying virtual imagery and sound but without requiring someone be completely zipped away from the world around them.
There is likely a place for both VR and for AR among consumers. And VR's current market struggle may just be a case of technology that's too early for consumers to get — or want. VR companies can lead the way to their virtual waters — but people have to decide if they have the budget, or the interest, to dive in.
Like GearBrain on Facebook