Like GearBrain on Facebook
There is already a lot you can do with smart lighting systems and the smartphone apps that run them. But IFTTT (If This, Then That) opens up a whole new world of possibilities by making smart home devices talk to each other in ways their manufacturers hadn't baked in from the start.
Lights can talk to doorbells, locks, smoke detectors, and even your Uber account. They can help alert you to water leaks and high CO2 levels, or flash your team's colors when they score. IFTTT applets are easy to switch on and off, and you can even make your own in just a few clicks.
Here are some of the best IFTTT applets to get more out of your smart lights.

Note: Although in many cases these applets say they work specifically with one set of lights — Philips Hue, Lifx, WeMo etc — a new applet can usually be made to work with a different system, or even with a smart plug connected to a regular lamp. If you need help making IFTTT applets, then check out the GearBrain guide here.
Blink Philips Hue lights when Alexa timer reaches zero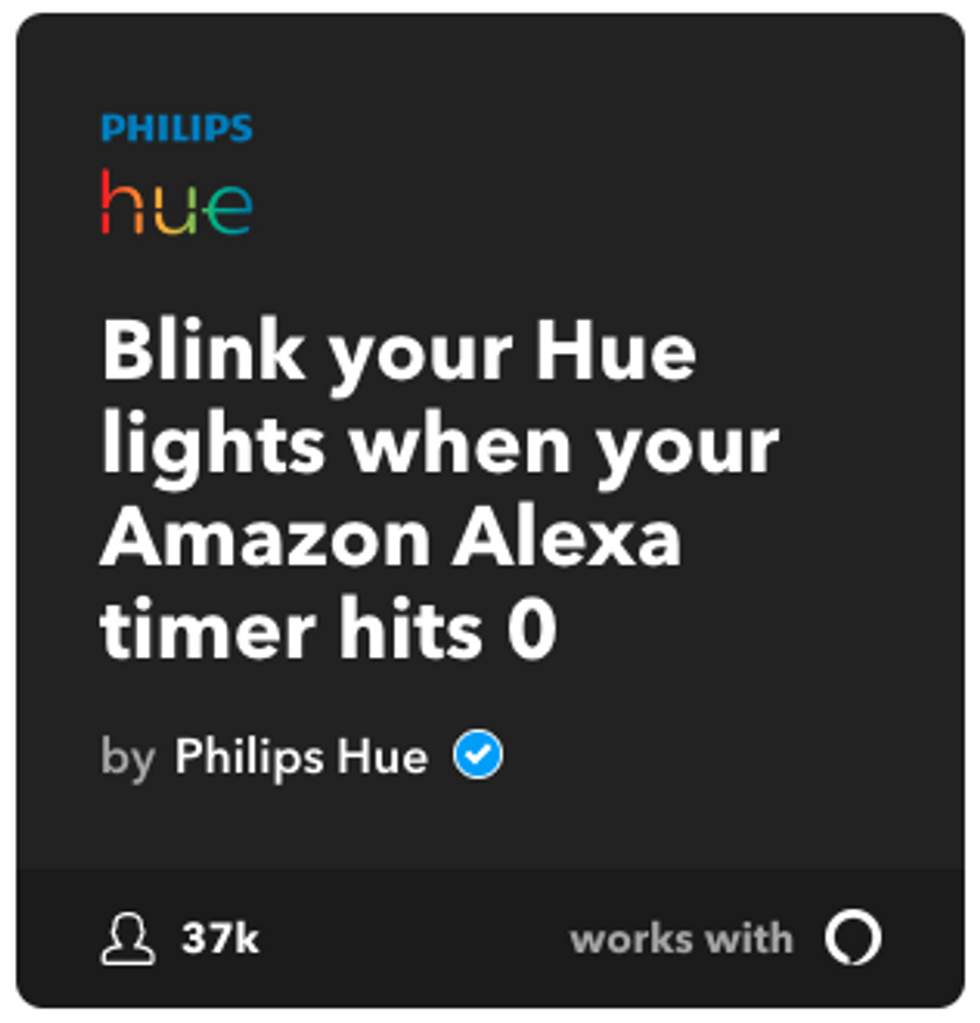 IFTTT
If you have set a cooking timer on the Amazon Echo in your kitchen but needed to put some laundry away upstairs, this applet can help by flashing every light (or the ones you choose) when the timer reaches zero. This applet can also help out if someone in your home has impaired hearing, or if you don't want an audible alarm to disturb a sleeping shift worker.
Turn off a light when MyQ garage door closes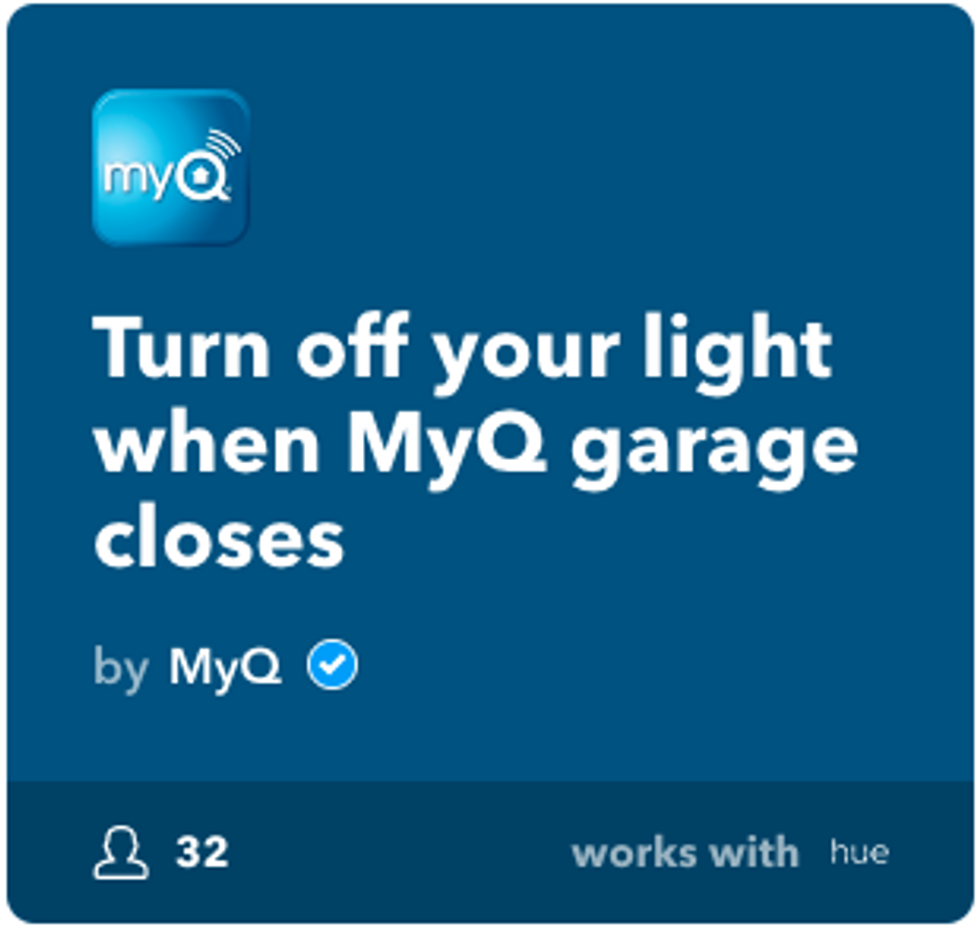 IFTTT
If you have a smart light in your garage and a MyQ smart door opener, this applet can be set to switch the light off when you close the door. Equally helpful, this applet switches the light on when the garage door is opened.
Turn your lights on automatically when you arrive home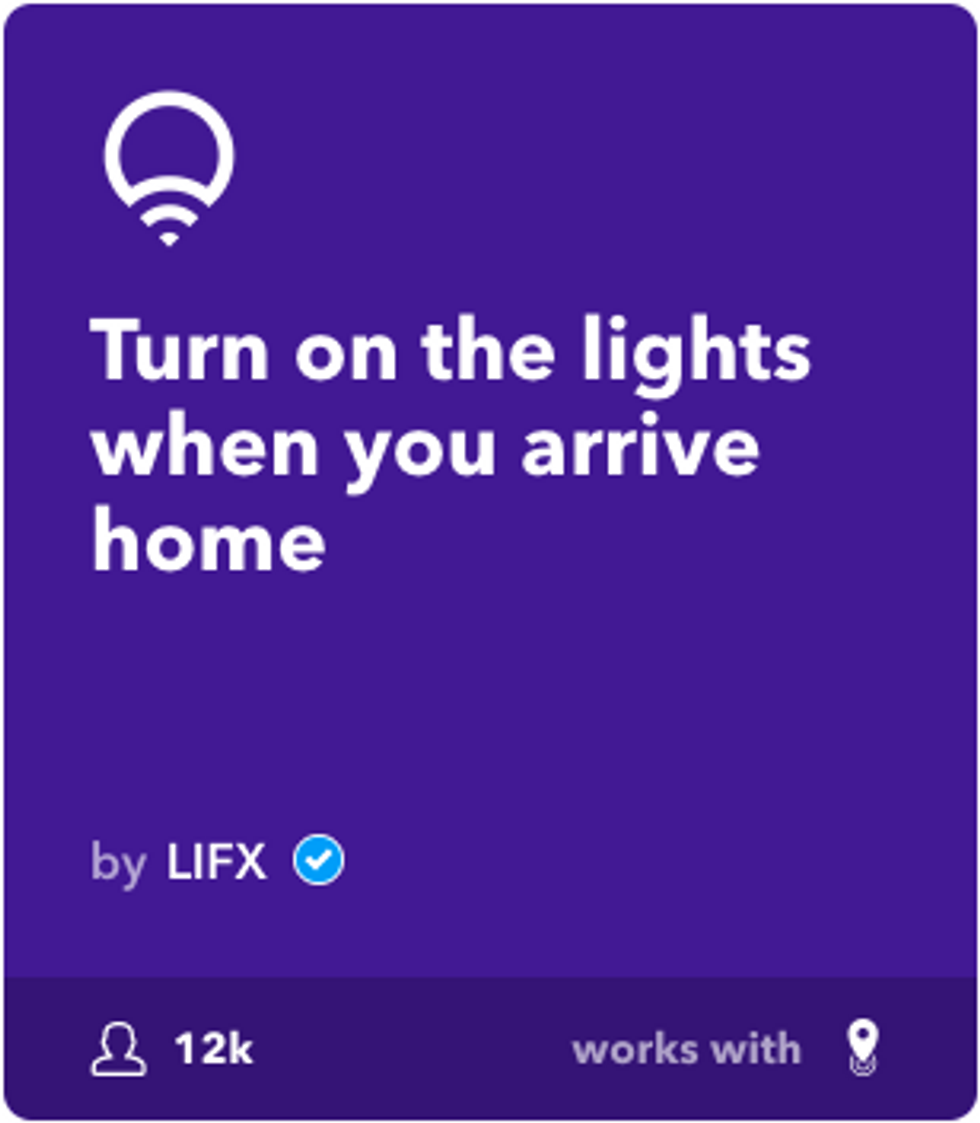 IFTTT
By knowing the location of your smartphone (with the IFTTT mobile app installed and running in the background), applets like this can control smart home devices when you arrive or leave. This one switches your smart lights on when you get home, which could be useful after work on dark winter evenings — especially if you have some smart lights installed outdoors.
This applet is available for Philips Hue, Lifx and WeMo.
Applets for automatically switching the lights off when you leave home are also available.
Blink lights when smoke is detected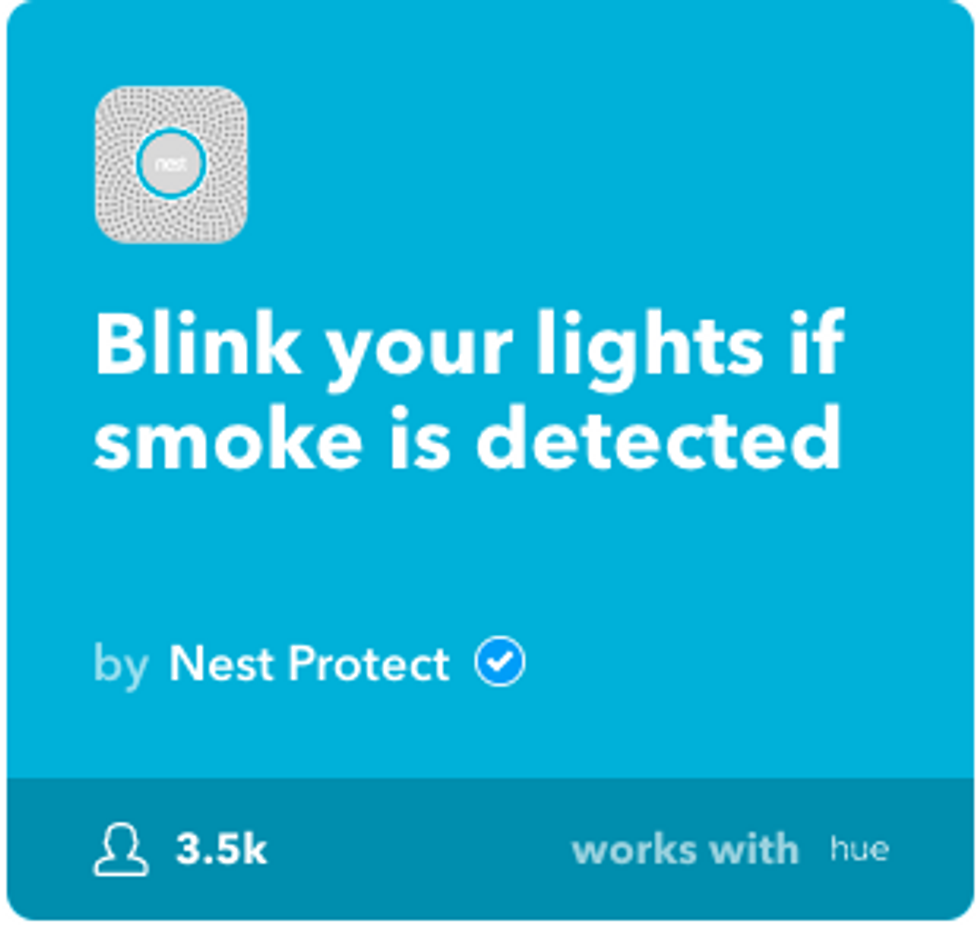 IFTTT
By hooking up your lights to a Nest Protect smoke alarm via IFTTT, the lights can be made to blink when smoke is detected. An applet for turning smart bulbs red when smoke is detected is also available.

Change lights to red if Nest Protect detects carbon monoxide emergency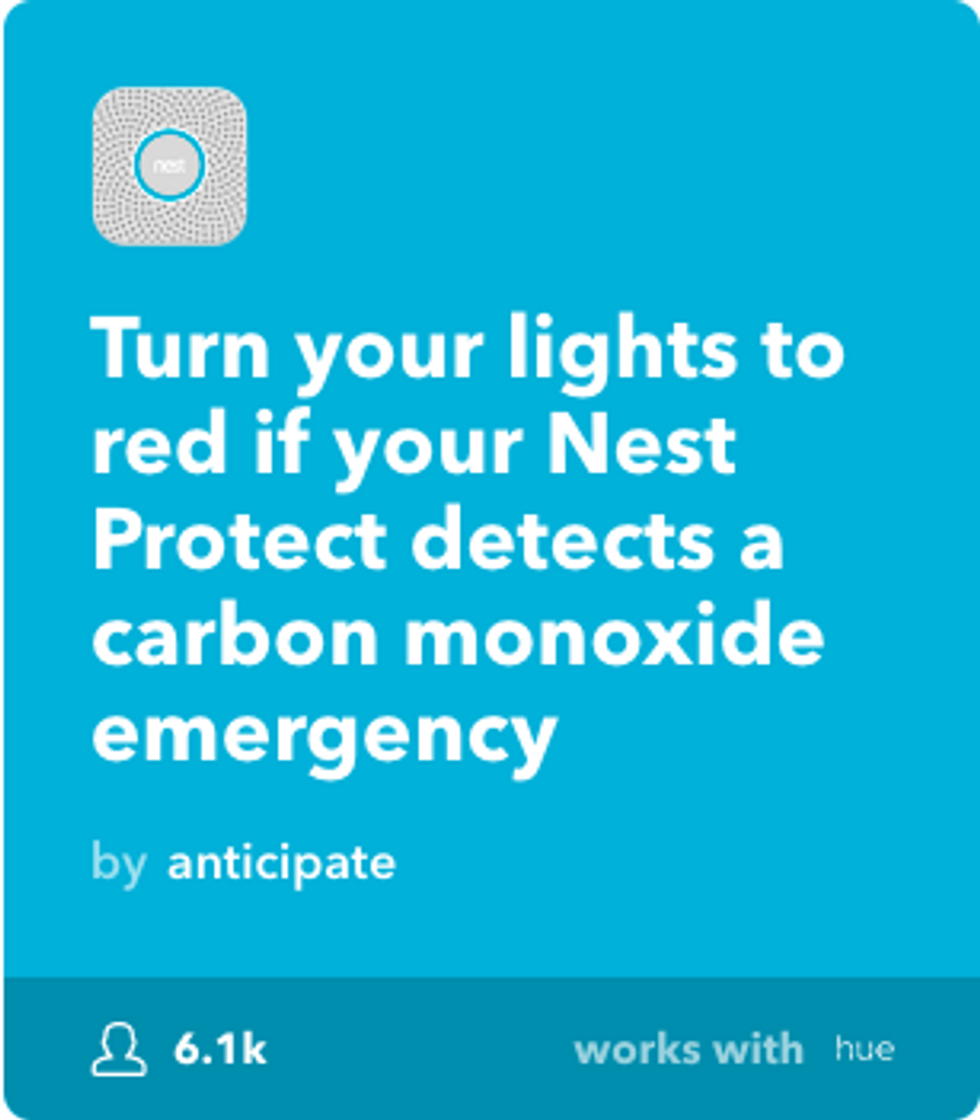 IFTTT
This applet is useful for alerting you to a carbon monoxide emergency if you cannot hear your Nest Protect alarm. This is unlikely, we grant you, but owners of very large properties might find this useful if the applet is set to turn every light red, and it could also be used to alert your neighbors when you're on vacation, as they will see the color change from across the street.
Turn lights blue when water leak is detected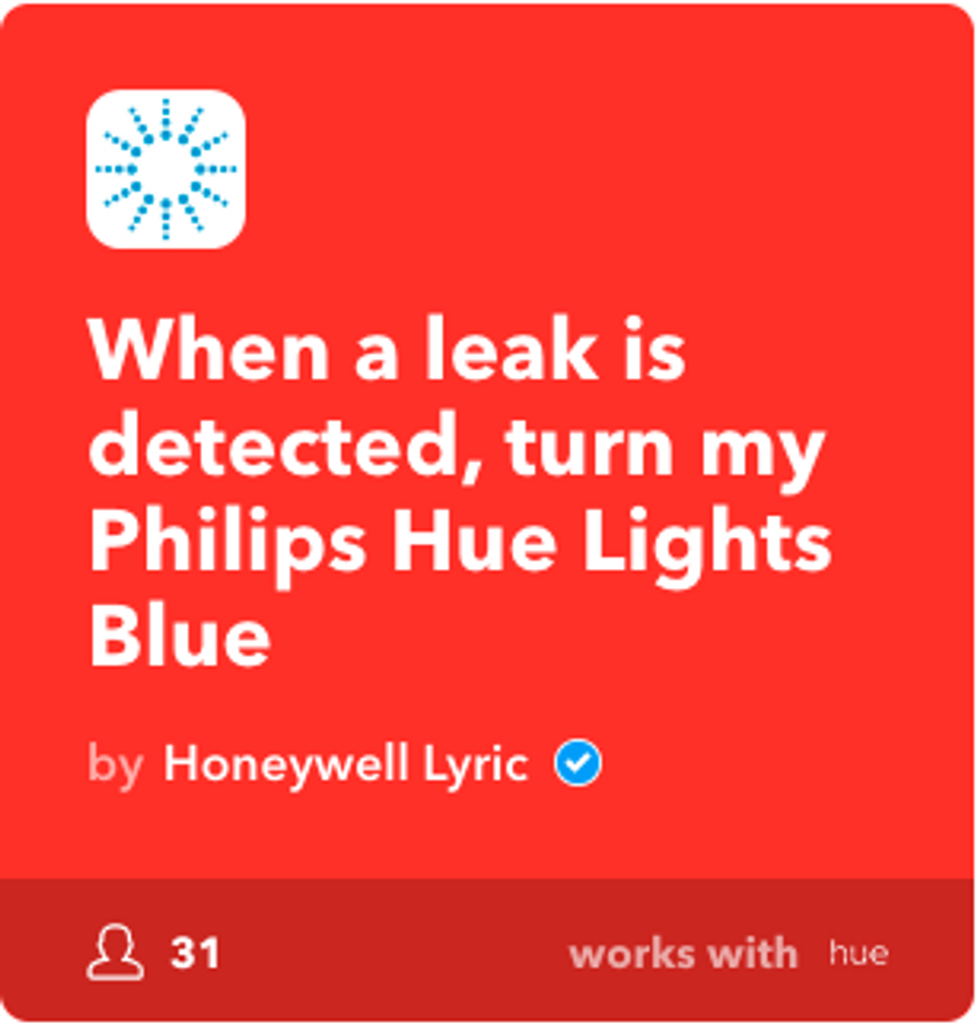 IFTTT
This applet works with Philips Hue lights and the Honeywell Lyric water detector, but the principle can be applied to other lights and leak detection systems. This applet could be useful for alerting you to a leak when your smartphone is on silent or out of sight. Another applet can flicker your Hue lights when a D-Link Water Sensor is activated.
Automatically turn lights on at sunset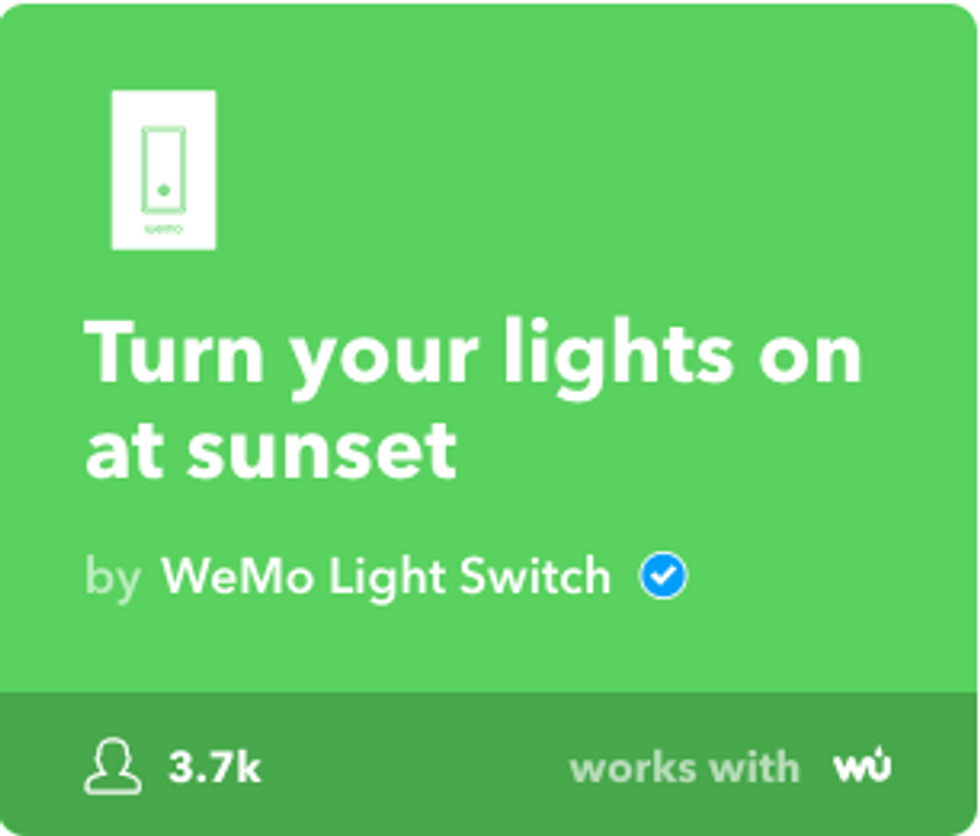 IFTTT
This function can be performed by some smart light systems using their own app, but if you'd rather use Weather Underground (the forecasting service of choice for IFTTT), then this is the applet for you. It is available for Philips Hue, Lifx, WeMo, MagicLight and TP-Link Kasa systems.
Conversely, you can set an applet to turn the lights off at sunrise.
Blink a light when you're mentioned on Twitter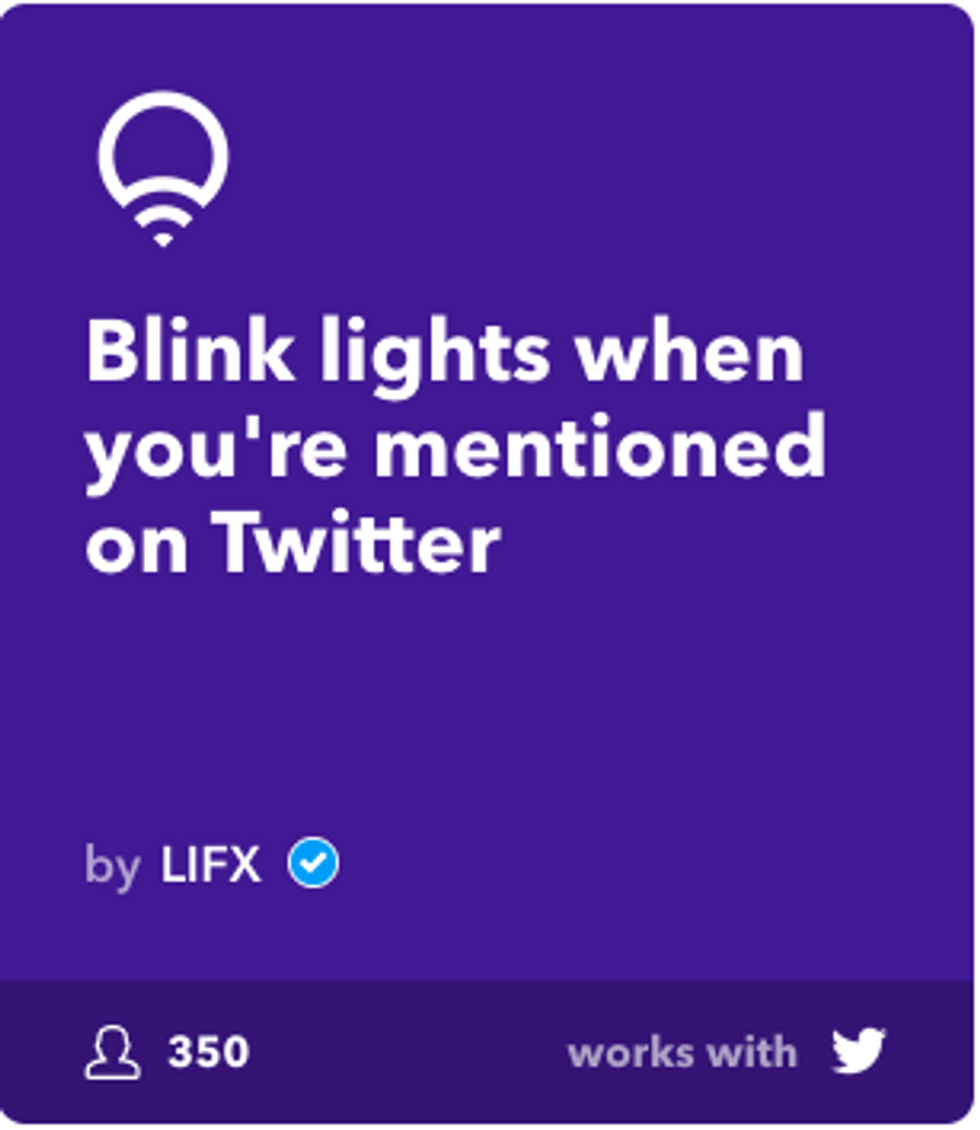 IFTTT
Some applets can alert you to danger, while others are pure gimmicks. We feel this is firmly the latter, but surely someone, somewhere has a desk lamp which they want to flash every time they get a Twitter mention? This one works with Hue and Lifx lights.
Blink Hue lights when your Uber arrives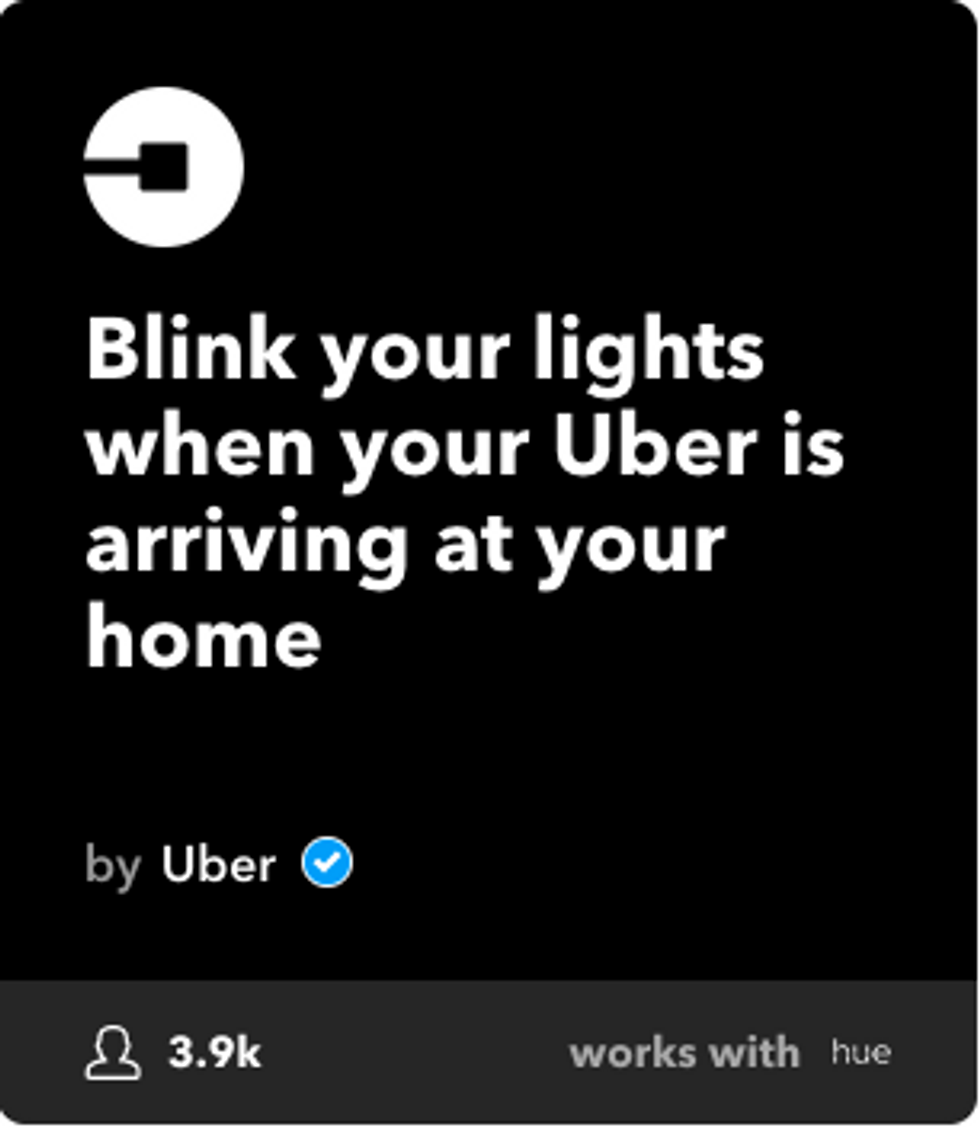 IFTTT
Another useful applet for when your smartphone is out of sight or in another room. This will flash your Philips Hue lights - or Lifx lights - when an Uber arrives at your home address. An applet can also be set up to switch your lights off when you leave home in an Uber.
Blink Lifx light when you miss a call from an important person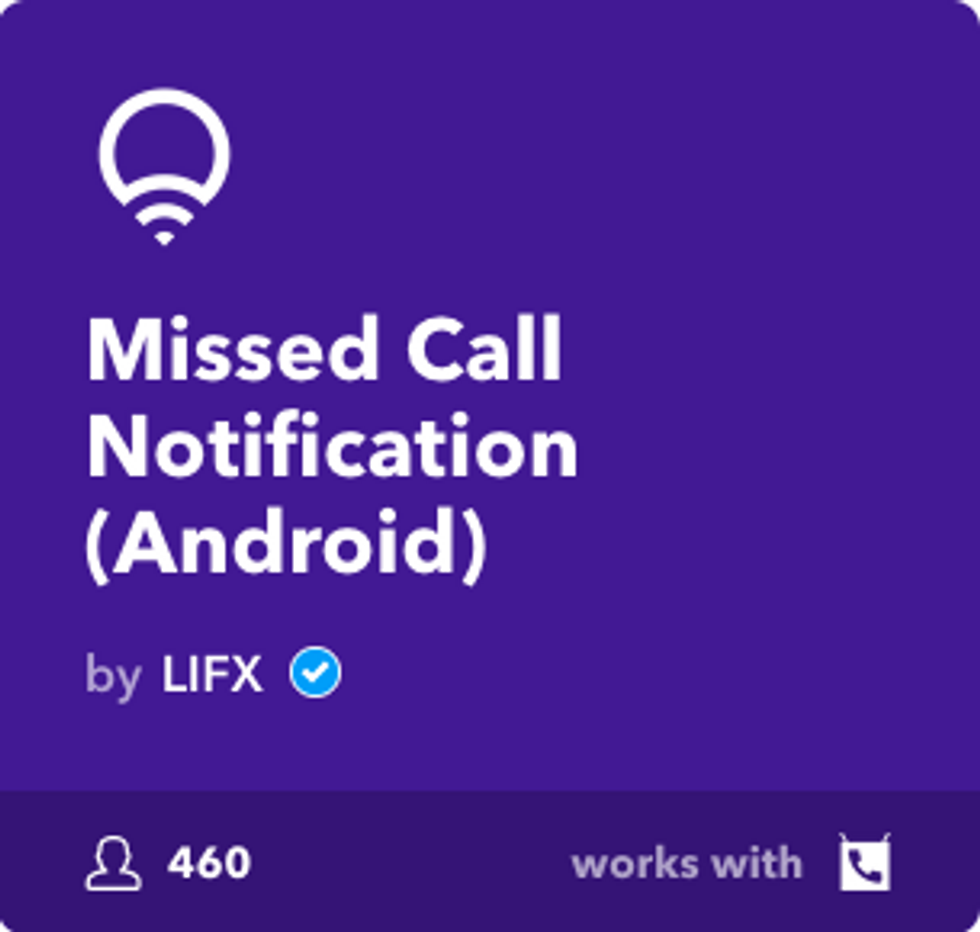 IFTTT
This applet will blink your Lifx lights if you miss a call from a specific person, although it only works with Android smartphones for now.
Flash the lights in your team colors when they score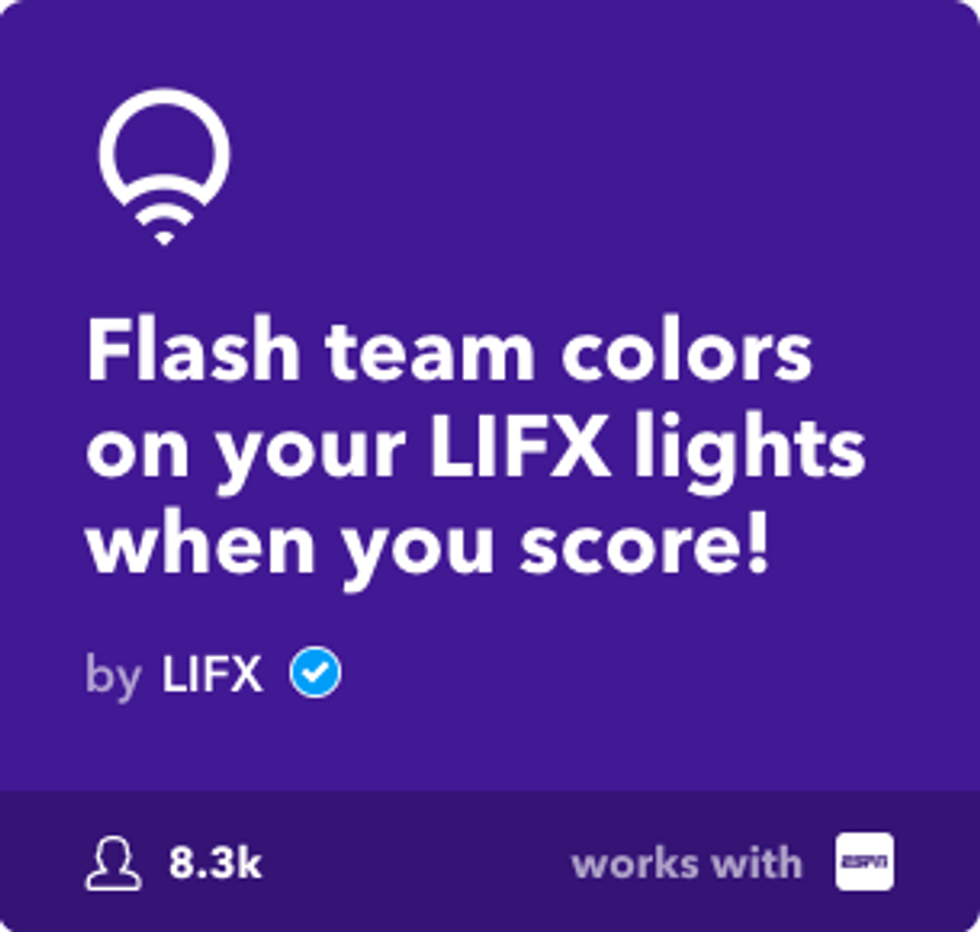 IFTTT
Another bit of smart light fun, this applet flashes your Lifx lights in the home colors of your favorite sports team every time they score. This can be configured to work with teams in the NFL, MLB, NBA, NHL, plus college leagues and more.
Turn lights on when August Smart Lock is unlocked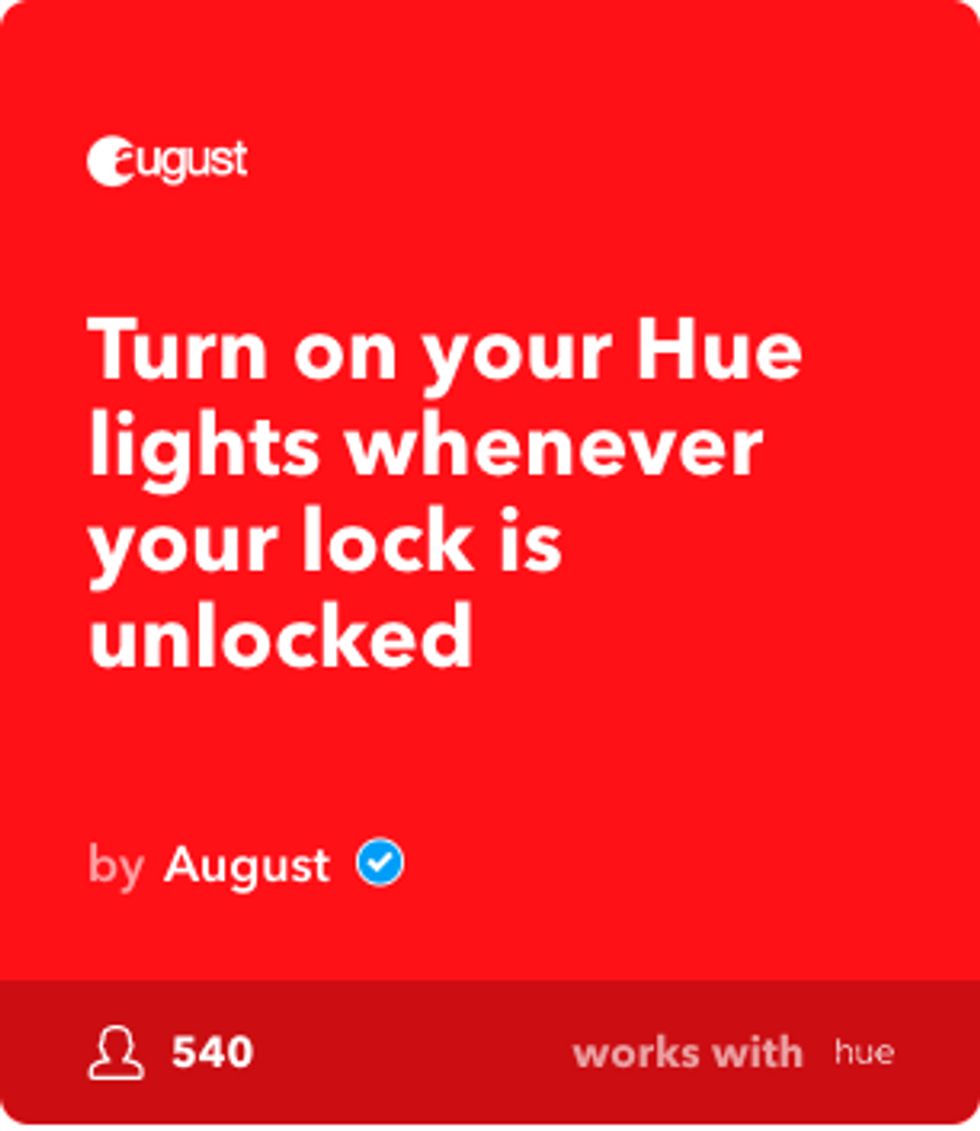 IFTTT
Useful when you get home at night, this applet will switch on the Philips Hue lights of your choice when you unlock an August Smart Lock.
Flash lights when your smart doorbell rings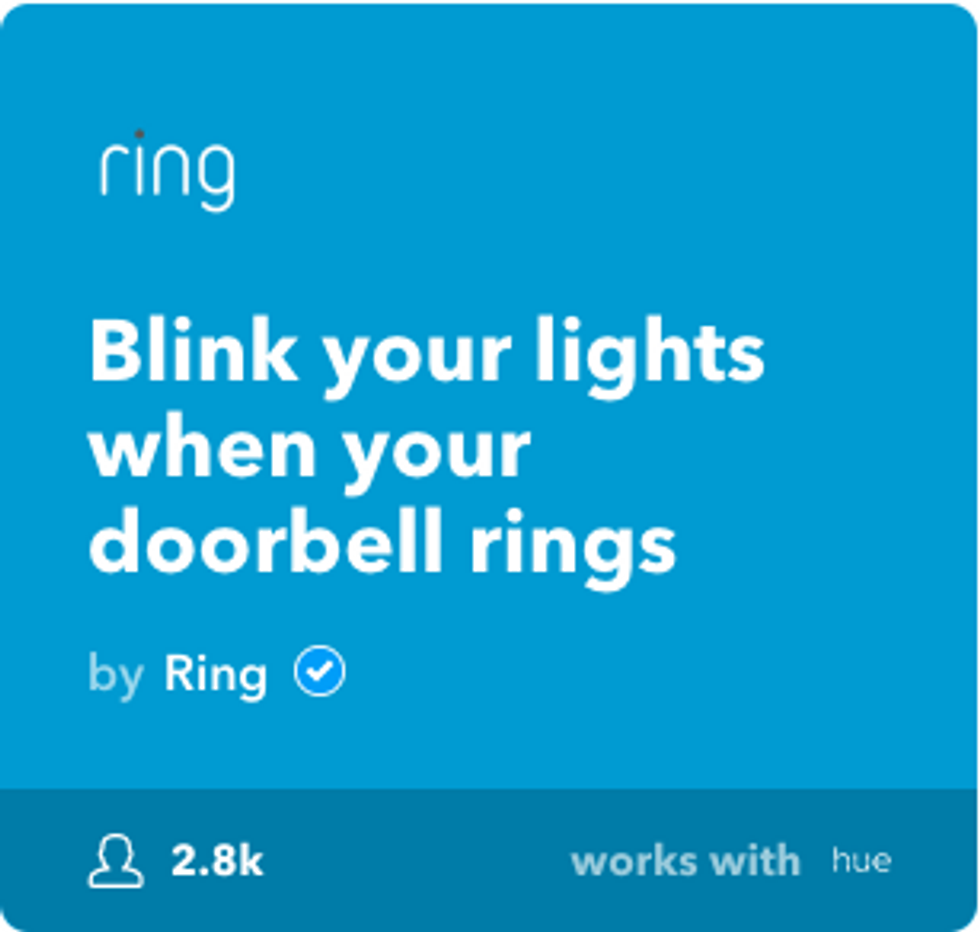 IFTTT
Yet another applet designed to alert you to something you might not have heard or seen on your smartphone - in this case, the doorbell. There are several configurations here, including:
Like GearBrain on Facebook