Like GearBrain on Facebook
With its new iOS 13 software, Apple gave the iPhone and iPad an official dark mode for the first time.
On the surface, this gives your apps a new look, replacing all white elements of their interface (usually the background) with black. The results are often drastic and can help reduce eye strain, especially when looking at your phone at night or in a low-light environment.
Read More:
But there is much more to dark mode than a sharp new look and reduced eye strain. For many iPhones it can save battery life - and according to a test carried out this month using a robotic phone controller, the saving can be up to 30 percent.
Carried out by the PhoneBuff YouTube channel, the rest was carried out on an iPhone XS Max. During one test the phone was running iOS as normal, then a second test was done with dark mode enabled.
Both times the phone started at 100 percent battery and its screen brightness set to 200 nits (around 70 percent), which is somewhere between the brightness you'd use indoors and outside in brighter natural light.
Each test saw a robotic arm holding a stylus tap away at the phone, running apps which are compatible with dark mode for two hours at a time, until the phone died.
The video, posted to YouTube over the weekend, showed what a different dark mode makes almost immediately. During every two-hour stint of using each app, the battery lasted longer when dark mode was enabled, despite the phone, app and display brightness being the same in both tests.
After a two-hour session of chatting using iMessage, the phone running dark mode was at 88 percent, compared to 83 percent with dark mode switched off (also known as light mode). The phone was then subjected to two hours of constant Twitter scrolling, after which the dark mode battery was 72 percent and the light mode was at 57 percent.
Next up was YouTube. This is a strange app to use in such a test for a couple of reasons, but the result is interesting all the same. Firstly, we'd argue that watching YouTube in portrait instead of turning the phone to make the video full-screen is somewhat pointless. But what the test showed is that apps which have a dark mode which isn't quite black, as is the case with YouTube and its dark gray user interface, battery saving is still evident. After two hours of dark mode the battery was at 43 percent and light mode had fallen to 20 percent.
Finally, Google Maps was opened for two hours, during which time the light mode iPhone died, after seven hours and 33 minutes of constant use. At this point the dark mode iPhone still had 30 percent of its battery remaining.
Although your usage is unlikely to closely match this test, the result is still remarkable and a 30 percent battery saving is hugely impressive for simply switching the look of your apps and operating system.
Why does dark mode save battery life?
The answer is to do with how OLED screens work (sorry iPhone 7, 8, 11 and XR users, those handsets have LCD panel).
Unlike LCD screens, which are illuminated by a backlight shining through every pixel, the pixels of OLED screens emit their own light - which is why the acronym stands for organic light-emitting diode.
This means pixels can be switched off, with no light emitted by them, to create true black. No light equals no energy used to display black on that pixel, so when much of the user interface is black, the phone is using less energy to light up less of the screen.
Dark mode can be found on every iPhone running iOS 13, but battery savings are only possible with OLED models, which include the iPhone 11 Pro and Pro Max, iPhone XS and XS MaX, and the iPhone X.
Dark mode is also offered by Android, and other phones with OLED screens include the Samsung, Galaxy S10 and Note 10, Google Pixel 3 and 4, OnePlus 7 and 7T, and the Huawei P30 and Mate 20.
How to enable dark mode on iPhone and iPad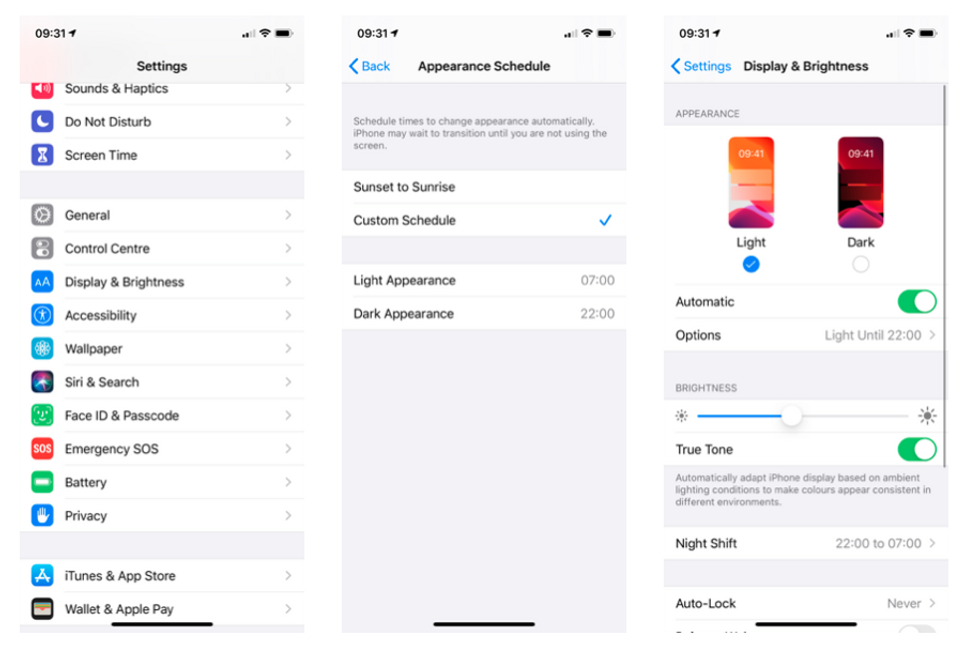 It's easy to enabled or disable dark modeGearBrain
To switch between dark mode and light mode on your iPhone or iPad with iOS 13, open Control Center with a swipe down from the top-right of an iPhone X or newer, or a swipe up from the bottom of the screen on an older iPhone with a home button.

Nest, long-press on the screen brightness slider, then tap on the dark mode button in the lower-left corner.
Alternatively, open the Settings app then tap Display & Brightness, then switch between light and dark mode with a tap. Here there is also an automatic option, where you can have the phone switch to dark mode at night, to help reduce eye strain, then back to brighter light mode at sunrise. There's also the option to set a custom schedule for when you phone switches between the two modes.
It is worth noting that, for now at least, not every app supports dark mode.

From Your Site Articles
Related Articles Around the Web
Like GearBrain on Facebook