Like GearBrain on Facebook
Ever since it arrived back in 2015, Apple's CarPlay has been a shining beacon of hope, specifically for drivers sick of automakers' mostly haphazard attempts at nailing infotainment. It's about to get even better, we found, as we tested iOS 13, and CarPlay, with a brand new Porsche 911.
Read More:
Despite decades of experience and billions of dollars, even the biggest car makers have mostly failed to offer a car information and entertainment system as good as that one a smartphone or tablet. It isn't entirely their fault — cars are designed to last a decade while new phones come out almost as often as the weather changes. But CarPlay (and Google's Android Auto ) felt like a big step forward.
Unfortunately, for a good few years that was the only forward step Apple made in its pursuit of revolutionizing the car dashboard. But thankfully with the new iOS 13 operating system, available as a beta now, and expected to be released properly in September, CarPlay has received its biggest update yet.

Thanks to a bit of good timing, this week we found ourselves in possession of an iPhone X running the iOS 13 public beta, and a CarPlay-friendly Porsche 911 .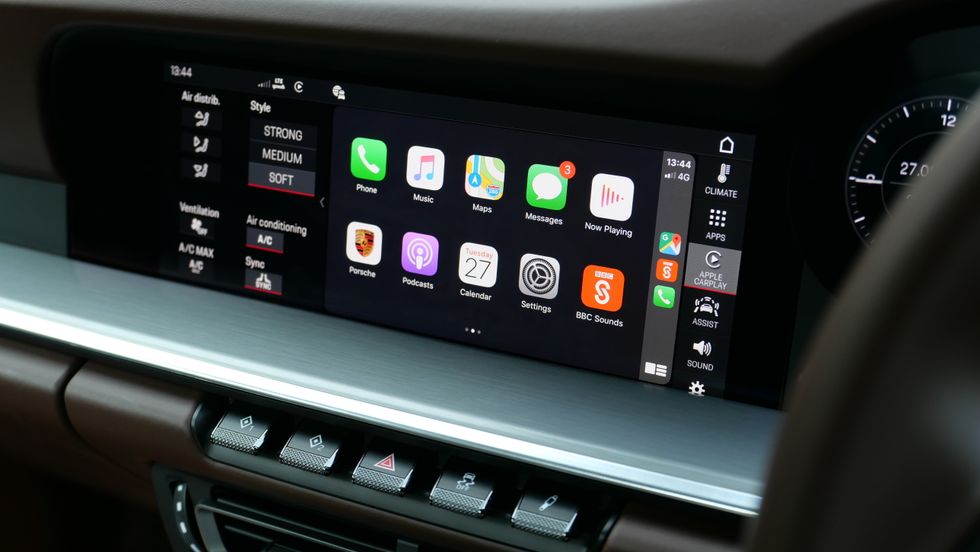 Apple CarPlay with iOS 13 GearBrain
Carplay's refresh
The first thing you notice about the new CarPlay — it should honestly be called CarPlay 2.0 — is a new dashboard screen. All at once, this shows a map with your route, ETA and the local speed limit in one box, your next navigation instruction in another, and the music that is currently playing in a third, complete with playback controls.

All of this is shown along with the time and your phone's signal strength, plus shortcuts to the last three apps you had open, and an icon to take you back to the normal, iPhone-style home page full of app icons. This page is found with a press of the home button in the lower corner of the display, or swiping to the left of the home screen / app launcher.
It's a convenient page to have open, giving you access to navigation and media at the same time. However, for now only Apple Maps can appear on this page. While third-party navigation apps like Google Maps and Waze work with CarPlay, they don't appear on the new dashboard page, which is disappointing.
At least alternative music apps can play nice with the dashboard page, so the music control widget works with Spotify just as it does with Apple Music. Also, it's worth noting that CarPlay now adjusts slightly based on the size and shape of your vehicle's display, so the new dashboard screen may look different for you.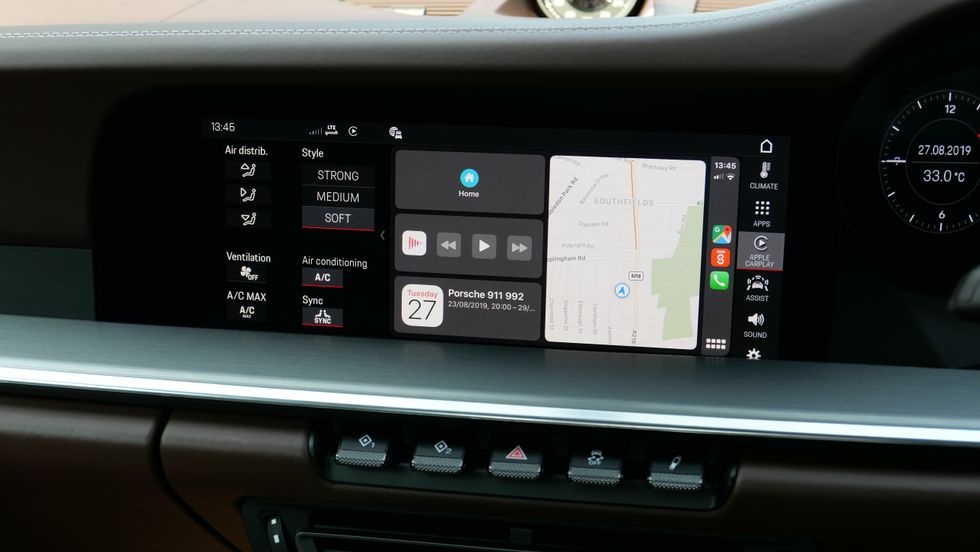 The new dashboard page of CarPlay GearBrain
This change also means that, once car makers make the necessary updates to their own systems, CarPlay can work on multiple displays. For example, the Porsche we have here can show its own navigation system on the central display, or on a digital display to the right of the central rev counter. CarPlay can't yet put anything on that second display, but the option is there for Porsche (and all other automakers) to one day allow this.

For a deep dive into how this can work, Apple has a video on its developer website here .
Changes for Siri too

Also taking up less space than before is Siri, which now appears subtly at the bottom of the display when you summon the voice assistant. Car makers are also now able to have 'Hey Siri' work without the driver first pressing a button. But this ball is in their court, so while Apple has the option open to do this, it's up to the car companies to make their microphones work correctly. Otherwise, Siri is activated with a press of the car's own voice control button, or with a long press of the home icon on the CarPlay interface.
iOS 13 brings a couple of new apps to the CarPlay home page. These include Calendar, which shows you a simple view of what's coming next in your schedule; if any of these appointments contain an address, you can tap on that and have Apple Maps navigate you there. If you'd rather use Google Maps you'll have to search for the address manually in that app on the CarPlay screen. You can also call anyone attending events in your calendar with a tap — useful if you're running late for a meeting.
A new feature of CarPlay in iOS 13 may draw criticism from some quarters, as it allows your plugged-in iPhone to be used as normal. Previously, plugging in and using CarPlay would effectively disable the phone, making it useless and limiting you to the driving-safe apps on the car's display.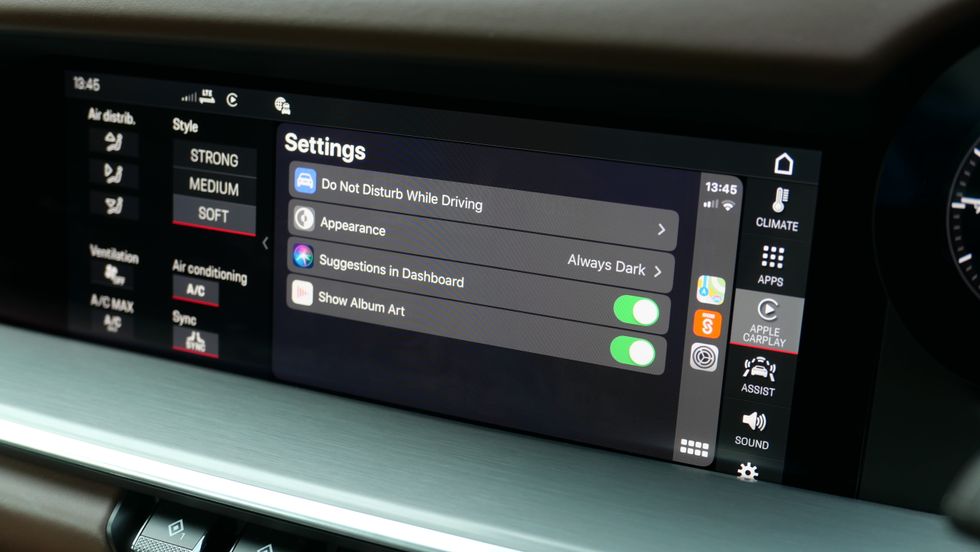 The new Settings app of CarPlay with iOS 13 GearBrain
But with iOS 13 the phone remains fully functional. This of course means your passenger can use it to change music without you losing sight of your navigation instructions, or they can look something up online without distracting you. But it also means the driver could grab their iPhone and reply to a message in an app not supported by CarPlay, like Slack or Mail. Clearly, this is not a smart move for any driver.

Do not disturb

We appreciate it is difficult to please everyone here, as having a locked phone is pretty annoying when your passenger wants to use it. Helpfully, there is a new CarPlay Settings app, and within that you can have Do Not Disturb automatically switch on when CarPlay is running. That way, when CarPlay is open your phone will not disturb you with notifications, so you'll be less tempted to look at it.
Personally, I'm happy to shut my phone away in the arm rest, plugged in and not distracting me. However, in the current iOS 13 public beta Siri isn't able to read out incoming WhatsApp messages. CarPlay notified me of messages, but when I tried to get Siri to read them out, it told me there were no messages. Perhaps this bug only affected me, but hopefully it'll be squashed before iOS 13 comes out for real next month.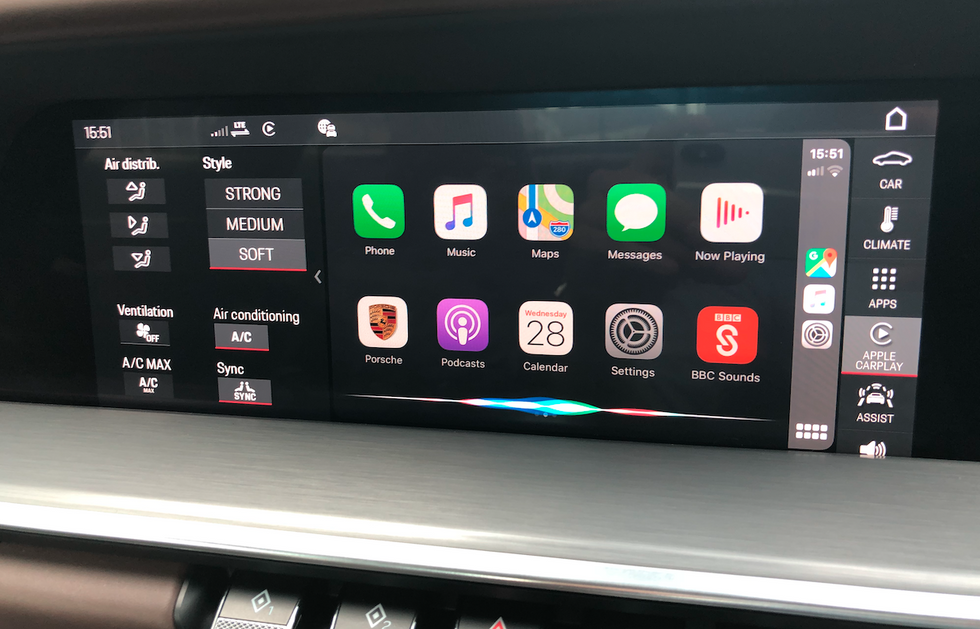 Siri is far more subtle with the new CarPlay GearBrain
That bug aside, iOS 13 is significant upgrade for CarPlay, and once car makers start giving the system access to more of their displays, like those behind the steering wheel and perhaps even head-up displays, it'll only get better. Having spent a week and 600 miles with the aforementioned Porsche, I can confidently say I would always opt for CarPlay over the car's own system when it comes to navigation and music playback.

That's what convenience and familiarity get you; instead of learning to use a whole new infotainment system, I was able to stick with Google, Spotify and BBC Sounds, just as I do on my iPhone.
Like GearBrain on Facebook