Like GearBrain on Facebook
Also seen on the 2020 Land Rover Defender, Jaguar Land Rover's new Pivi infotainment system is now available on the new Jaguar XF sedan and F-Pace SUV.
Featuring a curved 11.4-inch HD touchscreen, the system strikes a neat balance between touch-sensitive elements and physical controls that can be interacted with by feel alone. In a world where cars are increasingly putting every control on a touch screen, it is refreshing to see Jaguar take a balanced and thoughtful approach to its latest system.
We recently tried out the latest version of Pivi with the new XF sedan and F-Pace SUV. Here is how we got along.
Read More:
The upgrade to Pivi ushers in a major cabin redesign for both vehicles. The 11.4-inch touchscreen is the attention-grabber here, with its slim body and thin bezel giving it the familiarity of an iPad or Android tablet. The bezel is also just about large enough to rest a hand on to help you tap the screen more accurately while driving.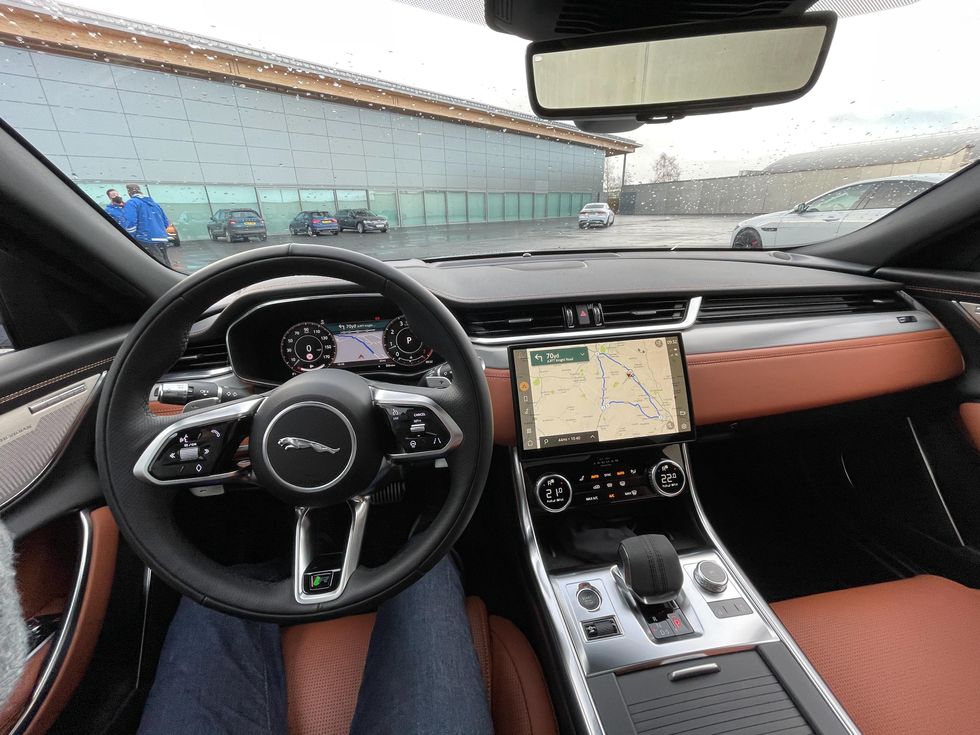 All-new interior of the 2021 Jaguar XFGearBrain
Shortcuts to key applications like navigation and music are on the edge of the display closest to the steering wheel, putting them just a few inches from your hand. Information like the time and battery and signal strength of your connected smartphone stay in the far corner of the display.

A detail that shows Jaguar Land Rover has really thought about this system is how, on the Pivi home screen, there are audio mute buttons for both the navigation and media/radio. That way, you can see at a glance (and adjust with a tap) whether each system is muted or not. Volume can also be controlled with a physical scroll wheel next to the start/stop button and gear selector, with a press muting the system.
The home screen does a really neat job of showing your next navigation instruction, distance to destination and time of arrival, plus the status of your connected phone, and whatever music is playing, along with playback controls, all at once. You can then rely on the digital instrument display behind the wheel (or the head-up display projected onto the windshield) for more detailed navigation instructions, while leaving Pivi on its minimalist home screen.
We think the screen is a great size, fitting neatly on the dashboard without dominating, and its landscape orientation is easier to read – at least in our opinion – than the tall portrait displays of some other vehicles. With taller screens we find ourselves looking further down, and therefore further away from the windshield, than with a landscape display like this one.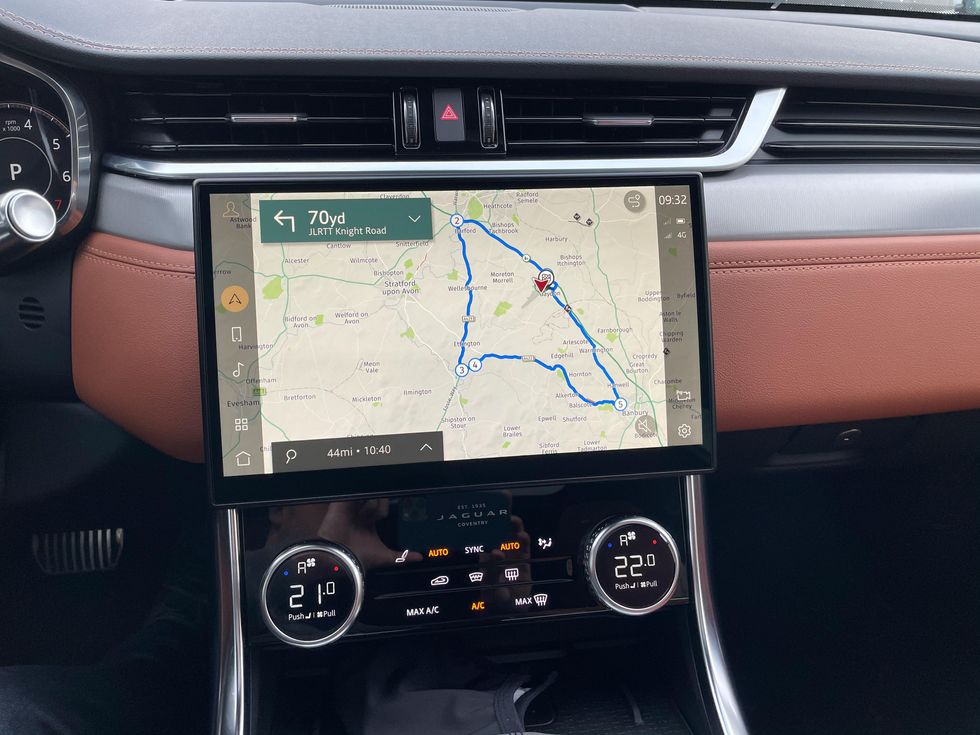 Pivi runs on an 11.4-inch HD touchscreen displayGearBrain
Although Apple CarPlay and Android Auto are included as standard, we enjoyed using the Jaguar's own system more than we expected to. All too often, we default blindly to CarPlay and ignore the stock system in favor of Google Maps, Spotify and Apple Podcasts. But, given our driving route used Jaguar's own system, we stuck with it – and liked it. The screen is sharp, clear and bright without being distracting, and the navigation system is simple and intuitive.

Below the Jaguar touchscreen is a slick glossy black panel with 'Jaguar est 1935, Coventry' reminding you of the brand's heritage. Under this is a selection of touch-sensitive buttons for lesser-used cabin controls like windshield defrosting and air recirculation. These are illuminated, highly legible and easier to use at a glance than you might think.
To either side of this panel you will find a pair of rotating dials for the driver and passenger to control their own air and seat temperature. Each dial is used to adjust temperature by default (shown on a digital display within the dial), but can also be pulled outwards to adjust fan speed and pushed inwards to heat or cool each seat. We think this is a really smart setup and gives multiple functions to two simple dials.
Below this panel you will find a rubberised stowage area with an integrated wireless phone charger.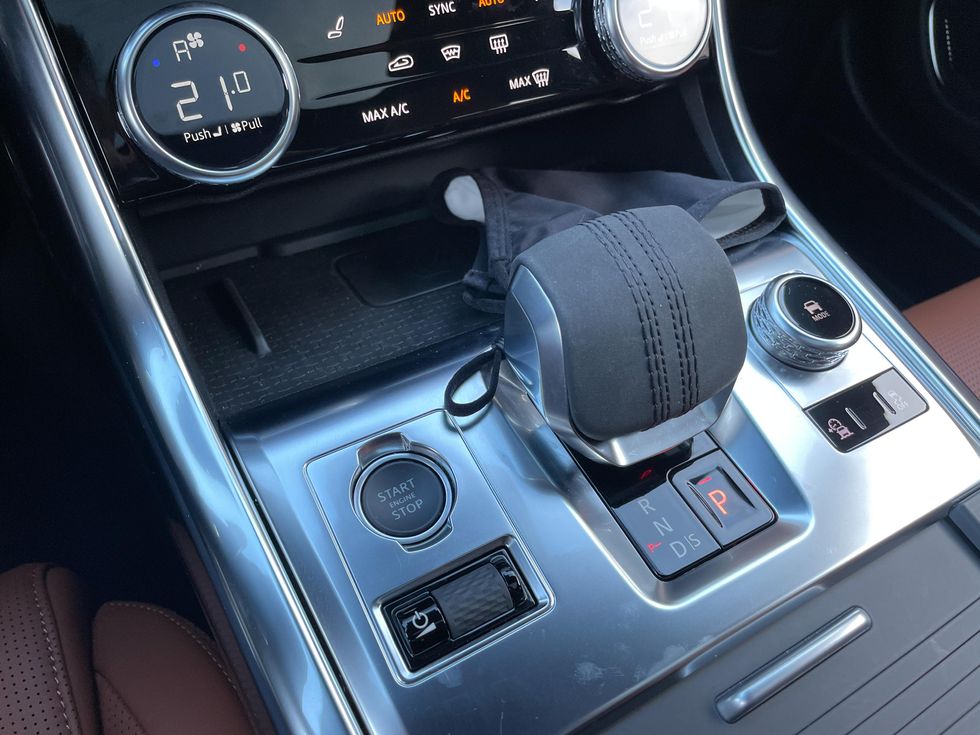 Gear selector and drive mode dial of the 2021 Jaguar XFGearBrain
Also new for this year's XF and F-Pace is the gear selector. The XF previously used a rotating dial that rose up out of the center console when you turned the ignition. It was a neat party trick, but we're fans of its replacement too. Finished in a suede-like fabric with what Jaguar describes as cricket ball stitching, the selector is a good size with a nice movement. We particularly liked how a quick pull backwards while driving engages and disengages the gearbox's sport mode.

Next to this sits a rotating dial for switching between the car's driving modes. Finding the mode you want can be done without looking away from the road, and the two modes you are likely to use most in a Jaguar – sport and normal – are thoughtfully a single click away from each other.
The Jaguar's steering wheel controls are a mix of traditional and touch, with a scroll wheel for navigating the driver display and a rocker switch for adjusting the cruise control. Other buttons, including one that can be configured how you want, are touch sensitive but physically click when pressed to help confirm you have activated them.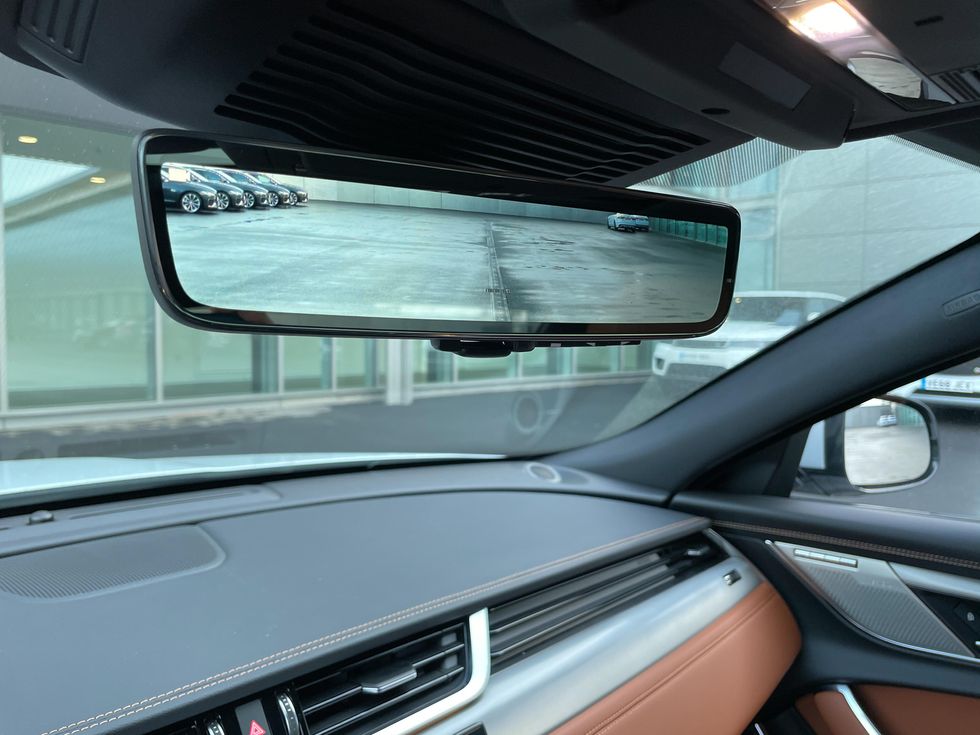 Digital rear view camera of the Jaguar XFGearBrain
Although not at all related to the infotainment system, we couldn't finish this article without mentioning the gear change paddles behind the wheel. Perhaps unlikely to be used that often to take manual control of the eight-speed automatic, they are pleasingly chunky, tactile, and made from metal so are cold to the touch. They are among the best paddles we've used on any car, period.

As you can probably tell, we were very impressed by Jaguar's new Pivi infotainment system. We think it not only looks great, lifting the XF cabin to sit on par with its German rivals, but also functions well and has clearly been thought out carefully to be both aesthetically pleasing and safe to use without distraction.
The 2021 Jaguar XF is priced from $43,995 or $479 a month on a 36-month lease deal.
Pros:
Bright, crisp display
Intuitive and responsive UI
Touch controls have a physical click
Cons:
Optional rear view camera splits opinion
Potential learning curve for drivers upgrading from an older model
Pioneer DMH-WT8600NEX 10.1" Multimedia Car Stereo Receiver/Apple CarPlay/Maestro
From Your Site Articles
Related Articles Around the Web
Like GearBrain on Facebook