Like GearBrain on Facebook
Think of 3Doodler as a printer for those with more drawing skills than technical know-how. Artistic? We're not — but we still had fun with the Juku Create+ which is best described, like the others in the line, as a 3D printer contained in a mechanical pen that draws in fibers.
Read More: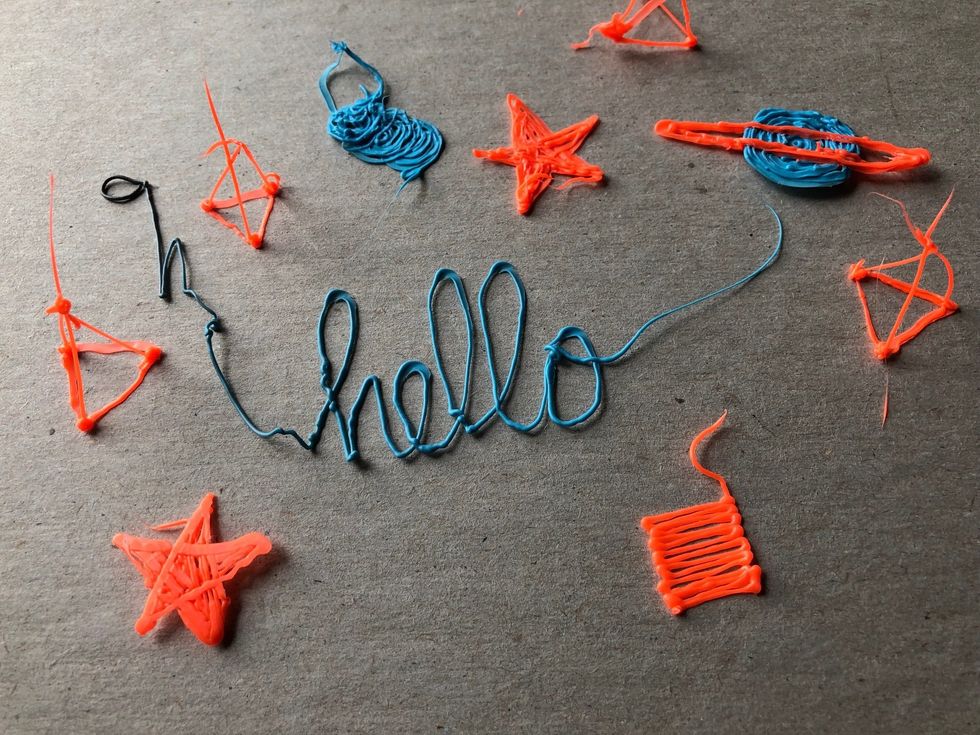 The Juku Create+ pen works with plastic that hardens quickly, so it can draw in the airGearBrain
What's in the box

Inside, you get a metallic blue pen, charger, two packages of 3Doodler plastic, and some tools. For those who are familiar with the 3Doodler pens, like the one that comes with the 3Doodler Start Essential Pen Set, this is a smaller model. Other kits are designed for smaller children — with chunkier pens that are easier to hold, and shorter stalks of plastic, and even templates that give you some guidance on where to start.
Kit 3Doodler Juku Create+ ($74.99) is for more advanced users, the plastic is harder, and as such it can really write in the air — as you squeeze the plastic comes out slowly, and hardens as it leaves. The project ideas here are really endless. We were taken a back by the delicacy of the threads and how much easier it was to get them to break off.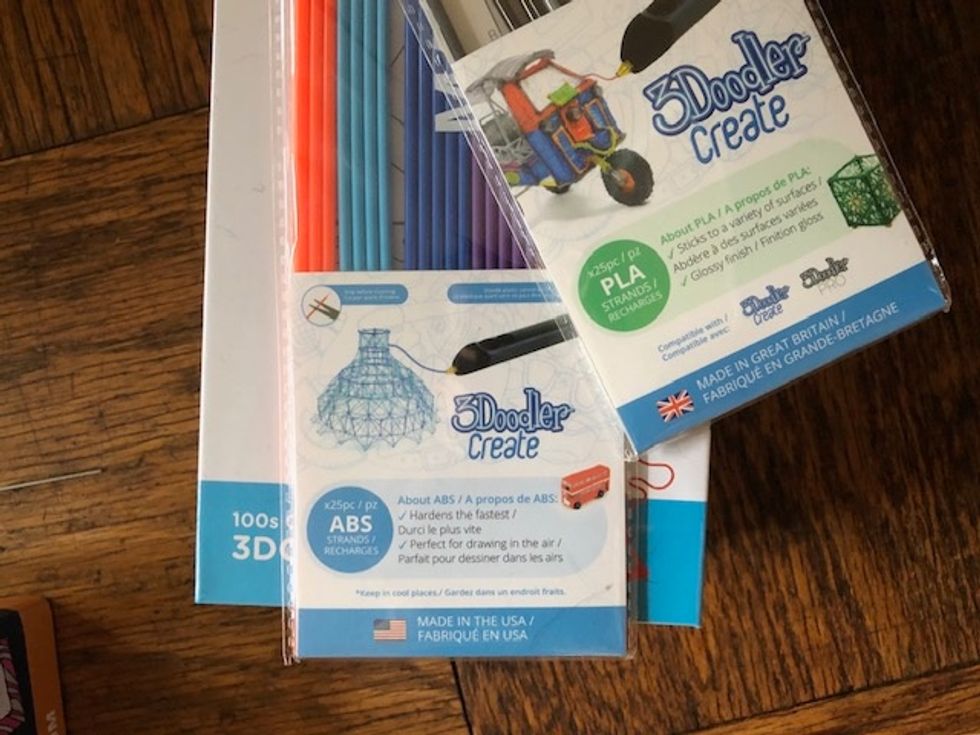 Packages of plastic threads that can be used with the Juku Create+ pen from 3DoodlerGearBrain
Materials you can choose

The Juku Create+ can take different kinds of plastic strands, including PLA, which is sticks to surfaces and has a shine when it dries, ABS, which hardens quickly making it great for delicate work, Flexy, which stays flexible even when it dries and even strands which is made of wood fibers including walnut, white birch and cherry, and means a final project can be sanded down.
One of the great things about 3Doodler devices is they really easy to use right out of the box. They won't build you a 3D model with the precision of a 3D printer, but you also don't need a computer code to get one going. You're only bound by your imagination as the plastic that comes out is like a line of ink, if ink could be physically picked up and harden in mid-air.
The company started as Kickstarter in February 2013, and 3Doodler has turned into one of the unusual success stories in that it didn't just fulfill those original orders, but is still around.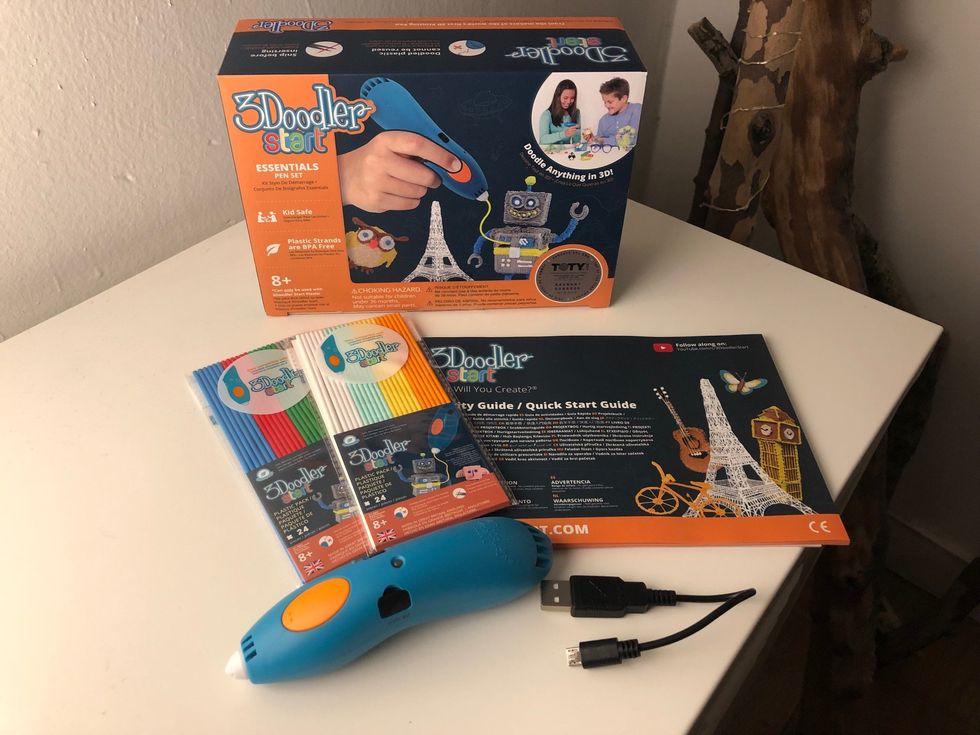 The 3Doodler Start Essentials Pen kit, which is designed for smaller handsGearBrain
The work people have accomplished with 3Doodlers is pretty remarkable — there are thousands of YouTube videos where people show what they've created. Some make creatures like dragons, one person made a dress, and another even made a Bonsai tree. We hesitate to show these given what we made during our tests, but there you go.

There's even an app for 3Doodler — the 3Doodler App and people can draw right on a tablet or phone screen with the plastic pen across 24 stencils, and peel the pieces off to build and construct their own 3D creation.
How to make it work
Getting the 3Doodler Juku Create+ to work is simple — you push the plastic strand into the back of the pen, and squeeze. As the plastic starts to feed into the pen, its heated and comes out in a malleable form — not liquid, but soft enough to bend and twist.
Again, the project ideas here are really endless — and we were taken a back by the delicacy of the threads and how much easier it was to get them to break off when we had finished drawing.
The company also has an app, the 3Doodler App, that works on both iOS and Android devices. The app means that users can draw directly on to a mobile device, a tablet or smartphone, and peel their 3D drawing from the screen without it sticking. The app has ideas, designs and stencils which can spark creations.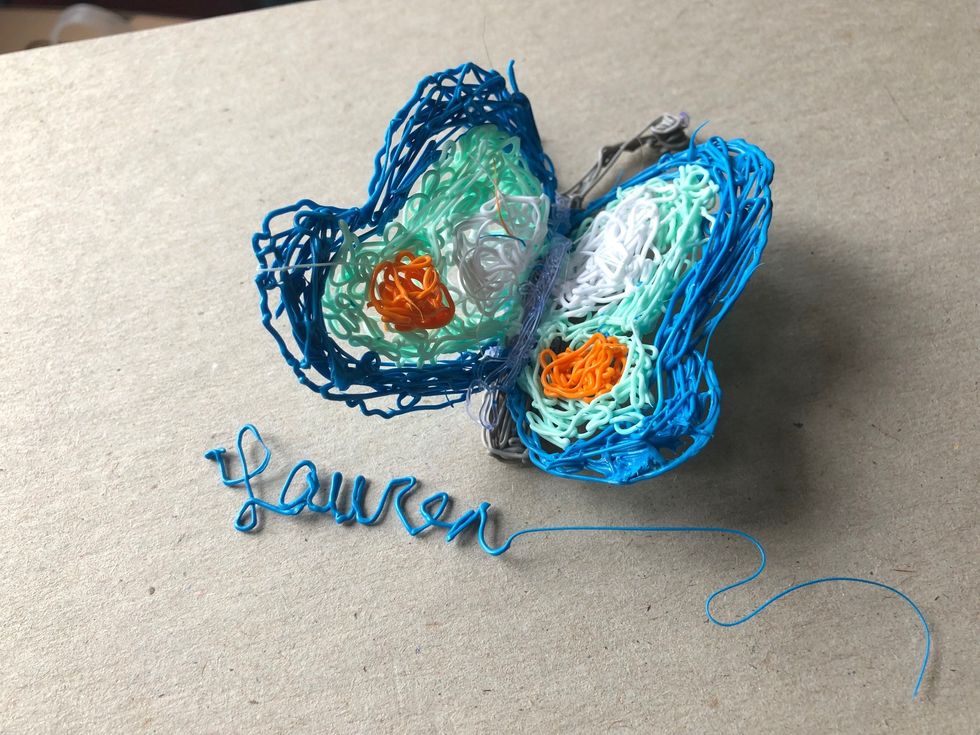 The 3Doodler Start pen draws with thicker strands, but can still create 3D objectsGearBrain
Juku Create+ vs Start Essential Pen Set

At $74.99, the 3Doodler Juku Create+ is more expensive than the $49.99 3Doodler Start Kit, but the plastic is harder, and the pen is really meant for older children, those 14 and up as opposed to younger kids, such as elementary school children.
To be fair, we honestly had a bit more fun with the Start Essential Pen Set, even though the controls are less sensitive. For example, when we stopped drawing with the Start pen, there was a bit of kick back from the plastic, it would continue to come out for awhile. That makes it harder to do delicate work, although I did manage to write my name.
Depending on the work, the Juku Create+ may be a better option for producing thinner, more delicate pieces. We could draw easily in the air, making three-dimensional objects such as pyramids. The Start Essential Pen was better for chunkier objects, where the plastic could fold on top of itself rather than needing to stand on its own.
We think both are great for home maker spaces, crafters, or just those who just want to be able to create drawings that can hold up over time. For anyone who remembers working in polymer clay or Fimo dough, the 3Doodler will likely spark some fun memories — and creations.
Like GearBrain on Facebook