Both indoor and outdoor cameras are key to securing a smart home, but with the later you have quite a few options to consider: video doorbells, mounted security cameras, freestanding cameras and floodlight cams. Maximus Camera Floodlight is a new floodlight camera, meant to compete with the Ring Floodlight Cam, and part of Kuna's security devices.

Last year we tested the Maximus Smart Home Security Outdoor Light & Camera, which combines voice, security, smart lights and a video doorbell function into one device and works with Amazon Alexa. We found it to be an easy DIY home security system to install — but it had few third-party smart home integrations. We put the Maximus Camera Floodlight through our GearBrain testing to see if it had more smart home juice.
What is Maximus Camera Floodlight?

The new Maximus Camera Floodlight is a floodlight powered by Kuna app. It includes a 1080p color HD camera with 270-degree detection, a 70-foot range and shines with 2400-lumen. It may look big and heavy but it's not — the device weights 6 lbs. and is 10.78 inches wide and 8.02 inches high. The floodlight is AC powered (max: 90-277V, 50/60 Hz) and weatherproof, tested in -4F (-20C) and 122F (50C) and 95 percent humidity. The camera has a 155-degree field of view (FOV) and an adjustable Passive Infrared Sensor (PIR) lens that you can adjust up to 40 degrees left-right and up-down. It comes with two-way communication and a siren (115+ decibel), which the company says is louder than a motorcycle.
Finally, Maximus Camera Floodlight has night view — but not night vision. Night view is when motion is detected, and the lights illuminate so you can capture video in full color.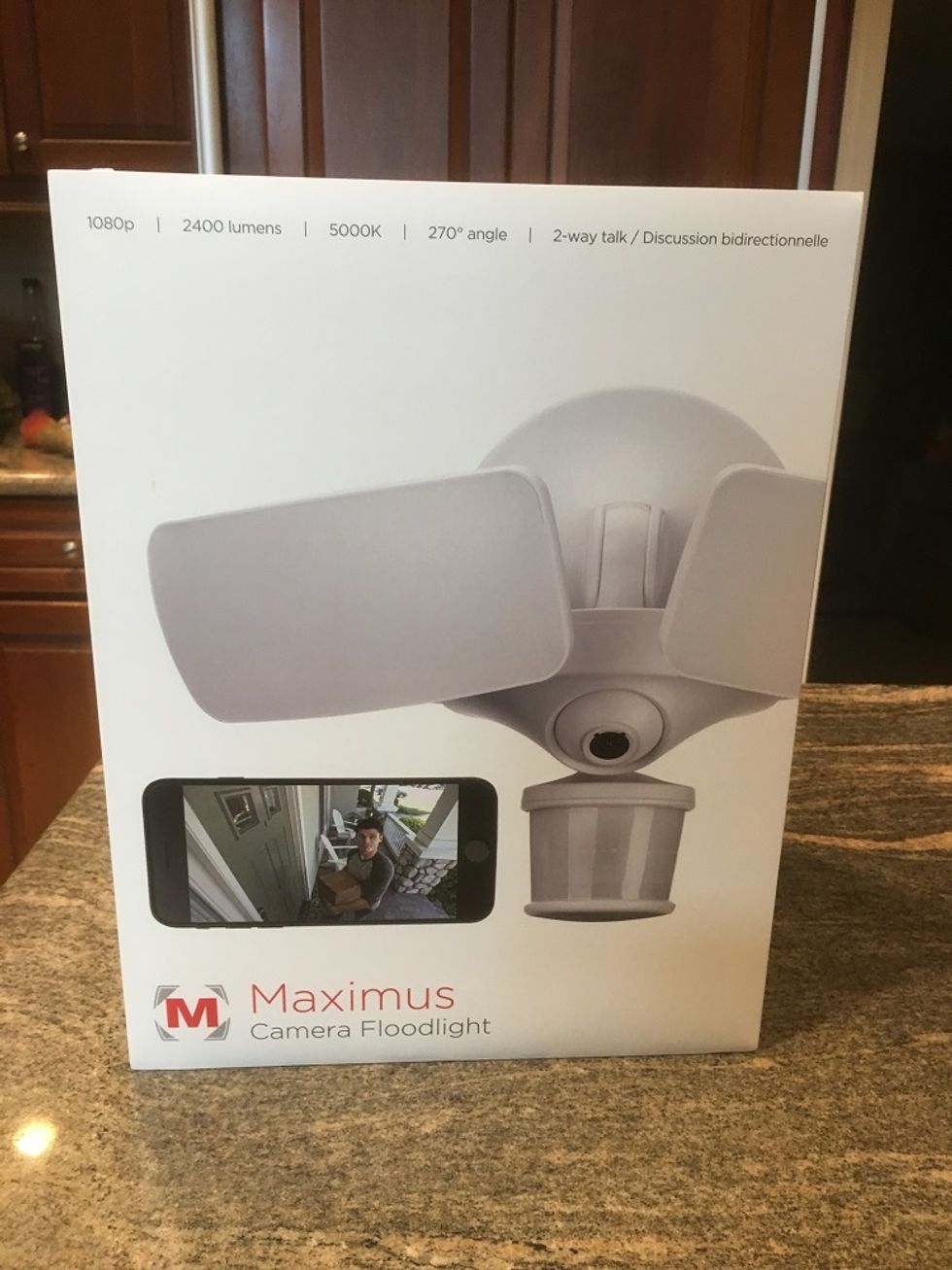 Kuna's Maximus Camera FloodlightGearBrain
How does it work?

The Maximus Camera Floodlight connects on a Wi-Fi frequency of either 2.4GHz or 5GHz to your home Wi-Fi router. Control is through a smartphone app, and also voice commands from Google Assistant or Amazon Alexa enabled devices. Before installing, check the wireless signal at the location where you plan to install your Maximus Camera Floodlight. Then, download the Kuna app from either the iTunes App Store (for iOS devices running iOS 7 or above) or Google Play store for Android devices supporting Bluetooth LE: 4.3 (Jelly Bean) and above. If you already have a Maximus product and Kuna app, as we did, there is no need to get the Kuna app again — just open the app and add a new device. The app will locate your device, connecting it to your home Wi-Fi network.
Installation – How easy is it to install?

If you already have a floodlight, which we had on our test house, installation is extremely quick and easy. Turn off the power and then follow the instructions in the box.
Once you're connected to your home Wi-Fi network (see above), you will be asked to set up your time zone and location, and set the sound you want to play when motion is detected. The default sound is a chime, but you pick your own from a list:
Video Voicemail
Barking Dog
I'm Busy right Now
Sorry not Interested
Note that at this point you might need to update the app's firmware. If so, this will take only a few minutes. We always suggest you do the update — it will make the rest of your setup easier.
The next step in the app is to setup your lights. Default is to have the light go on automatically at dusk and turn off at dawn — and we suggest you use this. When you're done with the setup process, you can go back and modify this setting. Once you finish this step, your light is ready to be used.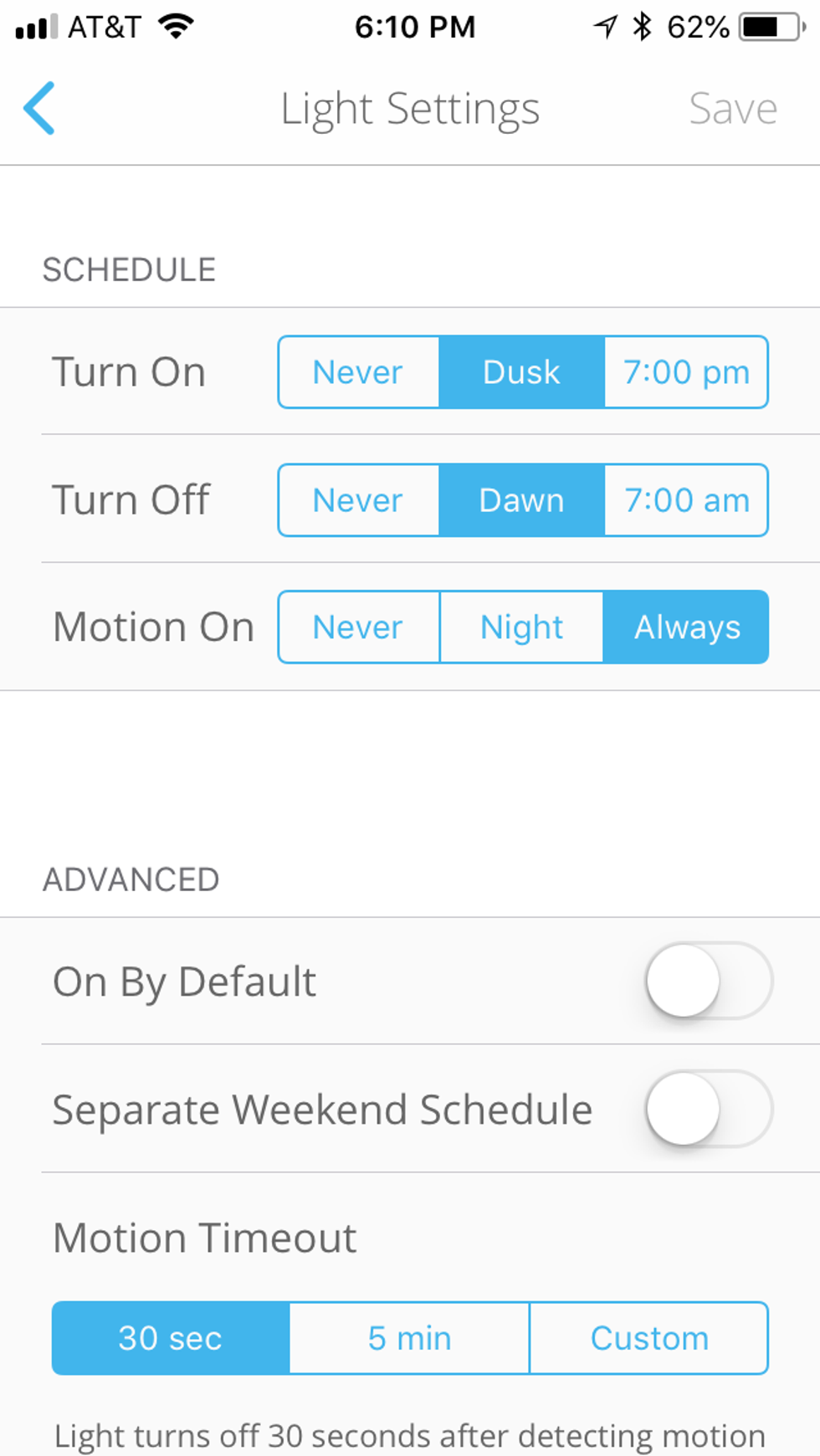 Kuna app is where you control your Maximus Camera Floodlight.GearBrain
Challenges with Installation

Installation should take about 10 minutes, if you're comfortable working with wiring and light fixtures. If you're a wiring novice, you should still easily be able to set up this floodlight but it might take longer.
We had one challenge though. Our test house already had a floodlight, but the junction box was not recessed into the side of the house. It stood out from the wall — and that caused the Maximus Camera Floodlight's weight to pull the device forward leaving a gap between the light and the junction box. We had to insert weather stripping around the ring of the junction box in order to seal the back of the light to the junction box. If our junction box was recessed on the wall, we would not have had this problem. If your light fixture is not recessed, make sure you seal any gap, as we did, behind your mounting bracket.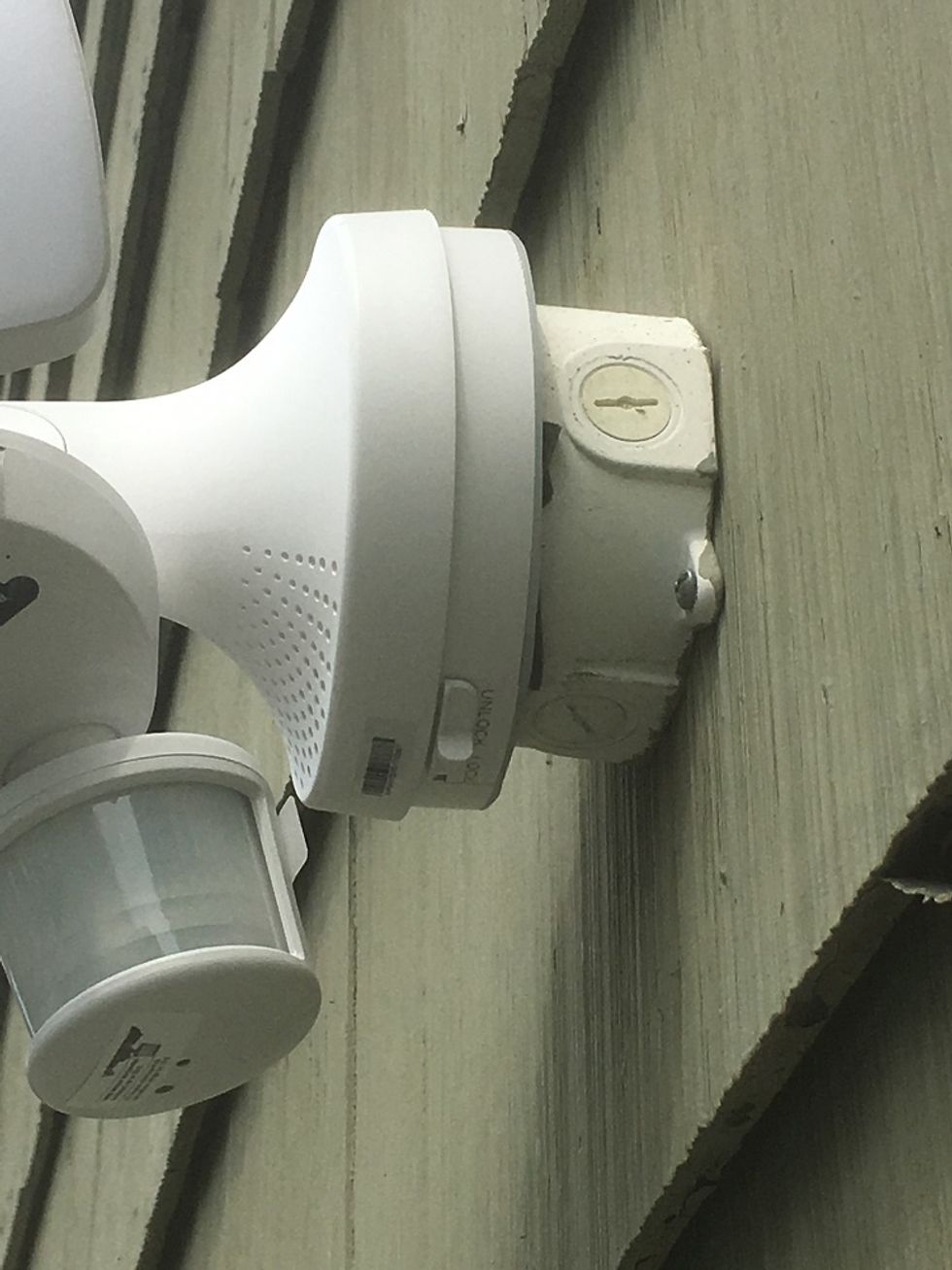 If you install Maximus Camera Floodlight on a raised junction box, make sure you seal the mounting bracket to prevent moisture from getting in.GearBrain
Kuna App Controls Maximus Camera Floodlight

Kuna provides the software, cloud platform and app for your Maximus Camera Floodlight. The Kuna app is very easy to use, with simple controls. In the app's device settings, you can change the Wi-Fi network, check your device's health and add other members to control the camera floodlight. You can also access settings for the floodlight, motion sensor and speaker volume.
One distinct feature is Kuna AI, the home security's artificial intelligence. You need to upgrade to a paid monthly plan to get this feature, but doing so allows your camera to send an alert when it detects a person or vehicle, or if they're detected in a particular viewing area. If the camera overlooks your driveway, you can get notifications about your vehicle too, similar to how Ring's motion sensors work. The difference, though, is that Ring doesn't delineate between a car or a person. Kuna AI can tell the difference between the two, and also recognize a car's specific color, model and make within seconds. Ring cannot.
We tested the Kuna AI feature through the Maximus Camera Floodlight, and it did take a few days for the system to recognize an actual person. Once it did, though, we found the feature worked very well. However, if you do have Kuna AI activated — and only of you have Kuna AI activated — motion timeout is set to 30 seconds, which is the amount of time the light stays on after motion is detected. You can't change it. We tried to change it to a longer time, but it would not let us do so. We hope this will be allowed in future releases.

For light settings, you can set your lights to go on at dusk, or pick a specific time. You can also program your lights to go off at dawn or pick a specific time. Motion detection can also be set to be always on, off or only at night. You can't pick a specific time, however, for this to be activated. As long as Kuna AI is not activated, as we noted above, you can select the length of motion to timeout. It can be either 30 seconds, 5 minutes or you can custom set this feature to timeout between 1-60 minutes.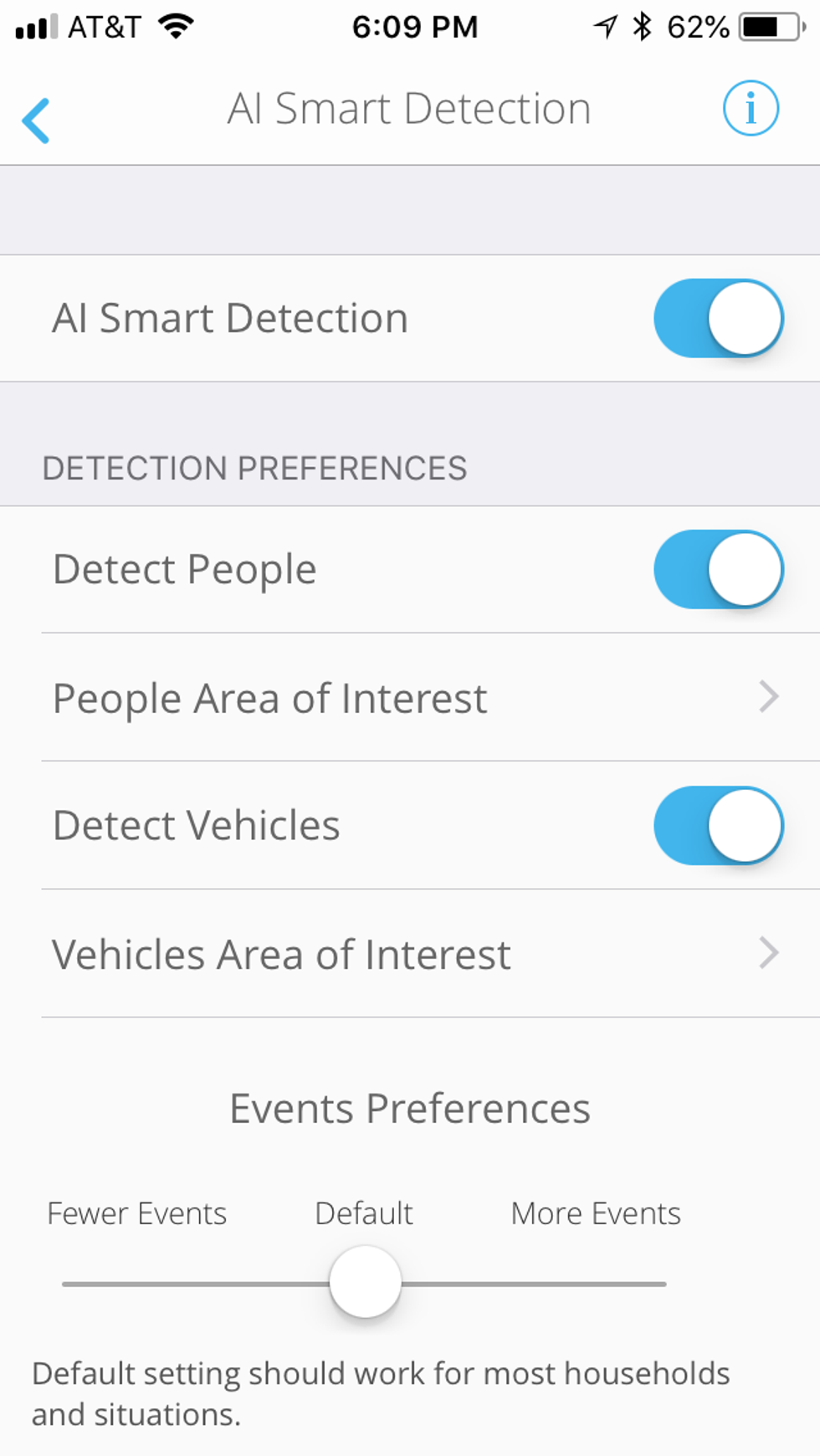 Kuna AI GearBrain
Keep in mind, again, that Kuna AI is a feature that requires you upgrade to a Kuna Premium plan. There are three of these: Essential Security ($4.99), Peace of Mind ($9.99 per month) and Absolute Control ($19.99 per month). Each plan offers Kuna AI, unlimited downloads, theft protection and discounts off future Kuna products. The more cameras and video downloads you want, the higher the cost of the plan. You don't, however, need a plan to use your Maximus Camera Floodlight. You will still get 24/7 HD video live feed, two-way communication, pre-recorded messages, quick 911 access, manual record, two-hour event look back, automated greetings, in-app sound siren, 3 downloads per month and light controls.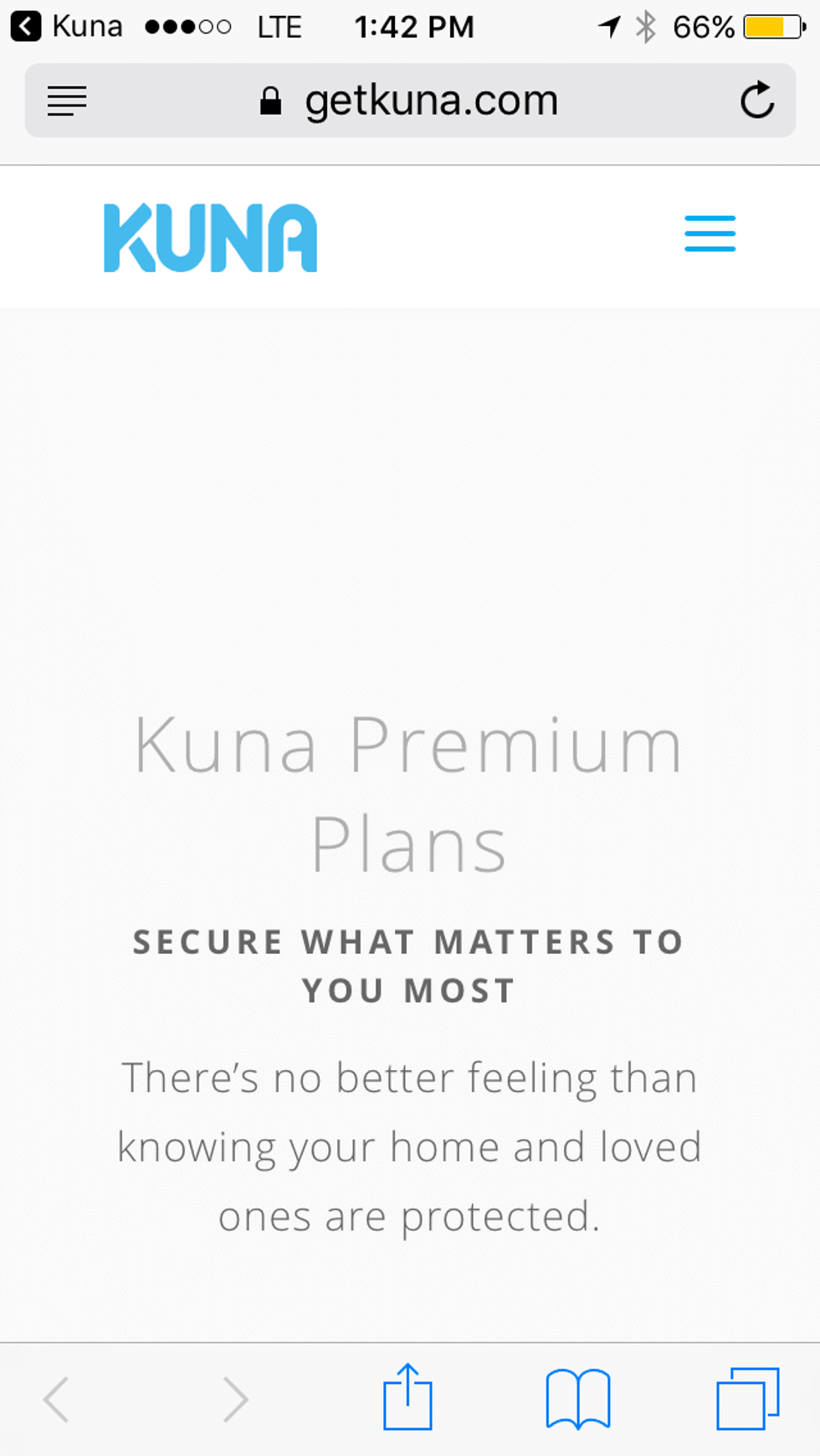 Kuna offers premium plans in their app.GearBrain
Features

Besides Kuna AI, there a few other nice features with the Maximus Camera Floodlight, including the "play sound on detection" feature, of which there are six: "chime", "video voicemail", "I'm busy right now", "Can I help you?", "Sorry, I'm not interested" and my favorite, "barking dog." Another feature we like is the support for two-way communication through the Kuna app. Sound is slightly delayed but clear, and you can control the volume.
The cost for Maximus Camera is $249 — the same as the Ring's Floodlight Cam which also has 1080p HD camera, easy installation, advanced motion detection and works on a 2.4 GHz Wi-Fi connection. You can buy the Maximus Camera Floodlight on Kuna's site.
Limited Smart Home Integrations

The Camera Floodlight can be controlled by Google Assistant and Alexa-enabled devices — however there are not many other devices or home security systems that work with this floodlight security camera. If you are looking to add a device like Maximus to your current home security system or a home automation platform, you will be disappointed. The company mentioned they are working on more smart home integrations but today, Maximus only works with Google Assistant and Amazon Alexa, and even then there are limitations, including not accessing your security cameras through these platforms. (Check out The GearBrain, our smart home compatibility checker to see the other compatible products that work with Google Home and Home Mini as well as Amazon Alexa enabled devices.)
Summary
The Maximus Camera Floodlight with Kuna AI is a good, standalone DIY home security device, offering unique AI capability to help keep your home safe. It's easy to install, works with either Google or Amazon smart speakers, and has excellent video quality. We like how you can control the brightness of the lights, and that Maximus supports two-way conversations with individuals, whether they are guests or unwanted guests. The device also has 911 accessibility in case of emergencies.
There are limitations with this camera floodlight though. First, you can't store videos locally, as the device lacks a microSD slot, and you must get a plan if you want to look at video clips from more than two hours back. It would be nice if there was a way to store videos on the camera floodlight via a microSD card — which many home security cameras do allow.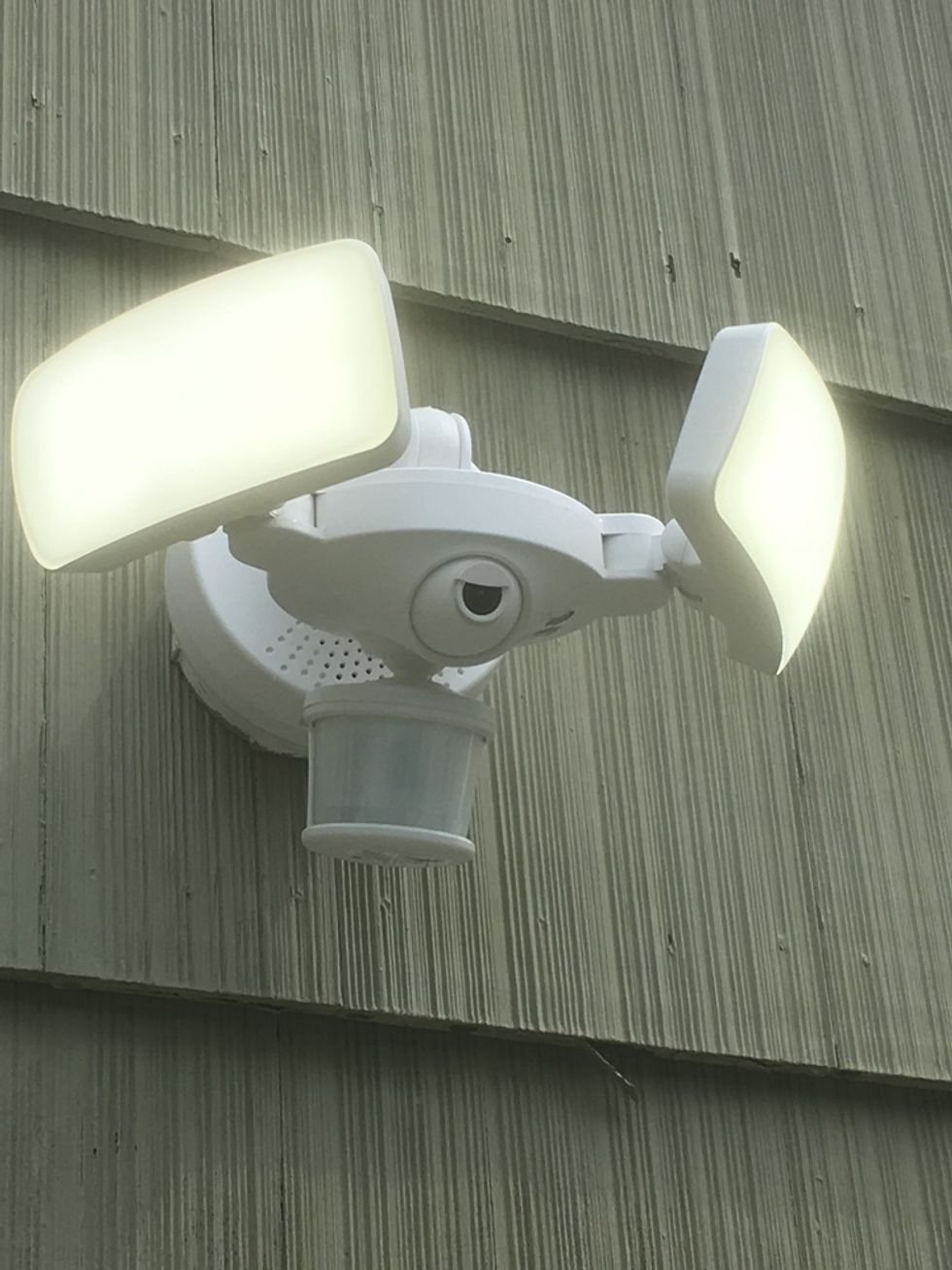 Maximus Camera Floodlight's HD camera can't be adjusted by the app which would be nice, but it has good FOV.GearBrain
We also noted that the camera angle can't be controlled by the Kuna app. True, the device has a 155-degree FOV — but it would be nice to be able to adjust the camera to see other areas if needed.

Finally, there are limited smart home integrations. If you want to add this device into an existing smart home system — or plan to build a smart home system to help secure your home — you'll need to use Google Home or Amazon Echo as your hub. Even then, you will not be able to access video from the app, instead tapping into two apps to watch and store video. That's hardly ideal.
Overall, if you are looking for just an easy to install outdoor security camera which can also function as a floodlight, Maximus is a good choice. If you are looking for an outdoor security camera that can be integrated into smart home system or an existing DIY home security system, however, Maximus is not there yet, but has potential.

Pros:
• Good video quality, 155-degree FOV
• Kuna AI and easy to install
• Works with Google Assistant and Alexa enabled devices
Cons:
• Limited smart home and home security integrations
• Can't access video from Google Home or Amazon Echo devices and can't store videos on your device – need to pay for a plan
• Can't adjust the camera on the device and need a premium plan to get Kuna AI