Like GearBrain on Facebook
Updated August 20, 2021
One of the oldest devices in your home today might be your doorbell. When consumers buy a home, or go to renovate their house, the last thing on their mind is to upgrade or replace the doorbell. It's a trivial device but one that does have a purpose. Also, many of homeowners don't know or really care if their doorbell is hardwired or not. If it works, they are fine and move on to the next project. As we move into a new technology era and try to make our homes smarter with new devices like smart thermostats, DIY home security systems and smart locks, video doorbells are starting to become an essential add-on to your smart home system. GearBrain has reviewed several video doorbells and like these devices because they offer multiple functions versus just one. They are intercom systems as well as security cameras that can alert you of unwanted visitors. Ring, one of the first manufacturers of video doorbells, sent us their new Ring Video Doorbell Pro to test. We were pleased on what we learned in our trials of testing this new video doorbell. Here is our in-depth review of Ring Video Doorbell Pro. (To learn more about the newest Ring Video Doorbell Pro, visit GearBrain's Review: Ring Video Doorbell Pro 2.)


What is it?

Ring Video Doorbell Pro is a very powerful video doorbell when compared to the original Ring video doorbell. It comes with many convenient monitoring and security features. The device has Ring's ultra slim design as well as many of the same features found in Ring's previous video doorbell. The Ring pro has a built-in speaker and microphone for you to speak with visitors. You can store videos in Ring's cloud and the night vision is very good. The new features Ring has bought to Ring Pro are enhanced Wi-Fi connections. You can now connect your Ring Pro to either a 2.4 GHz or 5GHz Wi-Fi connection. Before, Ring only worked on a 2.4 GHz Wi-Fi connection. You can also change the faceplate finishes on your Ring Pro. There are 4 different faceplates included in your Ring Pro box as well as a user guide, Phillips-head screwdriver, drill bit, a Ring Pro Power Kit and the Ring Pro. We will get into what the Ring Pro Power Kit is and its importance to operating your Ring Pro.
Other key features Ring Pro provides are HD quality video at 1080p and a field of view (FOV) of 160 degrees. This is the largest FOV we have seen so far in the market. Also, from our testing, the video is very clear and is stored with bank grade encryption which is important today.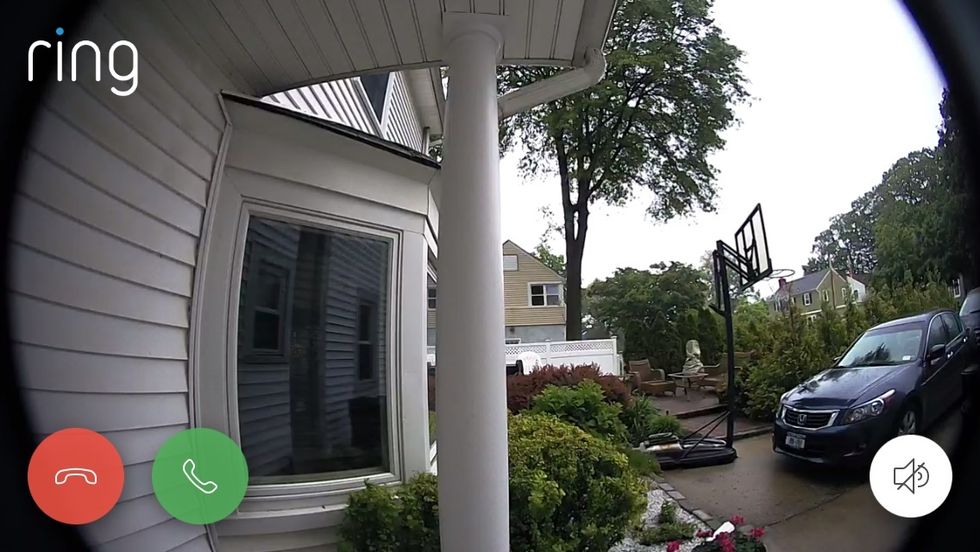 Ring Video Doorbell Pro FOV is 160 degrees.GearBrain
The motion detection on the Ring Pro has been enhanced as well. You can now draw and create custom shaped motion zones. In the past, you could control the sensitivity on the predefined motion zones. Now, using the Ring App, you can select certain areas or zones for your Ring Pro to notify you when motion is detected. Really like this feature and it's the first one we have seen of its kind among all video doorbells we have tested.
Lastly, Ring Pro has a weather-resistant design to protect it from rain, sleet, snow or heat. It can operate in temperatures as low as -5 degrees and as hot as 120 degrees Fahrenheit.
How does Ring Pro Differ from Ring?
Ring Video Doorbell Pro is very similar to Ring's first video doorbell. Both devices provide live view video, night vision, two-way audio communication and work with iOS, Android and Windows 10 devices. However, the new Ring Video Doorbell Pro comes with a lot more features and operability that is essential for today's smart home owner.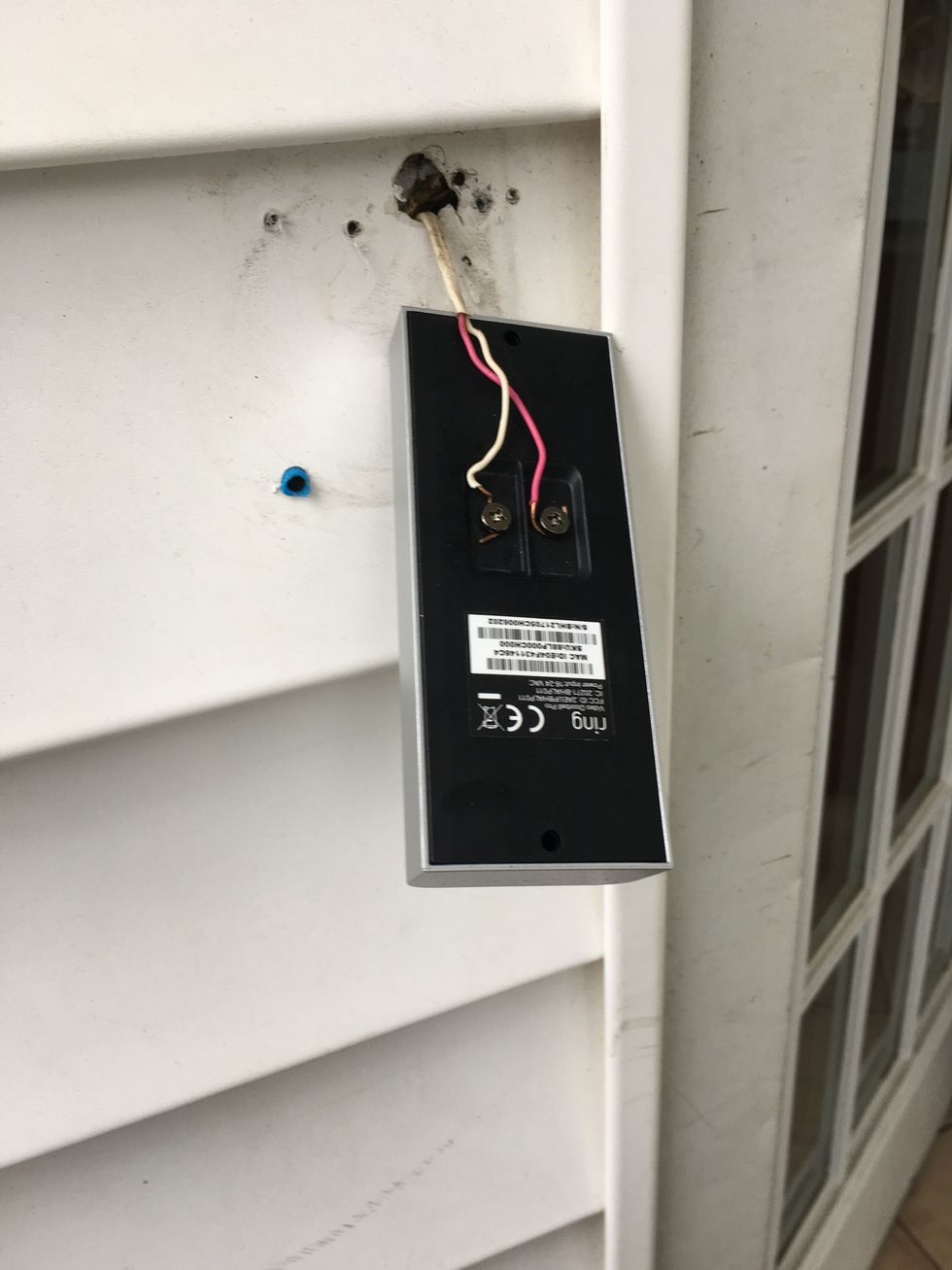 Ring Video Doorbell Pro is only hardwired unlike original Ring video doorbell.GearBrain
Ring's original video doorbell comes with a built-in rechargeable battery which was essential since Ring could work with any home whether you had a doorbell or not. The new Ring Pro requires an existing hardwired doorbell. It also comes with interchangeable faceplates which is nice and has an enhance motion detection. You can also operate the Ring Pro on either a 2.4 GHz or 5GHz Wi-Fi connection while the original Ring works off a 2.4 GHz Wi-Fi connection only.
In terms of design, the new Ring Pro is sleeker than the original Ring. The dimensions on the new Ring Pro are 4.50 x 1.85 x .80 inches while the old Ring's dimensions are 4.98 x 2.43 x .87 inches.
Cost of Ring Pro differs from the original Ring video doorbell. The original price of Ring Pro was $249, but it's now available for less than $170 and the orginal Ring costs less than $100. Both are available on the company website as well as Best Buy, Walmart and Amazon.
Ring Video Doorbell Pro – Upgraded, with added security features and a sleek design (existing doorbell wiring required)
Challenges with Ring Pro
We found the biggest challenge with Ring Pro is the installation. Many of the video doorbells we tested only required you connect the video doorbell to the hardwires of your existing doorbell. For Ring Pro, you had to do this but you also had to connect the Pro Power Kit to your actual doorbell unit inside your home or wherever your mechanical or digital doorbell is located. This was not an easy step and if you have an old home, you might have a problem with compatibility. It seems if you have a very old hardwired doorbell, Ring's Pro Power Kit might not work. We recommend before purchasing Ring Pro, make sure your existing hardwired doorbell is compatible with Ring Pro. Ring offers a Pro Chime Kit compatibility list in the Ring Help section on the Ring app or website. According to Ring, their Ring Pro is compatible with AC-powered bell operating between 16-24 volts. They are not compatible with wireless bells or any bell/intercom system using a DC transformer. Today, most of video doorbells are not compatible with this type of set up as well as digital chimes or doorbells. Ring Pro is the first video doorbell we have found to be compatible with both mechanical and digital chimes. This is keen for Ring to offer since many new homes have either a mechanical or digital setup.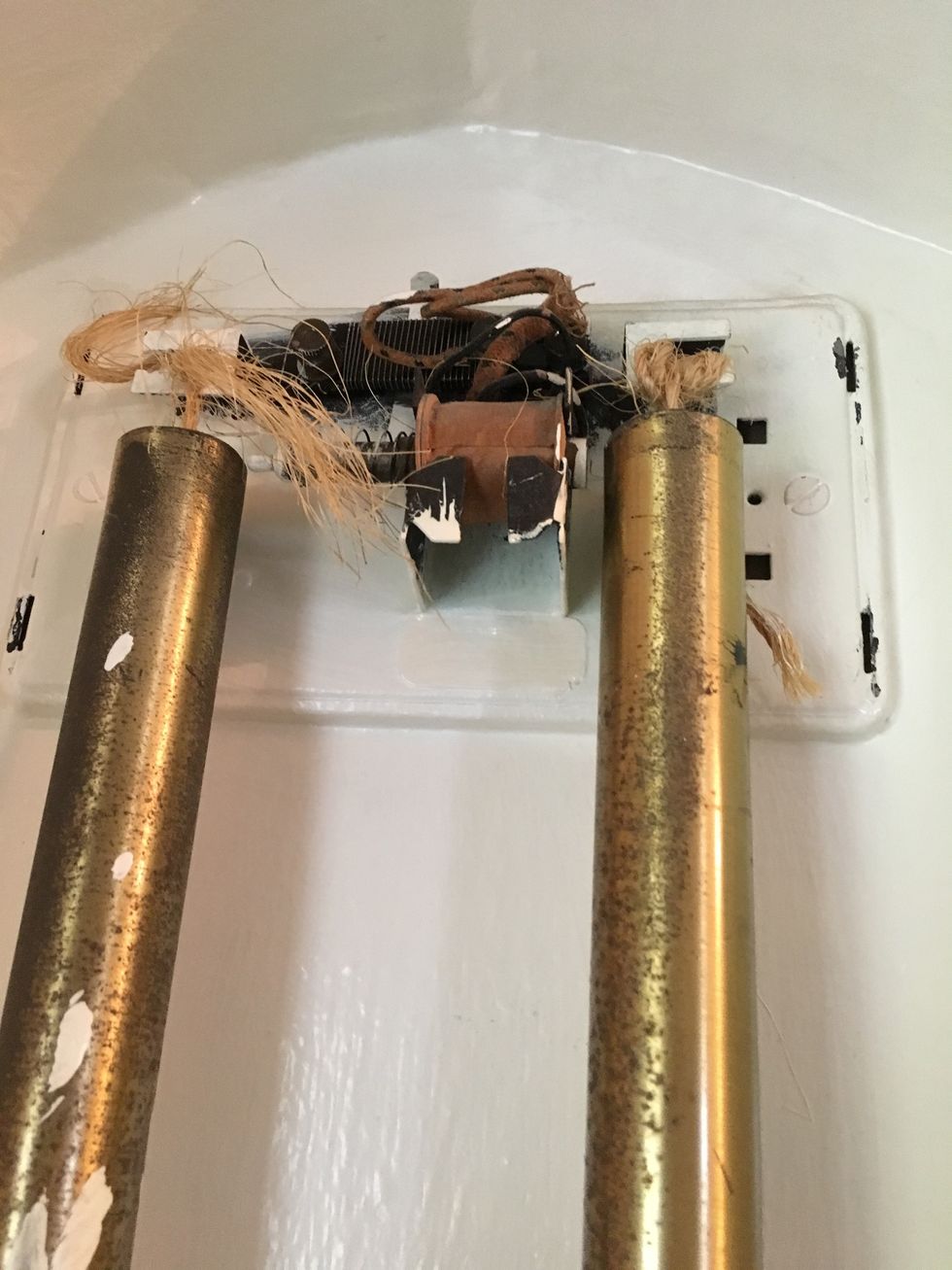 An old mechanical doorbell.GearBrain
When we were testing Ring Pro, the hardwired doorbell we had was so old, it did not show up on any of Ring Pro's compatibility lists. We called Ring Customer Service and spoke with a representative. After about an hour of testing and looking for a solution, we were finally able to install Ring's Pro Power Kit properly. This installation process is not easy. If you are intimidated with working with electric wiring, this will be a challenge for you. If you can install a light switch or plug, you will find this process simple. Also, if you have no problem connecting the Ring Pro unit to the doorbell's wires, connecting the Power Kit might take you a few minutes longer to do but you will be able to do it. Just follow the setup guide instructions or watch the installation videos on Ring's website. They are very intuitive and will be helpful in showing you how easy the connection process is for Ring Pro.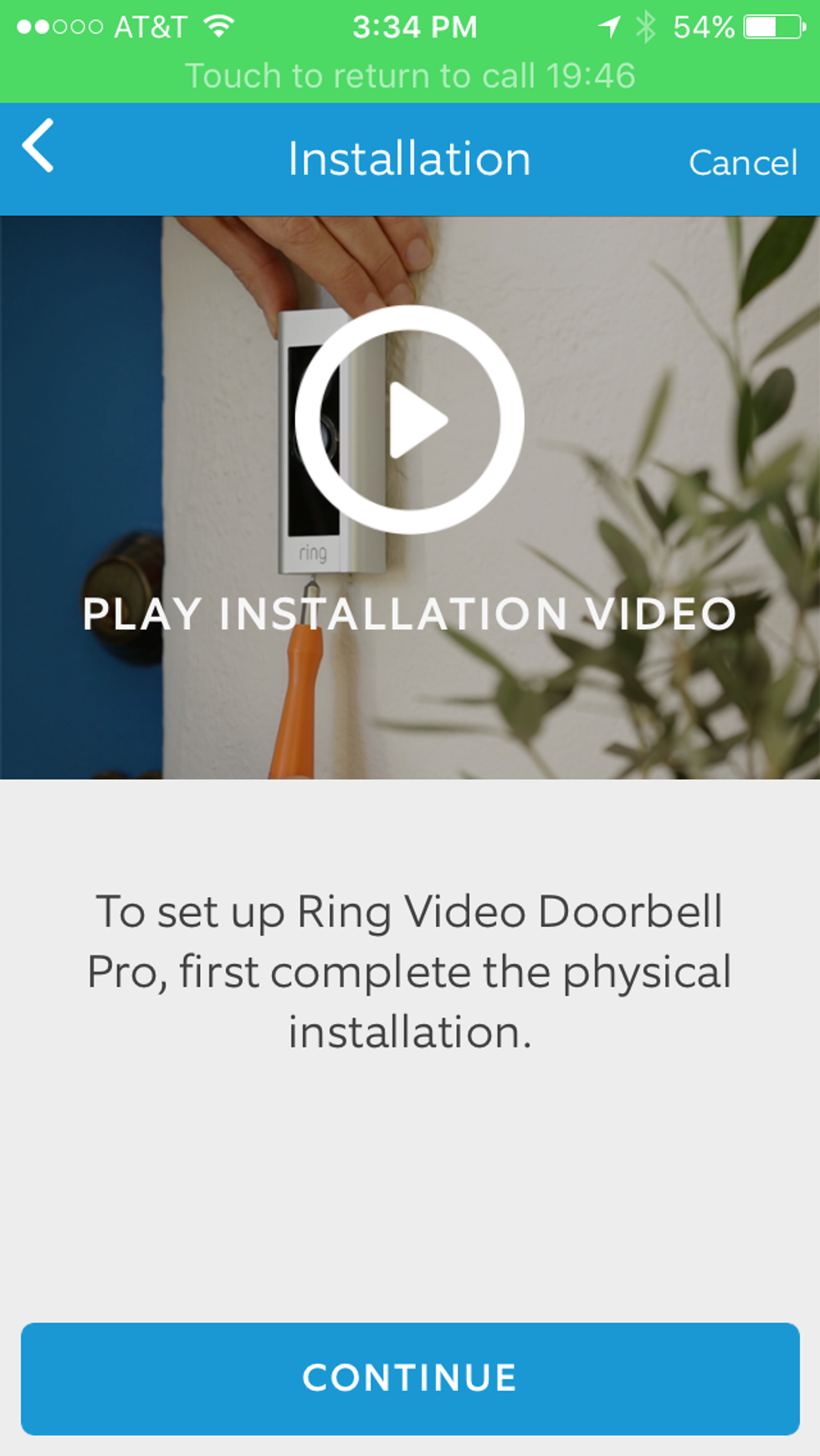 Ring offers good installation videos on their app and website to help you install Ring products.GearBrain
Installation Process

Once you determine your existing hardwired doorbell is compatible with Ring Pro, you are ready to install Ring Pro. First thing you need to do is turn off the electricity to your doorbell. Then you remove the old doorbell and lineup your Ring Pro to mark the holes you will need to secure Ring Pro once it's connected to your wires. Depending on the size of your old doorbell cover, you might be able to use the existing holes to secure your Ring Pro to the house. If not, no worries. Inside your Ring Pro box is a drill bit. You can use this bit to drill the holes for the anchors you will use to secure your Ring Pro against your house. Another nice feature we found with this step of the installation was Ring Pro can be easily secured to any type of surface on the side of your home, including wood, stucco and cement. And if needed, Ring provides an optional retrofit kit to have your Ring Pro Video Doorbell sit flush against your wall. Luckily for us, our surface was vinyl siding and we could install with no issues.
Once we connected the Ring Pro wires, we downloaded the app and followed the installation instructions from the app. We found this process to be easy to follow and extremely helpful in connecting the Ring Pro. We recommend you go to Ring's website and check out their installation videos in the Help Section prior to installing the Ring Pro. It will help you see how easy the installation process and what to expect when installing the Ring Pro Power Kit.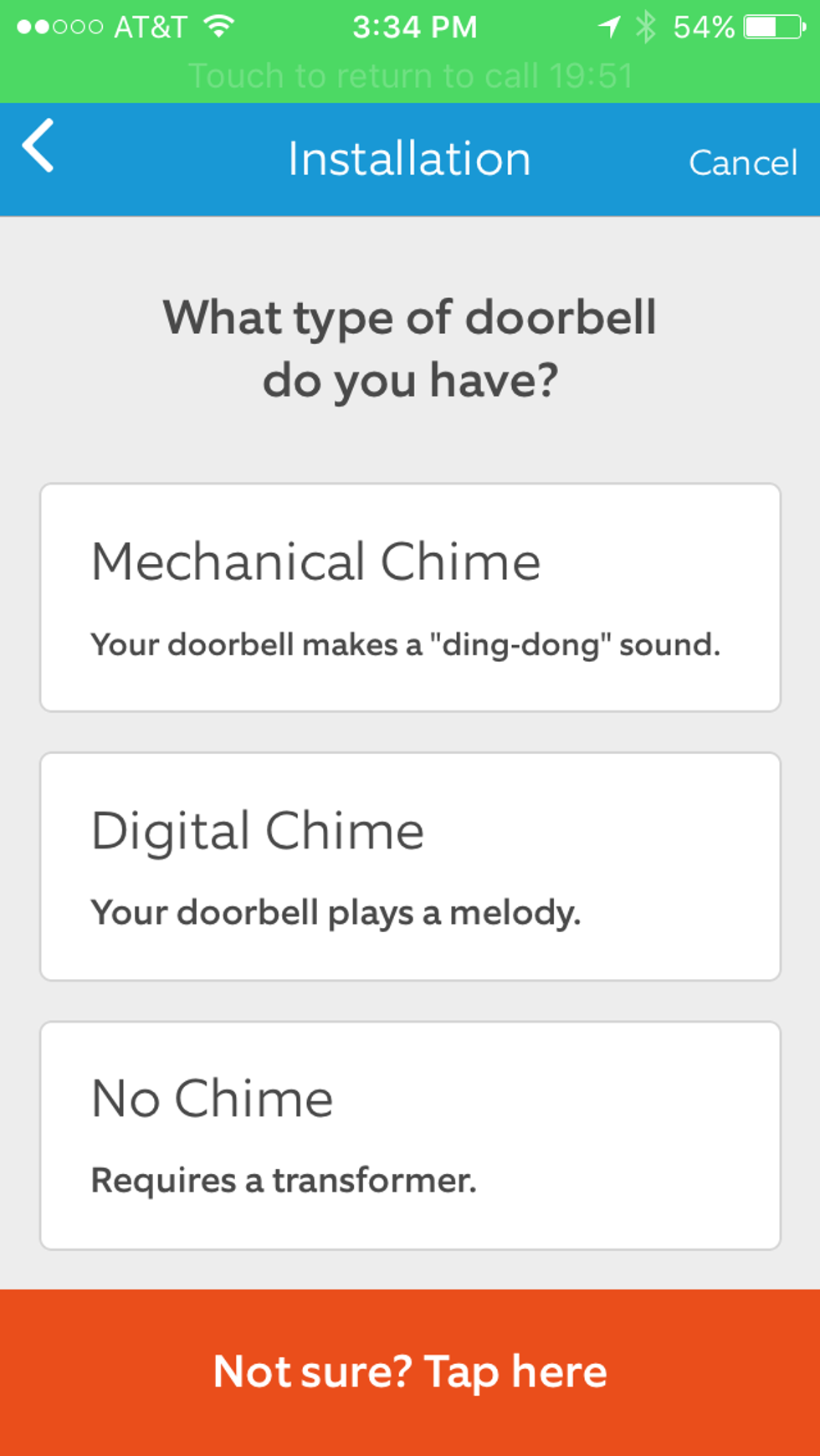 Ring app helps you determine what type of doorbell chime you have in your home.GearBrain
Ring Chime Pro
In addition to the Ring Pro, we were also given a Ring Chime Pro to test. The Ring Chime Pro is a Wi-Fi extender and Chime you connect to your Ring Video Doorbell Pro. Just plug the Ring Chime Pro into any wall socket and connect it to your Ring devices using the Ring app. The device not only extends your Wi-Fi signal to dead zones in your house, but it has a speaker which you can control the volume and alert tones through the Ring app. It even has a do not disturb mode which we liked. Ring Chime Pro is compatible with iOS, Android and Windows 10 devices. (Check our GearBrain's full review of Ring Chime Pro: Ring Chime Pro Review: A 2-in-1 Connected Device For Your Smart Home.)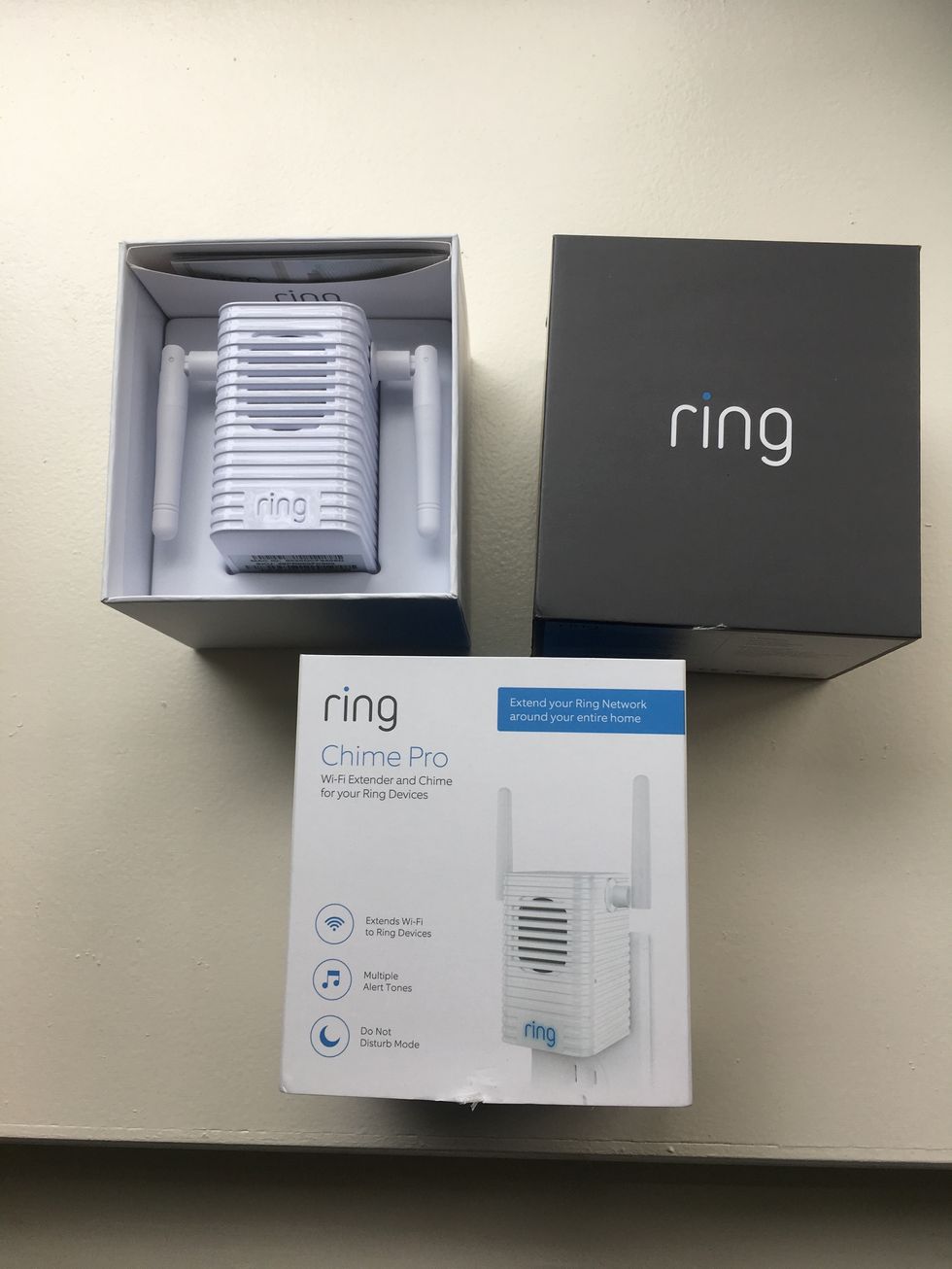 Unboxed Ring Chime ProGearBrain
It was very easy to setup Ring Chime Pro using the Ring app. We also found when we plugged in the device in an upstairs bedroom, our Wi-Fi signal increased by 10 mbps. Our recommendation on where to place Ring Chime Pro is in areas of your house where you can't really hear your doorbell and want to be alerted when motion is detected or someone comes to your door. The Wi-Fi extender capability is a nice feature. If you need a Wi-Fi extender, Ring Chime Pro is not a bad option since it only costs $49. Most good Wi-Fi extenders cost a lot more than $49, so it's something to think about. (To learn more about Wi-Fi extenders, visit GearBrain's Best Wi-Fi Mesh Systems For Your Smart Home or Wi-Fi Mesh: Everything To Know To Run Your Smart Home.)
Ring Video Recording Plans
When buying Ring Video Doorbell Pro, you are given a 30-day free trial for video recording. Then you are given the option to sign up for a video recording plan to store all your events generated by your Ring Pro. Ring offers three types of plans: Free, Basic and Protect. The Ring Free plan offers instant alerts, streaming video and audio, live view and a lifetime protection. However, no videos are recorded and stored. If you want to store your Ring Pro videos, you need to go choose one of the other two Ring Plans.
Ring's Basic plan offers you the same as the Free plan except you get cloud storage, video review, video sharing, event sharing and a 1 year warranty. The cloud storage offers up to 60 days of storage for all your Ring videos. Video Review feature allows you to go back and review any of your Ring videos. Video sharing is a feature which allows you to share your Ring videos with friends, family or local police if needed. The event saving feature allows you to save any memorable moment or delete them from your account. Lastly, the one year warranty provides you with protection for your Ring device. If it malfunctions or gets damaged in the first year, Ring will replace it for free. The cost for this plan is either $30 for the year or $3 per month. This is a good value when compared to other video recording plans offered by video doorbell manufacturers like Skybell or August Home.
The next Ring video recording plan is called Protect. This plan offers the same as the Basic plan but instead of a 1 year warranty, you receive a lifetime warranty. Also, you get exclusive discounts or 10% off future purchases at Ring.com. This plan costs $100 per year or $10 per month. Not sure if this is worth $70 per year (or $7 per month) more than what you get for the Basic plan, but that's up to you to decide. We think the Basic plan offers sufficient features at a great price.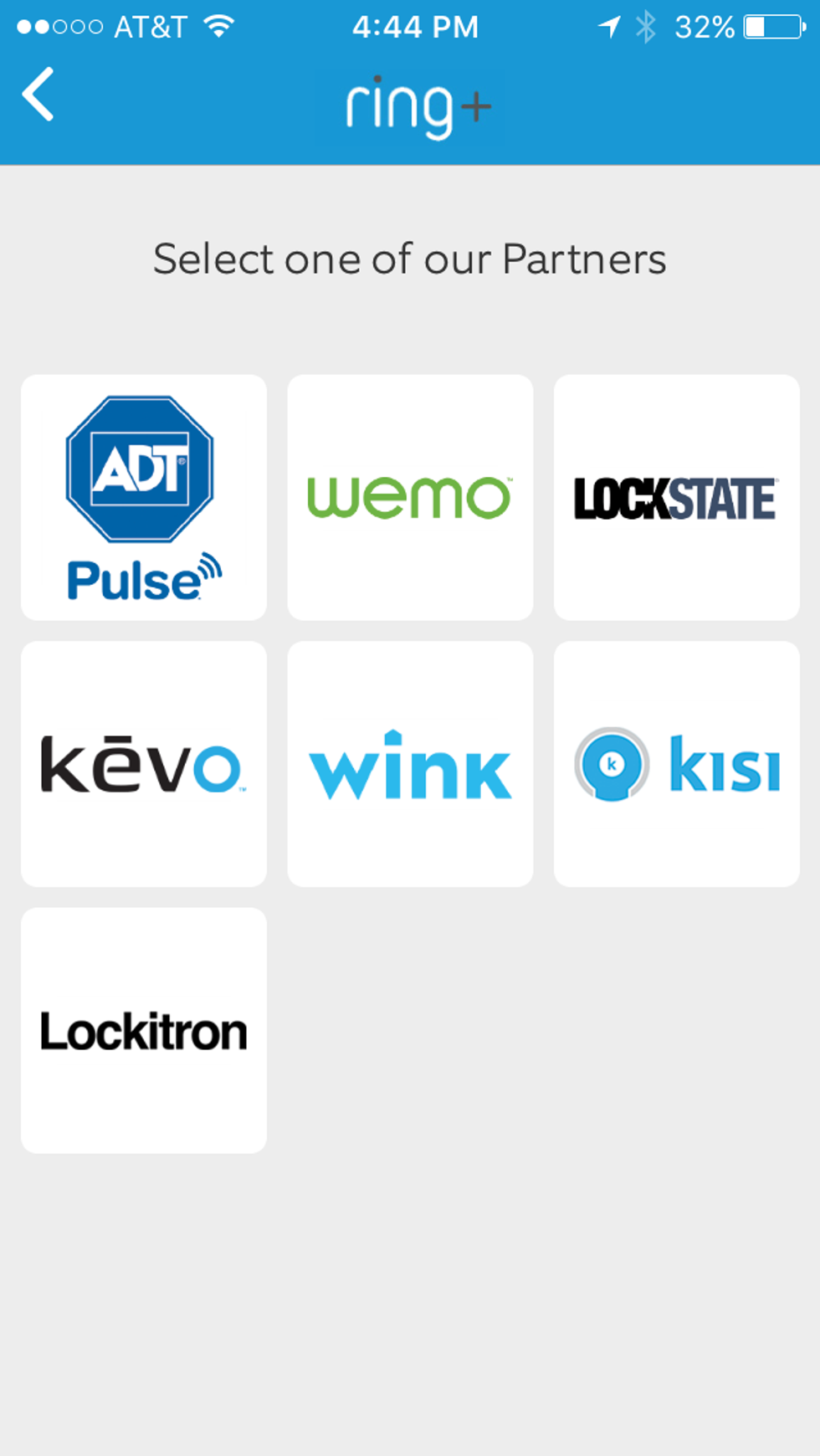 Ring Pro partners include smart locks and home security systems.Gearbrain
Compatibility with Other Connected Devices
Since many smart homes today have several connected devices, it's important to understand what other connected devices can you connect your Ring Pro to today. According to Ring, your Ring Video Doorbell Pro is compatible with the following partners:
If you own one of these devices/systems or plan to buy one, you can easily connect to them using the Ring app. All you do is go into the Ring app and click your Ring Pro icon. You will come to a screen and you will need to click on "Ring Partners" section. Then click on the "Add a Partner" link and select your partner. Ring will walk you through the paring process. We did it with our Kevo smart lock and it was very easy. The nice thing about connecting with any of these partners is you can control the device using the Ring App. For our Kevo test, we had a door with the Kevo smart lock. When our visitor came to our door and rang our Ring Pro. We answered it and then unlocked the Kevo lock using the Ring app. Very easy and nice user experience. (Visit GearBrain's article: What Devices Work with Ring Video Doorbells, Cameras, Security Lights and Alarm Systems to see the devices that work with Ring.)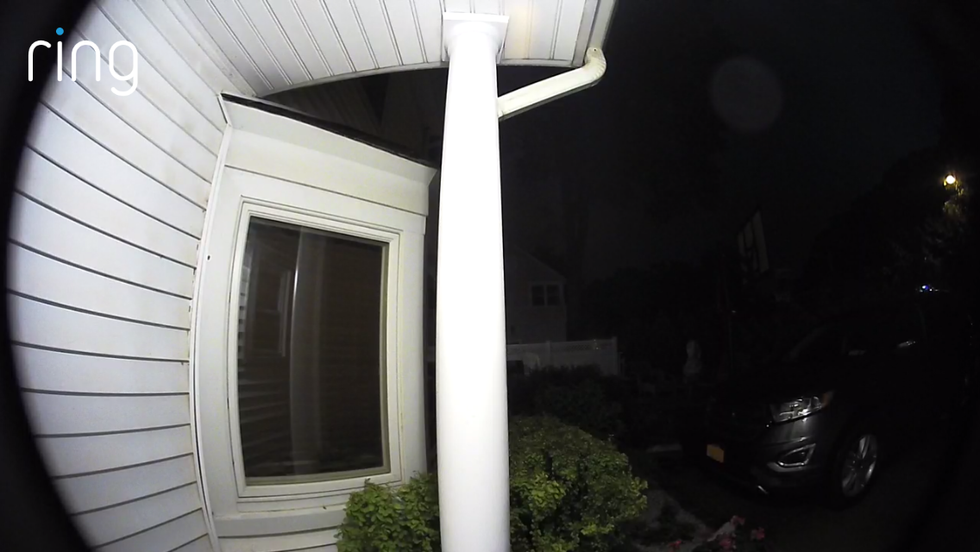 Ring Video Doorbell Pro has excellent night vision.GearBrain
Summary

When picking a video doorbell today, smart homeowners need to first make sure their current doorbell setup is compatible with any new wireless video doorbell. This will help prevent you from buying the wrong connected device. Once you know what devices are compatible with your current doorbell, then you can narrow the field by choosing the features you want in your new video doorbell. Do you want two-way audio? HD quality video? How big is the FOV? Can you connect it to your existing smart home system or hub? Are you able to select the chime and control the volume of the doorbell ring? We found these features are addressed by Ring in its new Ring Video Doorbell Pro.
Ring Pro's intercom or two-way audio sound is good. There is about a 3-4 second delay, but you will only notice this if you are in your house and too lazy to get up and see who is at the door. If you are away from your house and answer the call in Ring's app on your smartphone, you really don't notice the delay.
Ring Pro Motion Detection
This feature allows you to select the motion sensitivity as well as particular zones covered by Ring Pro.
Ring Video Doorbell Pro Normal View
Here is the normal view from a Ring Video Doorbell Pro. Select next slide to see how you can select the area you want motion sensors covering.
Example of selection of Motion Zones on Ring Video Doorbell Pro
Here you see how you can select a motion zone for Ring to monitor.
Example on Expanding Motion Zones
Users can easily expand motion zones by pinch and zoom on Ring mobile app.
Ring Video Doorbell Pro Can Unlock Kevo Smart Locks
If you have a Kevo smart lock, you can easily control locking and unlocking from Ring mobile app. It's integrated on your Ring video screen.
Ring Pro Connects with Partners Apps
Example of Ring screen when Kevo smart locks are connected to your Ring Video Doorbell Pro.

The HD quality video of your visitor is very good. They offer 1080p which is good since many other video doorbells offer mostly 720p. Also, the FOV is excellent at 160 degrees. Most security cameras offer 130 or 140 degree FOV. Ring's FOV gives you a lot of area to cover and when combined with the special motion detection features you can really hone in on specific areas to keep a close eye on for unwanted visitors.

Lastly, the price of Ring Pro. With all the upgrades Ring has installed into the Ring Video Doorbell Pro, you are going to have to pay for them. Most good video doorbells on the market today cost around $199 (August Video Doorbell Cam and Skybell HD costs $199 each). Ring Pro costs $249. The question you need to ask yourself is for an additional $49, is it worth it to get a video doorbell with a FOV that is 30 degrees bigger, slightly harder to install, better HD quality video (1080p versus 720p), advanced motion detection, $3 per month video recording plan and compatible with most digital or mechanical hardwired doorbells? GearBrain thinks it is worth the investment if you can afford it.
Pros: HD quality video, answer door from anywhere, motion detection, Wi-Fi connected, 1080p, good customer service, compatible with mechanical and digital chimes. 160 FOV

Cons: installation is not as easy as other video doorbells, price,
Important to note Amazon purchased Ring and Ring Video Doorbell price drops to just $100 after Amazon completes its acquisition.
Check out The GearBrain, our smart home compatibility find engine to find other smart video doorbells and compatible products that work with Google Assistant and Amazon Alexa enabled devices. You can also ask questions and troubleshoot any problems.
Like GearBrain on Facebook