Like GearBrain on Facebook
While Amazon and Google are dominating in the smart home space, Lenovo has come up with strongly designed competitors particularly around smart devices. Two new tablets, the Lenovo Smart Tab M8 and the Lenovo Yoga Smart Tab, continue along this line, machines that can work as portable computers — but also as always on smart displays ready to pull up a recipe, remind you of an appointment or have John Legend sing you a Happy Birthday song. (Yes, the Legend voice is still going strong.)
Lenovo has also streamlined its Smart Display, which launched in 2018, and includes a more streamlined shape along with an ambient light sensor with better photo displays. Now called the Smart Display 7, the 7-inch touchscreen sits horizontally and has a physical mute button and also a privacy shutter for those who want some assurance they're not being seen or heard.
The new tablets, however, are going to be of interest to any one who enjoys that form factor, but also wants to dabble with a smart home display.

While tablets can be used — successfully — as computer backups, most people who own them tend to leave them, laying on a table, maybe next to the bed, forgetting about them until their battery has died.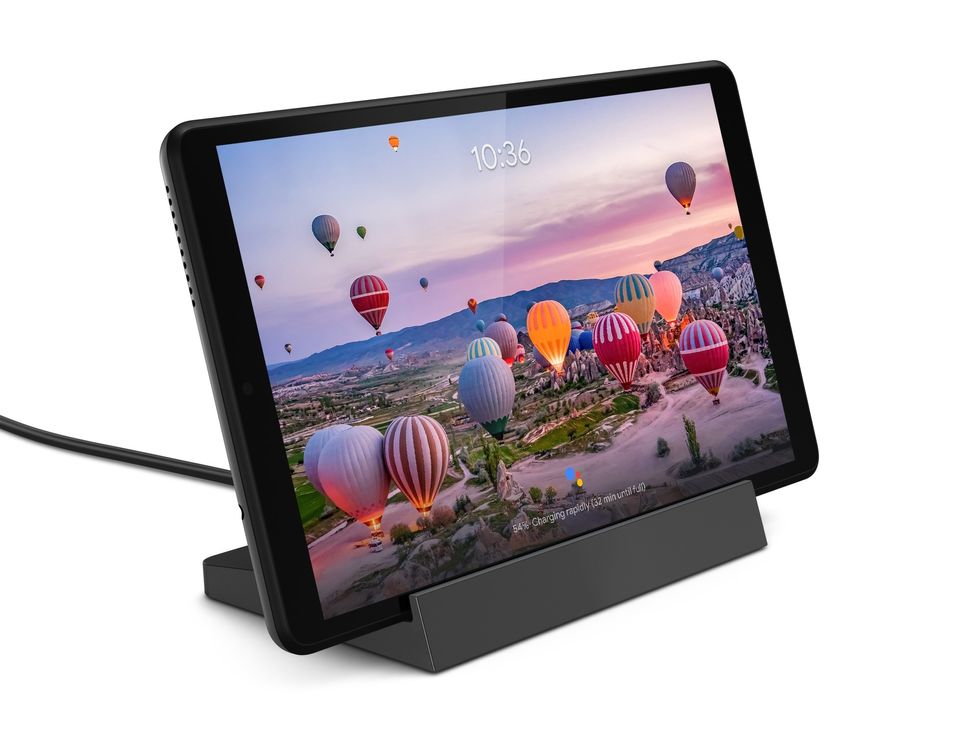 The Lenovo Smart Tab M8 works with Google Assistant goes on sale in OctoberLenovo
Smart Tab M8

Lenovo's Smart Tab M8 can slip easily into the Smart Charging Station, akin to a similar setup with its Lenovo Smart Tabs and its Smart Dock, which work with Alexa.
In the Smart Tab M8 is Google Assistant, which means you can link up to other devices that pair with Google's smart assistants as well. And by sitting in the charging station, the Smart Tab M8 is always juiced — always ready for use, even when not needed.
As a tablet, the Smart Tab M8 comes with a quad-core 2.0 Ghz processor, plus 5GHz W-Fi support. The device can be shared by multiple people — there's facial recognition or individual PIN numbers so that each account, along with their own apps, profiles, wallpapers and storage, stays hidden to others.
Yoga Smart Tab

The Yoga Smart Tab has a bit of a different form, with a hinged tab on one side that allows the tablet to be hung on the wall, lay flat, or sit angled with the tab put to use like a kickstand.
Each is covered with a matte finish surrounding the 10.1-inch FHD IPS touchscreen display. There are two JBL Hi-Fi speakers, with Dolby Atmos packed inside as well.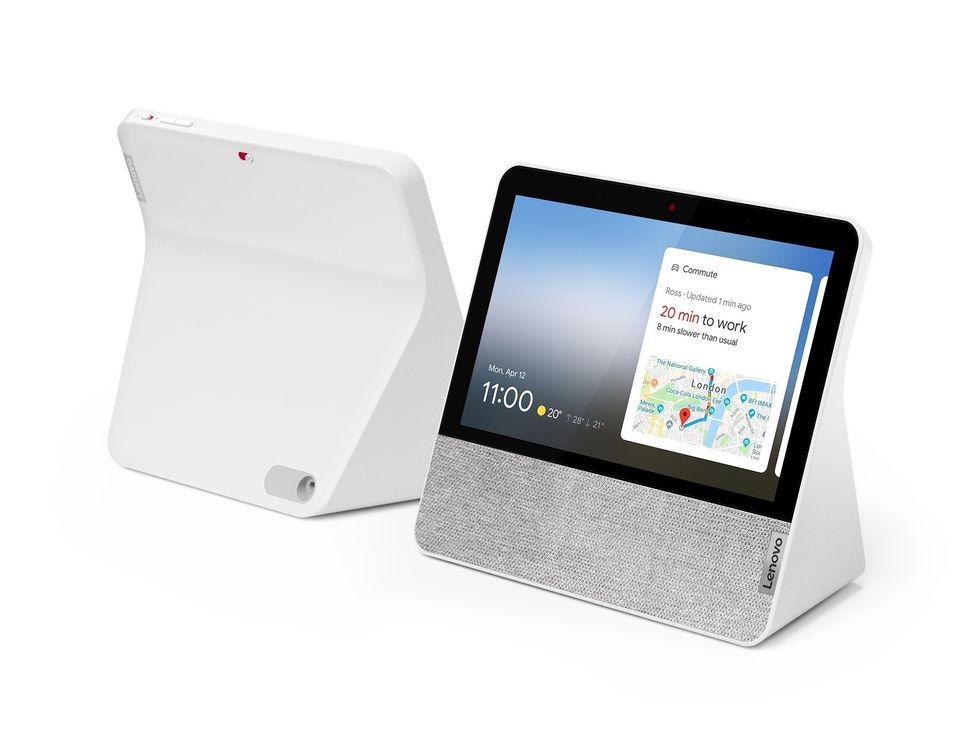 Lenovo Smart Display 7 is an updated version with a streamlined lookLenovo
Using Google Assistant's Ambient Mode (yes, Google's voice assistant is in the Yoga Smart Tab too) you can turn the tablets into a digital photo frame.
Pricing and availability
The Lenovo Smart Tab M8 is price at $119.99, goes on sale in October 2019 on Lenovo's web site and select retailers. The Yoga Smart Tab is priced at $249.99, goes on sale this month, in September, also on Lenovo's web site and with some retailers. The new Lenovo Smart Display 7 starts at $129.99, and will start selling in October on Lenovo's web site and also some retail locations.
Unboxing in 10 Seconds - Lenovo Smart Display with Google Assistant www.youtube.com
From Your Site Articles
Related Articles Around the Web
Like GearBrain on Facebook