After launching its Lenovo Smart Display in 2018, the company is moving into the bedroom with its $79.99 Lenovo Smart Clock, the latest in its partnership with Google Assistant.
Like its Smart Display, the new clock can be run through its 4-inch touchscreen and also by just talking to it. Covered in fabric, it's designed to fit into a bedroom space, where people are looking to wind down their day, and relax before going to sleep. There's also a USB port to charge phones at night.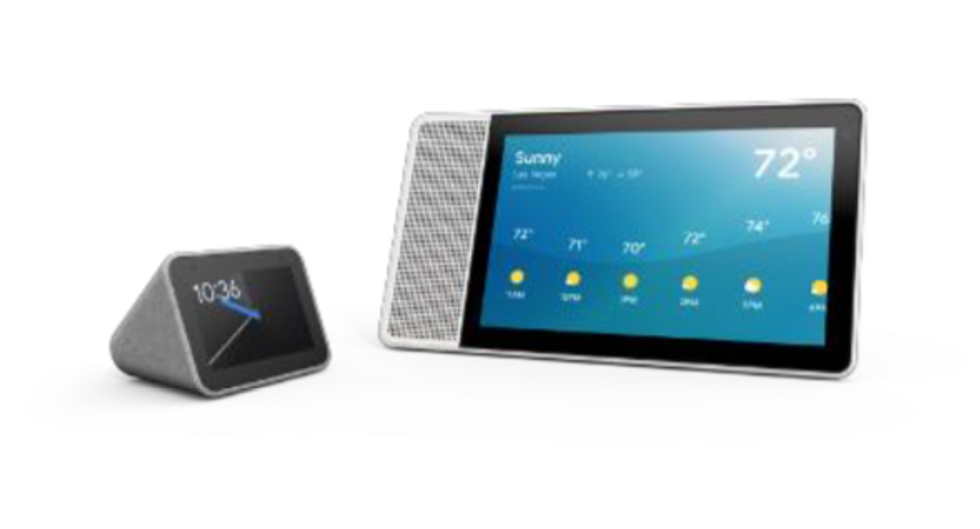 The Smart Clock follows the Lenovo Smart Display, with Google Assistant baked insideLenovo
To that end, the Smart Clock lets people control — and ideally shut down — their devices by linking into Google Assistant. You can silence other gadgets, turn off the lights, set an alarm and even create one customized routine to tackle all these request just by asking Google. You can even mute the Smart Clock too.
Like to wake up to music? That's possible too through its 6W speaker which has Dolby background noise reduction just by asking Google Assistant to tap into favorite songs — and you can stream them through Chromecast to other speakers as well. Or you can create routines that gently increase the light in your room, play an alarm or even show you the commute that morning to work. (Maybe you can grab a few more minutes and tap the alarm to snooze.)

The screen will let you scroll through four fixed cards — by hand or by voice — which show the weather outside, your alarm, commuting details based on your schedule and a calendar.
Not wanting to ignore its users who favor Amazon Alexa over Google, Lenovo also has a new line called Smart Tabs which work with the Lenovo Smart Dock. Put the two together and you have an instant Show smart screen device, and can run Alexa devices.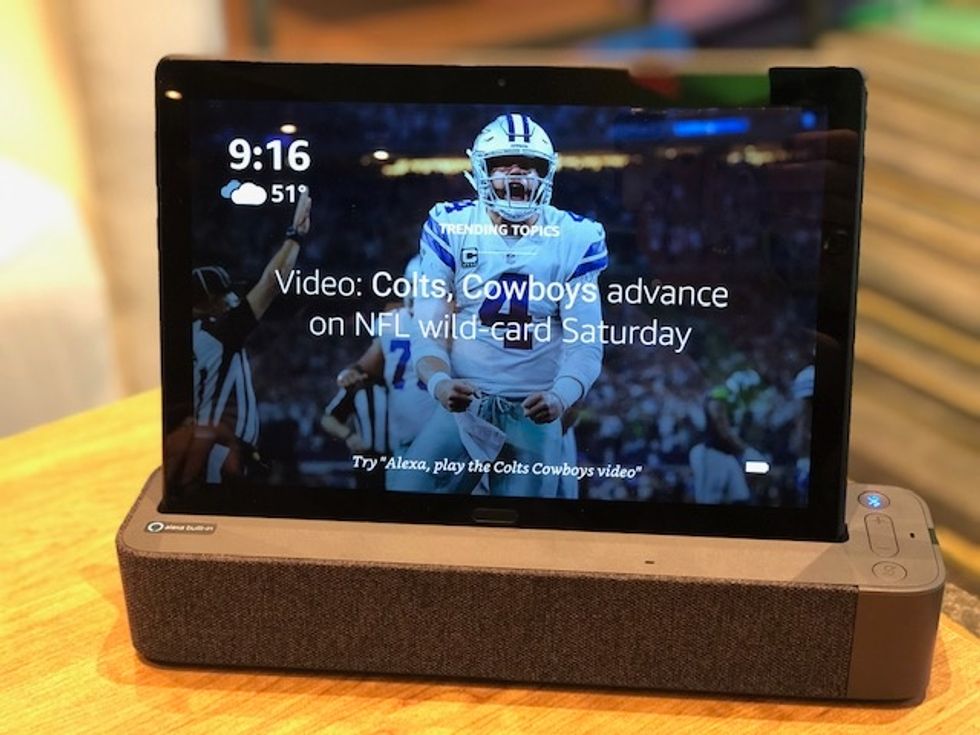 Pair the Lenovo Smart Tab with the Smart Dock, and you get a device that serves the same functionality as the Alexa ShowGearBrain
The Lenovo Smart Tabs have Dolby audio, and three far-field microphones so the device can hear you, no matter what room you're in when you call for Alexa. And yes, you can mute Alexa.

The Smart Clock will start selling this spring for $79.99. The Lenovo Smart Tabs are already available, with the P10, a tablet that has an all-metal frame, dual glass panes front and back, and four speakers, priced at $299.99 and the M10 which comes in slate black, and has two speakers, priced at $199.99. The dock will come with both, for free.
Check out The GearBrain, our smart home compatibility checker to see the other compatible products that work with Google Assistant and Amazon Alexa enabled devices.